Three people dressed in white hazmat suits at Downtown East in Pasir Ris during the annual Cosfest XVIII cosplay event were arrested by the police on Sunday, July 21.
This was after the trio disturbed cosplayers and booth owners and were handing out strange cards to attendees.
Incident occurred over the weekend
Cosfest XVIII was held on July 20 and July 21 .
Cosfest, one of the bigger events in Singapore for Japanese pop culture aficionados, typically sees plenty of cosplayers in attendance with booths selling popular anime and manga series fan-made merchandise.
However, this year's Cosfest event was marred by reports of the three men in hazmat suits disturbing event attendees.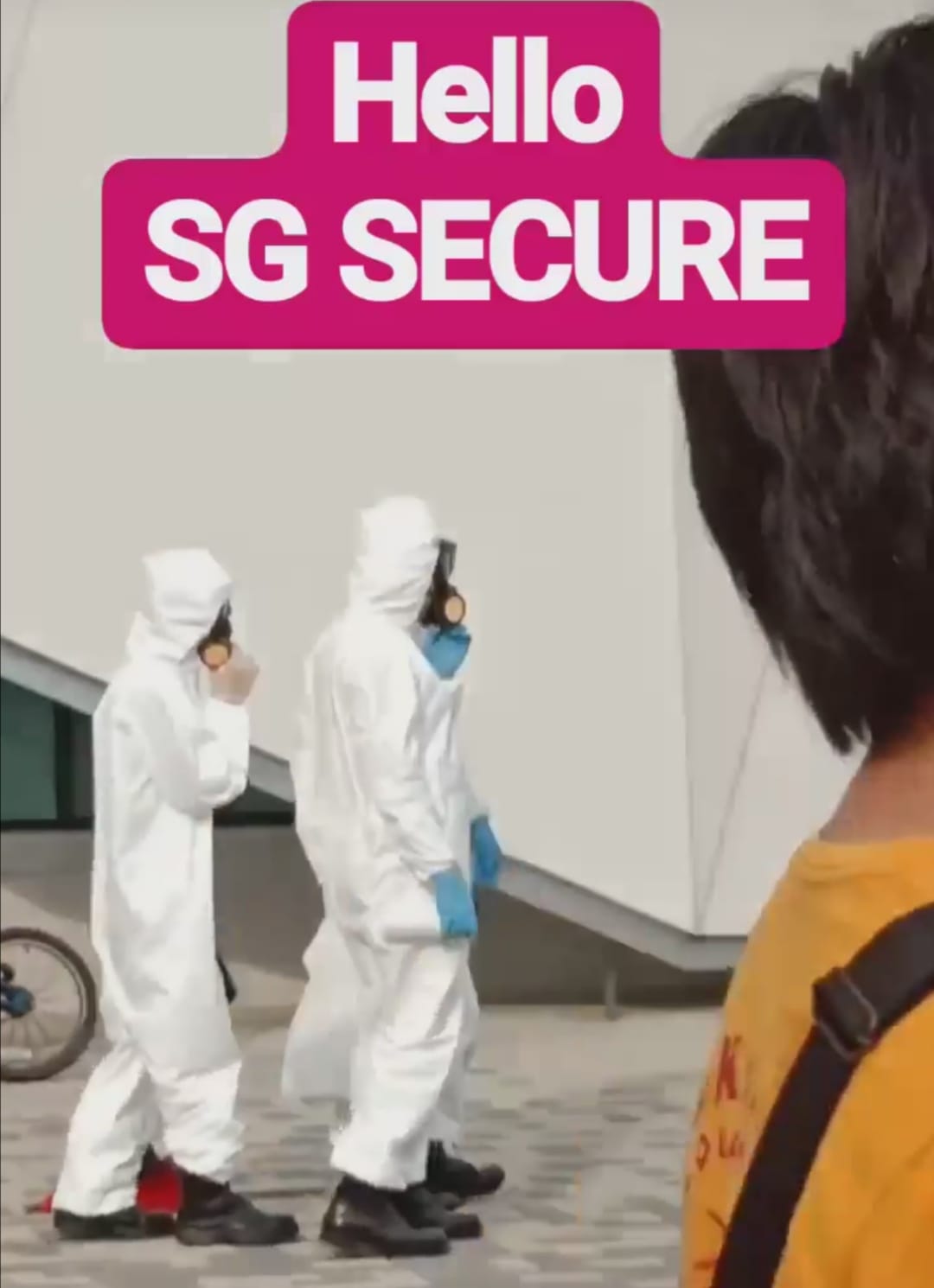 Sprayed unknown substance, gave attendees strange cards
According to various reports by members of the cosplay community, the three men were going around the event venue to "patrol" the premises.
They would even ask the booth owners to let them check their merchandise, and had reportedly destroyed artworks put up for sale, and sprayed an unknown substance at victims.
No injuries have been reported.
They were also passing out printed cards with a biohazard logo and two skulls.
Various attendees had received cards with different words, ranging from "clear", "toxic", "bootlicker",  to "insecure flexer" and "Pervert/HJJ", where HJJ is short for Hentai Jiji, Japanese for "the perverted old man".
[caption id="" align="alignnone" width="640"]
Image via Clement Tan's comment on Cosfest's Facebook post[/caption]
[caption id="" align="alignnone" width="637"]
Image via Foxee Noya's comment on Cosfest's Facebook post [/caption]
Event attendees confused, concerned about their actions
Their actions left attendees puzzled and concerned, as the three easily blended into the scene given their resemblance to characters in games and anime that featured characters in hazmat suits.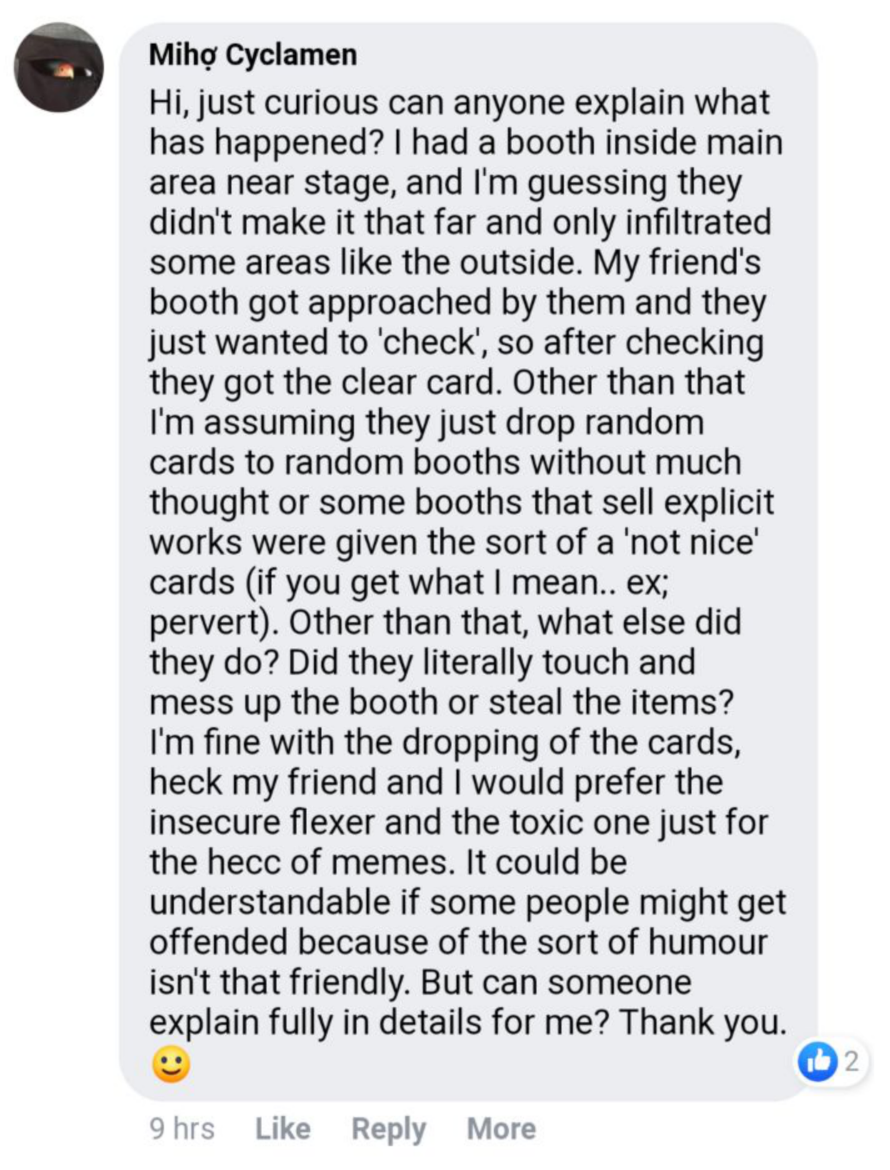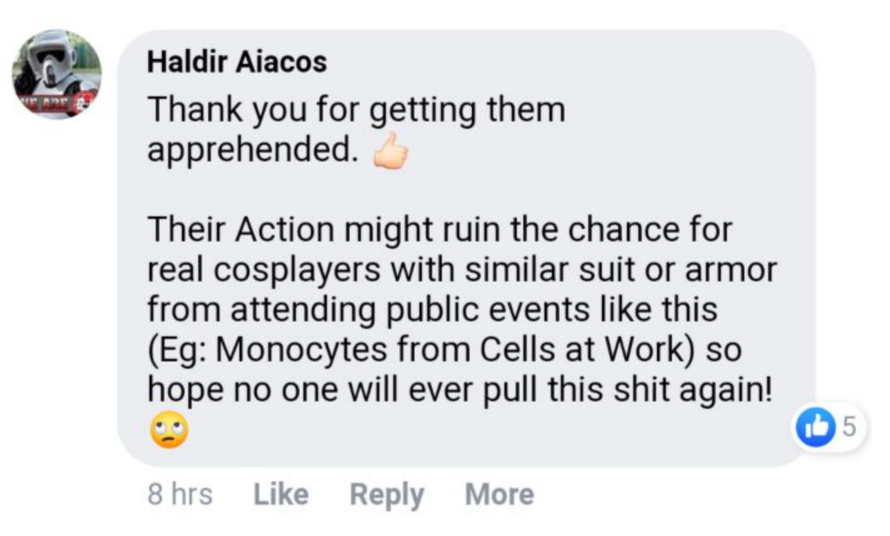 Paid to carry out their act
According to the official Facebook page of the event, two out of the three perpetrators were detained by Downtown East's security personnel, after attendees of Cosfest quickly went after the three men.
The remaining perpetrator fled the premises but was apprehended by the police after it was discovered that he had left his phone behind.
It is understood that only one of the three men were previously involved with the local cosplay community.
The other two were teenagers not involved with the community at all.
Cosfest also said that all three perpetrators said that they were paid to carry out the act, and the police are currently investigating.
You can see the full post here:
Top image adapted via ハ七火 安良岡 and Clement Tan's comment on Cosfest's Facebook post
If you like what you read, follow us on Facebook, Instagram, Twitter and Telegram to get the latest updates.