The Singapore government can try all its might to strengthen measures against the threat of the ongoing climate crisis, but a recent survey found that Singaporeans think otherwise.
Climate change a pertinent issue among Singaporeans
A monthly public poll "YouKnowANot" by local research agency, Blackbox Research, showed that majority of locals are aware of the ongoing climate crisis.
The survey findings are from 1,000 Singaporeans aged 15 and above, with controls applied to ensure all age demographics are represented.
Survey participants are subscribers to Blackbox's monthly poll.
From the survey, some 78 percent of Singaporeans stated that they believe in recent United Nations reports that there are only 12 years left before the impacts of climate change are irreversible in 2030.
Additionally, nearly three-quarters (73 percent) of Singaporeans recognise that the Earth's warming is largely attributed to human activity, such as the burning of fossil fuels.
Only 21 percent believe that the warming climate is due to natural environmental patterns, while the remaining 5 percent do not believe that the Earth is warming at all.
Half don't believe the government is doing enough
The Singapore government has been ramping up sustainability efforts, with 2018 declared the Year of Climate Action.
That year saw the Ministry of Environment and Water Resources (MEWR) organise outreach events and campaigns, as well as put out a Climate Action SG pledge, which garnered over 300,000 signatures willing to make a public commitment to climate action.
Deputy prime minister Heng Swee Keat, the then-Finance minister, also announced earlier in 2019 that part of this year's budget would be allocated to infrastructural investments to combat rising sea levels, a consequence of the Earth's warming.
The year 2019 has also been declared the Year Towards Zero Waste, with MEWR launching a year-long Zero-Waste Masterplan in the second half of the year aiming to tackle food waste and electronic waste.
With the 2018's Year of Climate Action campaign seeing more than 800 climate-related events, Environment minister Masagos Zulkifli deemed it a success.
However, it appears Singaporeans are not satisfied.
Blackbox's survey found that only half of all Singaporeans surveyed believe that the government is taking global warming seriously as a policy issue.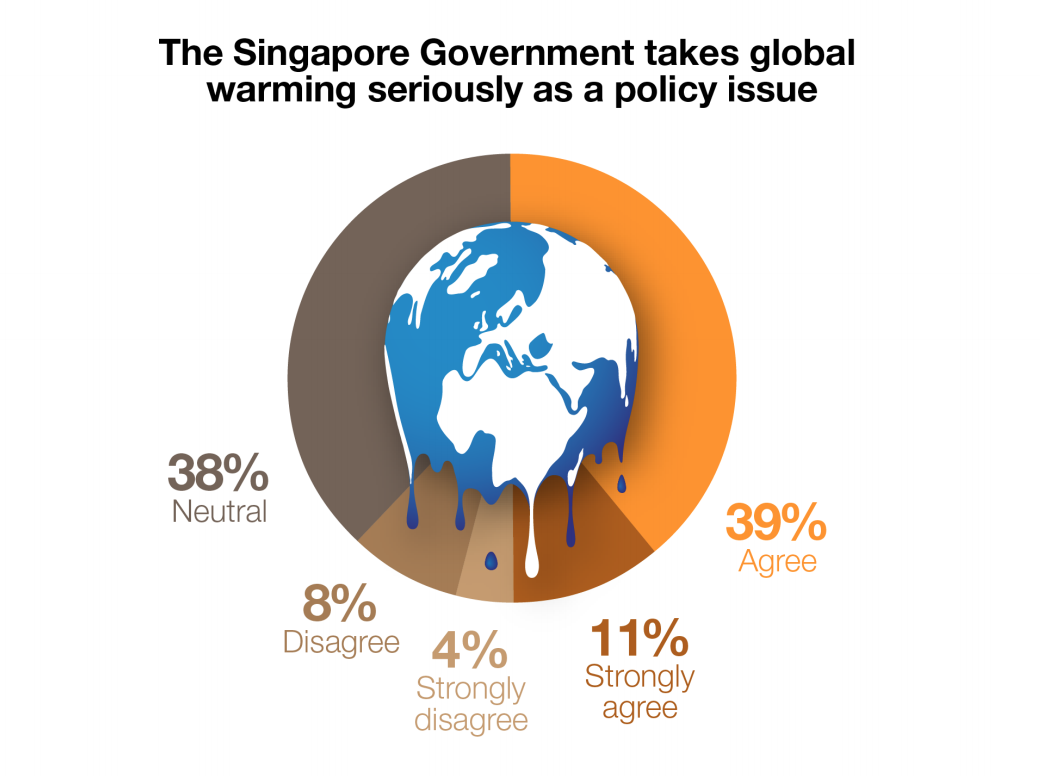 This proportion is even lower among young adults aged below 25, with 64 percent believing otherwise.
Additionally, nearly three-quarters (74 percent) of Singaporeans would like to see the government do more to encourage the use of solar panels.
Currently, PUB is looking into constructing floating solar panels over several reservoirs, with one of the world's largest to be built over Tengeh Reservoir.
Meanwhile, 57 percent of those surveyed agree with the government's carbon tax, implemented at the start of 2019, on 30 to 40 of the biggest local carbon emitters.
These businesses are currently being taxed S$5 per tonne of greenhouse gases emitted, till 2023.
Beyond 2023, the tax will be increased to S$10 or S$15 per tonne.
Future worries
And it appears that climate change is a topic that Singaporeans stress about.
Two in five (41 percent) surveyed said that climate change and global warming are issues that worry them a great deal.
A large proportion (72 percent) also recognise that future generations are more likely to live in a world that faces extreme weather.
Despite these concerns, it seems Singaporeans remain on the pragmatic end of the spectrum when it comes to climate change mitigation.
Only 37 percent of Singaporeans believe that technology will solve most of the problems arising from global climate change, while less than half (48 percent) support a local ban on all petrol fueled cars in the next 10 years.
Top photo from Lily Banse / Unsplash
If you like what you read, follow us on Facebook, Instagram, Twitter and Telegram to get the latest updates.