Matthew Lim is by all definitions a Singaporean high-flyer.
The 30-year-old graduated with first-class honours in Business, majoring in finance and marketing, from the National University of Singapore, and snagged a highly-coveted investment banker position at Credit Suisse, where he started fresh out of school.
He is also from a family of high-flyers, though he is shy to admit that — his brother went to Harvard and is a government scholar, and his sister is a practising lawyer.
After about two years in, though, Lim decided to quit his illustrious financial career and start his own company — but not for the reasons you would otherwise expect.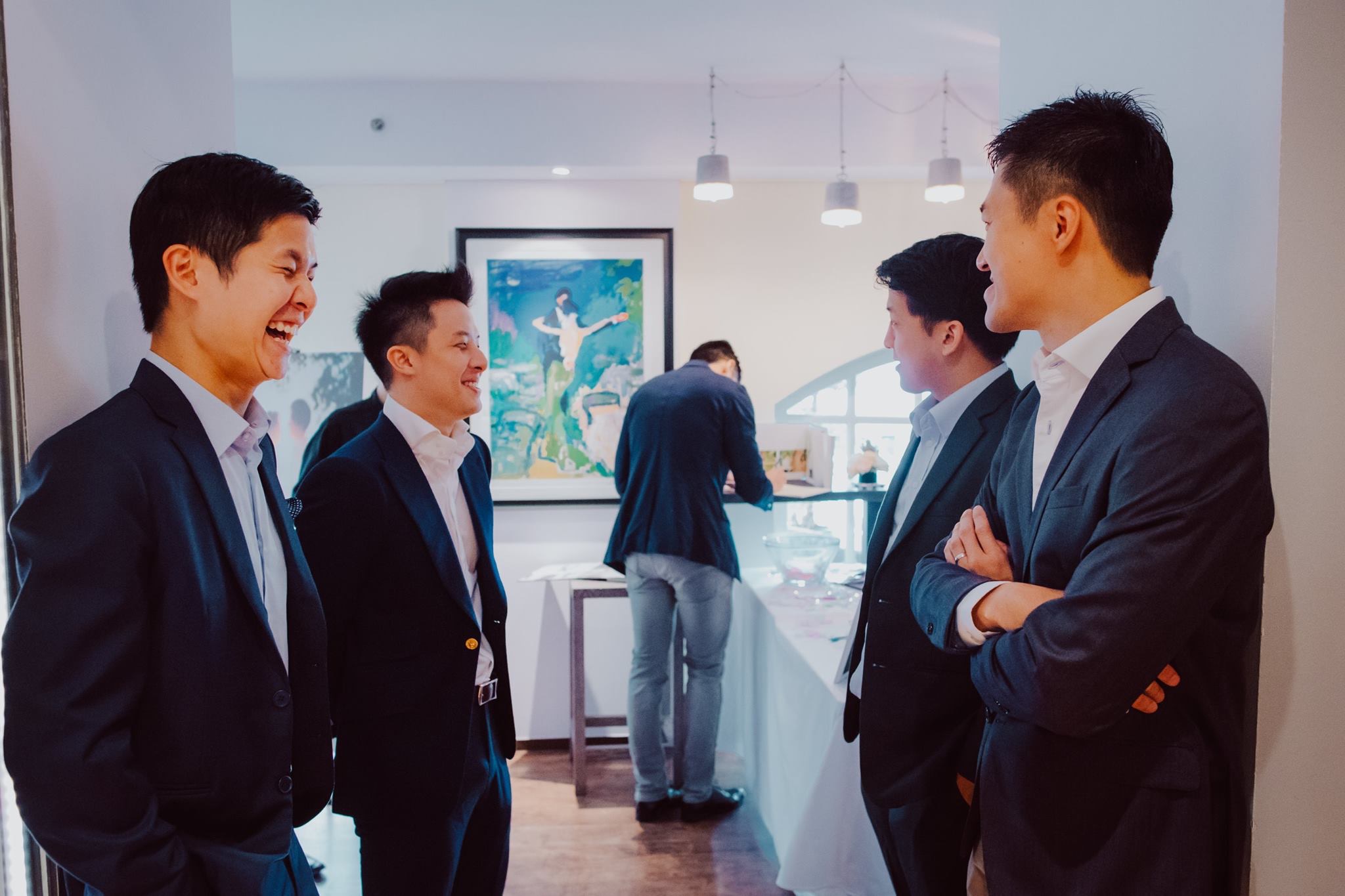 At Credit Suisse, Lim says he could pull 16-hour days during peak periods, starting at 10am and finishing between 2 and 3am, but learned a lot in the process.
"Credit Suisse gave me a lot of good training, in terms of just processor systems, how things are done, how to work more efficiently than other people and that helped me a lot along the way — especially when we're trying to be lean.

I basically had to do everything myself. I could do PowerPoints myself, I could do spreadsheets myself, I could do a lot of things myself."
And he didn't complain about the hours, tough as he admits they were. Why he left was, he says, really because he wanted "more challenge":
"I mean the job is super challenging, don't get me wrong. But it's just that I knew I was a bit more entrepreneurial by nature. I've always been, so I never really wanted to kind of like, stick to the status quo."
And so start a company he did — Lim went on to create an international tech-startup called Vidy, and with his Canadian co-founder now manages a team of roughly 30, based out of Shanghai and San Francisco.
It is now slated to list on gate.io, a bitcoin exchange based in the U.S. that is one of the 20 largest in existence at the moment.
Met Canadian co-founder through Harvard-going brother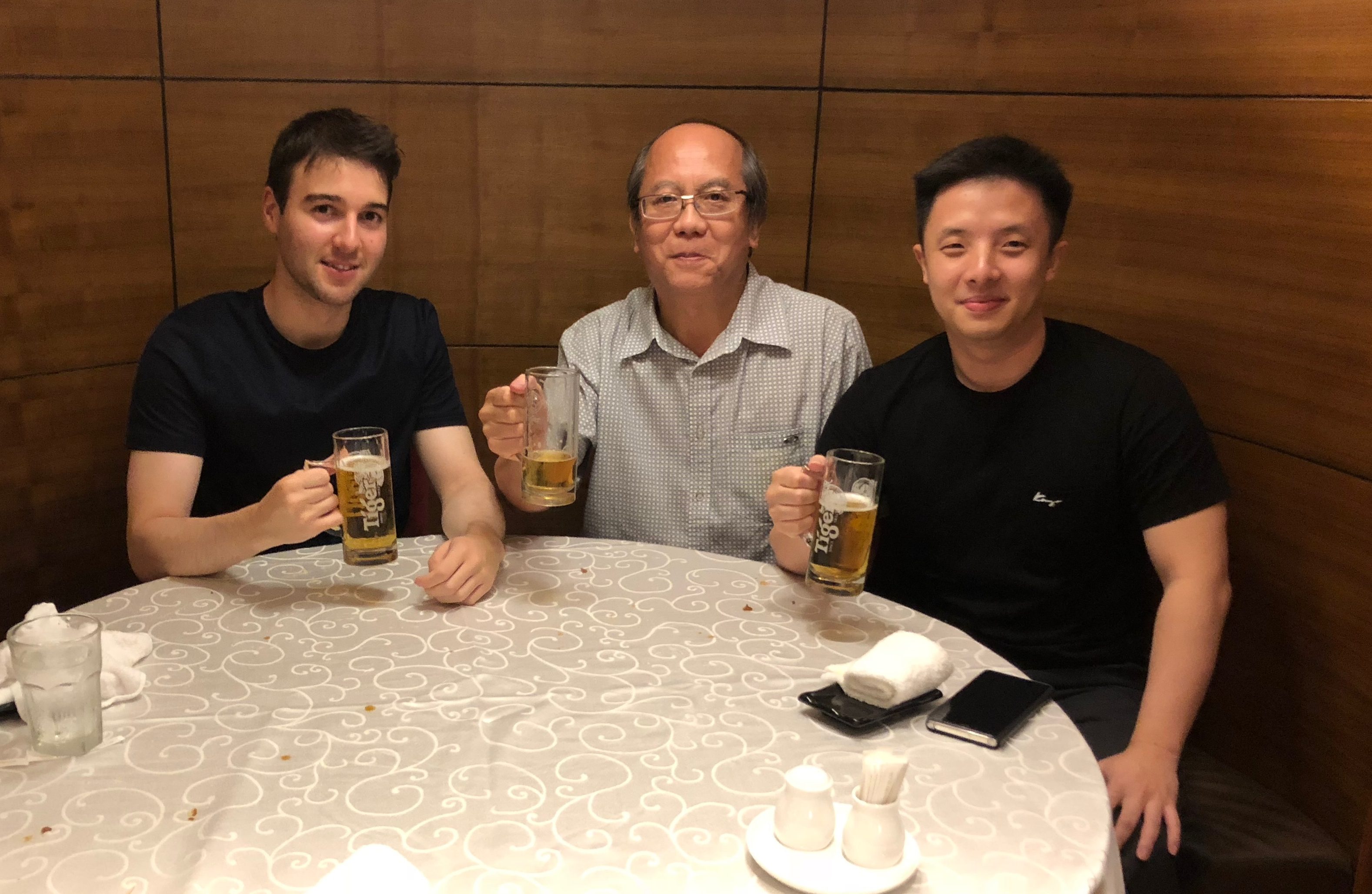 The genesis of companies often is a story of two friends meeting, and Lim's was no different. He tells us that he was still at Credit Suisse when his brother was studying at Harvard, he told Lim about "a really bright guy (who) has some ideas" who he met in school.
"So I decided to have a chat with him and I found him to be really really smart; really intelligent. It's just very different in terms of the mindset and the thought of what he wanted to do. So that's when we decided to say 'hey let's work on something together' tech-related."
The big idea: advertising you can decide to open and watch... or not
This kicked off a lengthy process of brainstorming and reiterating business ideas and models between Lim and Colangelo, until roughly two and a half years ago, when the duo settled on something they hope will revolutionise internet video advertising.
The idea: developing technology to transcribe the spoken (or sung) words (or lyrics, for instance) in a video, and match the clip (or extract of it) to the text that appears in an article you might be reading online.
The text is highlighted, and when a user clicks or holds onto it, a circle with the video extract pops up and starts playing. The viewer can opt to watch the whole thing or click away from it — in the former scenario, a user can earn money (in the form of Vidy's cryptocurrency) from watching these ads or video extracts, while in the latter, that's all that needs to be done; no harm or fuss done.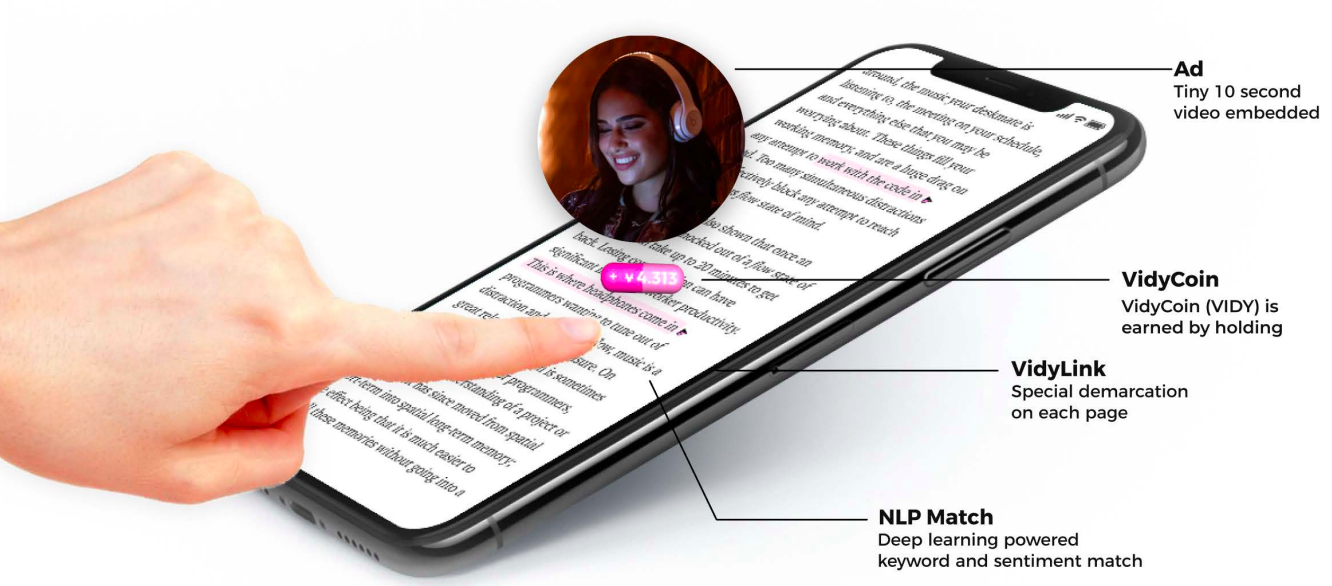 "So we thought about it like say 'hey, what if I can hide the advertisement behind the text and allow the user to choose whether he is interested?'. So that was the whole idea, which is first of all giving the user a choice... Because users today are being exploited all over the place on the net and with the GDPR regulations (that kicked in last year), the opt-in mentality, it was a timely opportunity to kind of make that change."
Lim and Colangelo's business idea also arose in response to the multiple problems riddling the digital advertising industry today, as it currently stands: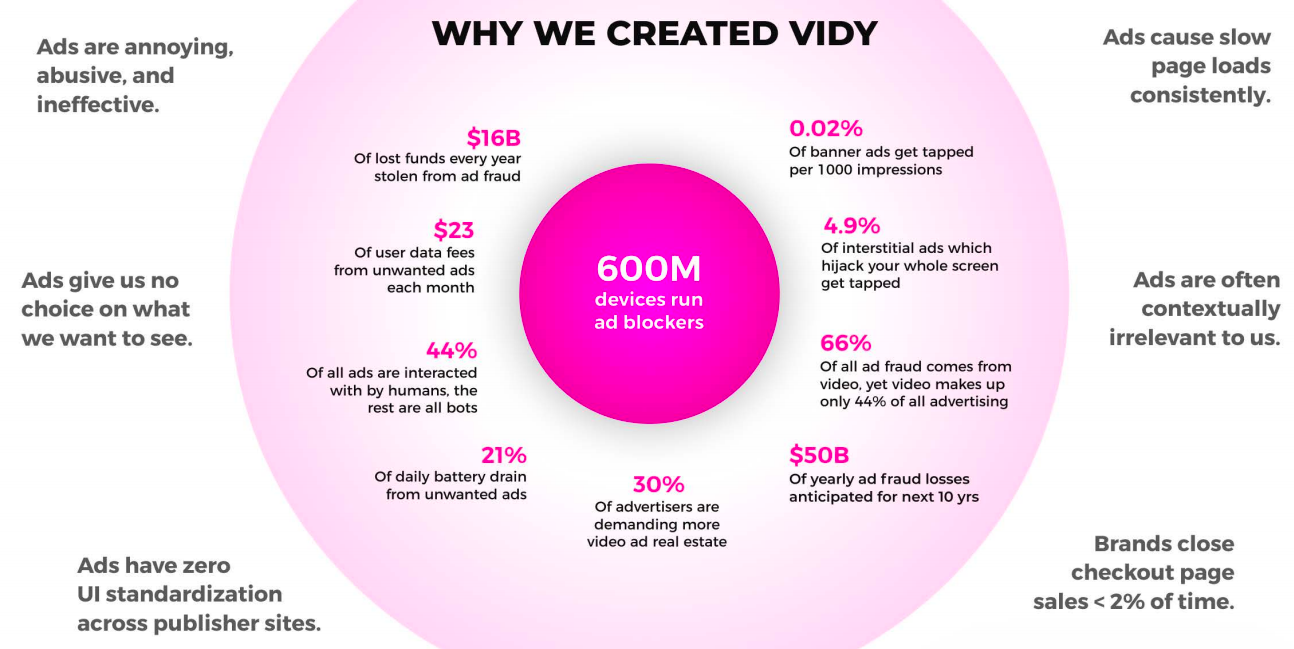 In essence, it's advertising that the user gets to choose to view (or not), gets money (in the form of Vidy's cryptocurrency at this point) for viewing, and is transparent and targeted (indexed according to keywords and topics, embedded when it is mentioned in articles on websites) — things Lim and Colangelo believes constitute the best of everything all parties involved would want.
Potentially very neat.
Heading an international startup: an LDR involving lots of mutual trust
Having started the company in the U.S. with Colangelo, Lim says their first office was opened in San Francisco in 2016, where they hired experienced and talented engineers and developers focused on working on Vidy's technology. But Lim subsequently opened the company's first outpost in Shanghai two years ago, where his team works on marketing, publisher partnerships and business development.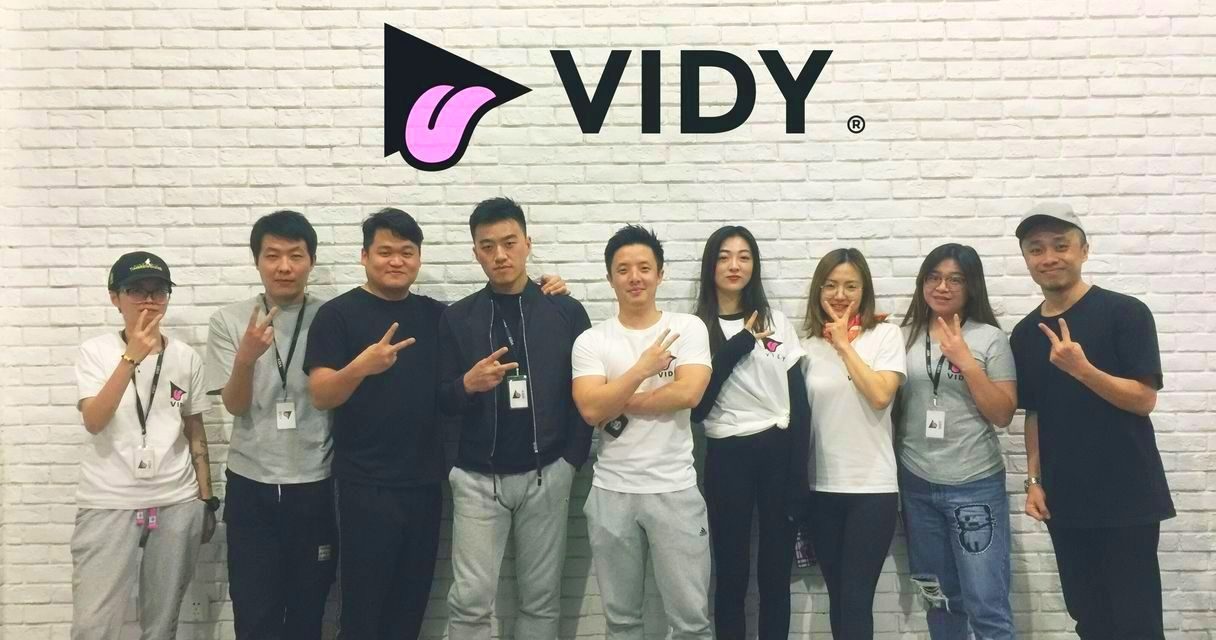 Why Shanghai and not Singapore?
Lim explains that Singapore's market is too small, for one, and also more expensive than Shanghai, where it isn't cheap but still more affordable than here.
"I mean, China's a huge market and eventually we want to be there, so it's good to build the team there so that culturally you understand how it works in China. Because for Singaporeans who have never worked in China or who have never been to China or been exposed to China, it's so different. It's a whole new universe."
He said it took him awhile to get used to how things were done in Shanghai, and there is so much to learn, even in everyday interactions.
"It's just a very different environment, and I think it's not as straightforward as Singapore; and that's why I think for long term it was better to start in Shanghai, rather than Singapore because from Shanghai (if) you want to come to Singapore it's easy. From Singapore, you want to go to Shanghai it's impossible, you take two years, right? And that's why we decided to start there.

And eventually from Shanghai to go to Taiwan to go to Japan, Korea, it's quite near. So there's a strategic reason for that, yeah. But more importantly we wanted to get to know China better... ultimately the big market is China."
It was definitely the nature of Lim's relationship with Colangelo that resulted in the international nature of Vidy as a startup — a unique situation compared to most others, which are usually based in one location in their initial stages.
In fact, Lim says they talked about the business idea they had in mind to start together over six months before they would meet in person for the first time. But they hit it off swimmingly, and Lim feels they've got the right mix of complementary and matching interests and visions for the company.
"Sometimes you know we call it fate that we get along well, we trust each other, we have the same mentality, the same mindset, so there wasn't a problem working remotely for a bit until we got together. Obviously even now, he comes to Asia quite often, I go to San Francisco quite often, even as we are remote, you know.

I trust that he knows what he's doing with the team there with the development. He trusts me to do the business development, you know the markets in Asia and stuff. And we always trust each other to make decisions. Sometimes he'll just leave it to me to make the decision whether we should get this investment or not or whether we should approach this person or not, he trusts me.

So we give each other that due respect, and I think that's what made it possible; otherwise it would be really tough, a battle you know, especially if you don't trust each other and stuff like that. I think that was what made it very easy for us to manage."
"The only time something fails is when you give up"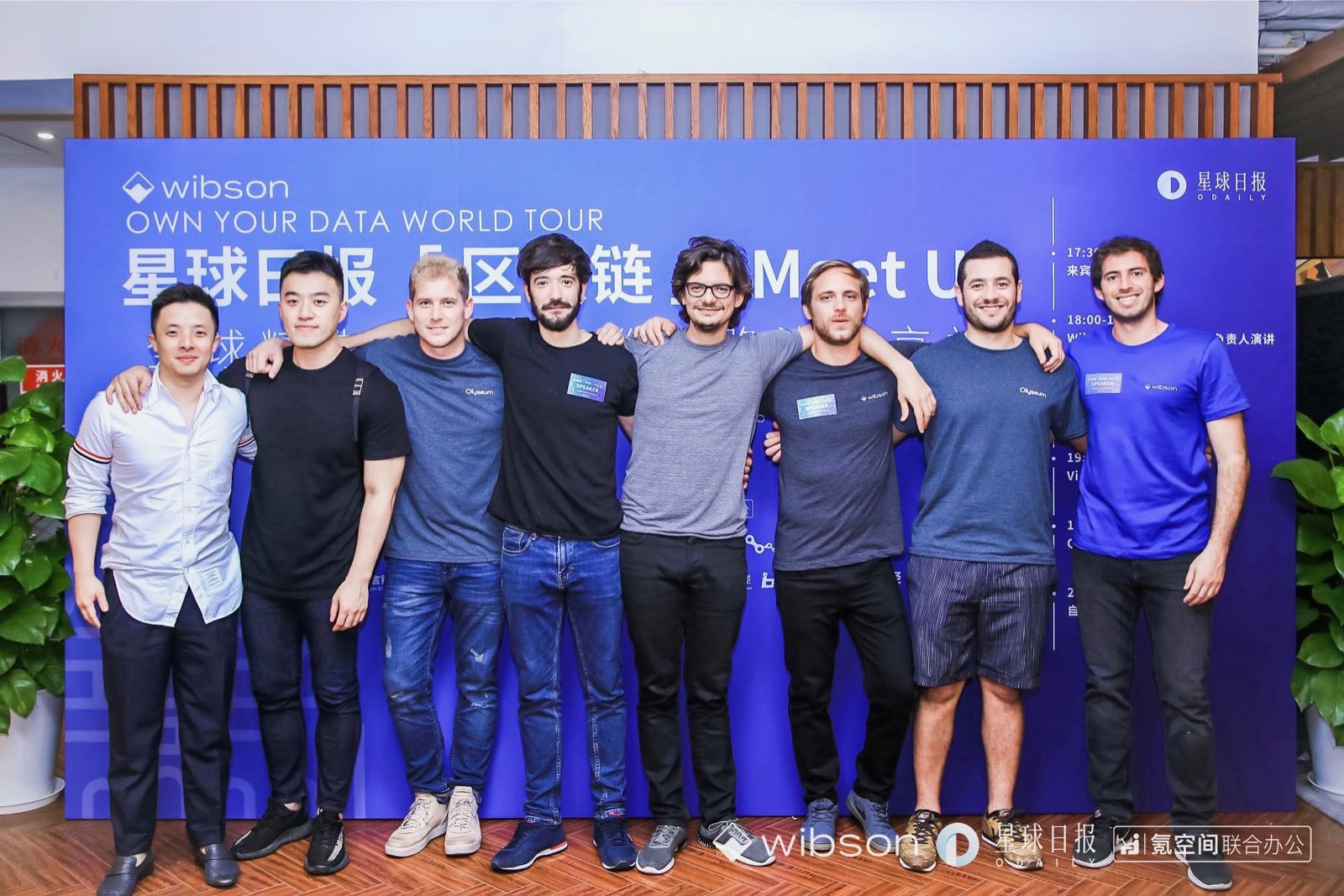 Interestingly, Lim doesn't seem to have a "what if all this fails" backup plan.
"I think Patrick and myself we never ever thought about what if this fails. Realistically we should, but we don't think about it because I think the only time it fails is when you give up, right? Then it fails. Because if you don't give up, and you continue to work on it and you continue… you always find a way, right?"
But he and Colangelo are conscious of the need to be flexible and adaptable to change — so crucial, particularly in a rapidly changing digital environment and space — and are attentive to feedback and advice.
He also admits that while he thought Credit Suisse was a tough job, the startup life has been way more challenging — especially dealing with teams across different timezones.
"There is no night, no day. Because think about it, so we operate in Asia, but then also there's the U.S. team. So sometimes at night I need to speak to the team in the States, to update them on what happened here and also get updates from them on products.

So it's kind of round the clock, I mean it's quite bad, you know it's really stressful and it's tiring but I think that's the fun of it... it's just non-stop; it's really non-stop, because there are so many aspects."
As the face of the company, Lim also does entertainment appointments with investors, advisers and potential investors and advisers, apart from managing his team, doing higher-level strategising and on the whole, fighting everyday fires.
"At Credit Suisse I still had a boss. You still have a superior, so if I'm done with this, I hand it in, and I don't have to care about it. Here, I have to care because I answer for it.

So I think it's more of the mental stress as well, not just the physical work. It's just very tiring mentally."
I was also interested to hear what his undoubtedly Singaporean parents thought of all this — namely, Lim's daring jump from investment banking into something completely new, unknown and without any guarantees or promise of success or salary that is anywhere close to what he was earning at Credit Suisse.
His reflection on this is quite instructive, though, all his ongoing hardship that he shares with a shy smile only because I ask about it notwithstanding:
"I mean, they've always given me the independence to do what I want... I told them that look, I made a plan for it, obviously I've saved enough money you know, from the years in Credit Suisse and so on.

And honestly I learned a lot during this journey... If I had stayed in Singapore and continued my job, I'd probably just be very Singaporean, you know just be like Singapore Singapore. I would not know China as it is today if I never had gone outside, so I think it's great, I don't regret it at all.

But I do see the upside in the project, I do see the potential for this to be really huge if we do it right. But obviously you know, there's a lot of things to be done, a lot of hard work to be put into. But it's worth it, I think."
Top photo courtesy of Matthew Lim
If you like what you read, follow us on Facebook, Instagram, Twitter and Telegram to get the latest updates.