In July 2018, six youths stole S$1,064 from the cash register of a curry puff stall at Yishun Park Hawker Centre.
600 curry puffs worth of savings
That money is the equivalent of selling 600 curry puffs that are made by hand.
It was a nightmare for owners Kalsom Kamis and her husband Zaidi Zainal, who had just started their curry puff business two weeks prior to the break-in.
According to an interview by Today, the savings that were stolen were meant for the couple to purchase equipment to aid Kalsom in making the puff pastry.
The interview has since been shared widely on social media, with commenters encouraging fellow Singaporeans to patronise the curry puff stall.
This is despite the couple raising the prices for each curry puff from S$1.20 to S$1.50 after the incident, to earn back the stolen money.
Thief punished
Six youths had devised a plan to steal money back in July 2018.
One of them climbed a wall at midnight and stole the cash from the stall, while the others kept a lookout.
One of the youths, Ng Qiang Qing, 17, was sentenced to two years' probation on Friday.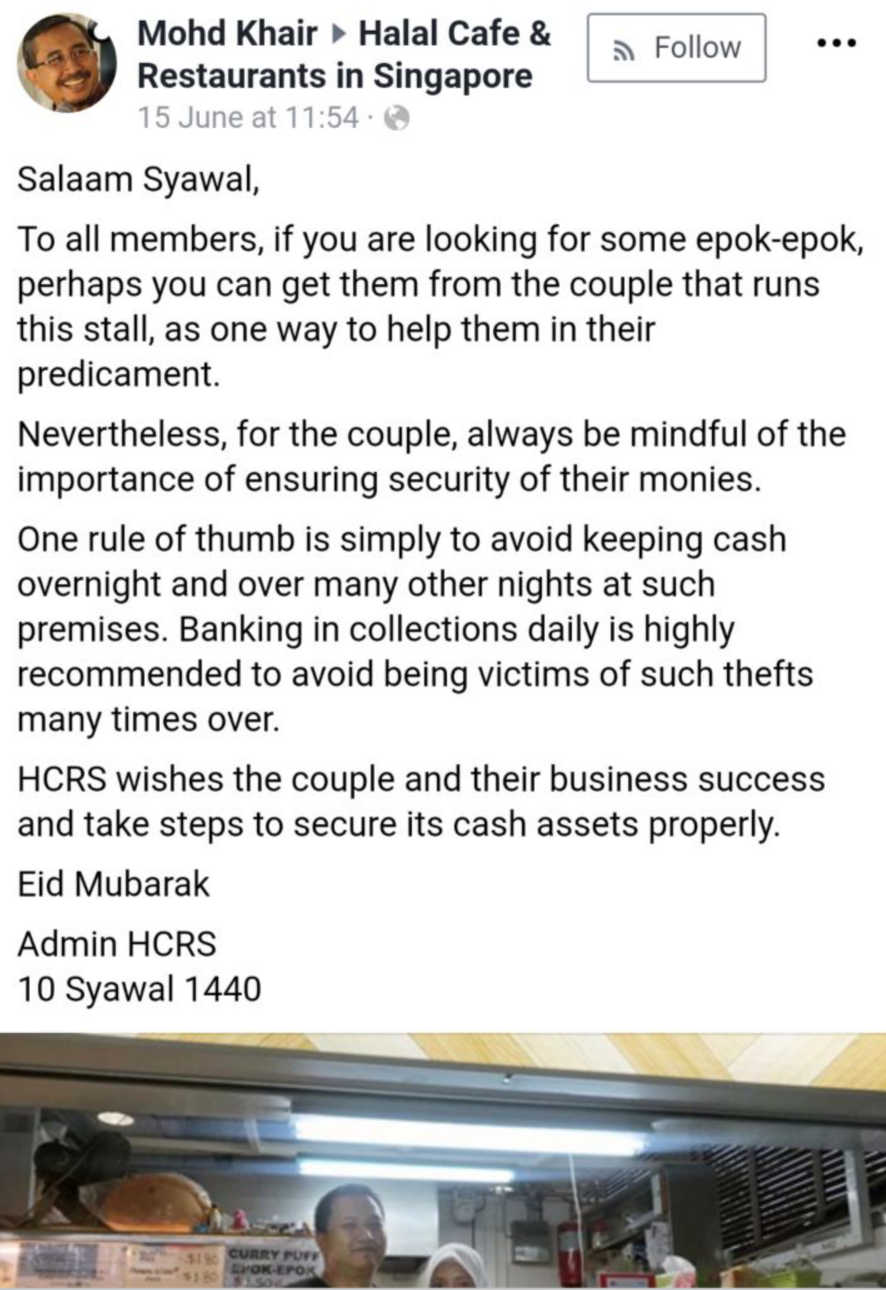 https://www.facebook.com/HalalGoodsDoGood/posts/2368158286836576
Generous support
A follow-up report by Today noted that Singaporeans have since been arriving in droves from all over the island in a bid to help the stall to sell more than 200 curry puffs a day.
Generous Singaporeans have even been offering donations up to S$300 to help the couple and their family.
The curry puffs have also earned high praise:


If you'd like to support the couple's humble curry puff business, here's where you can find them:
Kalsom Kuih Muih (Curry Puff) 
#01-01
Yishun Park Hawker Centre
Singapore 768867
Opening hours:
Tuesday to Sunday: 2pm to 8pm
Closed on Mondays
Top image via _afiqasmuni's Twitter and Kalsom KUIH MUIH YPHC's Facebook page
If you like what you read, follow us on Facebook, Instagram, Twitter and Telegram to get the latest updates.