Local cafe Tiramisu Hero's adorable cat mascot and brand will be familiar to many Singaporeans.
Recently, they were caught up in a legal tussle when a Japanese company, Hero's Produced by Tiramisu (HPT), tried to trademark some of the images associated with their brand. Like this lazy kitty: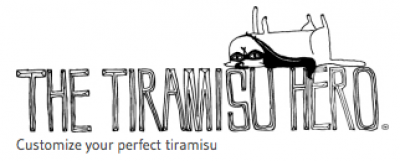 Tiramisu Hero also changed their name and are known as the Tiramisu Star in Japan.
Some Japanese fans have taken Tiramisu Hero's side over HPT, calling it out for what they see as alleged opportunism and unethical behaviour.
Tiramisu Hero's founders Aileen Koh and Peggy Chang expressed their gratitude for the support they received, and said it was "encouraging."
Artist's accusations of copying
But there was another twist to come.
On Feb. 7 (Singapore time), British artist Gemma Correll said that Tiramisu Hero had "based their brand" on her artwork.
She tagged Tiramisu Hero in her Instagram story, which you can see below: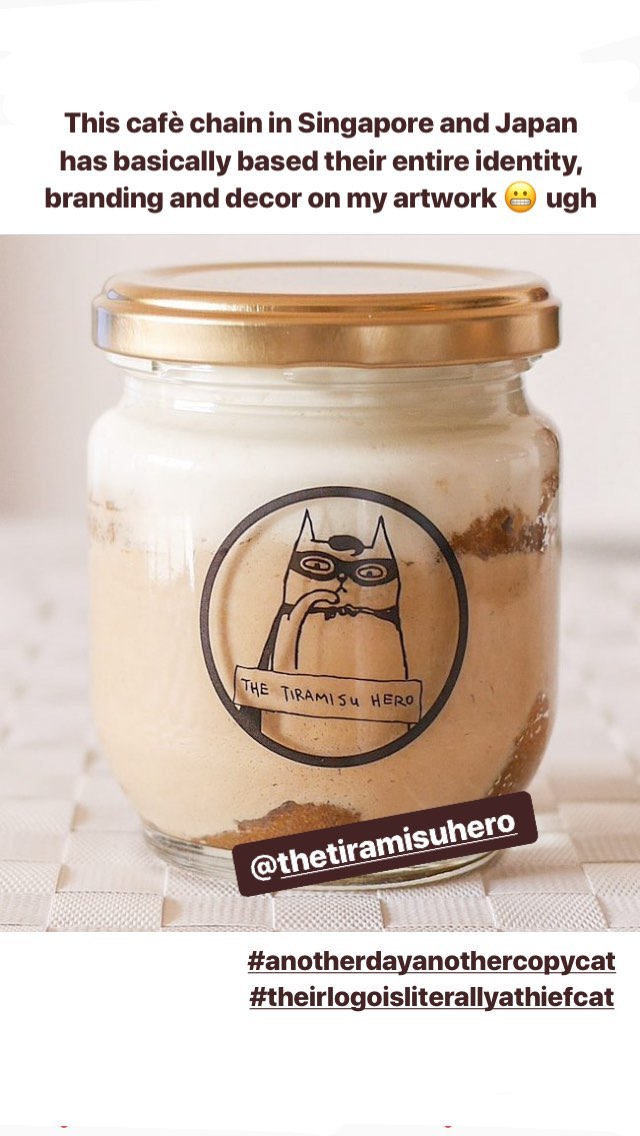 Correll's Instagram page features several illustrations of animals like pugs and llamas, although she does draw cats too:
Although she did not indicate exactly which of her illustrations resembled Sir Antonio, Correll posted another Instagram story, comparing one of her creations to the lazy kitty logo: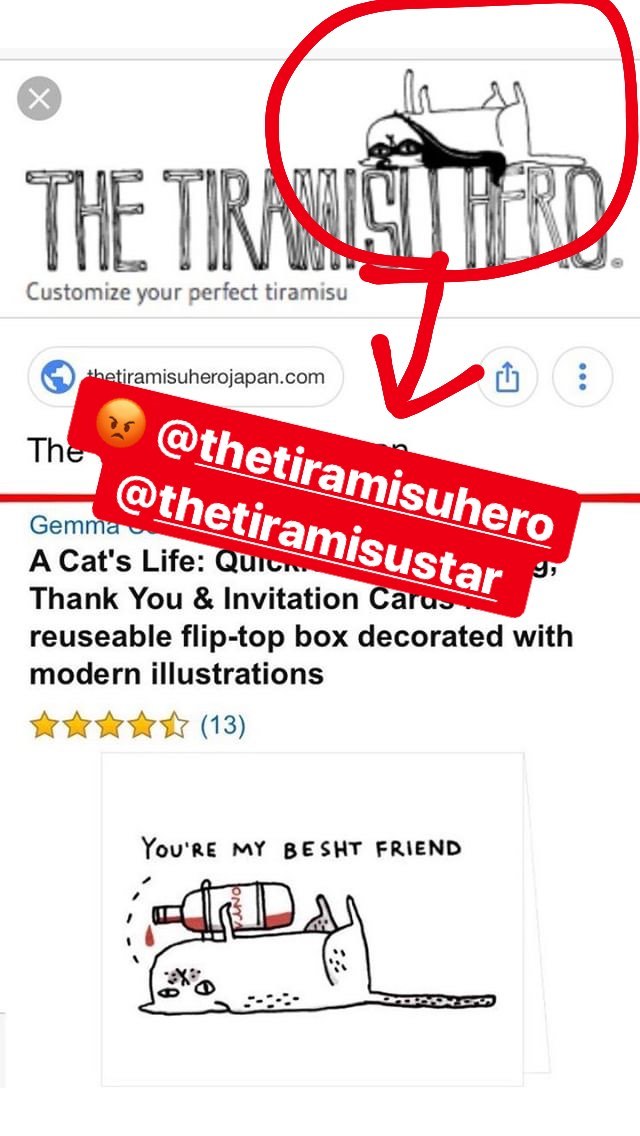 Tiramisu Hero acknowledged inspiration from Correll's artwork
On the same day, Feb. 7, Tiramisu Hero shared a statement on their Facebook page in response.
They said that when their "two-girl team" first started out in 2012, they took inspiration from the work of illustrators they were fond of while coming up with a cat mascot for their brand.
"The artwork produced in the early years of our business was indeed heavily inspired by the creations of Gemma Correll," they said, adding that they were fans of Correll's work even before the brand was conceived.
Tiramisu Hero further elaborated that they tried to make their own cat drawings look different, but had referenced Correll's style on the background, setting, and certain body positions. They said:
"We now know that this was not right, even in study of discovering our own illustration style. We are truly deeply sorry and regretful towards Gemma and her fans."
They added that they held Correll in high regard, and they had no intention of directly reproducing her drawings, nor wrongfully passing off her work as their own.
Certain illustrations will no longer be used
Tiramisu Hero have reached out to Correll to extend their apologies.
Going forward, Tiramisu Hero said:
"We will ensure that the artwork created in close reference to Gemma's will no longer be used by us nor by our franchise here forth.

All art pieces referencing Gemma's were produced when The Tiramisu Hero was still in its infancy stages, and have no longer been in production since 2015."
You can see the Facebook post below.
Tiramisu Hero will continue using their current logo
Mothership contacted Koh and Chang, the co-founders of Tiramisu Hero for comment.
They said that their current registered trademark logo of Sir Antonio is different from their initial drawing:
"It is completely different. The first version of Sir Antonio cat in 2012 was indeed inspired by Gemma Correll's illustrations, but she was not the sole inspiration source."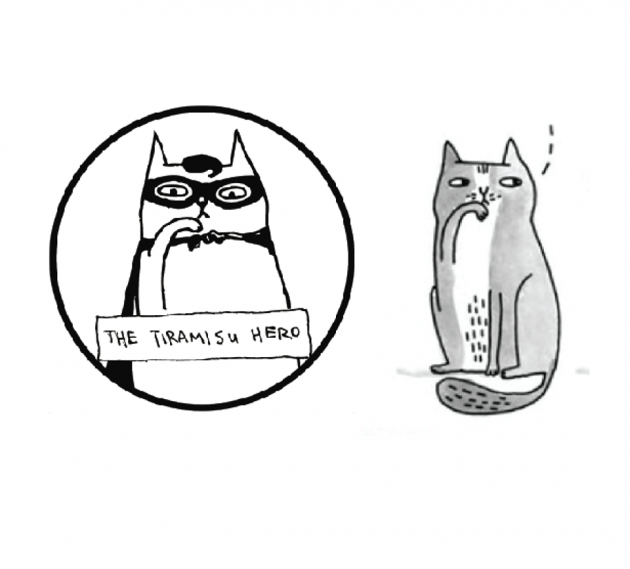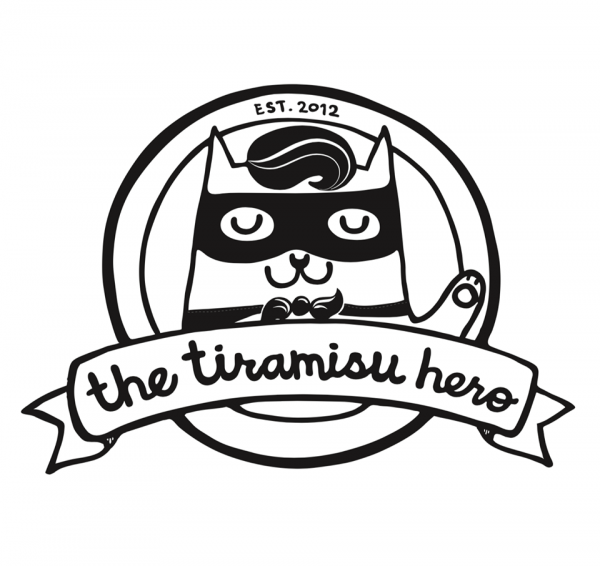 When asked if they would offer compensation to Correll, they said:
"No. We feel that we have at no point set out to plagiarise anything and at no point tried to pass off her artwork as ours. In fact, our official creative style that we have been come to be known for differs greatly from Gemma Correll.

Though we would still like to say that she is a remarkable illustrator that we greatly respect."
They added:
"We are apologetic and realised we have made a rookie mistake by not mentioning our inspiration sources at the beginning and even though opinions may differ, we like to seek the forgiveness of Gemma Correll herself for our oversight.

We have nothing to hide. The fact remains that she was a great inspiration to us and we are happy to name her. The fact is also, our registered mascot Sir Antonio, is original and created by us."
Koh and Chang confirmed that they will continue to use their registered trademark logo of the Sir Antonio cat:
"This is the current trademarked logo and while it is also a cat, it is illustrated completely differently. Our current logo has no resemblance to Gemma Correll's illustrations and so there will not be a new logo moving forward."
Artist believes it cannot be just an innocent mistake
Mothership also contacted Correll for comment. When asked when she first learned about Tiramisu Hero's artwork, she said:
"I was told about it a few months ago but back then, I only saw the Cat "licking it's paw" logo which, while clearly copied from one of my drawings, wasn't enough for me to look much further into the matter. My drawings are copied very often and I don't really have time to pursue matters like this, as I am a very busy artist."
She said that Tiramisu had contacted her:
"I was contacted by TH. They created a post on social media about the matter, admitting that they did copy from my artwork in 2012. While I am pleased that they made an apology, they did not fully explain the scope of the copying, as it was not just one cat image, but many images - some of which are currently sold as merchandise, or appear on their cafe walls.

To say that they have changed the artwork since they originally made it is to willfully ignore the fact that they are still producing merchandise with artwork copied from mine."
Correll shared with Mothership some more examples of Tiramisu Hero's artwork that she believes are very similar to her own: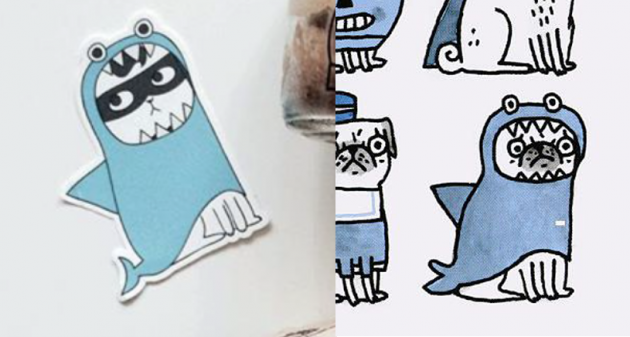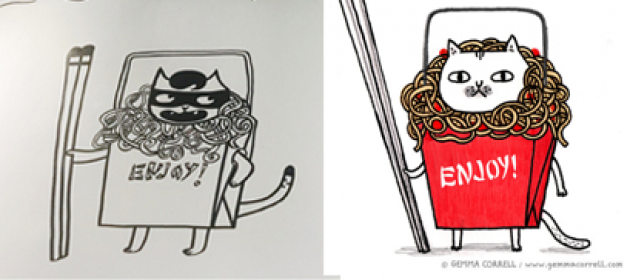 "Some of the images have been traced, some have been copied and then altered (for example, the cat in the shark suit  - the shark suit has been copied from one of my drawings from "A Pug's Guide to Etiquette" but the pug face was changed to a cat) and some are just copied but not traced (e.g. the cat in a noodle box)," said Correll.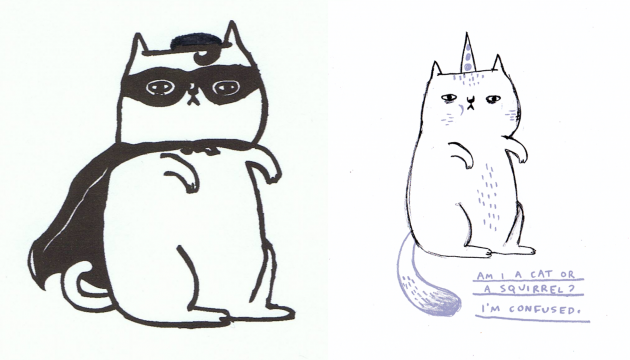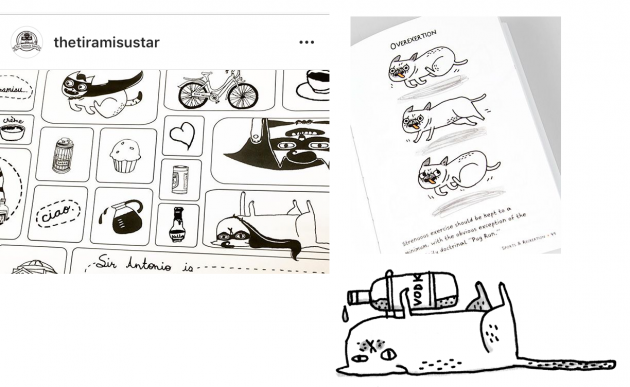 "If it was just one thing, I would have let it go, but it's so many elements from so much of my artwork that it cannot be just an innocent mistake," said Correll.
She shared that the images are from her books A Cat's Life and A Pug's Guide to Etiquette that were published in 2012 and 2013 respectively.
However, they contained images that were previously published on Flickr, as well as some patterns and products, from 2009 to 2013.
Said Correll:
"I am disappointed by these events, as I visited Singapore a few years ago and really loved the country - I think I would have been really upset if I had stumbled upon the Tiramisu Hero cafe during my visit! I also would have loved to have the opportunity to decorate a whole café with my drawings, (and be paid for it, of course). 

I also don't think that I would have bothered pursuing this matter if it wasn't for TH's lawsuit against Hero's. As I mentioned, I see examples of my work being stolen every day - but the audacity of TH to claim that Hero's stole their logo, which is in fact copied from my artwork, is quite amazing."
(Editor's note: Story updated at 10:30 am on Feb. 8)
Related story:
Top image from Tiramisu Hero's Facebook page.
If you like what you read, follow us on Facebook, Instagram, Twitter and Telegram to get the latest updates.