A petition has been created to appeal to the Land Transport Authority for leniency when dealing with the Go-Jek driver who used his mobile phone camera to capture and disseminate footage online of his argument with his Chinese passenger.
The petition was started on Sunday, Feb. 3, and within a day, received more than 29,000 signatures.
Why was the petition started?
The petition was started with the expressed goal of getting 100,000 signatures from the public as a show of the public sympathy and support for the Go-Jek driver's plight.
At present, Go-Jek has indicated that it will not take action against the 49-year-old driver, Kamaruzzaman Abdul Latiff, but the matter is still investigated by LTA.
The Go-Jek driver, who said he made the recording to protect his own interests, is at risk of having his driver's vocational licence revoked.
This is due to his use of his mobile phone to make a recording of his in-car interactions with his passenger, and then uploading the footage online, which can constitute as a breach of the passenger's personal data.
Strict regulation for recording devices
In-vehicle recording devices (IVRDs) can only be installed with proper approval from the authorities and without the sound recording function, under current regulations which came into effect in June 2018.
The retrieval of data from such devices can only be done for official purposes, such as fare evasion investigations, in a bid to protect consumer data.
Under the Chauffeured Private Hire Car and Taxi Driver's Vocational Licence Demerit Points System, unauthorised installation of inward-facing IVRDs and the unauthorised access of visual records can result in hefty penalties such as a S$1,000 fine or up to three months jail.
This can lead to a 21 demerit points for the driver, which is an automatic revocation of the vocational license.
The petition indicated that the Go-Jek driver has dependents who rely on him to make ends meet.
The petition said:
Abang has three children and is the sole breadwinner of his family. The loss of income during the period of possible suspension will hit his finances hard.
Do not donate
On Feb. 4, a Facebook post was shared saying that any appeal for donations for Kamaruzzaman is being carried out without his knowledge.
The public has been advised to sign the petition and to ignore the calls for donations.
The Go-Jek driver has also said he did not ask for donations: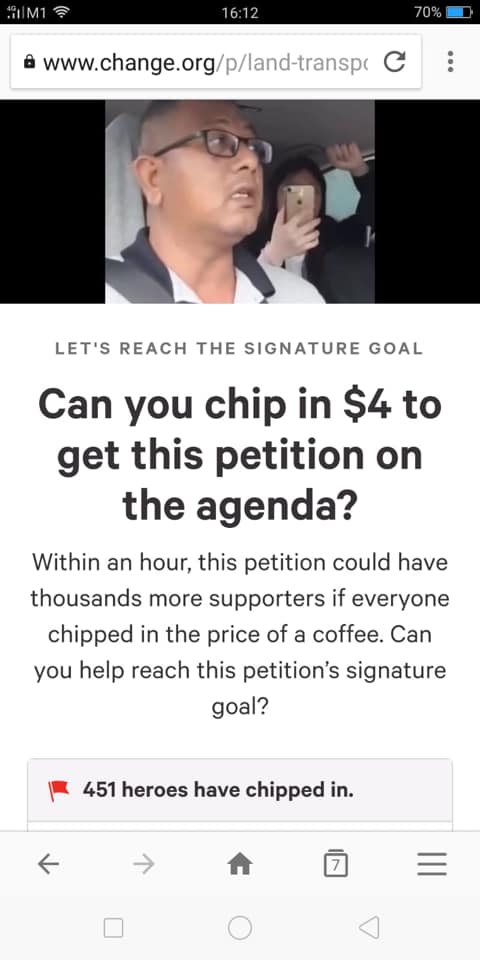 If you like what you read, follow us on Facebook, Instagram, Twitter and Telegram to get the latest updates.