8 Bishan otters squeak gang chant to intimidate 3 Siglap otters near Dakota Crescent
Intimidate only.
Zhangxin Zheng |
February 2, 04:52 am
The Bishan otters have proven themselves to be an aggressive bunch.
Despite losing their key strategist, the late Bishan dad, the remaining Bishan otters have proven to be capable of defending their prime Marina Bay territory, which they stole in 2018 from the original Marina otters.
Marina otters lose gang fight to Bishan otters not because they didn't chant poem loud enough
As if that's not enough, a few Bishan otters have recently also become involved in a fracas with a smaller group of Siglap otters.
Surprise attack on Siglap otters
Eight Bishan otters, comprising two adults and six pups, were spotted sneaking into the Siglap otters' holt on Jan. 14.
The eight otters swam down the Geylang river steadily to the Siglap otters' holt, which is a slit in a concrete pavement.
The Bishan otters appeared provocative, with their heads bobbing at the entrance of the holt while making loud squeaking noises.
However, the Siglap otters remained in their holt, refusing to have a showdown with the eight Bishan otters.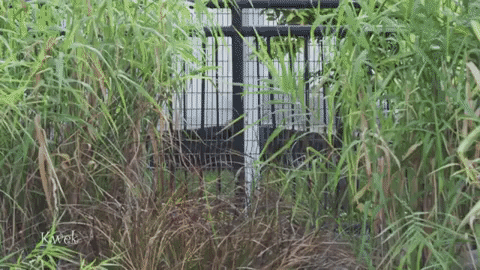 The aggressors then changed tactics after they failed to pressure the Siglap otters to come out for a duel.
The eight of them then retreated to a sheltered walkway to wait for the Siglap otters to let down their guards.
However, the pretense failed to draw Siglap otters out too.
You can also see some Bishan otters flashing their teeth in this clip:
The Bishan otters eventually left without a fight, but rubbed their scent on the grass patch outside the Siglap otters' holt.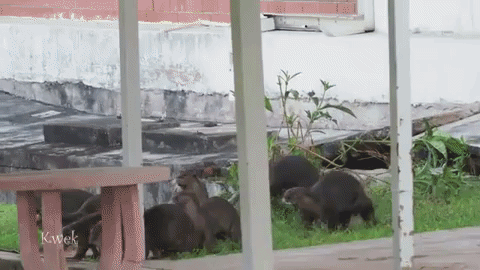 The three Siglap otters only came out after the coast was evidently clear.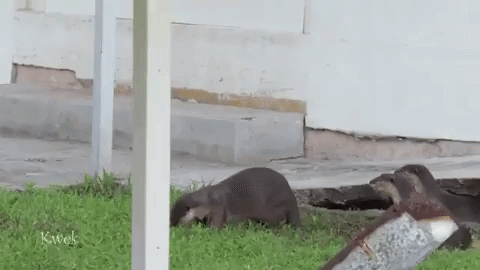 The Bishan otters definitely got what it takes to be the biggest and strongest otter family around.
Fierce.
You can view the full video captured by an otter enthusiast, Otter Kwek, here.
All GIFs and top photo from Otter Kwek's video
If you like what you read, follow us on Facebook, Instagram, Twitter and Telegram to get the latest updates.