The heartbreaking sight of a puppy being helplessly tied to a tree provoked much anger towards its owner.
It turns out though, while the dog was indeed tied to a tree, it appears her owner had no part to play in that.
In an update on Ng Chek Hock's post, the puppy, called Luna, has apparently been claimed by her owner.
Dog was lost, apparently when owner's dad took her for a walk
It turns out Luna's owner had lost her recently.
Here's the update Ng added to his post:
"Owner has been found. The dog was lost, and was not subjected to abuse by owner as some have suspected.

For this matter, I offer my sincere apologies to Wei Ying, owner of Luna, for having incorrectly labelled her as words which I would prefer to not to repeat. As a result of my post, I have also inadvertently unleashed a stream of anger amongst citizens on Wei Ying. For this too, I apologise to Wei Ying.

Fellow netizens, I thank you for your concern over the dog, Luna. Although I dislike very much the use of vulgarities in comments on my post, I purely understand the anger that you felt.

Now that we have the owner stepping up, and regaining their lost, Luna, I ask all of you to be happy for their reunification, and bless Luna for quick recovery."
Luna is apparently in the process of being claimed from AVA.
The owner himself, going by the Facebook name Wei Ying, emerged to clarify the situation in the comments to Ng's post: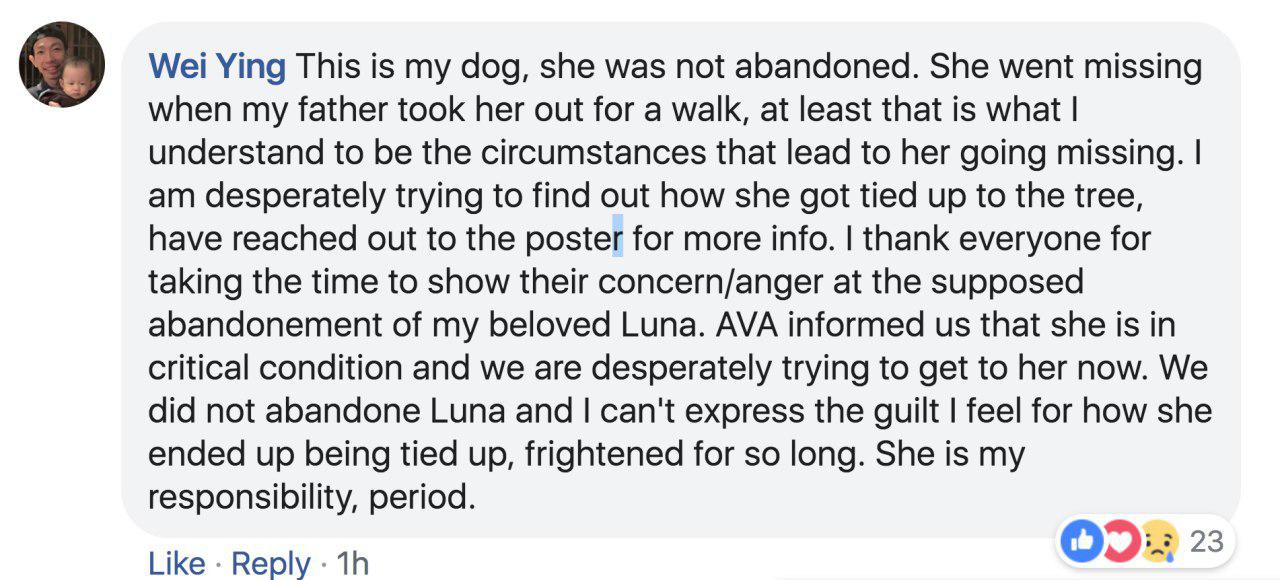 "This is my dog, she was not abandoned. She went missing when my father took her out for a walk, at least that is what I understand to be the circumstances that lead to her going missing.

I am desperately trying to find out how she got tied up to the tree, have reached out to the poster for more info. I thank everyone for taking the time to show their concern/anger at the supposed abandonment of my beloved Luna.

AVA informed us that she is in critical condition and we are desperately trying to get to her now. We did not abandon Luna and I can't express the guilt I feel for how she ended up being tied up, frightened for so long. She is my responsibility, period."
Apparently the dog had gone missing while being walked by Wei Ying's father, although how exactly that happened still is not clear.
Wei Ying also mentioned that Luna is still in critical condition, and that his family has not yet been able to "get to her".
Wei Ying is currently overseas as well, according to a follow-up comment: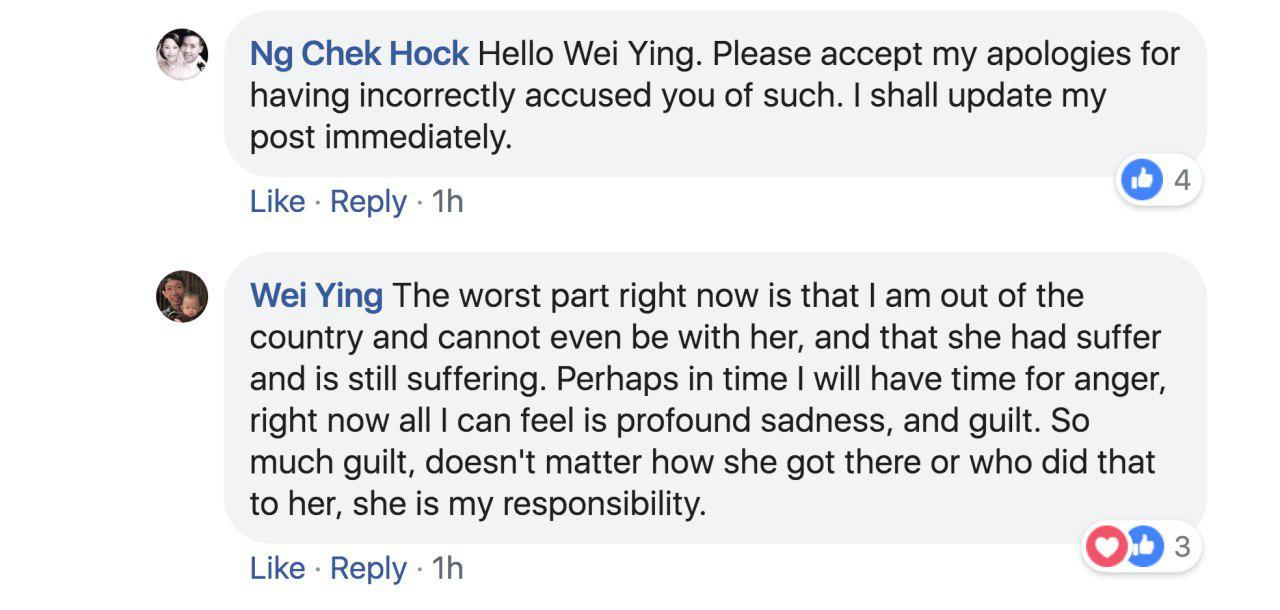 Who tied her there?
The number one question from netizens, now, is who tied her there then?

Some have speculated that someone who found the lost dog thought it best to tie her to the tree.

There are services such as SPCA's 24-hour hotline if you come across a lost pet, and cannot house it for the time being.
Image collated from Ng and Tham's FB posts
If you like what you read, follow us on Facebook, Instagram, Twitter and Telegram to get the latest updates.