If you've ever looked at Geylang on a map, you would notice it kind of resembles a centipede.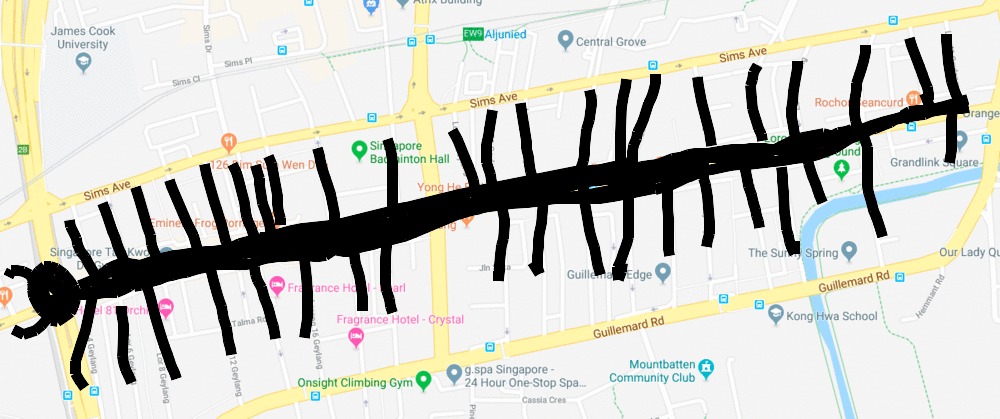 It basically consists of one long thoroughfare (Geylang Road), which branches out into some 40-plus "lorongs" (Malay for "lanes" or "alleys") — half on each side.
And for people who believe in fengshui, this centipede "meets" the Kallang River, which, unfortunately, happens to be the confluence of "five enormous snakes" — the Kallang River and its four tributaries: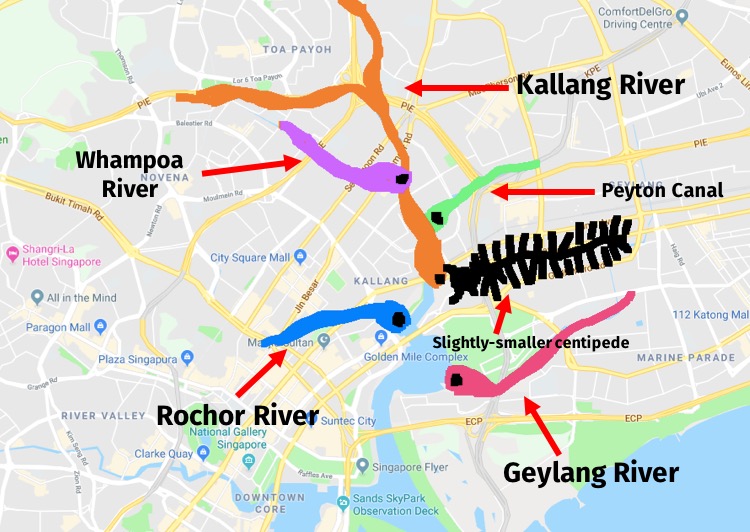 Which, according to at least one fengshui group, is setting our many-legged insect friend up for problems. What makes things worse, fengshui dictates, the mouth of the Kallang River is shaped like a crocodile's mouth, forming a "five snakes fighting a white crocodile" fengshui formation.
And when these guys meet the Geylang centipede, they fight, and the violence destroys the qi of the land — hence, fengshui concludes, the gang fights, violence and criminal activity that takes place in the district.
It is all this, perhaps, that also adds to the overall intrigue of Geylang — also home to Singapore's only legalised red-light district, you'll find beer gardens, brothels, foreign worker housing, hourly-rated hotels and until quite recently, gambling dens.
And right up one of Geylang's lorongs — lorong 11, to be precise, lives 58-year-old Tay Seng Heng.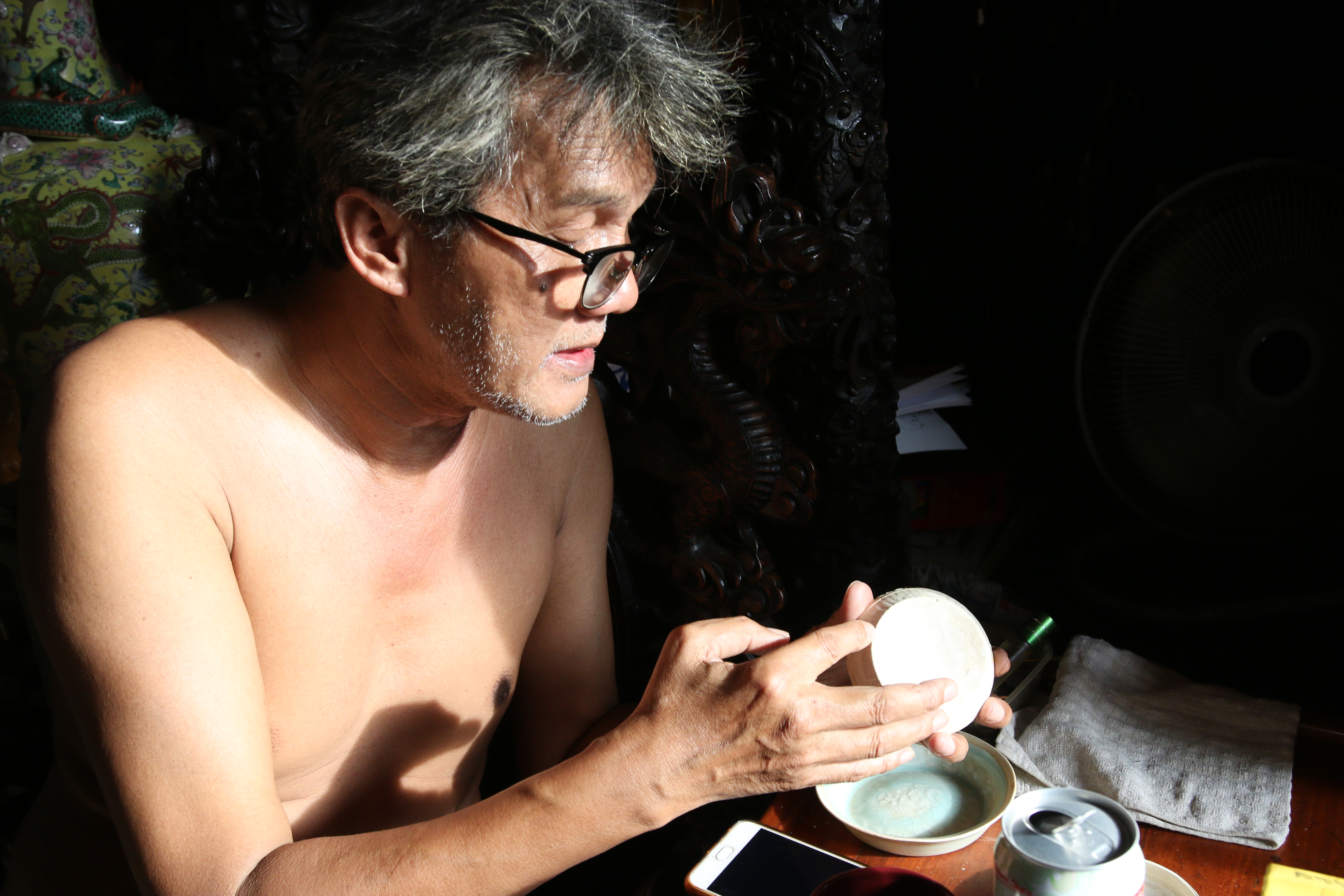 But of course, we wouldn't actually see him until we entered his dimly-lit but surprisingly vast cavern of treasures, behind an otherwise inconspicuous set of off-white folding panel doors with God of Fortune images and auspicious couplets pasted on them.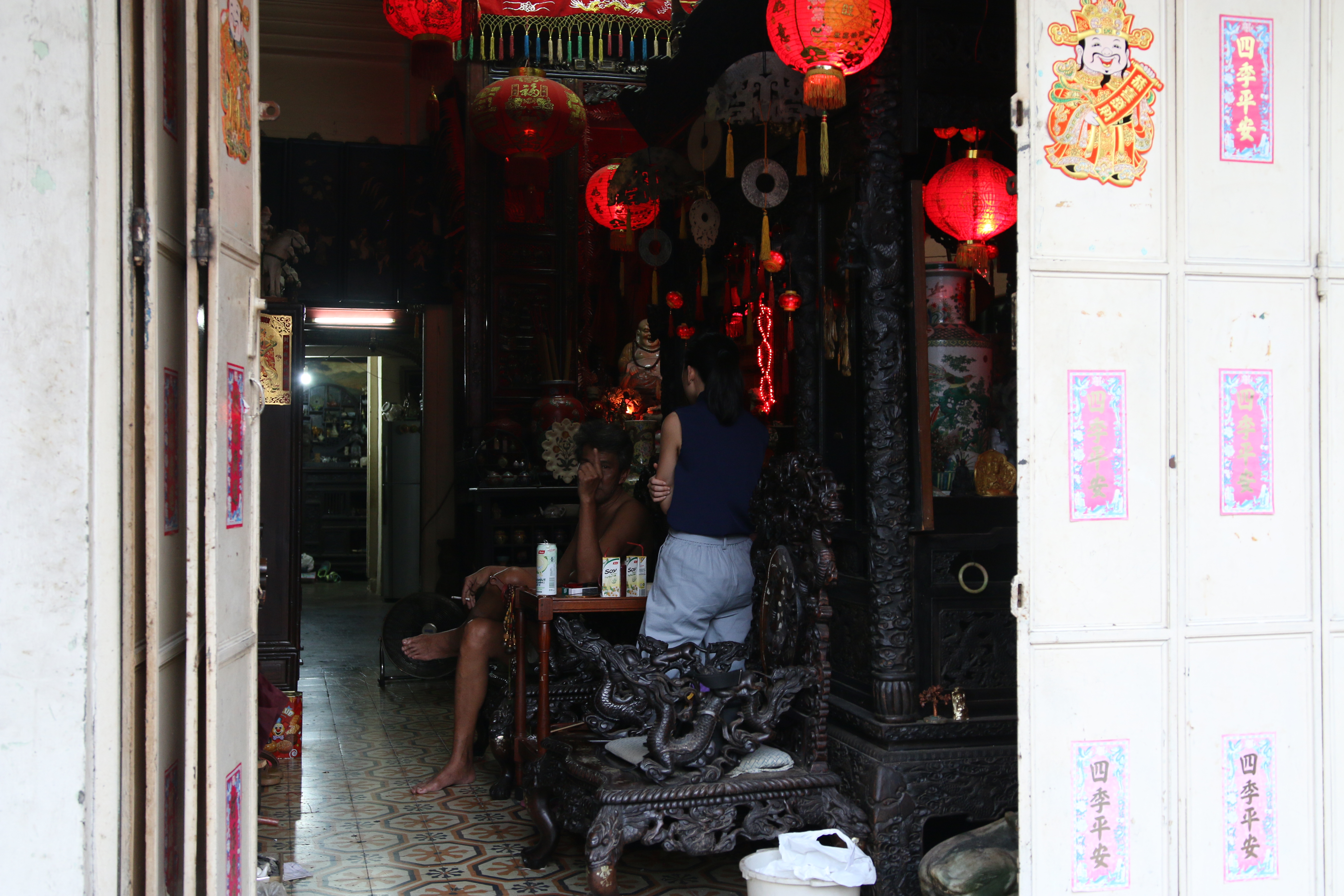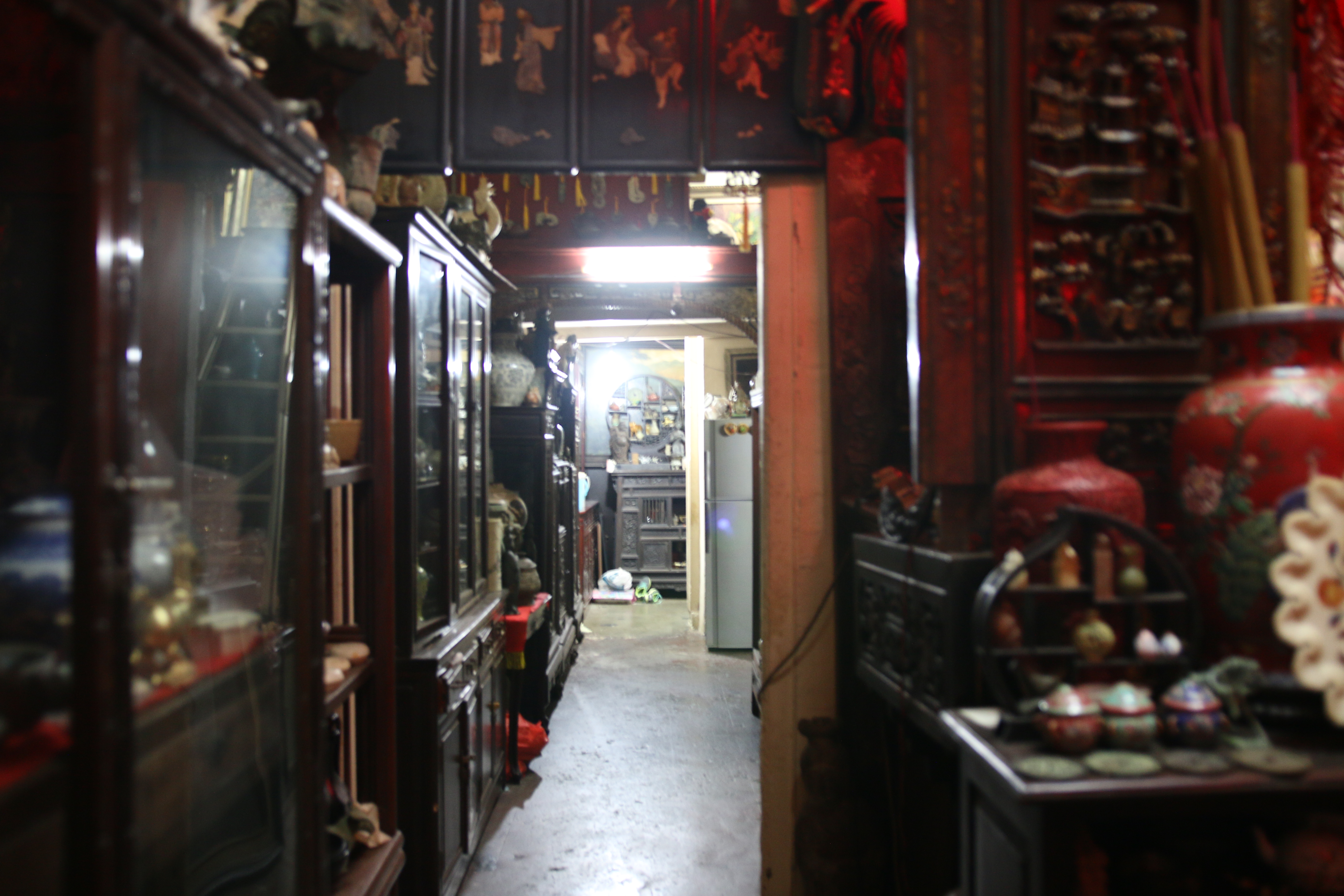 You see, Tay spent a good few decades of his life in the antiques business, salvaging treasures from shipwrecks in Indonesia and selling them to interested buyers around the region and here in Singapore.
Indeed, what he does sounds like actual out-at-sea piracy, which would make him a real-life pirate(!) but Tay is quick to clarify that he never attacked any ships or murdered anyone — in fact, he never even went out to sea (we'll explain this in a bit).
Instead, he prefers to refer to himself as an "antique salvager".
Many of these historical artefacts eventually convened here in his Geylang shophouse, but Tay says he has more than 100 cases of antiques in another house he owns in Batam — he returned here to look after his wife nine years ago after she suffered a stroke.
And it's here that we sit down for a chat with him over packets of soya bean milk, and discover his fascinating story.
"Uncle, what made you interested in antiques?"
Tay has been dealing with antiques for the past 30 years.
His initial industry was in metal works, but his curiosity in antiques was piqued when he was in his 20s.
A friend had introduced him to some supposedly-valuable items that were retrieved from a dig.
"It wasn't a gift to me. At that time, my friend needed money. He had a wife and a kid. So I helped him out (financially). In return, he gave me these items to 'hold'."
He confesses that he does not know if that initial batch of items was authentically valuable, but the encounter he had eventually nudged him into the business of buying and selling antiques.
The details of exactly how Tay entered the industry are hazy, but he recalls landing up in Indonesia while still in his 20s.
"I go where the shipwrecks are. I was also single at that time, and carefree. Indonesia was really cheap."
The dangerous (& illegal) deep-dive & treasure retrieval process
To obtain the massive collection of antiques he now possesses and has sold over the years, Tay enlists the help of a team of Indonesian divers and scouts.
Each trip out to sea, Tay explains, starts early in the morning, and it's a full-day effort — they typically only return in the evening.
The team first scouts the location after being alerted by fishermen who locate the prospective source of valuable items: a wreck.
The team of about 20 then rents speedboats (two per boat) to ride out to the shipwreck.
Divers then attach a rope and stones to themselves to sink beneath the surface to the shipwreck. After picking up the loot, they will leave the stones they brought down with them behind to make it easier for those on the speedboats to pull them and their loot back up.
These divers have insane skill (and probably insane lung capacity too) — according to Tay, they free dive (i.e. without scuba equipment) between 100 and 200m deep, and take five or six of these each day.
Just for some context, by the way, the world's deepest free dive is 253m in depth — and we doubt the dude who accomplished it fished around for treasures and hauled them up while doing it.
Another thing Tay tells us is the team heads out during big waves — quite a dangerous strategy, of course, but Tay says they do so to avoid local maritime police.
"People like us who make a living like this never think about life and death."
But of course, one can't dodge law enforcement forever. Tay said his team of 22 salvagers was once caught and fined about S$100 each.
Illegal, looting sunken ships — we ask Tay if he is sure this isn't piracy. He promptly dismisses the notion, calling it an "ugly" term, instead preferring to refer to himself and his colleagues as "antique salvagers".
That it is, then.
A close-knit relationship of trust & collaboration
As we mentioned earlier, Tay told us he has never gone out to sea with his team of death-defying divers.
Here's where he explains that he usually stations himself in mission "headquarters" — this can sometimes be a hotel room where he packs the "harvested" antiques with other helpers before sending them to interested buyers.
Even though he doesn't do the heavy lifting himself, Tay says he and the Indonesian salvagers share a close relationship.
The salvagers who risk their lives out in the open sea respect Tay, while Tay trusts them with his antiques.
He tells us he once asked them to transport some things to Batam, and they arrived intact.
"When you use 'heart' to understand others, they will treat you well."
Antiques & the arts
After being in the industry over two decades, Tay has been exposed to a vast range of objects from different periods in history, gaining an impressive wealth of knowledge without any formal education in this regard.
Point at any object in the room and he presents a snapshot of its origin and how it was made, although we'll be honest — there's no way we can verify anything he's telling us about his collection.
Historical accuracy aside, though, what strikes us is how passionate Tay is in explaining the artistic value of each item.
"I never studied much, but no amount of books can teach you this. You use your eyes to see, and your heart to feel."
Whut?
To illustrate, Tay took out two saucers and asked us to observe the markings on them, as well as to feel their shapes.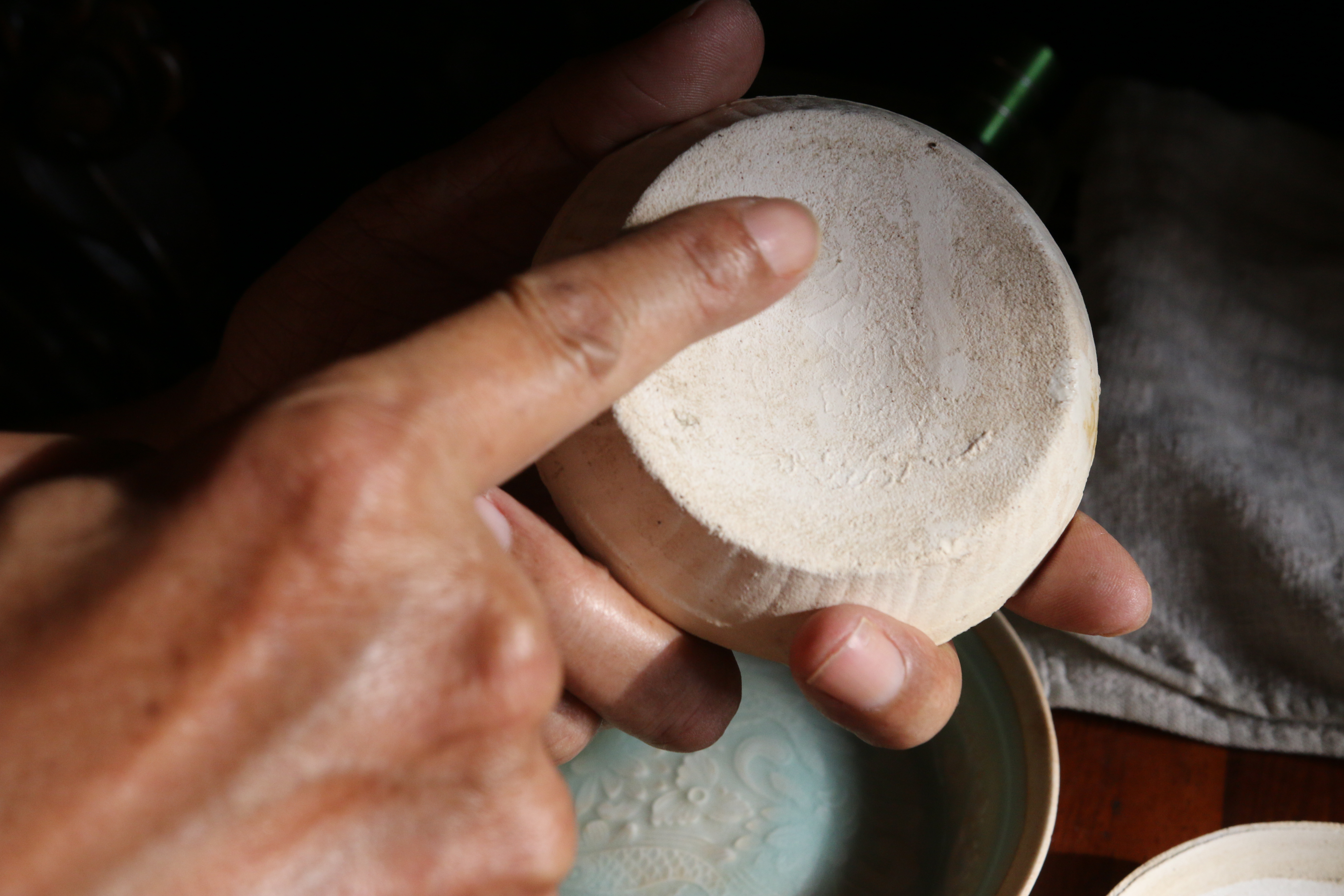 The saucers seemed pretty ordinary to us, but he pointed out how they were crafted by hand.
A mould gives the saucer its main shape, but different techniques would have been used to create the patterns on it, as well as the variance in its depth.
"Look at the curve here, this was pressed in later using the thumb."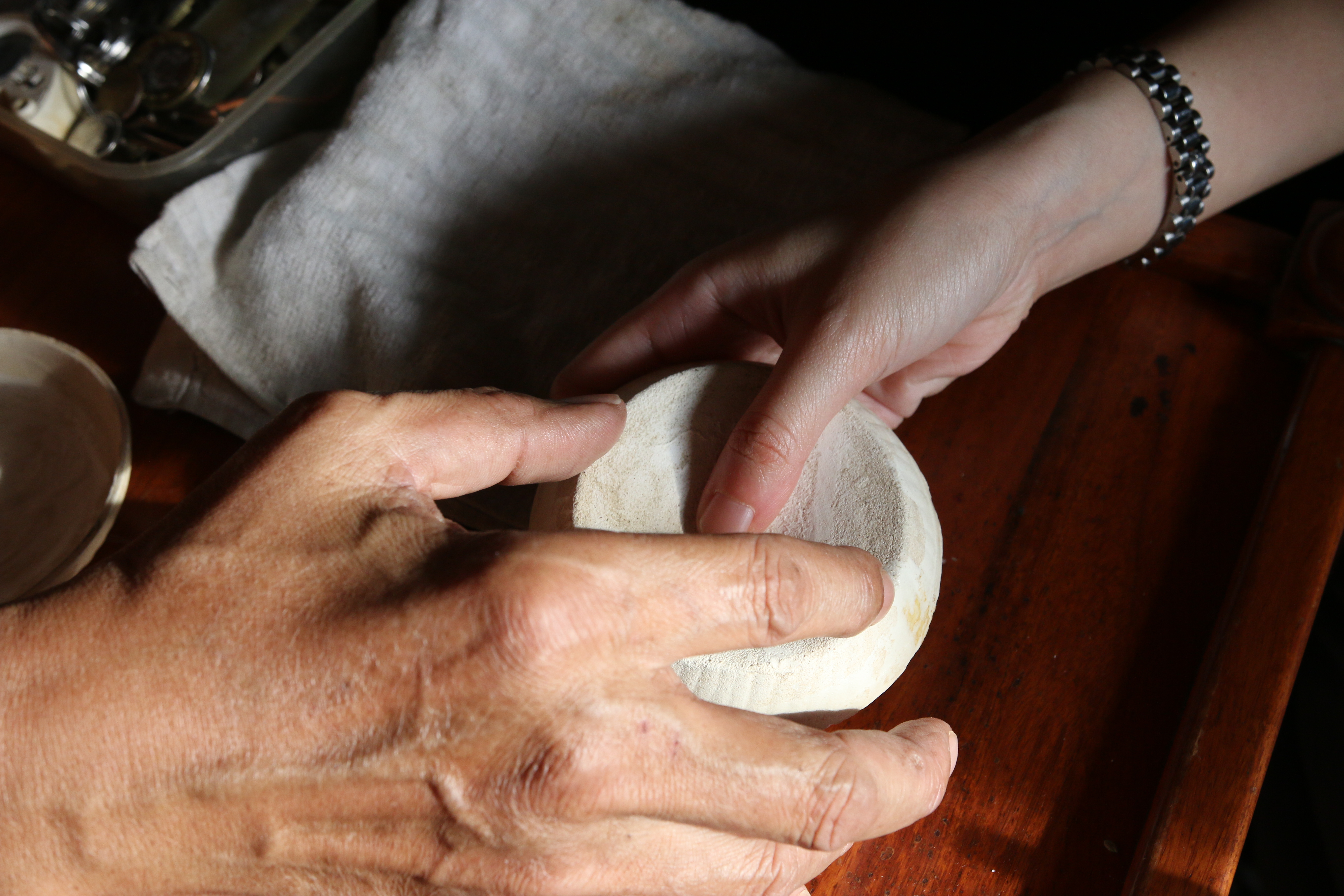 Does he have a favourite object in his collection? We tried asking him this on two separate occasions, but on both, he struggled to pick any, eventually settling on "I have no favourite".
After a slight pause, he wisely adds, though, "Anyway, I can't bring them with me when I die."
Cool stuff around his place
Perhaps the only things more interesting than Tay's amazing stories and experience are his vast collection, which we spent some good time exploring.
This included paintings, porcelain crockery, bronze wares and gems, just to name a few.
And while again, we can't know for sure how valuable all of this is, it was all still a heck of a lot to take in.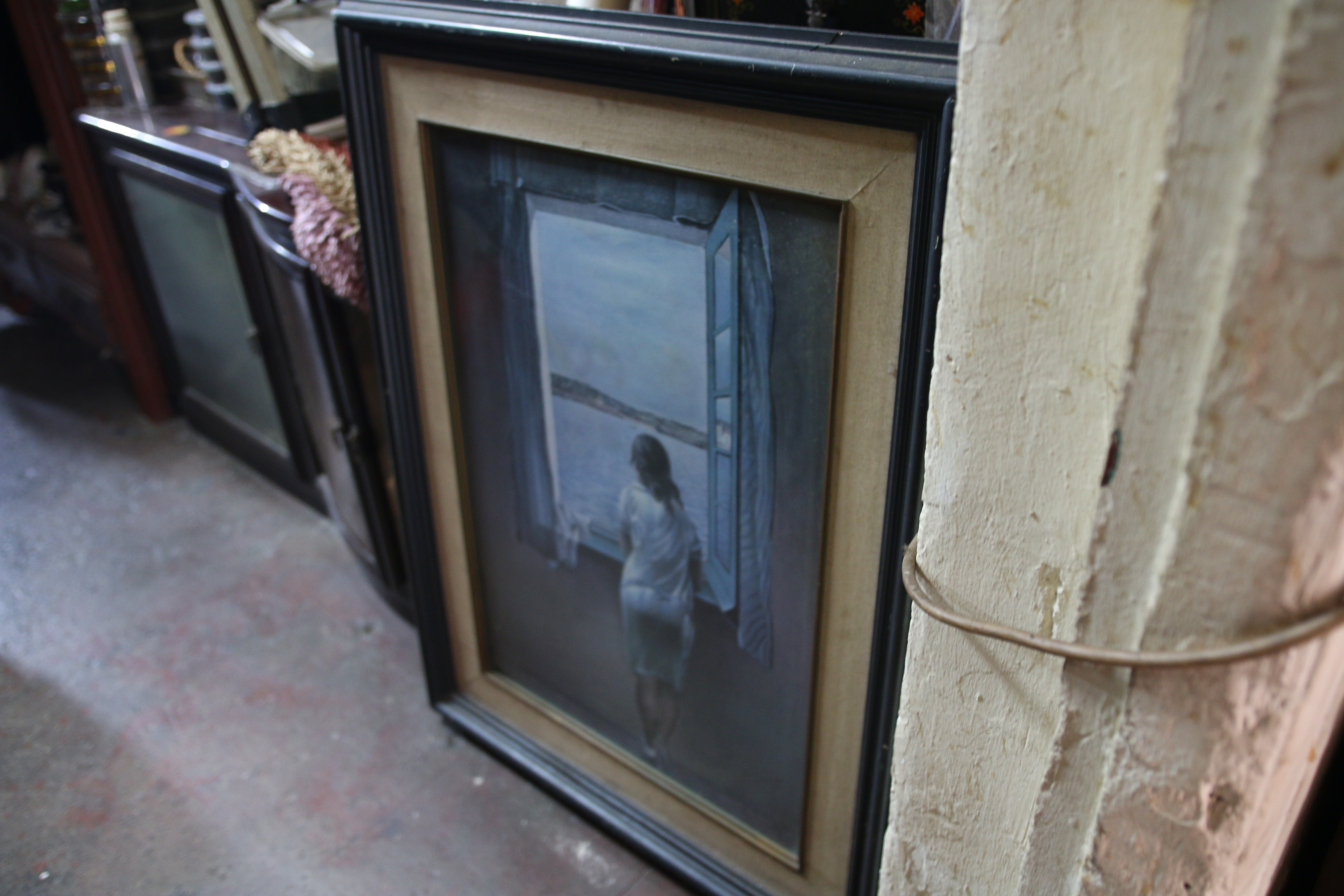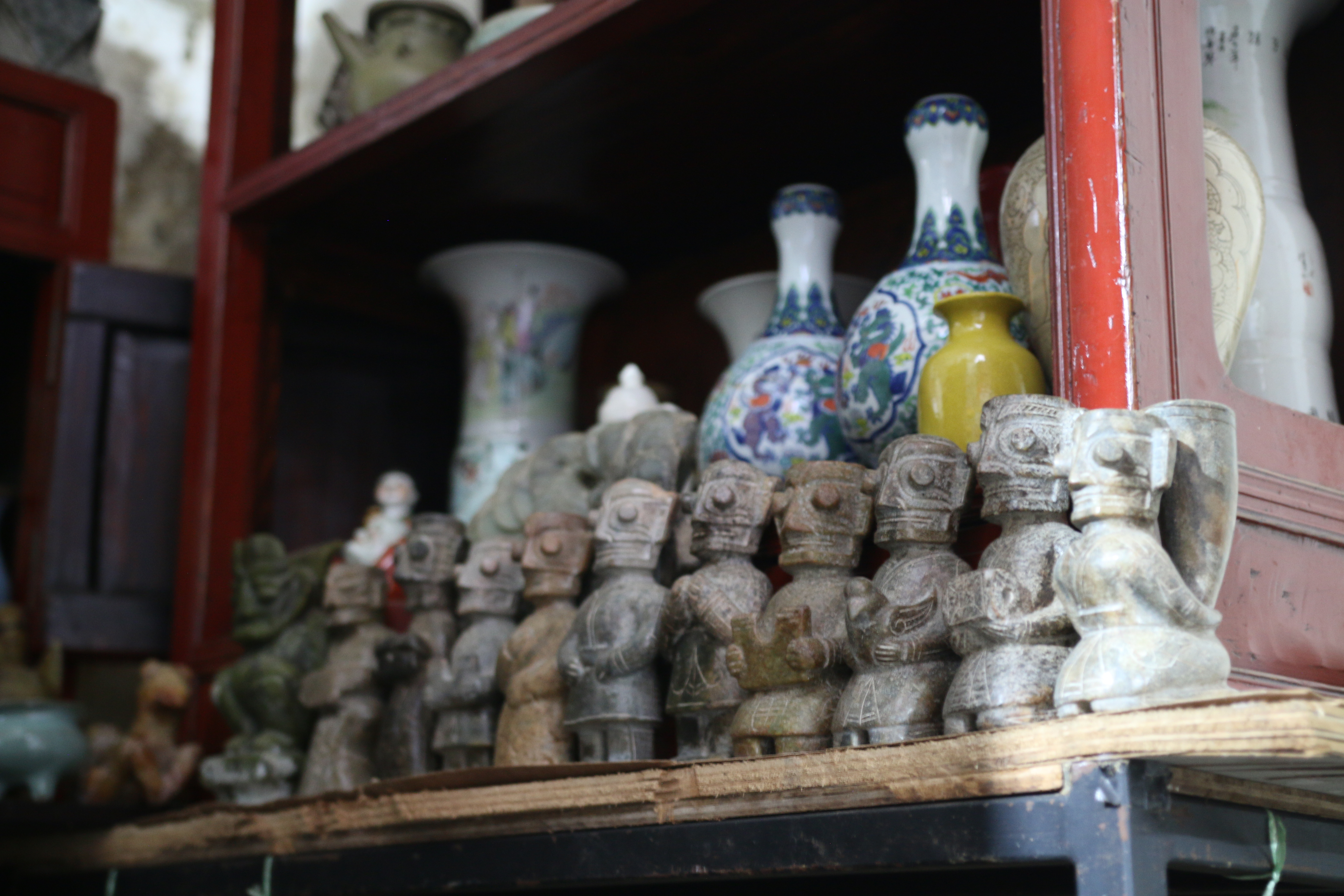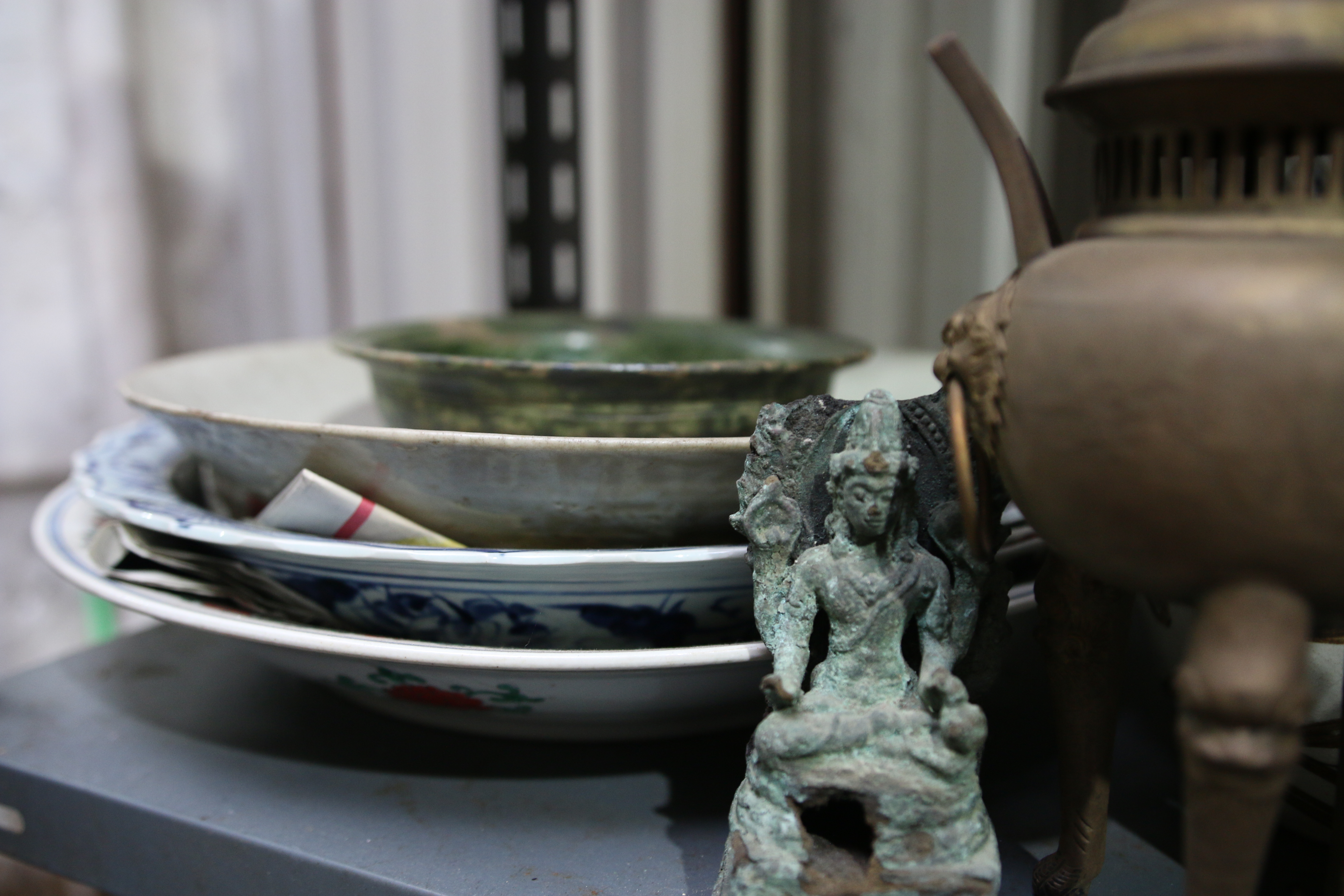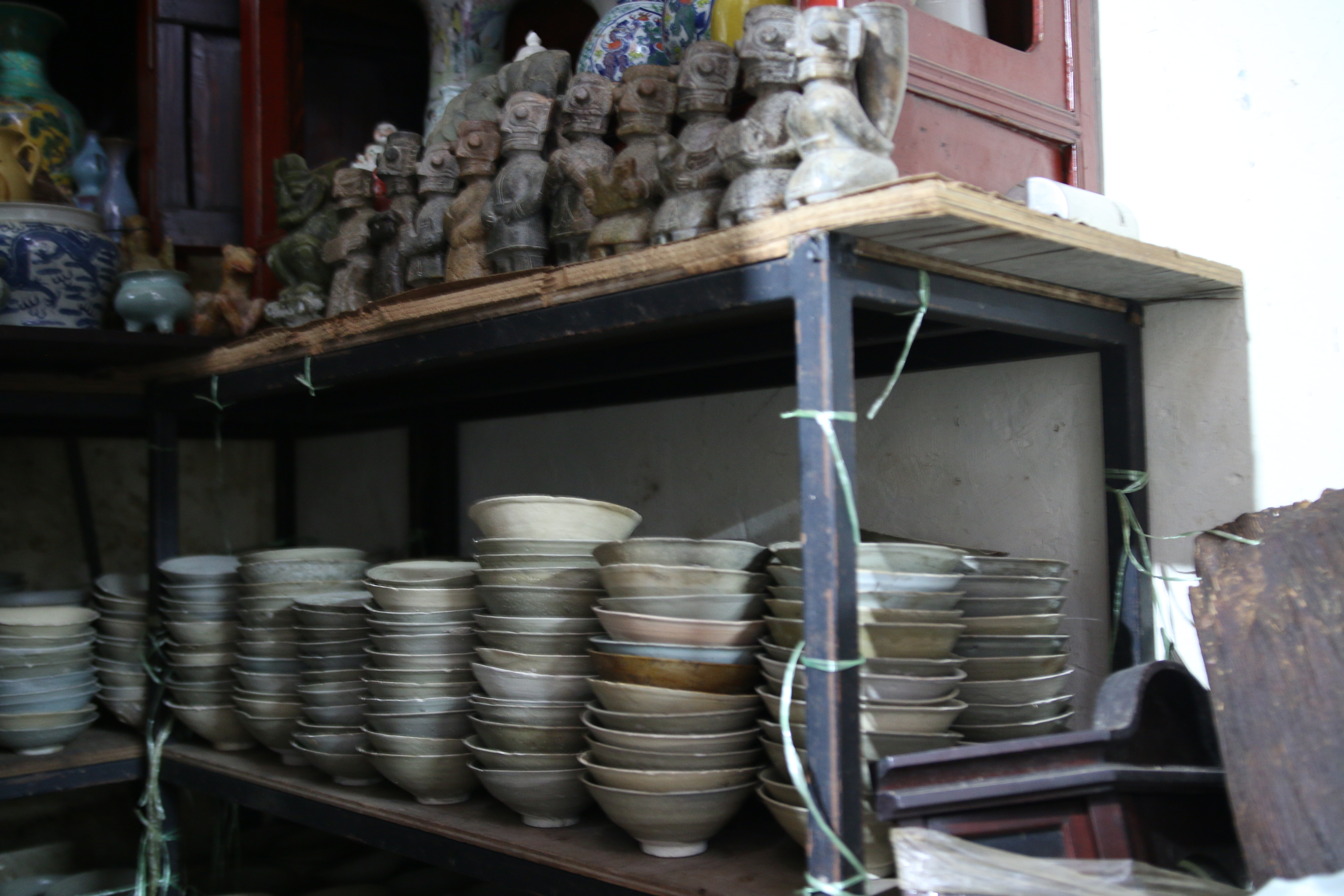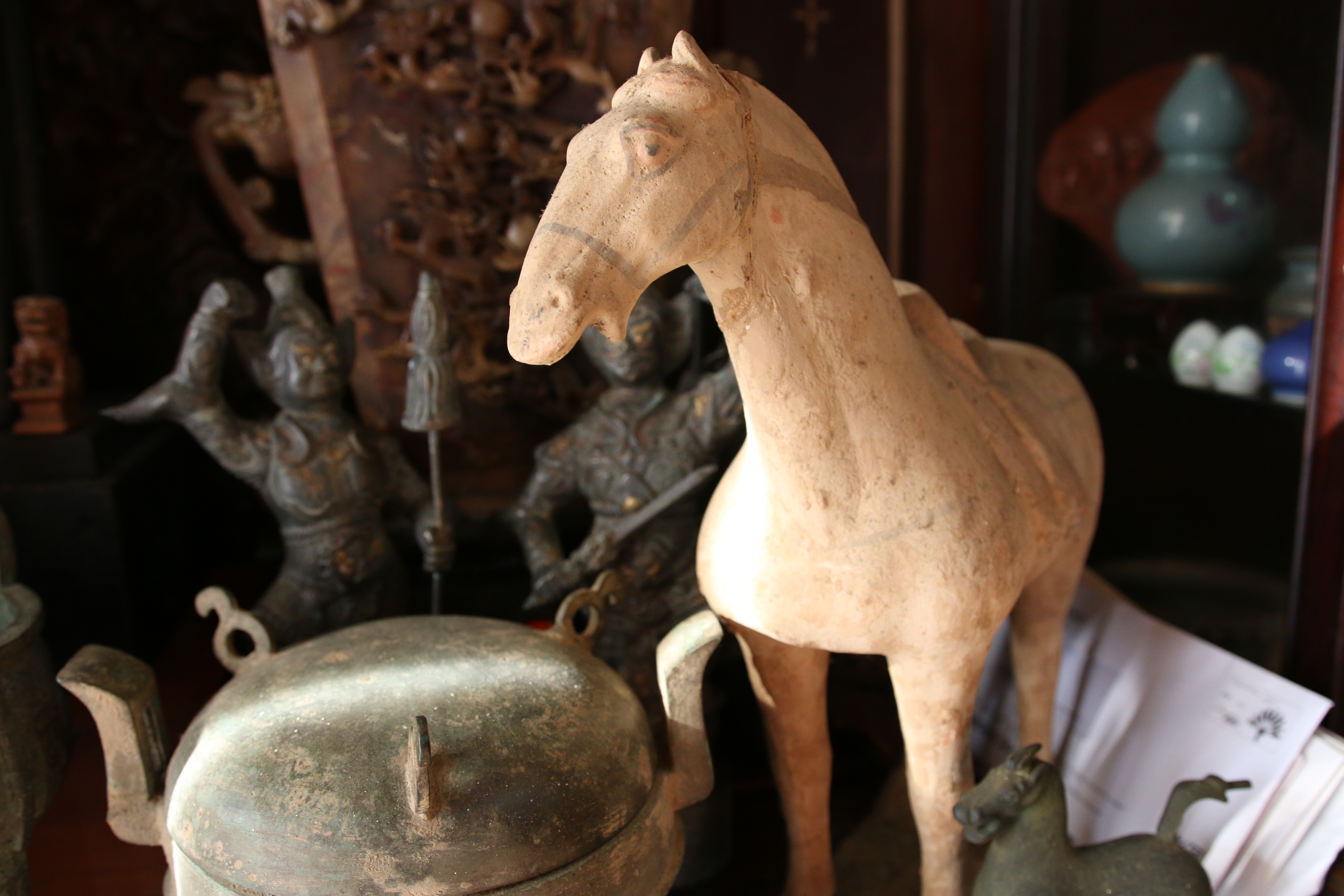 Keeping up with the times
Thanks to Geylang resident and otaku Cai Yinzhou, who also incidentally introduced us to him, Tay hawks his collection on a Carousell account.
Most of the items listed are tagged 'S$0', he explains, because he only wishes to reveal his selling price to genuinely interested buyers.
Besides, he argues, some of these items are valued much higher than the average product you'd find for sale on Carousell.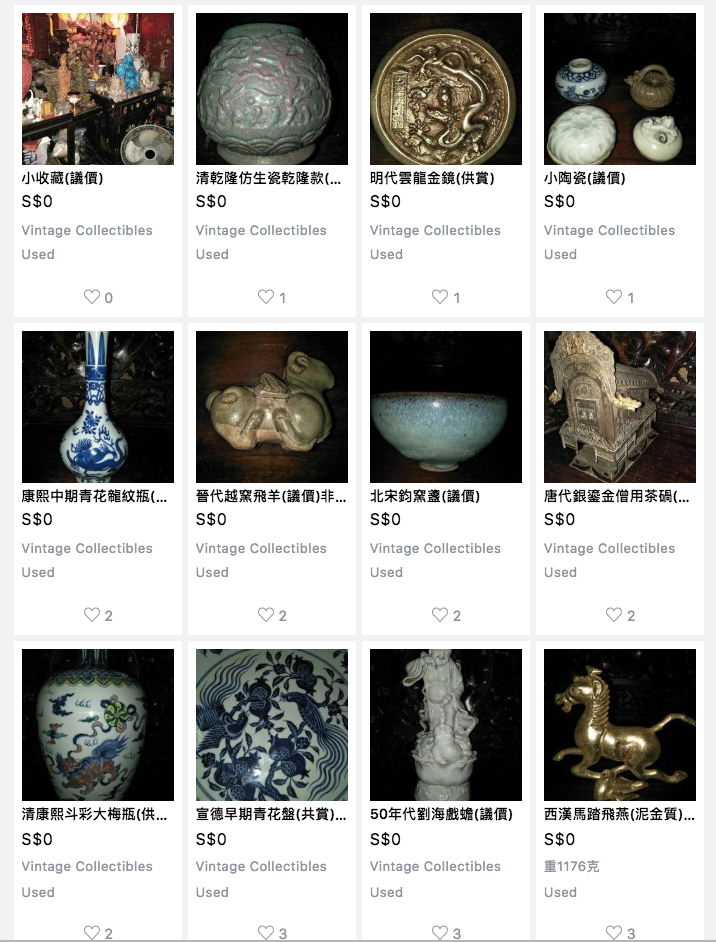 Screenshot from Tay's Carousell account.
"How valuable? What's the most valuable thing you have here?" we asked.
Tay is once again quite vague on this, but confidently assures us that he buys everything knowing full well how much it is worth — he says he never buys at a loss.
He would also refuse to share how much he paid for random items we would point to, but here's where he explains that buyers in the antiques industry have a practice of not revealing prices of items they purchase.
Why? Because, Tay says, it protects the seller. Once a price for a certain item is disclosed, it will be difficult for the seller to increase his prices in the future.
A few additional burning questions about marine antique salvaging, answered
1. What is the strangest thing you've ever picked up?
Nothing that is weird. I'm used to seeing all these things. Oh, rocks are weird! Because they are also an artefact from the Earth but I cannot sell them. *laughs*
2. Do you find any dead bodies?
No, because usually for shipwrecks, the bodies float up and drift away/disintegrate to other places.
3. Do you worship Mazu?
I prefer the God of Fortune or Dragon King who can give me luminous pearls.
4. What are dangers the team faces when they head out to salvage antiques?
Boat collisions and extremely huge waves. My friend was once swept up and away to an island where he remained for a few days before other fishermen could rescue him.
5. Do you think antiques have a soul?
If you love it, it will have a soul.
Top photo collage by Zheng Zhangxin.
If you like what you read, follow us on Facebook, Instagram, Twitter and Telegram to get the latest updates.