A Facebook video posted on Dec. 21 showed a woman running across the road to rescue a seemingly injured pigeon.
A car travelling along New Upper Changi Road in Bedok happened to capture this incident on the dashboard camera on Nov. 27 morning.
This footage was later uploaded to the Singapore Reckless Drivers Facebook page.
Save a pigeon
In the 38-second video, the pigeon was first spotted on the right-most lane as a lady ran towards it from the pedestrian pavement.
However, the pigeon skipped away from her when the woman first attempted to pick it up.
https://giphy.com/gifs/pHYdRJwG4tlAqbFbGi
The pigeon got startled and attempted to move further from her by flapping its wings.
The woman then noticed the oncoming vehicles and signalled for traffic to slow down as the car doing the recording slowed down.
The lady then made her second attempt to catch the pigeon.
https://giphy.com/gifs/oNK4P5QTzPnNdYenMv
However, she did not succeed again as the pigeon escaped and was visibly struggling to take flight.
The lady then took her chance to grab the pigeon on her third attempt.
Fortunately, she succeeded and returned to the pedestrian pavement with the fluttering pigeon in her hands.
https://giphy.com/gifs/3fi3g3UwMYfXsICzsD
Here's the full video:
Praises for the kind act
The lady put the pigeon's safety before hers as she ran across the road for the rescue.
Although she could be more mindful of the traffic, most praised her for her kind act.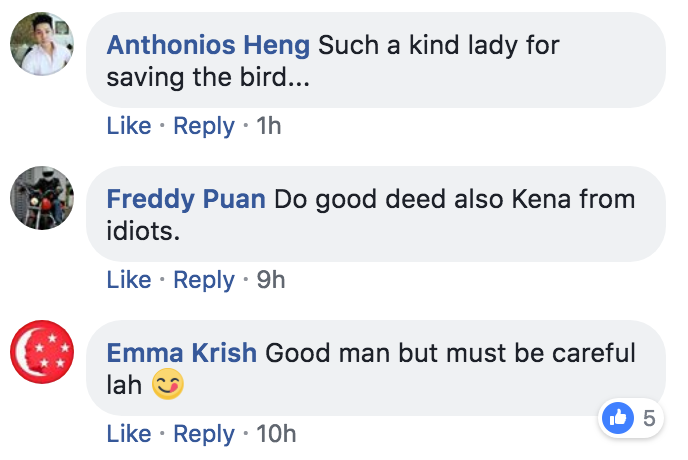 All lives matter.
Top photo collage from screengrabs of Singapore Reckless Drivers page's video
If you like what you read, follow us on Facebook, Instagram, Twitter and Telegram to get the latest updates.