NParks hidden camera shows critically endangered otter species on Pulau Ubin using artificial holts
Pulling vegetation conveniently from the surroundings to furnish their new home.
Zhangxin Zheng |
December 22, 2018 @ 03:21 pm
Singaporeans and otter fans know otters as sociable fur-iends having spotted them across various parts of the mainland.
However, most people wouldn't have guessed that there is another group of otters that prefer the quaint island life on Pulau Ubin and even Pulau Tekong.
Rare otters using artificial shelter
Camera footage shared on Dec. 11 showed that two of these otters were spotted scrambling into an artificial shelter built by NParks and making it their home.
In the video by NParks, one of otters can be seen picking vegetation to make the shelter a home, as they made their way inside:
These type of shelter is also known as an otter holt.
Two otter holts were built on Pulau Ubin in November 2016 as part of national efforts to help these Ubin otters adapt to difficult environmental changes and increase in population size.
These artificial holts are made of concrete hollow blocks and reinforced concrete roof panels. Pipes are used for the access to the holts, as you can see in this diagram.
The holts were designed to be accessible and safe for otters to seek shelter during high tide or run away from via a few exit tunnels when they feel threatened.
Camera traps were placed to monitor and study their behaviour since October 2017.
Otters were first recorded to be near one of the holts a year after the holt was built in December 2017. 
A family was spotted outside the entrance of the holt in late September and October this year.
So far, NParks has observed this family of five otters, consisting of two adults and three juveniles, using one of the holts.
So, what's so special about these Ubin otters that warrant a need to build holts for them, but not the ones on mainland Singapore?
Asian small-clawed otters
Unlike the smooth-coated otters seen a lot on the mainland, such as Bishan or Marina otters, the Ubin otters are of a different species called the Asian small-clawed otters.
These Asian small-clawed otters are only found on two offshore islands in Singapore, Pulau Ubin and Pulau Tekong.
They are critically endangered in Singapore.
Compared to the smooth-coated otters you often see, these otters on Ubin and Tekong are smaller in size and shy.
Mainland otters are bigger and can be a little boisterous at times.
Asian small-clawed otters are also more active at night, so you hardly see them around in the day (gif made from Noel Thomas's video).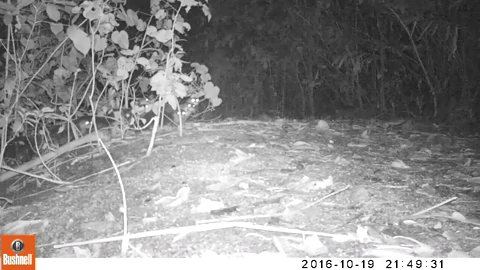 They also prefer to hang out in the mangroves, where they can feed on crabs and molluscs, which are not as easy to locate on mainland Singapore anymore.
More than 90 percent of the mangroves on the mainland were removed due to rapid urbanisation and land reclamation.
Otters are once again repopulating Singapore as a result of changes to their habitat elsewhere, such as in Malaysia, that is undergoing a lot of coastal development, which might have pushed otters away from the north.
You can watch more of these rare kampung otters in action here:
Top photo collage from screengrabs of NParks camera trap footage
If you like what you read, follow us on Facebook, Instagram, Twitter and Telegram to get the latest updates.