A cyclist and a lorry recently got into what appears to be a tit-for-tat accident at Pasir Ris.
What happened
According to a video uploaded to Facebook group ROADS.sg on Dec. 23, this is what occurred:
A lorry has been travelling slowly behind two cyclists.

The cyclists and the lorry came to a stop at a traffic light.

After the traffic light, cyclist #1 moved to the extreme left of the lane.

Cyclist #2 did not keep left, and can be seen obstructing the lorry.

When he moved to the left, cyclist #2 then hit the side mirror of the lorry.

The lorry swerved, hitting cyclist #2 and knocking him off the road.
This is a gif of the incident: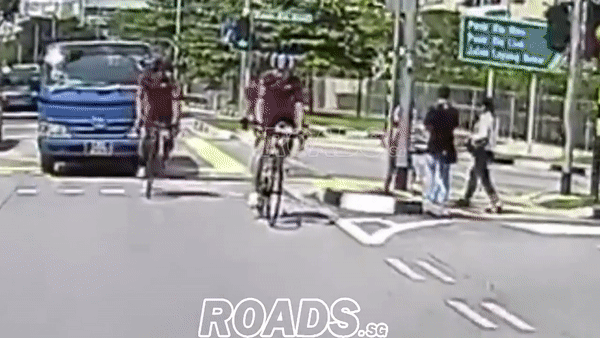 This is the full video:
Laws on cycling
According to the Road Traffic Act, cyclists are permitted to cycle abreast on a road with two or more lanes. [Editor's note: This sentence was edited, following feedback from a reader.]
However, they are also required to keep to the left-hand edge of the roadway, and not obstruct other vehicles moving at a faster speed.
Given these requirements, some netizens in the comments section pointed out that the cyclists should have let the lorry pass.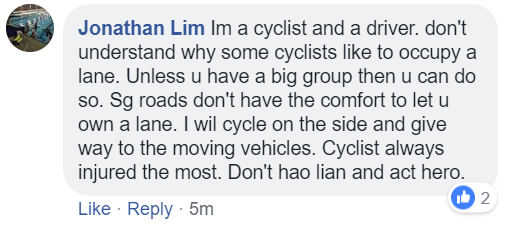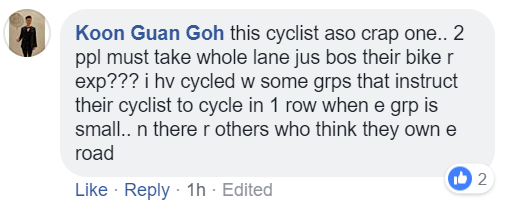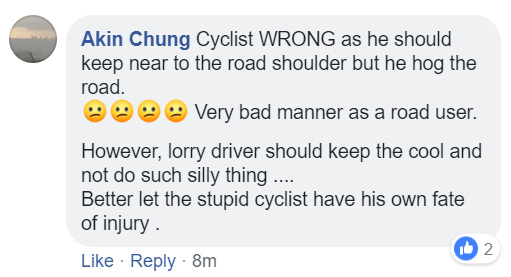 A few also highlighted that the cyclist was wrong to have struck the lorry: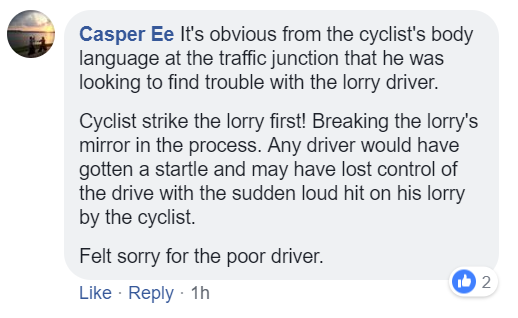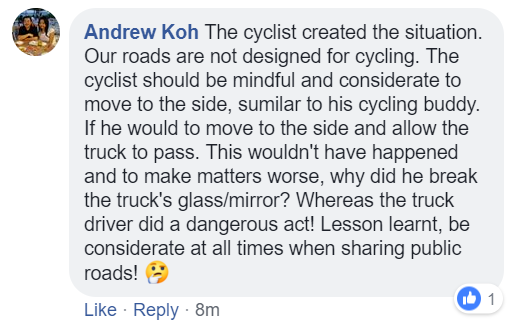 Lorry driver at fault too?
Some netizens mentioned that it is unclear if the lorry driver intentionally hit the cyclist:


While there are no specific laws regarding road rage in Singapore, one can still be charged if he or she is found to have intentionally caused hurt to someone.
Under the Penal Code, anyone who voluntarily causes hurt (VCH) shall be punished with imprisonment for a term which may extend to two years, with fine which may extend to S$5,000, or with both.
Voluntary cause of grievous hurt (usually when a victim has sustained fractures or permanent disfigurations), is more severe and carries a jail term of up to 10 years, and can include a fine or caning.
Top photo screengrab from video.

If you like what you read, follow us on Facebook, Instagram, Twitter and Telegram to get the latest updates.