The three Workers' Party (WP) MPs involved in the ongoing Aljunied Hougang Town Council (AHTC) trial are preparing for the worst, even though they would "fight the claims vigorously".
Low Thia Khiang, Sylvia Lim and Pritam Singh have made a public call for donations to help them with their mounting legal fees and potential bankruptcy.
In the latest post in their In Good Faith blog, the MPs said that if they lose the suits and are adjudged to pay large sums of money, but are unable to pay, they would face bankruptcy.
Legal expenses so far
The MPs also revealed they spent close to S$600,000 on their legal fees.
Since the suits commenced, they have funded the legal expenses using their personal savings and contributions from friends.
They added that they have not used any funds from the WP.
It is understood that being declared bankrupts would have a bearing on their chances to run in the next election.
Crowdfunding site will be updated daily
In response to Mothership queries, the WP spokesperson said the site will be updated daily by 10pm, to inform the public of the amount of funds raised so far.
The public can make contributions in the following ways:
• PayNow to +65 9852 5901 (Sylvia's public line)
• Internet fund transfer to UOB account no. 396 309 388 6
• Cheque can be made payable to Lim, Low, and Pritam at My Mail Box 882560 Singapore 919191
The case
The MPs and two other town councillors are facing two suits over S$33.7 million in alleged improper payments -- one brought by Aljunied-Hougang Town Council as directed by an independent panel, and the other by Pasir Ris-Punggol Town Council.
In response to the case, the MPs said:
"Both suits allege that we and two other town councillors failed in our duties managing AHTC, and are liable to pay monies to AHTC and PRPTC.

The total sum claimed against us is potentially more than S$30 million, even though we are not accused of receiving any of these monies personally.

The claims against us are unfounded. We have acted in good faith, and did what we believed to be in the best interests of our residents and the Town Council."
Public donations trickling in
In response to the call for monetary donations, some members of the public have acted.
One screen shot of a bank transfer showed a donation for S$100, mere hours after the call for public funds was made.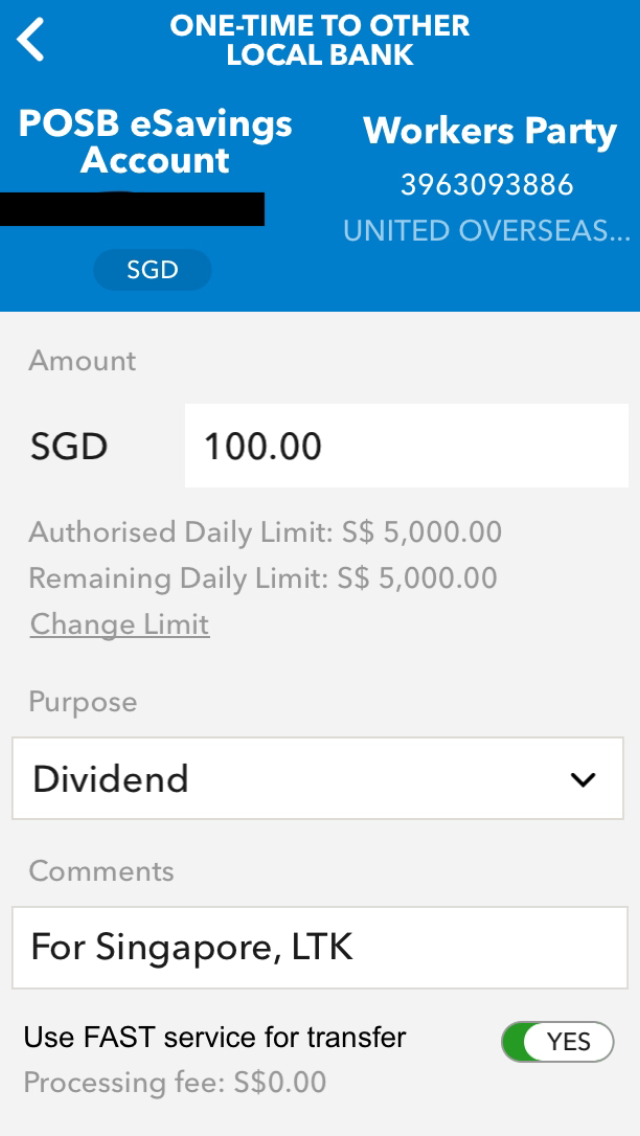 [related_story]
Content that keeps Mothership.sg going
---
?
This is what it feels like to have your hair removed by intense bursts of light.
? vs ?
You're on the MRT. Do you read or surf?
Why not both??
If you like what you read, follow us on Facebook, Instagram, Twitter and Telegram to get the latest updates.