Most of us are likely to have met, or at least seen before, the "light stick" auntie (or uncle) energetically guiding us into trains during peak hour. Or perhaps the bus driver who greets you with a cheerful "Hello!" whenever you hop on.
We see public transport workers every day — multiple times a day, in fact — but chances are, we hardly find the time to stop for a bit to return their friendly greeting, or even give them, as fellow human beings, a passing thought.
So we spoke to several of them to find out what they wish to say to you, the passengers they serve every day:
"More than one person 'drives' the bus"
Our first stop was Loyang Bus Depot. There, we spoke to Go-Ahead bus service controller Mah Weng Loong. And one of the first things the 45-year-old tells us is that the mammoth task of making a smooth bus ride happen is a team effort.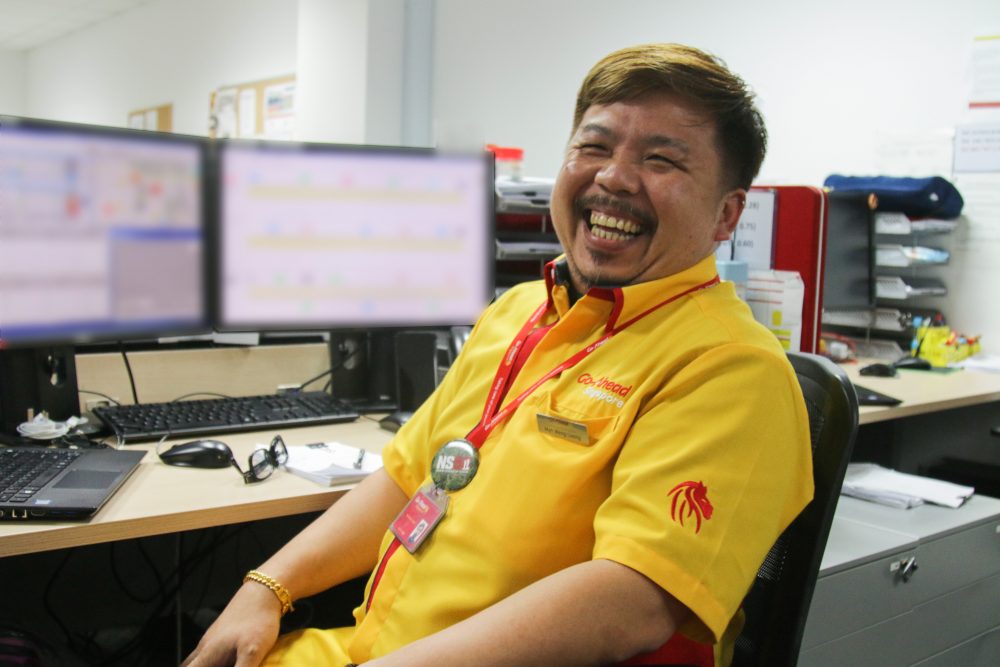 His job is not one you might even know exists, actually: his sole task (and you'll see why that's enough to be a dedicated person's job) is to monitor Go-Ahead's buses on the all the roads they ply and make sure they maintain an appropriate speed.
If the buses travel too fast, they risk bunching along a portion of the route. If they move too slowly, you know what it means, of course — longer waiting time.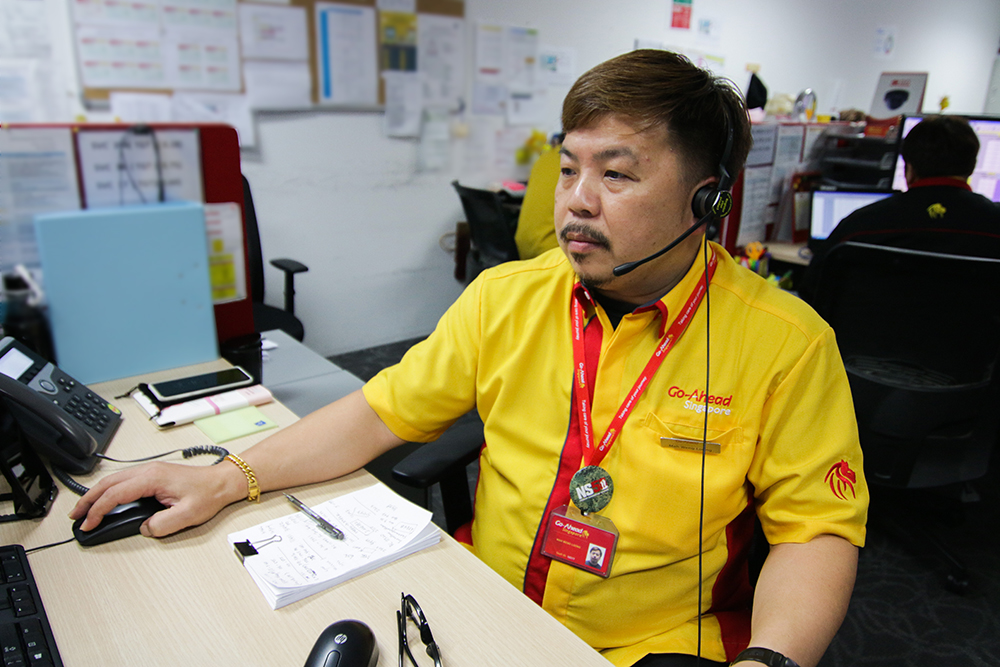 Mah says this new system of controlling buses in real time did not initially sit well with bus captains who preferred to do things the old way.
"If I have a bus captain driving like an F1 driver, I will ask him to slow down. Then they'll tell you all sorts of stories, and ask why they must slow down."
One year on, though, he is happy to report that Go-Ahead's bus drivers now understand the importance of keeping to the controller's schedule.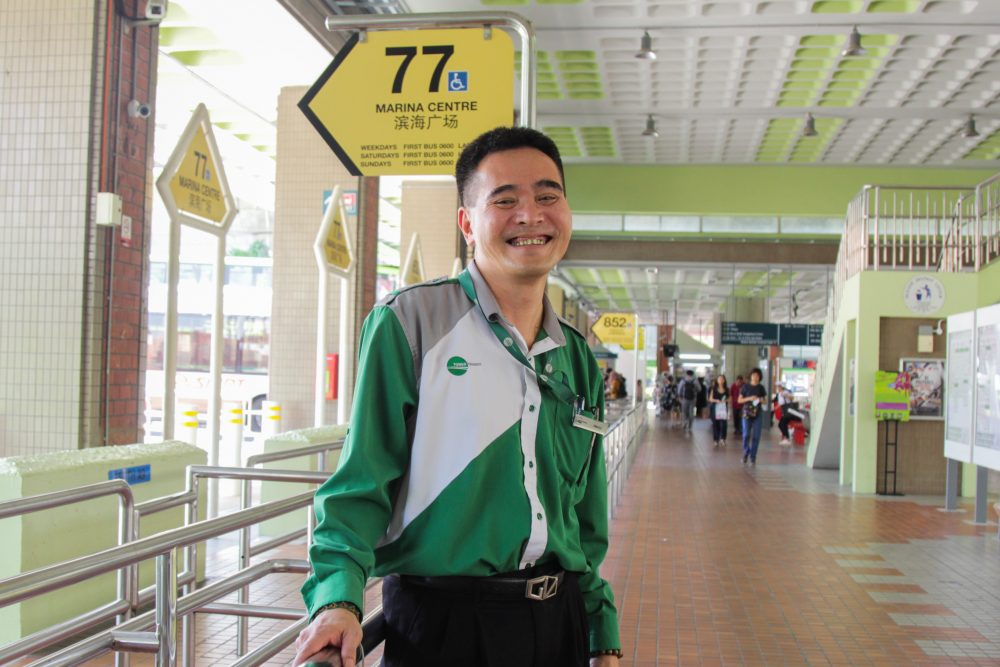 Speaking of bus drivers, we met Tower Transit bus captain Chen Ming Chen at Bukit Batok Bus Interchange. He, too, says he is in constant communication with his bus service controllers back at the Operations Control Centre (OCC).
Chen tells us he started driving buses 10 years ago.
"Actually I wanted to try driving a taxi, but alas, ended up as a bus driver. Perhaps it's fate."
Despite his years of experience, the 50-year-old admits he still has his tough days – e.g. days where he has to face angry passengers who are in a rush, in a heavy traffic situation.
"Being a bus captain might seem easy, but it isn't. All these years, we really sacrificed a lot to do our job. We also have a huge responsibility to take care of our passengers' safety."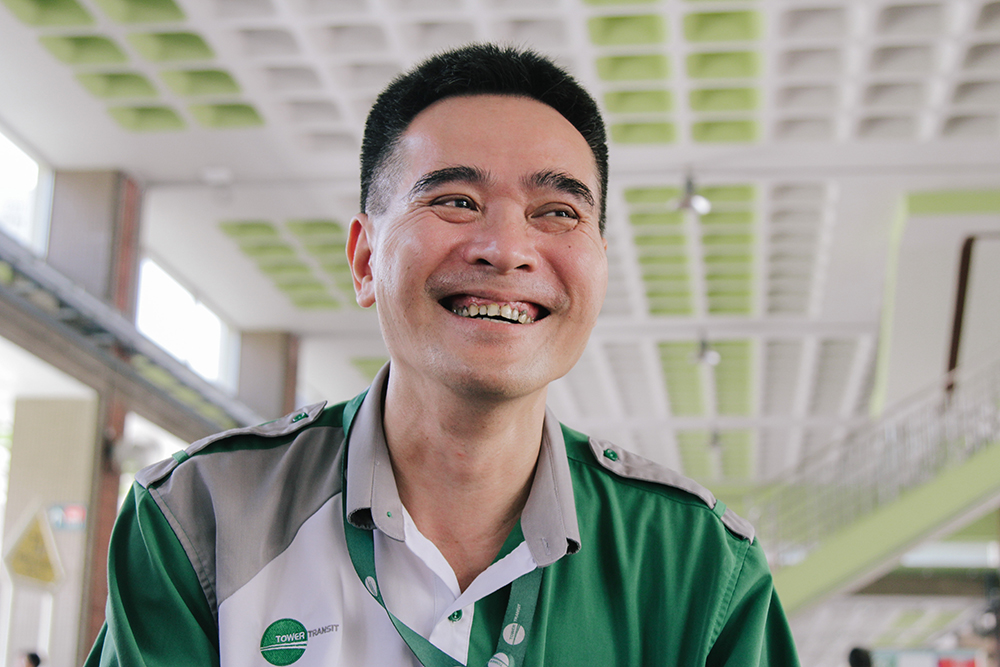 Despite that, Chen says he has met his fair share of good people.
"Some kind-hearted people will pass to me their unopened drinks whenever the weather is really hot. It really makes me very happy."
"I don't just sit around all day"
Our next stop was another depot, this time at Kim Chuan, which is home to SMRT's Circle Line team.
There we met Train Service Controller Syazrul Hakim Bin Zulkifli.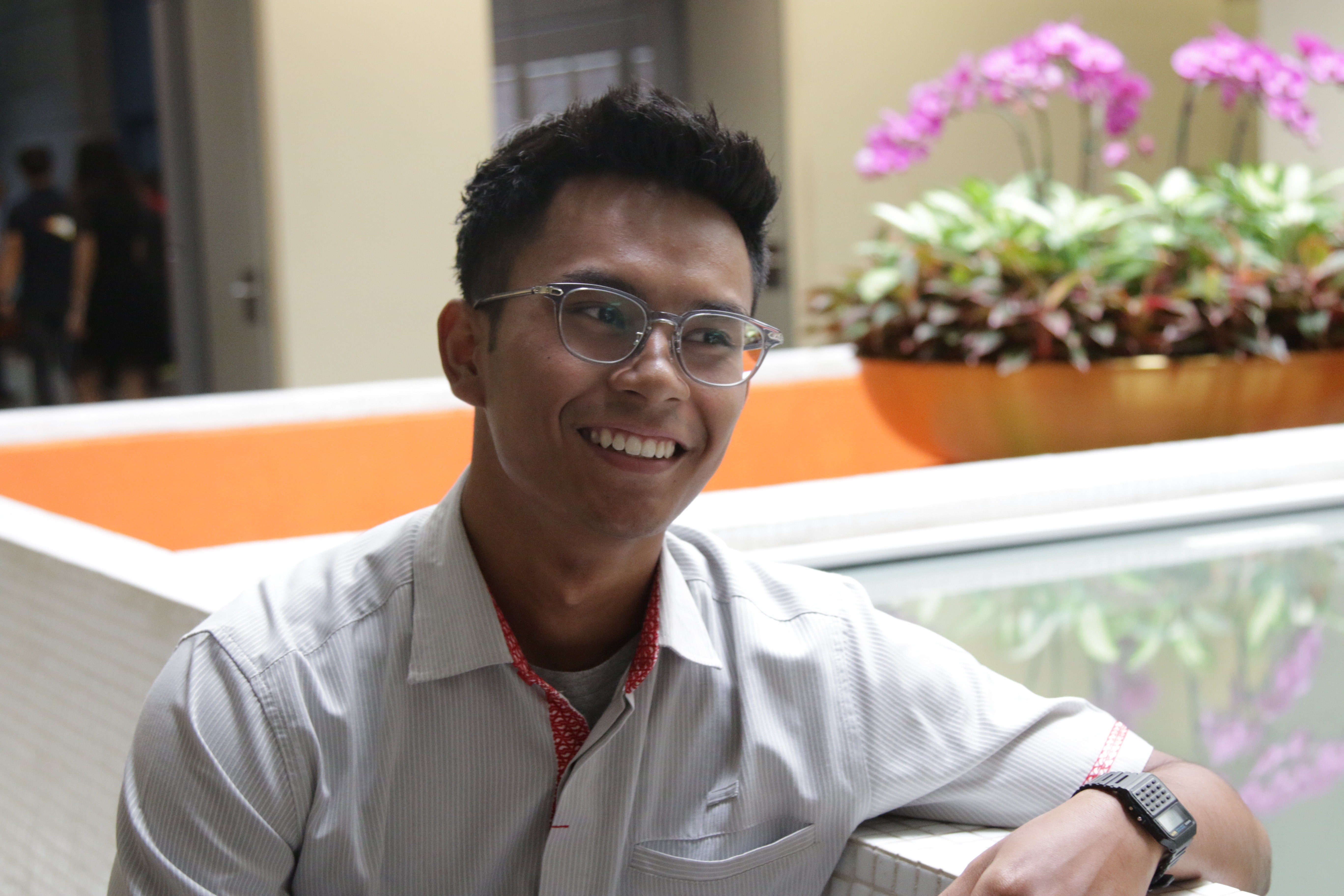 You can think of controllers like Syazrul as your guardians watching over everything that happens in and around the train network. In the 24-year-old's case, he looks after the Circle Line.
Aside from the train station's staff, Syazrul is the first responder when it comes to incidents that happen in trains and stations. But passengers will never see them, which is a pity, considering the village it takes to ensure the seamless operations of our trains and yes, stations too.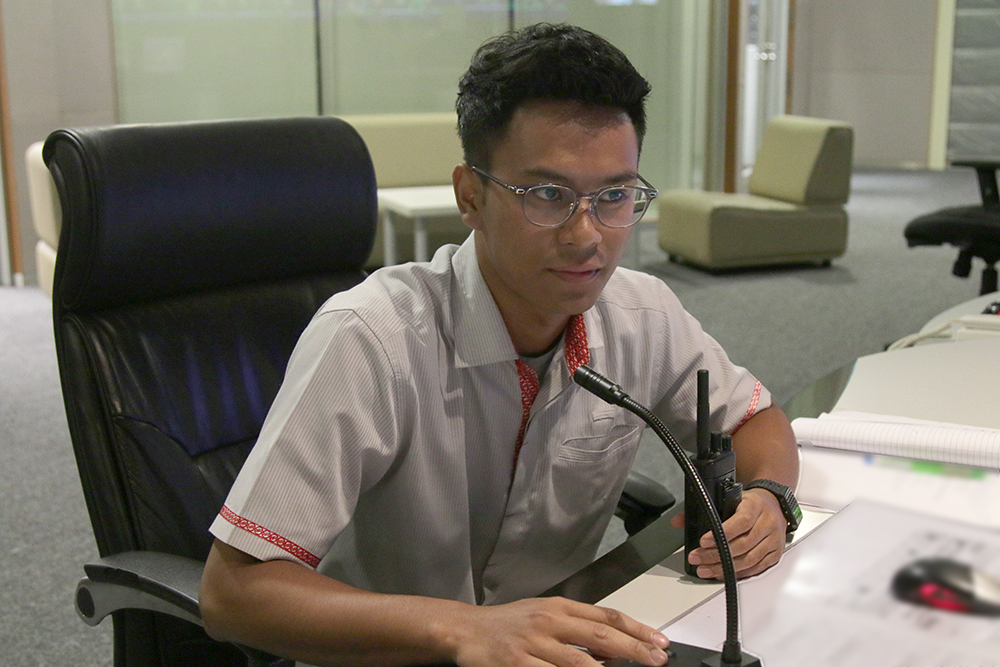 It is an effort that is often overlooked, says the 24 year-old:
"Actually, I just want to tell people that behind the scenes, we're always putting passengers first in terms of comfort and safety. We understand that they need to be somewhere at a certain time so we will always try to ensure a smooth train ride."
Speaking of being overlooked, the Station Manager (SM) Teh Choon Chai at Toa Payoh MRT station tells us that passengers often think he's just "doing nothing" in the Passenger Control Centre.
The 38 year-old SM has been manning stations along the North-South and East-West Lines for about a decade now, but passengers still think he only sits in his "fish tank" the whole day.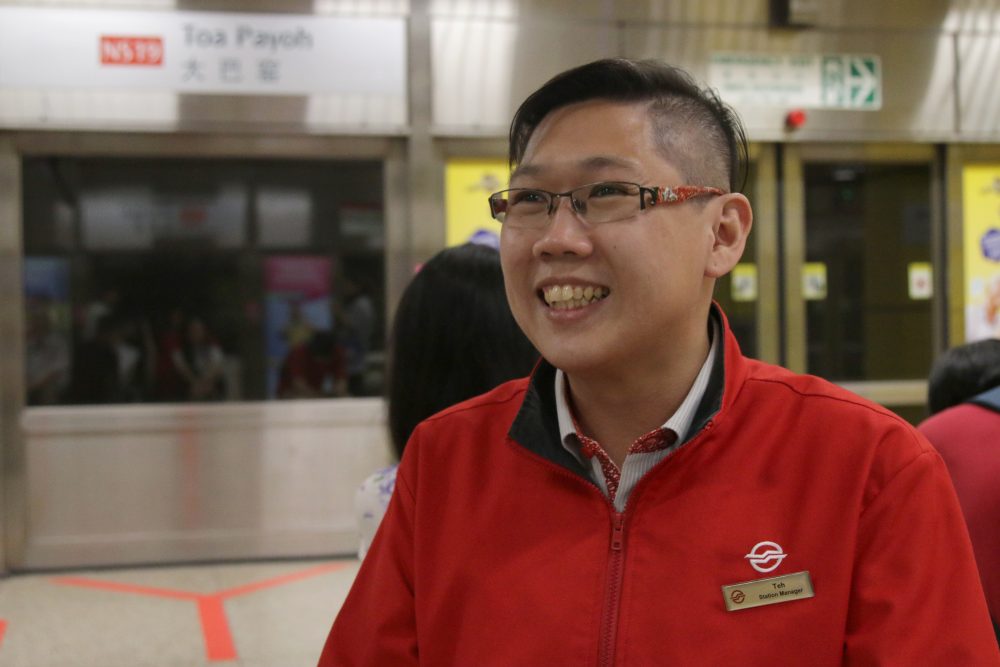 The truth is that on top of serving train commuters, the SM has to make sure the station is running, all its equipment is in tip top condition, and maintaining the station's safety and security.
"The people sitting in the 'fish tank' are actually very busy monitoring station operations!"
Let's not forget that Teh has to patrol the station regularly to keep it safe for thousands of passengers that pass through Toa Payoh Station daily.
"We save lives, literally"
Our last stop was Clarke Quay MRT station, where we met Station Manager Simon Fong Sai Weng, 56, and his Assistant Manager Abdul Azim bin Abdul Azizam, 35, who went beyond the call of duty to help a passenger in distress.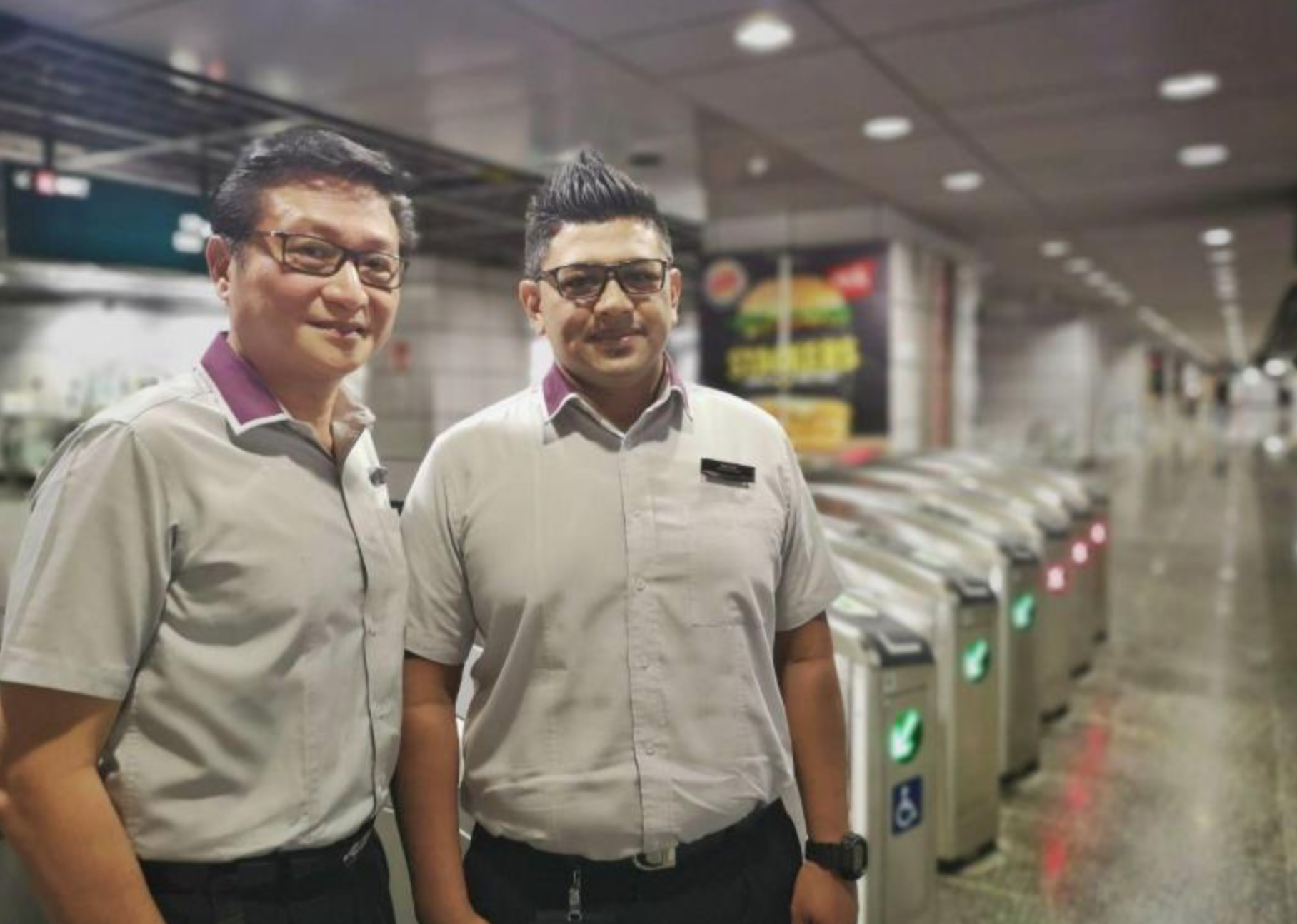 On June 28, an old man fainted on the platform of Hougang station.
At that time, Fong was in the Passenger Service Centre while Azim was attending to a ticketing machine.
A Customer Service Assistant rushed into the service centre and informed Fong that someone was "down". Fong immediately sprang into action, snatching the first aid box and rushing downstairs, at the same time alerting Azim to bring a wheelchair to the platform.
Seeing the man lying on the platform jolted Fong:
"When I went down and touched his pulse, there was no pulse. I also noticed that his lips were the color of raw liver."
Straightaway, Fong instructed the customer service assistant to bring out a defibrillator while he informed the North East Line Operations Control Centre (OCC) of the incident over his walkie-talkie. Azim got to work doing CPR on the man.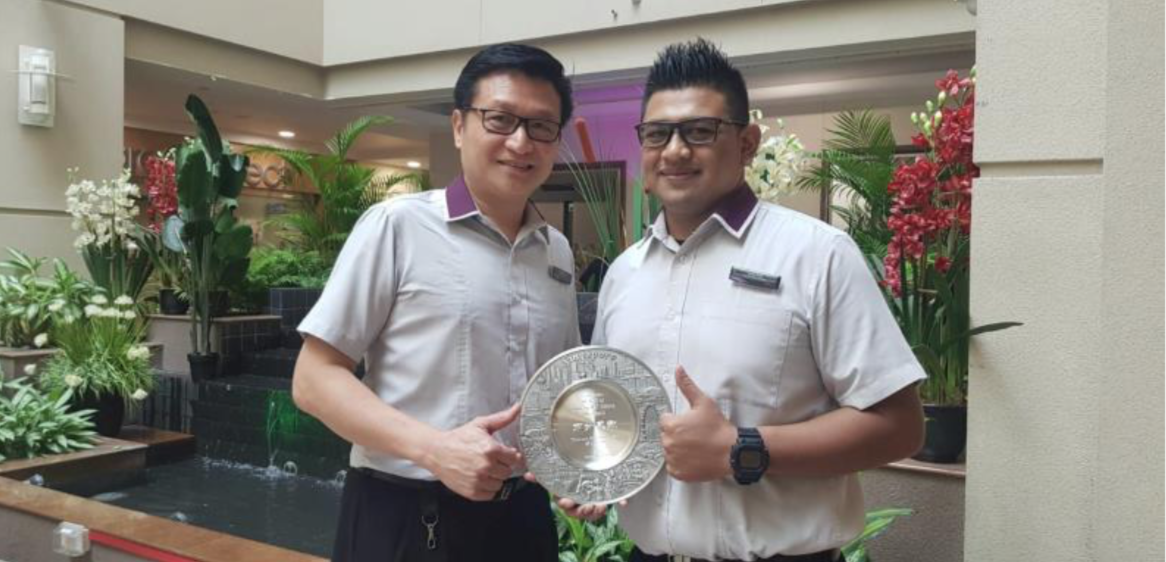 As soon as he got the defibrillator, he pressed it to the man's body and gave it a jolt of electricity to revive his pulse.
"His whole body jumped!" remarked Azim.
After one jolt, Azim continued administering CPR while Fong checked his pulse. It had returned. Soon, the Civil Defence team arrived to bring the man to hospital.
Both Fong and Azim kept in contact with the old man to check on his condition. Both of them even visited him while he was recovering at Tan Tock Seng Hospital, Fong told us.
"He was lying there, and his wife told him that we were there to visit him. He got up and held our hands with both hands; the feeling is really indescribable."
Passengers, please be understanding and more mindful
At the end of the day, our public transport workers tell us they are mostly just trying to do their best. Says Azim:
"Not all jobs are difficult and not all jobs are easy, I just try my best to communicate well and provide passengers with a good service."
Fong agrees that understanding is important.
"Sometimes we might have problems. I just hope that passengers will be understanding and be more mindful."
The next time you hop on public transport and pass by any staffer, consider saying hello, thank you, or even just make eye contact and smile. It'll help.
Images by Rachel Ng, Angela Tan, and Joshua Lee.
This post is sponsored by the Land Transport Authority and allowed this writer to understand what goes on behind running our public transport system.
If you like what you read, follow us on Facebook, Instagram, Twitter and Telegram to get the latest updates.