States Times Review, an anti-establishment website allegedly run by a Singaporean living overseas, has announced it is shutting down on Oct. 8, 2018.
However, there appears to be a catch as full closure is not the only option.
Abrupt announcement
The announcement of the site's abrupt closure was made on Monday night at 10.25pm, on the very day it will supposedly close down.
The full statement on the STR website, which cited impending new laws introduced in Singapore to fight fake news as the impetus for the shutdown, read:
Dear readers,

Following recent political development in Singapore, the dictatorship is likely to take down States Times Review on false charges of propagating fake news and foreign funding.

As such, States Times Review will shut down voluntarily by today (Oct 8) ending its 51 months of operations as a news media.

Thank you for your support.

Hereon, the website, domain and its future content will now be the personal blog of Alex Tan.

Alex Tan

STR Editor
Cosmetic change enacted
It is unclear what the declaration that the website is now the "personal blog of Alex Tan" entails.
However, the change from a "news website" to a "personal blog" was made overnight, as seen on STR's about section on its Facebook page:

Previously, it said it is an Australia-based news site reporting on Singapore news, and follows strictly the laws of Australia and New South Wales (NSW):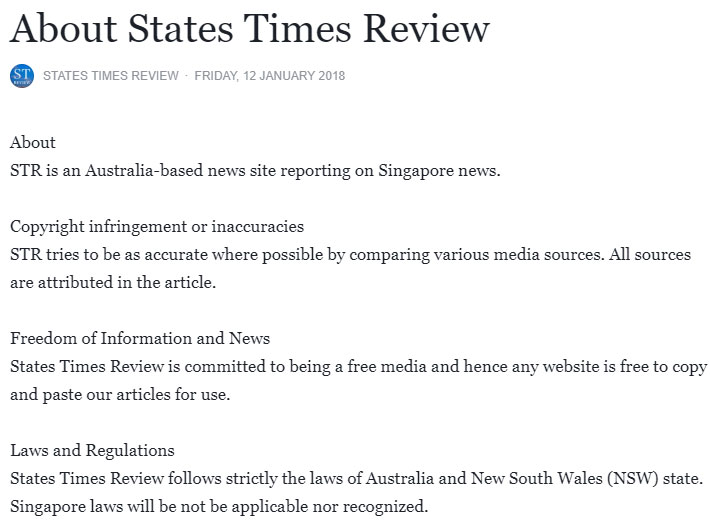 The website has started publishing again, barely seven hours after announcing it is shutting down.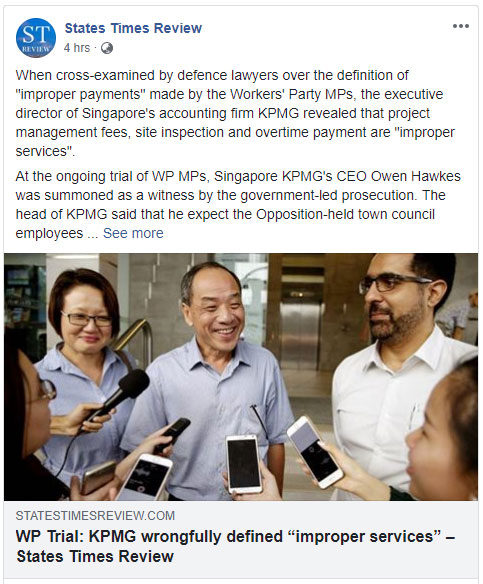 Run by former election candidate
STR is run by Alex Tan, a former general election candidate.
The former Reform Party candidate contested against Prime Minister Lee Hsien Loong in his Ang Mo Kio GRC in the 2011 General Election.
His team lost, having garnered 30.67 percent of the vote, and subsequently, Tan announced he was leaving Singapore for Australia.
Tan has also announced on multiple occasions he is located in Australia and the site he operates acts in accordance to Australian laws.
This allows the site to be an independent media outlet, according to Tan.
Fake news tag
STR's brush with the establishment in Singapore on more than one occasion have been reported previously.
In April 2017, Minister of Law and Home Affairs K Shanmugam named websites All Singapore Stuff and States Times Review as fake news.
Its legacy of being mischievous can be traced back to at least three years ago.
[related_story]
In May 2015, Singapore Press Holdings (SPH) looked into taking action, including seeking legal recourse against the site, for calling itself Straits Times Review.
This was after this name bore uncanny resemblance to Singapore's English newspaper of record, The Straits Times.
This prompted the site to change its name from Straits Times Review to States Times Review.
The site's Facebook page has acquired 50,000 and more followers over the years.
It is unclear if the closure would mean the website will cease to exist along with its social media platforms, or merely signal a cosmetic change in the form its content will take moving forward.
If you like what you read, follow us on Facebook, Instagram, Twitter and Telegram to get the latest updates.