Prime Minister (PM) Lee Hsien Loong is away in Bali, Indonesia from October 10 to 11 to attend the Singapore-Indonesia Leaders' Retreat and ASEAN Leaders' gathering.
And as always, whenever PM Lee is out of the country, we have someone, usually a Deputy Prime Minister, who steps up as Acting Prime Minister during the period he's away.
But here's something interesting we noticed: Home Affairs and Law Minister K Shanmugam is the Acting PM today and tomorrow, for what is possibly the first time.
This was announced in the following government e-gazette notice —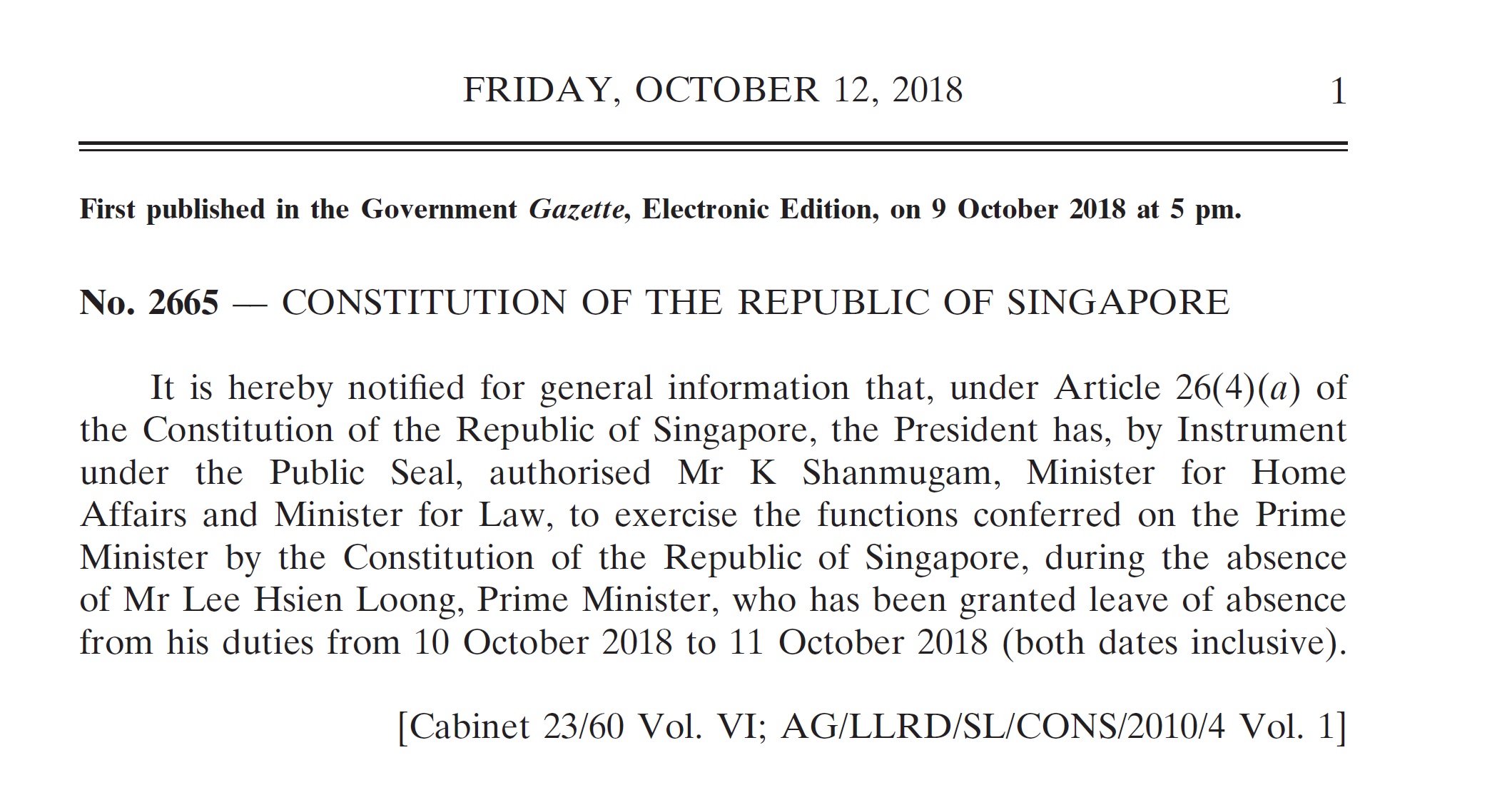 [related_story]
Is there any reason why the Acting PM this time is not either of the DPMs?
Yes. Deputy Prime Minister and Coordinating Minister for National Security Teo Chee Hean is accompanying PM Lee for the Leaders' Retreat too.
What about DPM and Coordinating Minister for Economic and Social Policies Tharman Shanmugaratnam?
He happens to also be in Bali, but is instead attending the IMF/World Bank and G20 meetings to present the Report of G20 Eminent Persons Group.
DPM Tharman is the chairman of the 16-member international group of top economists and leaders tasked to review issues related to global financial governance.
In Bali for IMF/World Bank and G20 meetings & to present the Report of G20 Eminent Persons Group on #globalfinancialgovernance. pic.twitter.com/SobshWXksF

— Tharman (@Tharman_S) October 10, 2018
Excellent discussion this morning with heads of the Regional Financing Arrangements (ESM, CMIM, FLAR, AMF and others) on their working with the IMF to build a stronger global financial safety net. pic.twitter.com/jkHXhv1opK

— Tharman (@Tharman_S) October 10, 2018
Does an occurrence like this happen frequently?
Not really.
This only happens when PM Lee and our cabinet ministers are participating in short leaders' retreats with two of our closest neighbours, Malaysia and Indonesia, and in their backyards. Both of these retreats are held every two years.
And on these retreats, it's normal for a large number of cabinet ministers to accompany PM Lee (we'll run you through the list of who else is there with him in a bit).
This year's leaders' retreat in Indonesia is PM Lee's third with Indonesian President Joko Widodo.
As for our counterparts in Malaysia, PM Lee has participated in eight Singapore-Malaysia Leaders' Retreats so far, with the eighth held early this year (Jan) in Singapore.
Last year, seven ministers accompanied PM Lee for the seventh Malaysia-Singapore leaders' retreat.
The Order of Precedence
According to the Order of Precedence in Singapore, a list to dictate ceremonial protocol at events of a federal or national nature, Shanmugam is the third most senior cabinet minister in the order of entry to cabinet. 
This list is based on a 1967 Straits Times article that reported about the official order of precedence that was gazetted.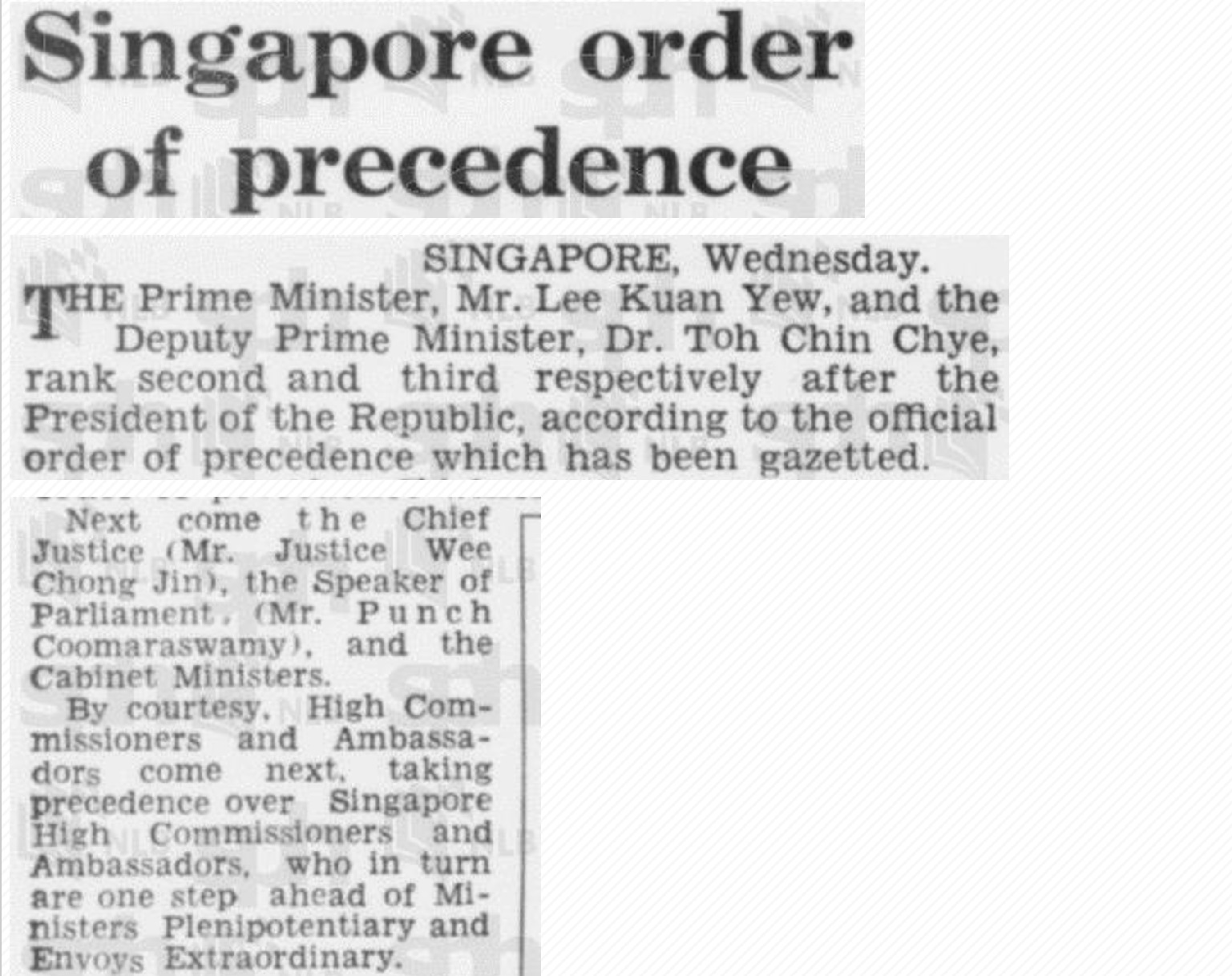 This is how the rest of the key public officials are ranked in terms of seniority as of this year: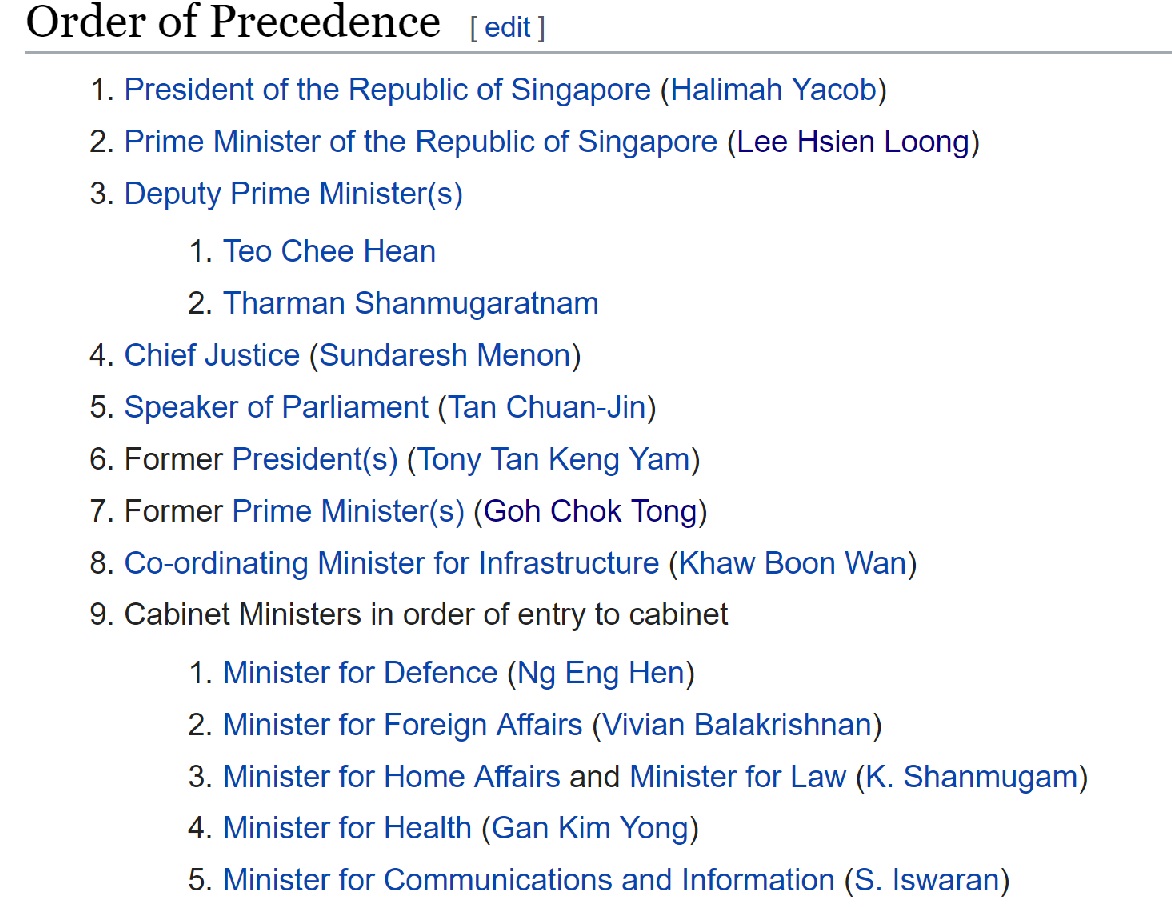 We understand that Transport Minister and Coordinating Minister for Infrastructure Khaw Boon Wan is also overseas at the moment.
And in case you were wondering, Ministers Ng Eng Hen and Vivian Balakrishnan are with PM at the retreat, together with Ministers S Iswaran, Grace Fu, Masagos Zulkifli, and Ministers Heng Swee Keat, Chan Chun Sing, and Ong Ye Kung.
So move along, nothing to see here.
Top photo via K Shanmugam's Facebook page
If you like what you read, follow us on Facebook, Instagram, Twitter and Telegram to get the latest updates.