Here's an amazing medical innovation from the Jurong Bird Park which might have just saved a charismatic Great Pied Hornbill from cancer.
Hornbill diagnosed with cancer
A 22-year-old male Great Pied Hornbill named Jary from the Jurong Bird Park was diagnosed with an aggressive form of cancer in July.
The park has seen two similar cases before, of which the first one underwent chemotherapy but did not make it while the other's cancer progressed too rapidly for treatment.
The veterinary team was therefore cautious in taking the steps forward to treat Jary.
The keepers first observed an 8-cm wide gash on its casque, exposing its underlying tissue on July 13.
Here's a close-up of the affected casque pre-surgery, which shows exposed tissue destroyed by cancer.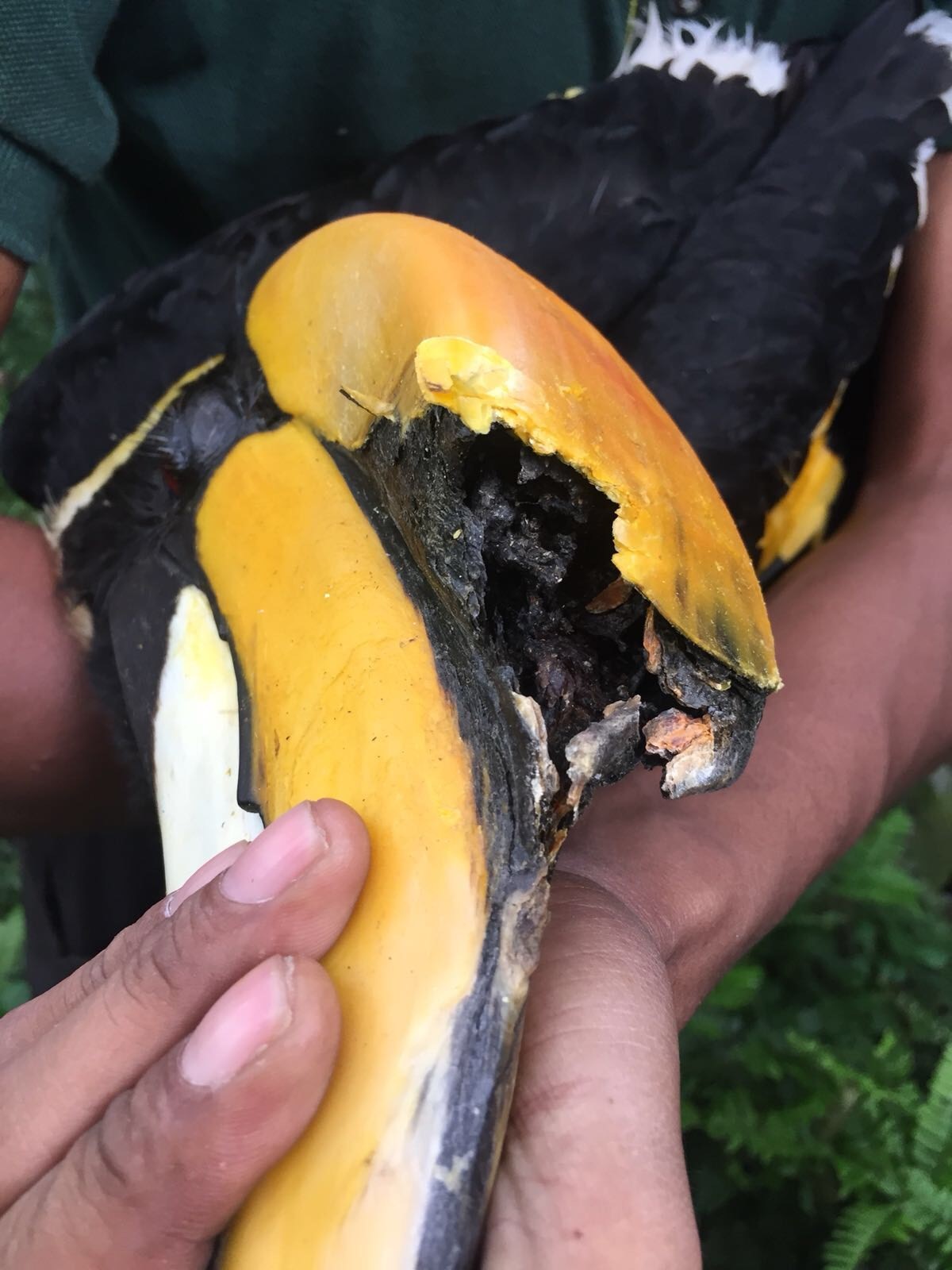 It then underwent a CT-guided biopsy at the Veterinary Emergency and Specialty Hospital, to have a tissue sample from its affected casque extracted and examined.
Upon examination, the veterinary team confirmed that this was another case of cancer and formulated a novel approach to provide the best chance of survival.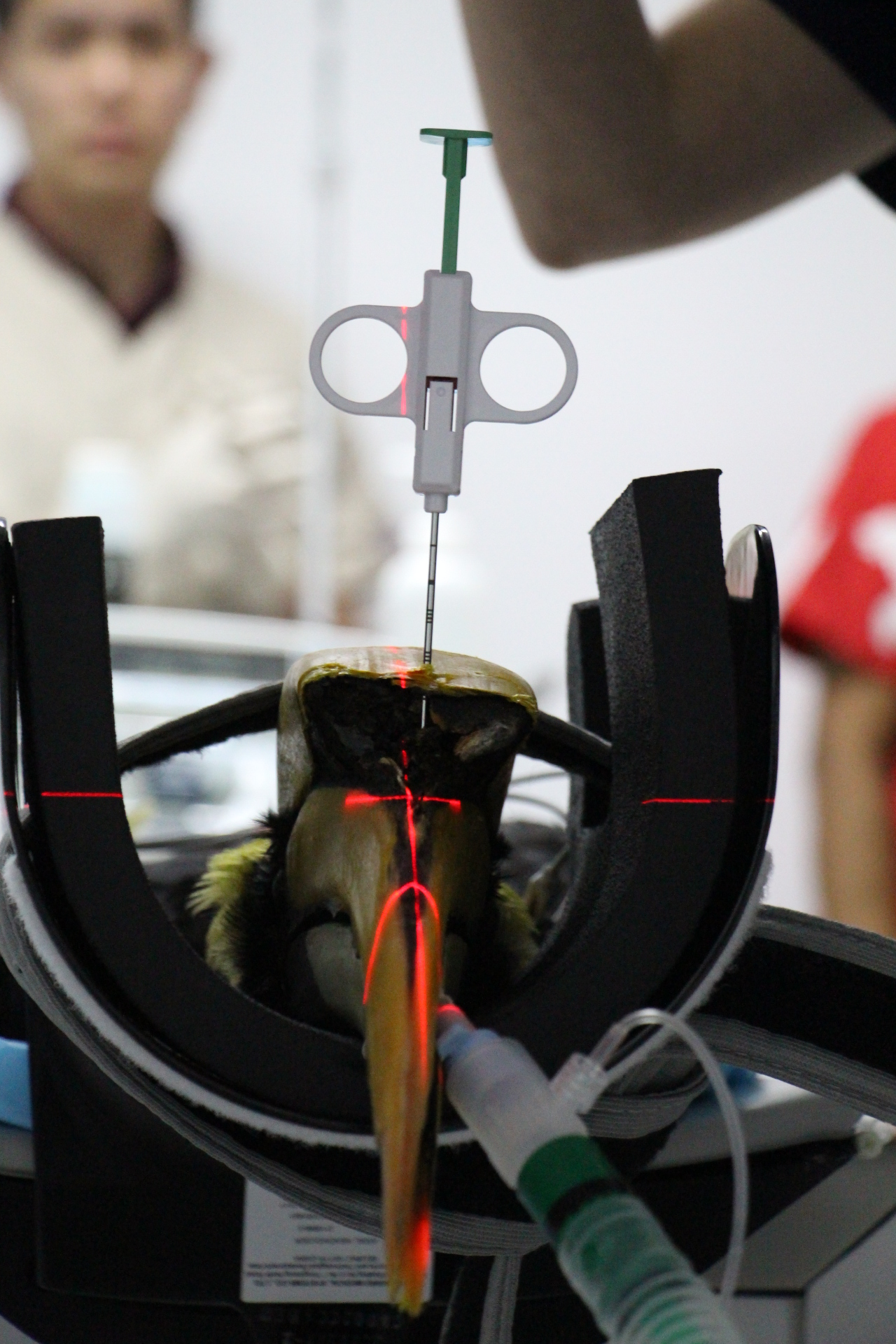 Teamwork between veterinarians and engineers
The approach consisted of performing a surgical resection of the casque and replacing it with a 3D prosthetic. It took almost two months of designing and discussion before a model was deemed a perfect fit for the hornbill.
To do so, the veterinary team engaged the help of Keio-NUS CUTE (Connective Ubiquitous Technology for Embodiments) Centre, NUS Smart Systems Institute, and NUS Centre for Additive Manufacturing to produce the prosthesis with 3D-printing.
The 3D models were then assessed by honorary consultant Dr Hsu Li Chieh from The Animal Clinic.
Part of the casque was removed with an oscillating saw and the affected tissue was cleared too.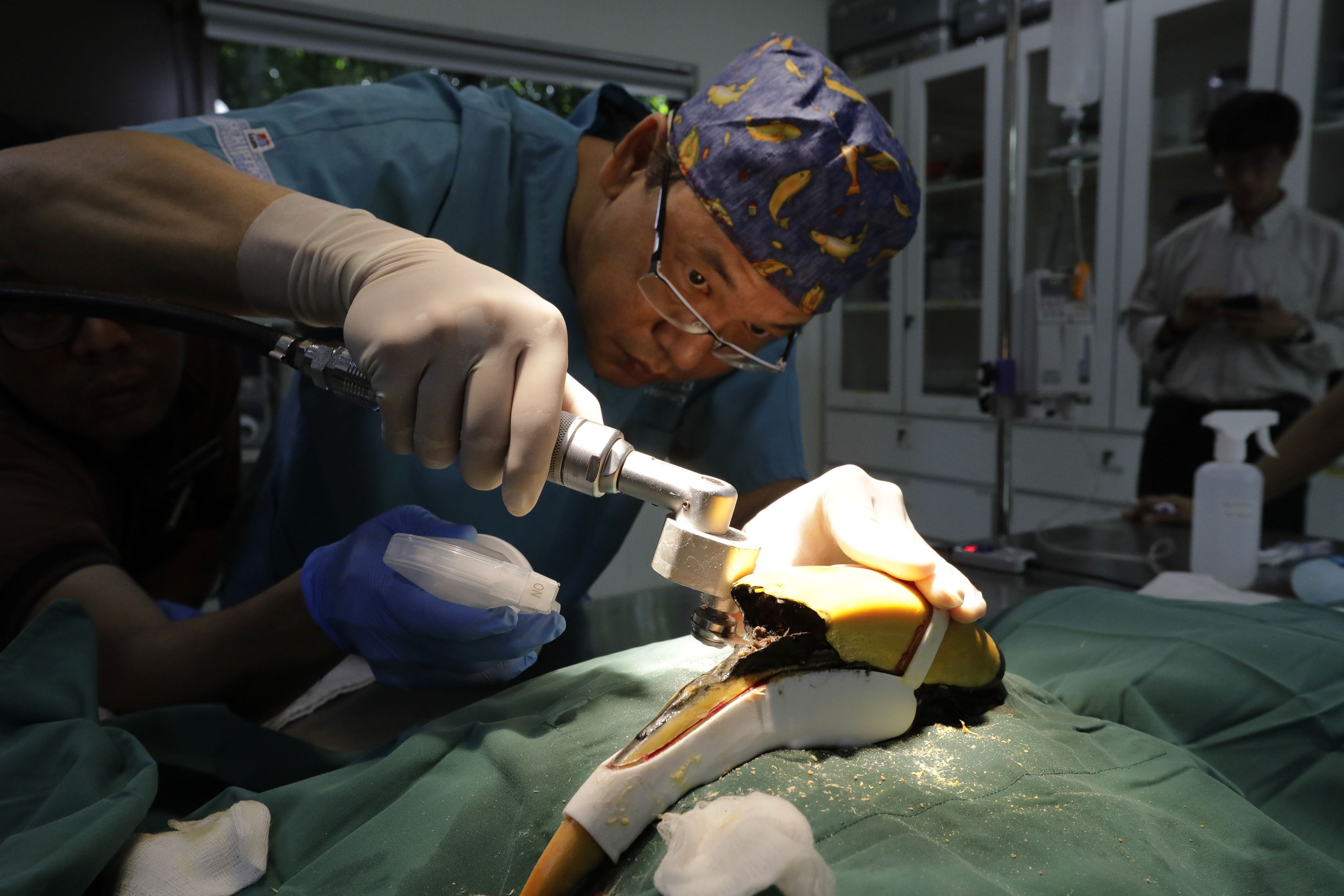 Dr Hsu then used a drill guide to affix the 3D-printed casque onto Jary, covering the exposed tissue. This prosthesis will be on the hornbill until a new casque grows out.
Dental resin was applied on the new casque to seal any remaining gaps.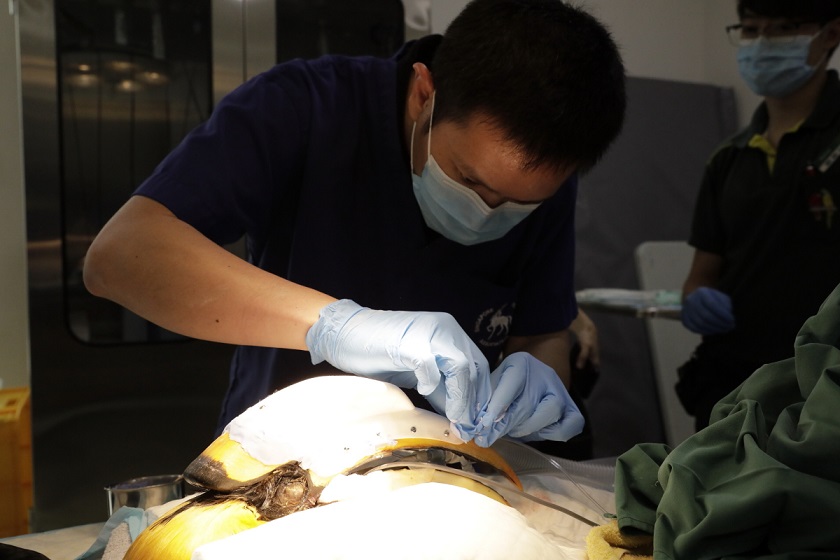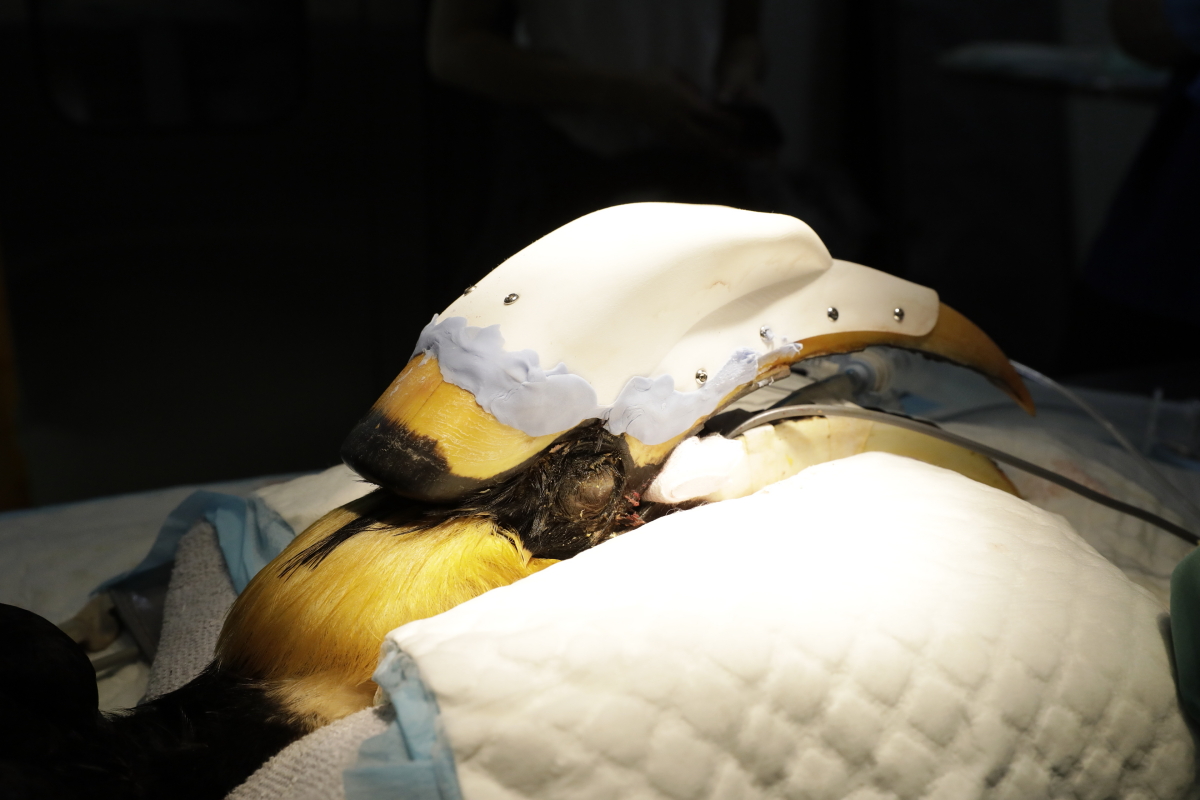 Smooth recovery
The hornbill is reported to be recovering well and has accepted the prosthetic casque, which he himself coloured yellow, as his own.
According to Dr Xie Shangzhe, Assistant Director, Conservation, Research and Veterinary Services, Wildlife Reserves Singapore,
"Jary was eating normally the day after the surgery, and recently also started rubbing the prosthetic casque on its preening glands, which secretes yellow pigment. These natural behaviours are good indications that he has accepted the prosthesis as part of him."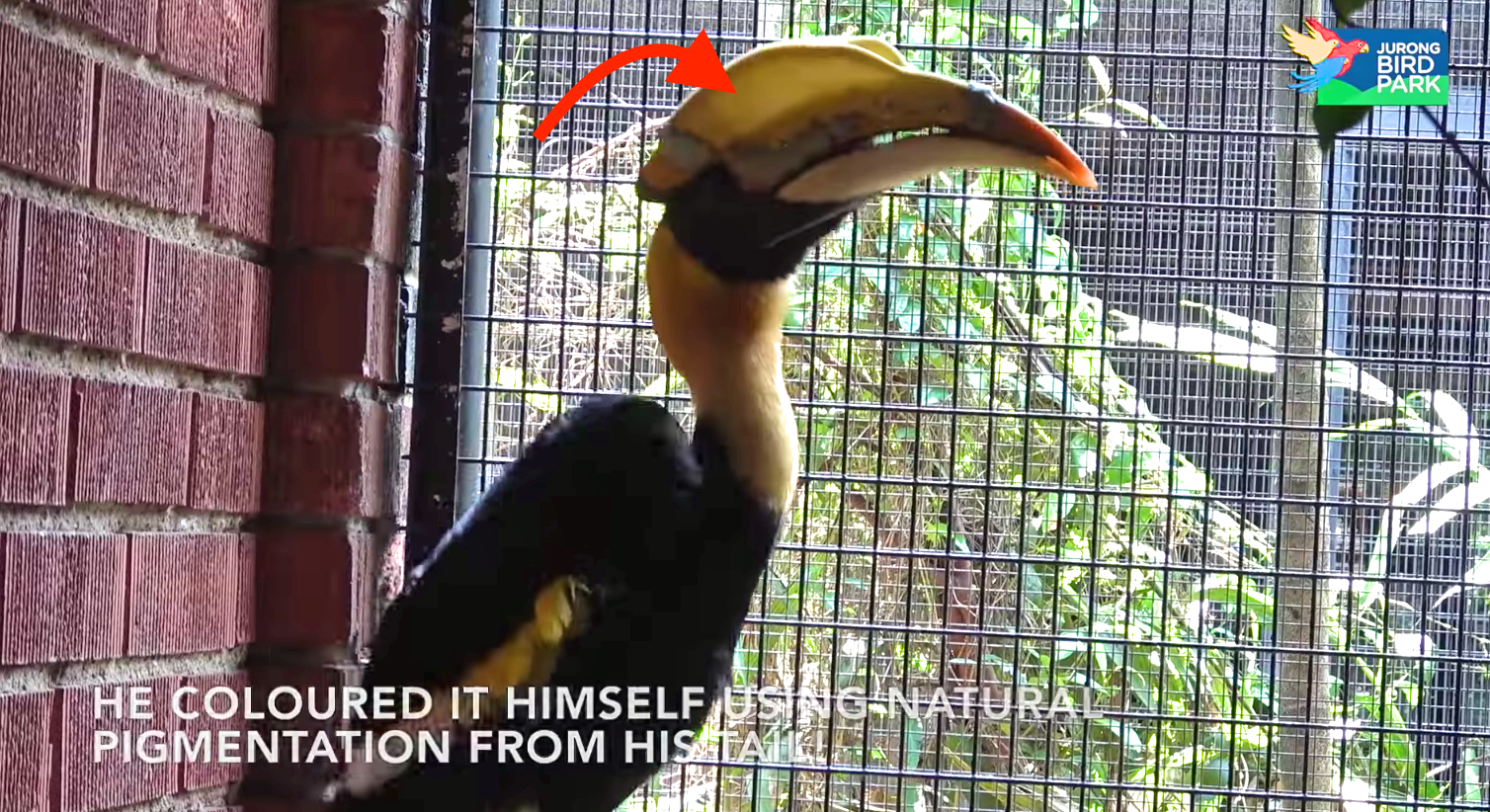 The hornbill is now under close observation in the avian hospital's outdoor ward, before its return to the Hornbills and Toucans exhibit end of this month.
Great Pied Hornbills are classified as Near Threatened in IUCN's Red List of Threatened Species and live up to 40 years on average.
Watch the video about Jary's recovery from cancer with this addition of 3D-printed casque here:
Top photo from a screenshot of WRS video.
If you like what you read, follow us on Facebook, Instagram, Twitter and Telegram to get the latest updates.