With news of Go-Jek's impending entry into the Singapore market, a unsubstantiated rumour about a new sign up incentive made its way into a local taxi drivers' Facebook group: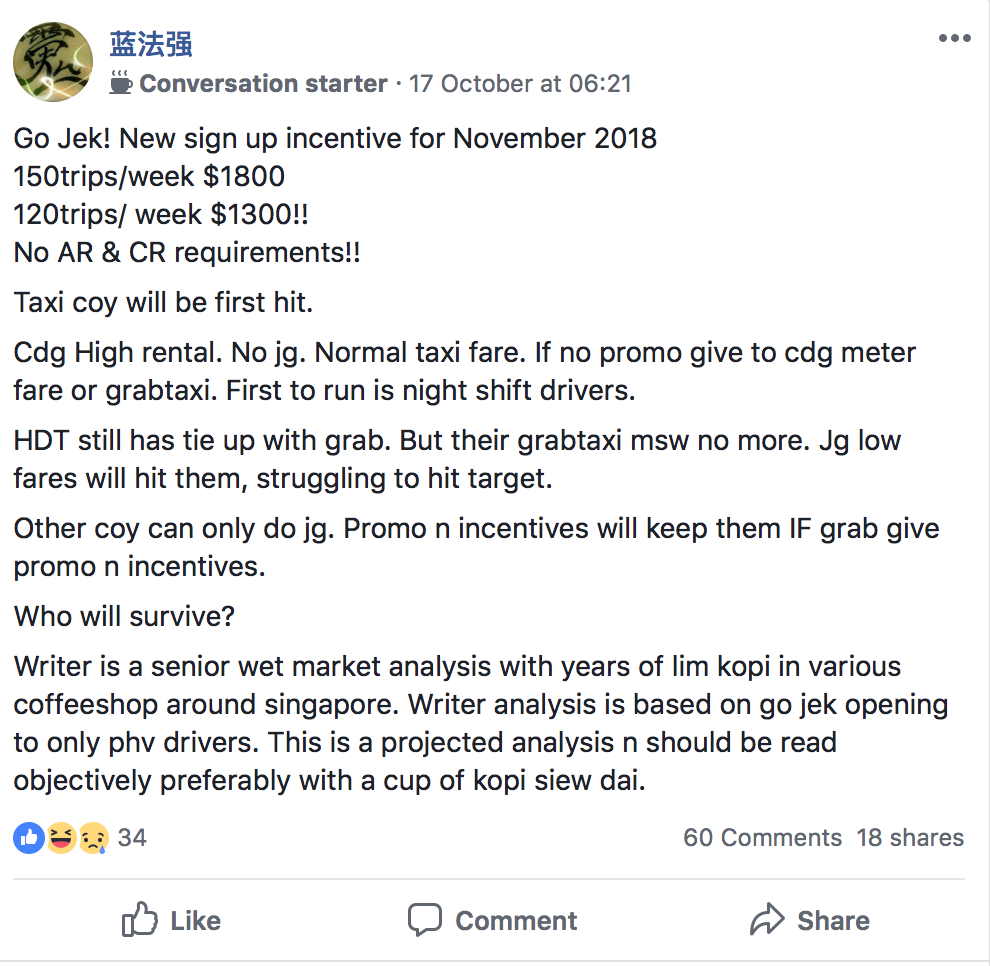 S$1,800 for 150 trips
According to this rumour, Go-Jek is allegedly going to reward new drivers with S$1,800 if they complete 150 trips in a week.
To top it off, drivers will apparently not be subjected to Acceptance Rate and Cancellation Rate requirements.
This rumour was reported in Shin Min Daily News (SMDN) on October 19.
The paper added that it interviewed some private hire drivers, and found that a number of them (about 90 in one particular Facebook group) were keen to jump to Go-Jek.
One of them, surnamed Lin, told SMDN that a number of the Facebook group members are very interested in this sign up incentive:
"Recently I realised a lot of Grab drivers are unhappy with Grab, hence we are entertaining the idea of jumping ship."
This sentiment tallies with a recent informal poll created by a Facebook-based community of private-hire drivers and riders, showing that a majority of drivers are thinking of switching over to the new player when it arrives.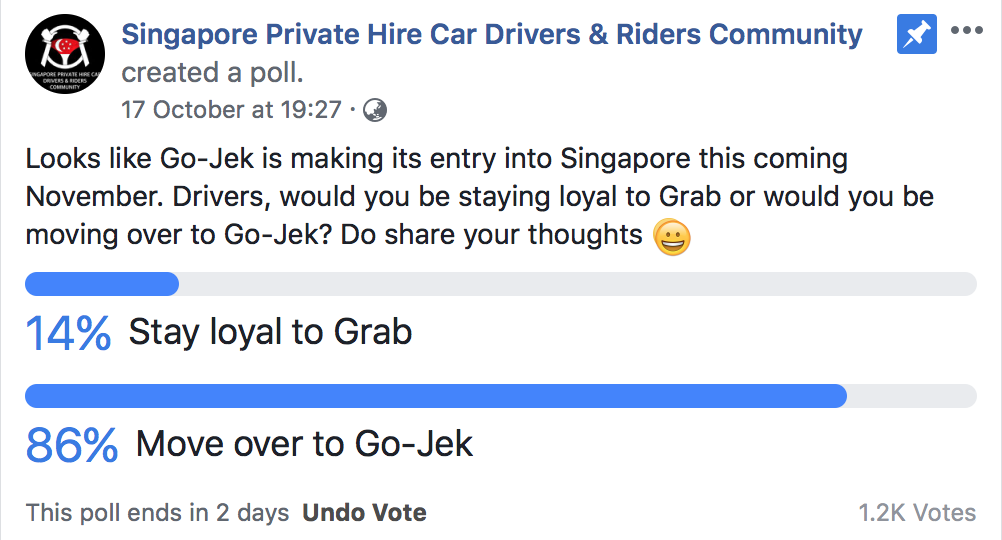 [related_story]
Another driver, surnamed Cai, told the Chinese daily that he will be able to earn more than S$3,000 in a month if this incentive is real.
Cai added that when he started out with Grab, their incentives added quite a substantial amount to his earnings. However, now he is only able to earn about S$2,000, which is not enough for his upkeep.
SMDN was unable to confirm the rumour with Go-Jek, though, after their queries to the Indonesian company went unanswered.
Grab announces their own guaranteed income for drivers
Meanwhile, Grab has launched a new incentive scheme for its drivers.
In a Channel NewsAsia interview dated October 20, Head of Grab Singapore, Lim Kell Jay announced driver incentives that will kick in from October 29.
This incentive involves Grab topping up drivers' monthly earnings if they hit a weekly trip target.
Mothership understands that this information was sent out to drivers in an electronic mailer recently.
All Grab drivers are automatically enrolled in a tiered-rewards programme called the Emerald Circle which gives them access to fuel discounts, medical and dental benefits among others.
The Emerald Circle consists of four tiers — Emerald, Ruby, Sapphire, and Diamond.
All drivers, apart from GrabHitch drivers, automatically start out in the Emerald tier. They upgrade to the next tier by gaining Experience Points (XP) each time they contribute a commission to Grab.
Here's the structure: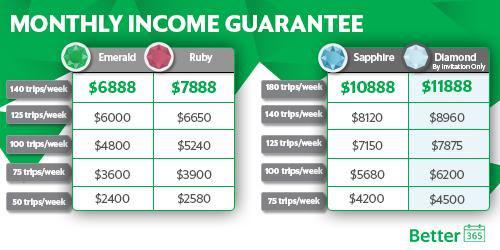 At the lowest Emerald tier, Grab guarantees that drivers earn a gross monthly amount (prior to deductions of Grab's 20 per cent commission cut, as well as any fuel or rental charges the driver may incur) of S$2,400 if they can make 50 trips per week, and S$6,888 if they hit 140 trips per week.
At the highest (invite-only) Diamond tier, drivers who hit 75 trips per week are guaranteed a gross amount of S$4,500. The gross amount increases to S$11,888 if drivers hit 180 trips per week.
Drivers divided
In posts and comments in various groups on Facebook, some drivers reacted quite positively to Grab's scheme, saying it would work well for drivers with low operating costs: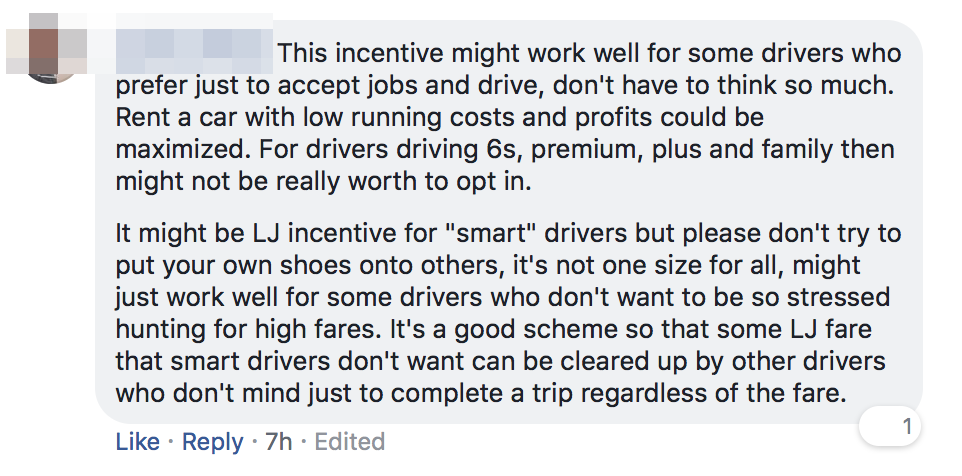 Others questioned the feasibility of hitting the targets. Even if a driver managed to hit the target, some said, they would probably be able earn close to the guaranteed amount by that point.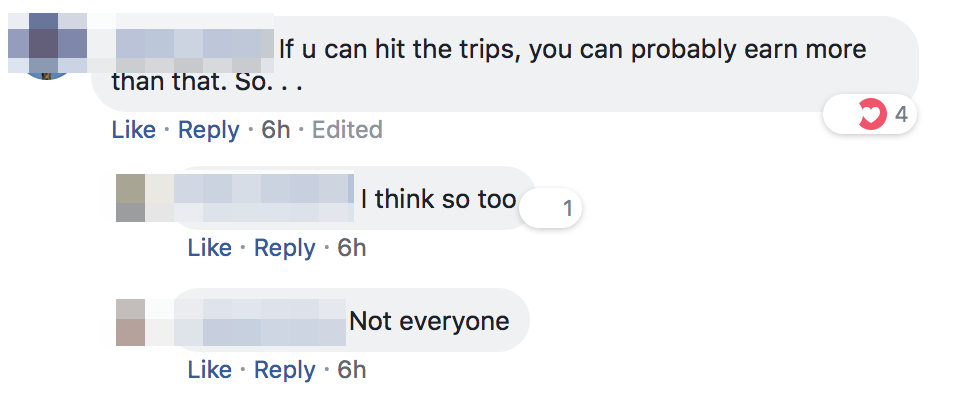 Another Facebook user brought up a point that setting such high targets for drivers is a way for Grab to monopolise their drivers' time so that they cannot jump to another platform, like say, Go-Jek.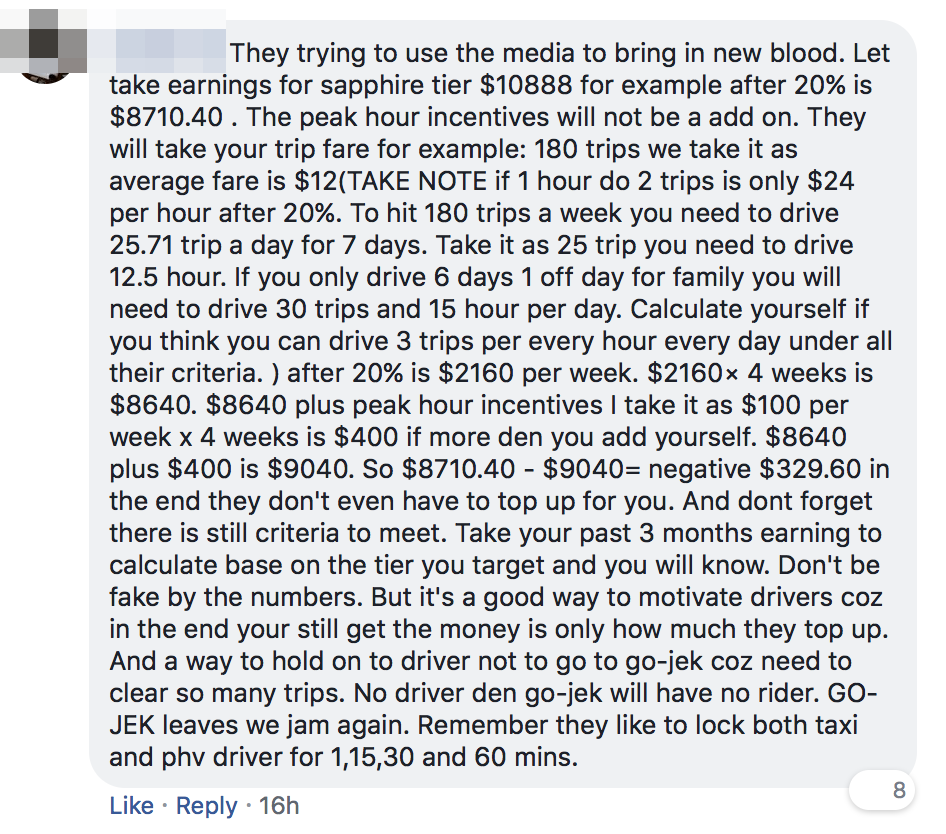 This, some argue, is a strategic move to work around the Competition and Consumer Commission of Singapore's (CCCS) recent order that Grab remove all exclusivity arrangements with drivers, which would otherwise allow them to use other platforms. 
But in his interview with CNA last weekend, Lim said this new incentive is the company's effort to address drivers' concerns and complaints that previous incentives have fallen.
It remains to be seen, though, if this incentive will be able to keep drivers on board with the ride-hailing giant — especially in the face of the looming arrival.
Other related news:
Top images via Go-Jek and Facebook.
Content that keeps Mothership.sg going
---
?
This is what it feels like to have your hair removed by intense bursts of light.
? vs ?
You're on the MRT. Do you read or surf?
Why not both??
If you like what you read, follow us on Facebook, Instagram, Twitter and Telegram to get the latest updates.