The Ministry of Education (MOE) announced one of its biggest shake-ups to the schools and exams system on Sept. 28.
The "Learn for Life" plan will take effect in 2019, and is aimed at encouraging students to excel in areas other than academic results.
No exams for some kids
Since you have in all probability already left primary school long ago, here's the short version of what will change:
Primary 1 and 2 students will not have to sit through any weighted assessments, including the P2 year-end exam.

Secondary 1 students won't have to worry about a mid-year exam, that's gone.

Primary 3 students all the way up to Secondary 5 will only need to take one weighted assessment, per subject, per term.

They'll still have to take another mid-year and year-end exam where applicable though.

By 2020 or 2021, Primary 3, Primary 5 and Secondary 3 students won't have to worry about mid-year exams too.
Report cards no longer rank kids
But that's not all.
To discourage an "excessive focus" on grades, report cards will be changed too.
They will no longer show certain indicators, like the class and level positions of the students, to hopefully discourage excessive comparison between peers.
Left unsaid was that parents can no longer terrorise their kids by saying:
"ONLY FOURTH IN CLASS? MRS TAN'S SON GOT SECOND!"
The children of tomorrow don't know how lucky they are.
Most Singaporeans surprisingly positive
So how are Singaporeans taking it?
Not surprisingly, some were skeptical of the changes:



This guy believes it heralds the death-knell of Singapore's education system: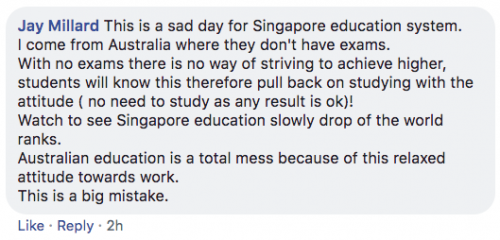 But others were supportive of the move:



[related_story]
Grades, our national obsession
Grades have been a hot topic lately, with a campaign mounted on Instagram where successful adults share their PSLE scores to demonstrate that it didn't define them.
While the PSLE remains firmly in place, it appears that MOE and Education Minister Ong Ye Kung are trying different methods to reduce our society's obsession with grades, and focus more on alternate pathways to success.
In fact, some Singaporeans wish they had done this sooner:

Related story:
Top image adapted from MOE's Facebook page.
If you like what you read, follow us on Facebook, Instagram, Twitter and Telegram to get the latest updates.