I sit alone in Starbucks, waiting for Ben to arrive.
A 26-year-old who has just graduated from MDIS, Ben is an avid fan of local artistes.
Avid is probably an understatement.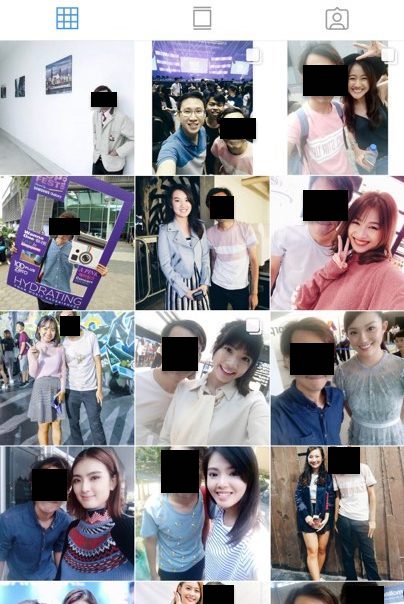 He was also one of two strangers who had responded to my interview request.
The other potential interviewee had eventually turned me down as his "family does not allow":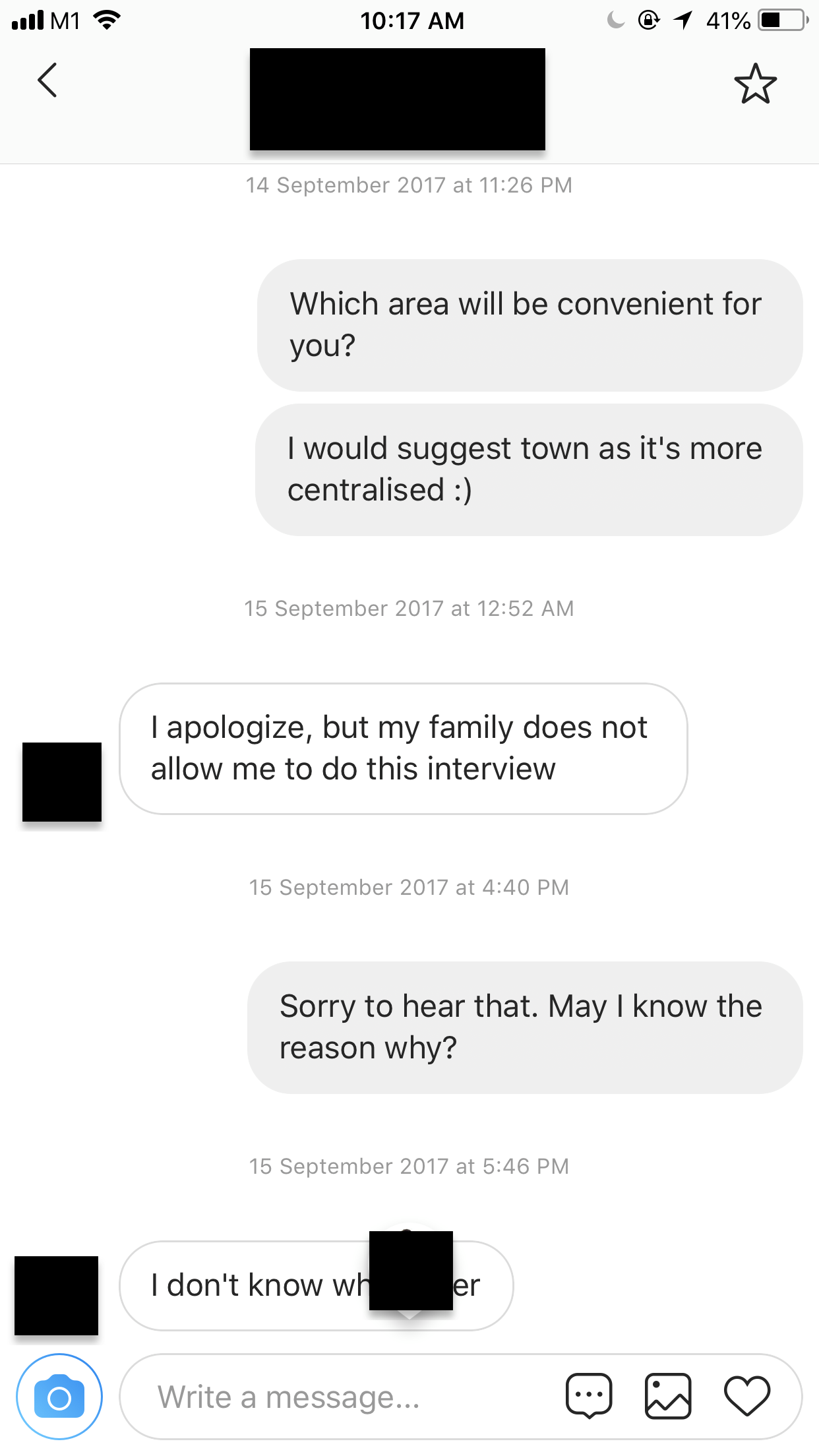 But back to Ben.
I am apprehensive about meeting him, of course.
Perhaps it's because I was (am?) acutely aware of the social stigma surrounding such passionate idol-chasers.
These are the people we make fun of in our own circles, tittering away condescendingly in the safety of our exclusive cliques.
It's not exactly the most productive pastime.
When Ben arrives, he looks exactly like his Instagram photos: nondescript, wallflower, the calefare.
A figure your eye would easily slide past — if he's not posing next to a celebrity.
We exchange pleasantries awkwardly.
And for close to the next two hours, we talk.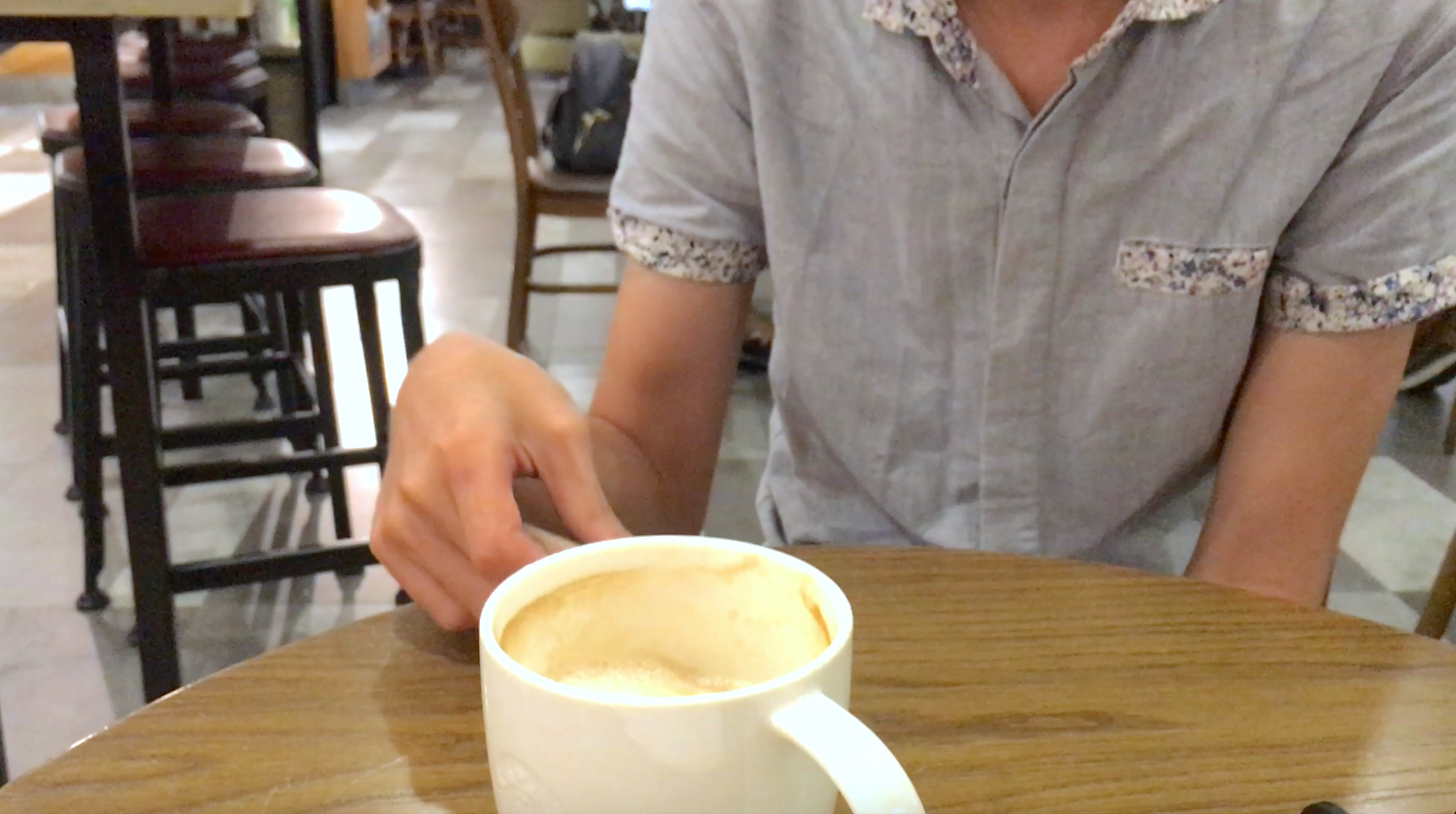 Industry beans
First things first: Who's nice and who's not in the industry? Nothing like an icebreaker than good ol' gossip.
Ben takes a sip. Then another. Probably trying to censor himself internally.
For the nasty part, he offers no names.
But is quick to give me two nice celebrities: Xiang Yun, and Empress Dowager of Caldecott Hill (now one-North) Zoe Tay.
Xiang Yun, according to Ben, is really nice.  She takes the time to talk to the calefares and camera crew when she can easily just ignore them.
https://www.instagram.com/p/Bl6rAlyhm8O/
And Zoe Tay could do no wrong.
But another rather popular actress, who is female and younger than the two Ah Jies and who shall not be named, is apparently not so fond of the extras.
 ¯\_(ツ)_/¯
A community of "famous" fans
If you, like me, think that Ben is an anomaly, then we cannot be further from the truth.
Because Ben is not alone in this -- plenty of other fanboys and fangirls indulge in the same pastime.
In fact, they even have a Telegram group with over 100 members, where they sometimes exchange information about the celebrities' whereabouts.
Ask any Hardware Zone user and they can tell you who is "Strawberry Tao":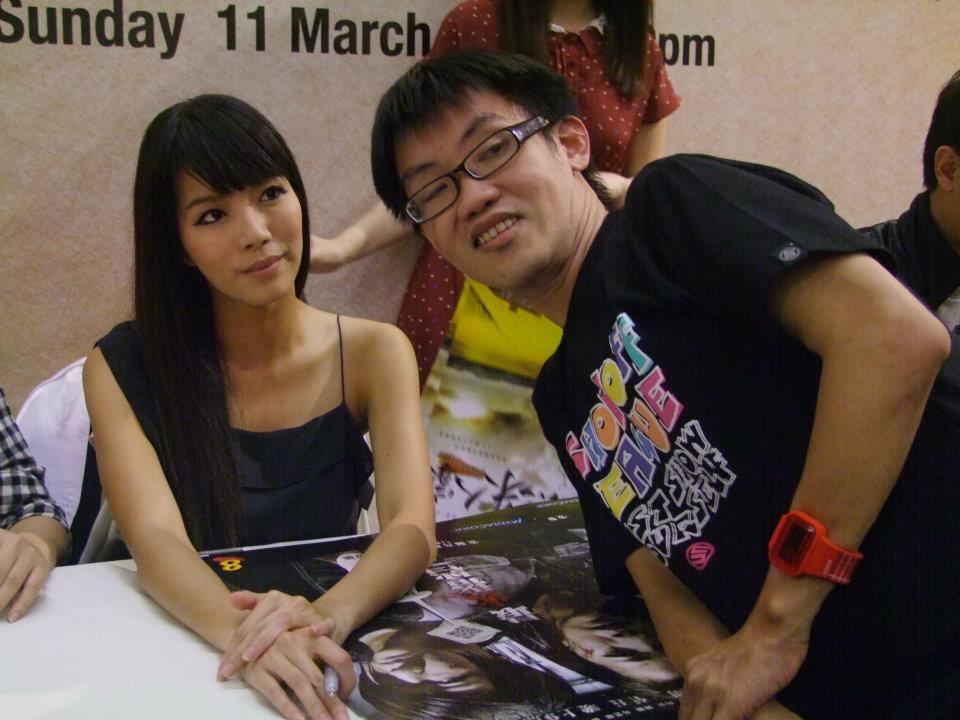 This is Strawberry Tao. Don't ask me why he's called Strawberry Tao.
And more of such fans have become (in a way) famous within the community.
One of them is Mr. Edmund Kwok, a history teacher at Raffles Institution known as @peekwok on Instagram:
In a 2013 interview with the school's paper, Raffles Press, Kwok was quoted saying,
"Okay, just in case you're misunderstood, I don't chase stars. Okay. I don't chase stars only, I would rather call it 'people-watching'. A more generic term. Because the connotation that's associated with star-chasing is a bit strange…"
Another famous name, well-known even to Mediacorp's staff, is Ting Ting.
Ting Ting apparently turns up at almost every event, sometimes even earlier than the event organisers.
She also regularly wishes the celebrities a happy birthday on her Instagram, usually with an encouraging and supportive message.
A calefare in Mediacorp
Now that the ice is somewhat thawed, I venture deeper.
Curious, I ask Ben to share more about being a calefare (an extra).
Yes, Ben is so ardent in his adorations that he signs up to be an extra in Mediacorp dramas, and attends meet-and-greet events regularly just for the chance to interact with the celebrities.
[related_story]
Ben readily acknowledges that the remuneration is not high. However, most extras sign up for a chance to interact with the celebrities, and not so much for money.
For Ben, he first signed up to be extra about three years ago, when he was introduced by a friend to such an opportunity.
Most times, his role consists of walking around in the background of a scene. Passerby A.
But his most memorable role featured him serving Pierre Png as a waiter, where he even had a line.
Another instance saw him sitting in a restaurant, with Hayley and Jayley Woo in the foreground.
As for what's it like on set, Ben explains that there's a certain amount of pressure from the producers (to not impede the scene), but a calefare could also choose to turn down certain jobs.
Fan club president
But just how into the local scene is Ben?
Well, he's the president of local actress He Ying Ying's fan club, so I'd say pretty much.
Since taking over Yingfinity -- the name of the club -- in April 2016, Ben's duties include organising meet-ups with over 30 members, where they talk and play games.
A few other members help out with administrative matters.
And yes, the actress attends these meet-ups, which occur once or twice a year.
Naturally, photo-taking is also a significant activity on the day:
https://www.instagram.com/p/BPhZVpJj9r6/
https://www.instagram.com/p/BN6n03UAOsX/
Another thing that Ben is in charge of is the club's yearly recruitment drive, where he sifts through the applicants to decide who's allowed to join on an almost arbitrary basis.
His exact words, said laughingly: "I will just see who are they lor, and I see whether I want to let them join. Happy I let you in, not happy I don't let you in."
Ok. But just how hardcore is he really?
Besides running the fan club, Ben attends publicity events and meet-and-greets on a weekly basis.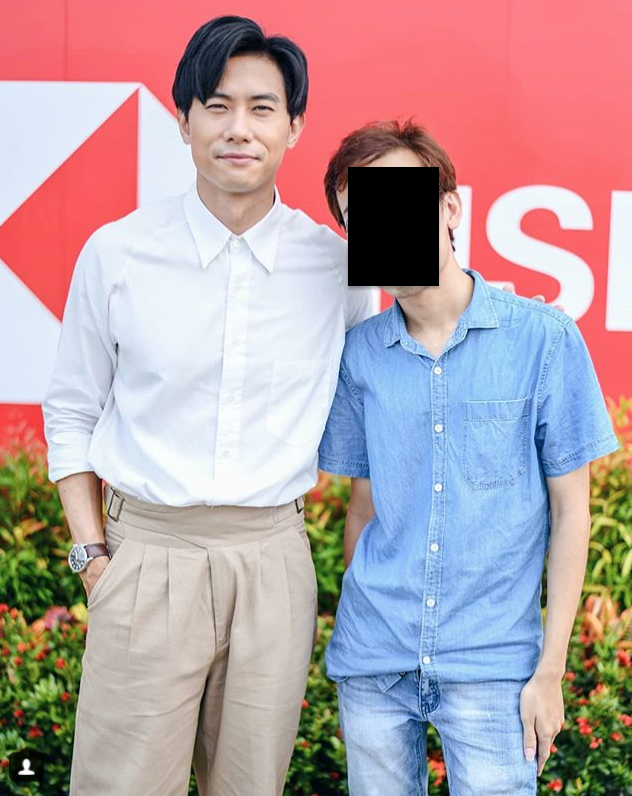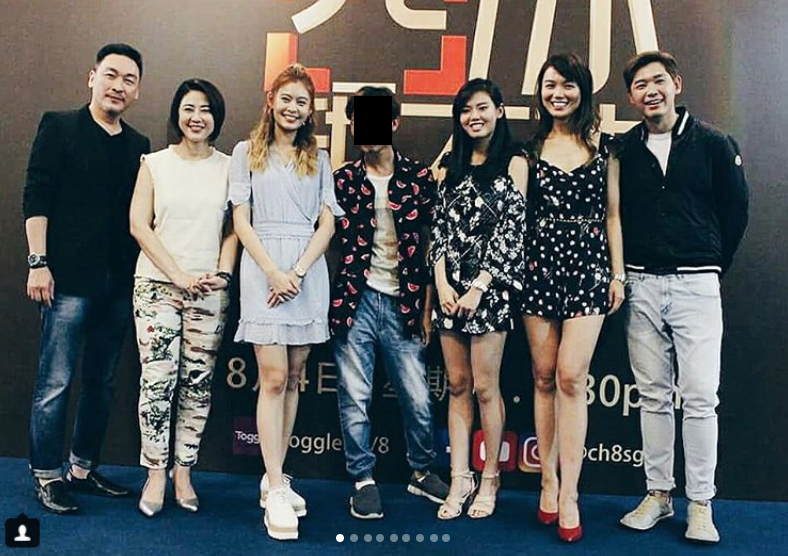 While his weekends are free to pursue idols, weekdays are generally more dependant on his schedule.
Each event takes around one to two hours, and he usually goes with his friends. Additionally, it is not uncommon for Ben and his friends to participate in more than one event a day, often travelling from venue to venue just to take a photo with a star.
Gotta do it for the 'gram, I suppose.
One can easily see that this is an enormous commitment, time-wise.
As it is, a quick scroll through his Instagram sees photos of him with other celebrities either on consecutive days, or barely a few days apart.
If that still isn't enough, Ben watches almost every Mediacorp show on Toggle, where he subscribes to a premium account for S$9.90 a month.
And you thought no one watches local TV anymore.
In our two hour-long conversation, Ben offers plenty of "what" and "how" to star-chasing. But when it comes to "why", he cannot give a definitive answer.
The gist of it is a shrug and "just because", but it is enough to make him spend his time, energy, and money trying to acquaint himself to a bunch of famous strangers.
Meeting more fans in real life
After looking through their profiles and talking to Ben, I thought I should meet more of them in real life.
So I went down to the fan meet for Ah Boys To Men 4, which took place in November last year at SingPost Centre.
The atrium of the mall was mad crowded: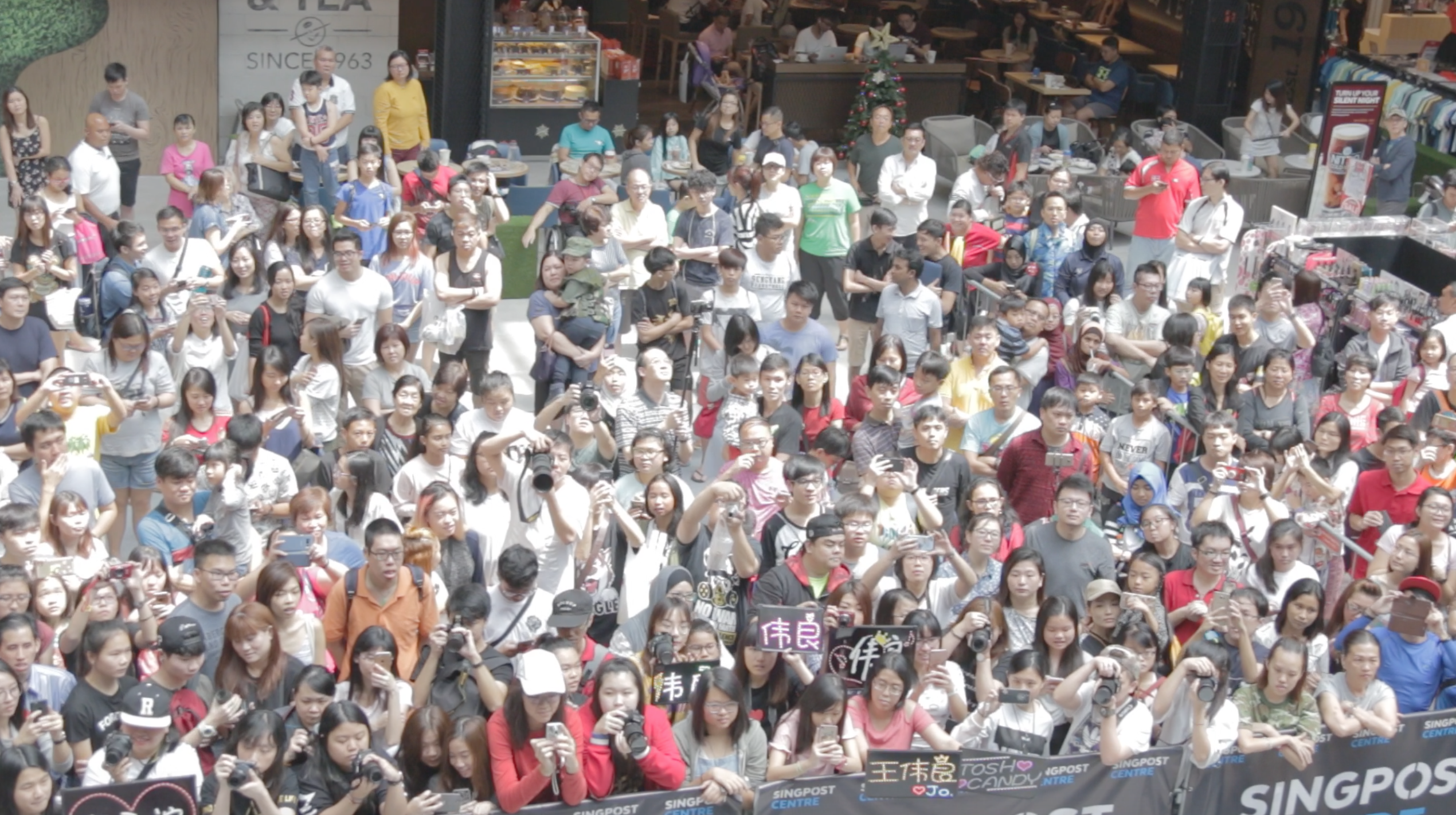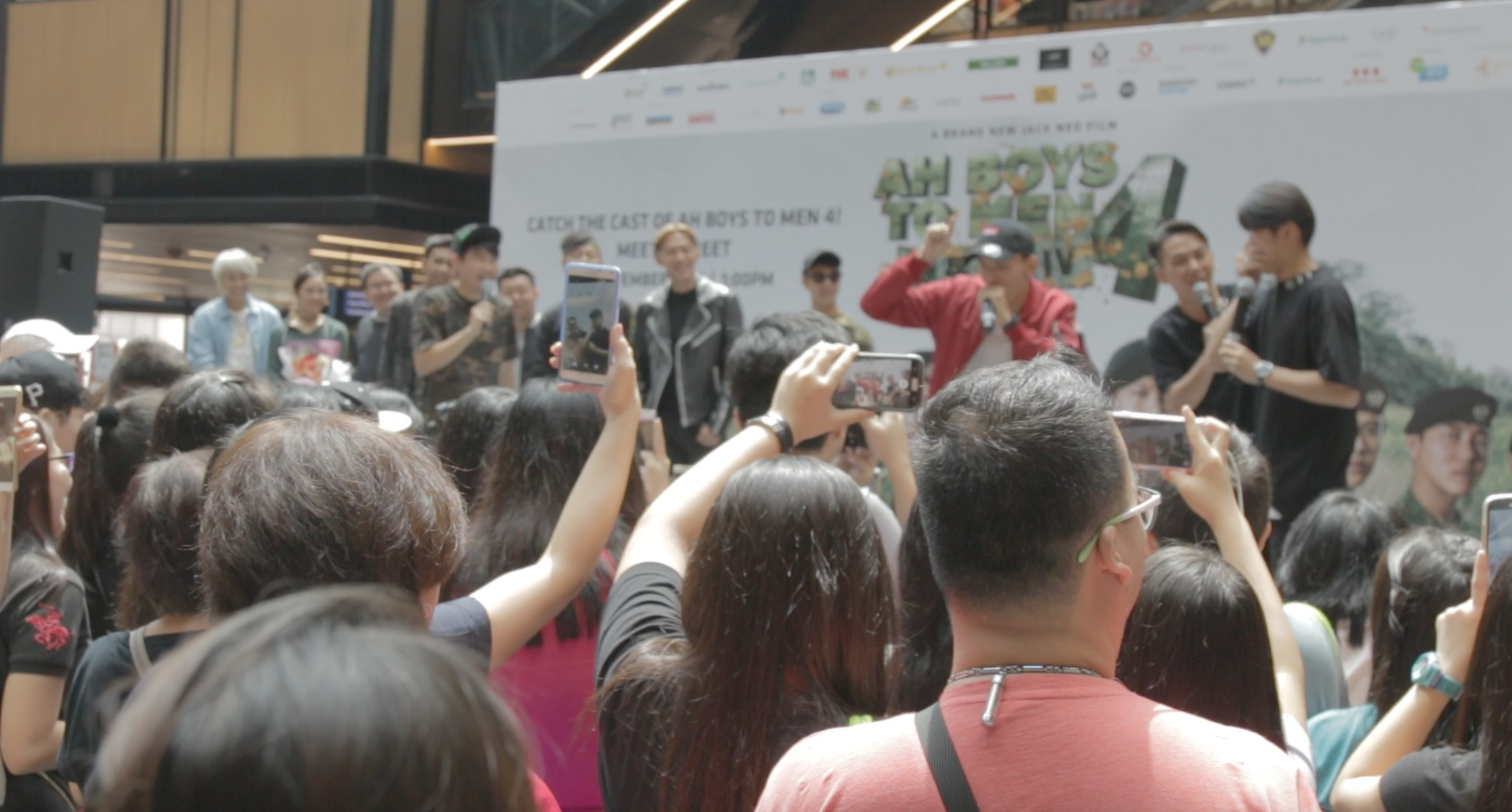 Thanks to Ben (who also attended the event), I got to speak to a few of his friends.
One of them was Jo, then 28 years-old.
She was holding a LED signboard that spelt out the Chinese characters for "Wang Weiliang", a local actor on ABTM.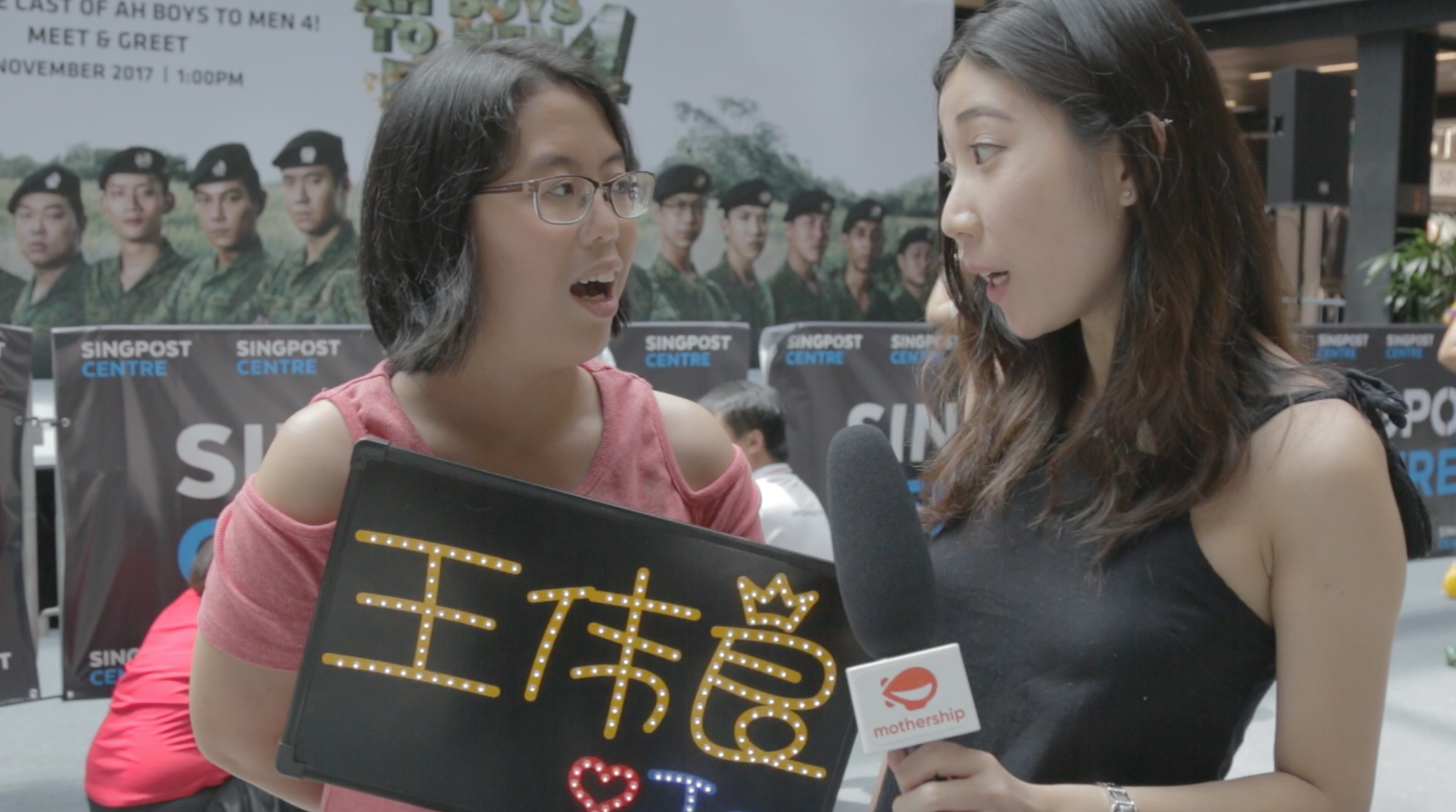 And this was my face when she told me the board took her one year to make (in between her other commitments).
Even though the event started at 1pm, Cheryl, then 25, was already at the venue since 8.45am in the morning.
She was there to support Tosh, who is her favourite member of the cast.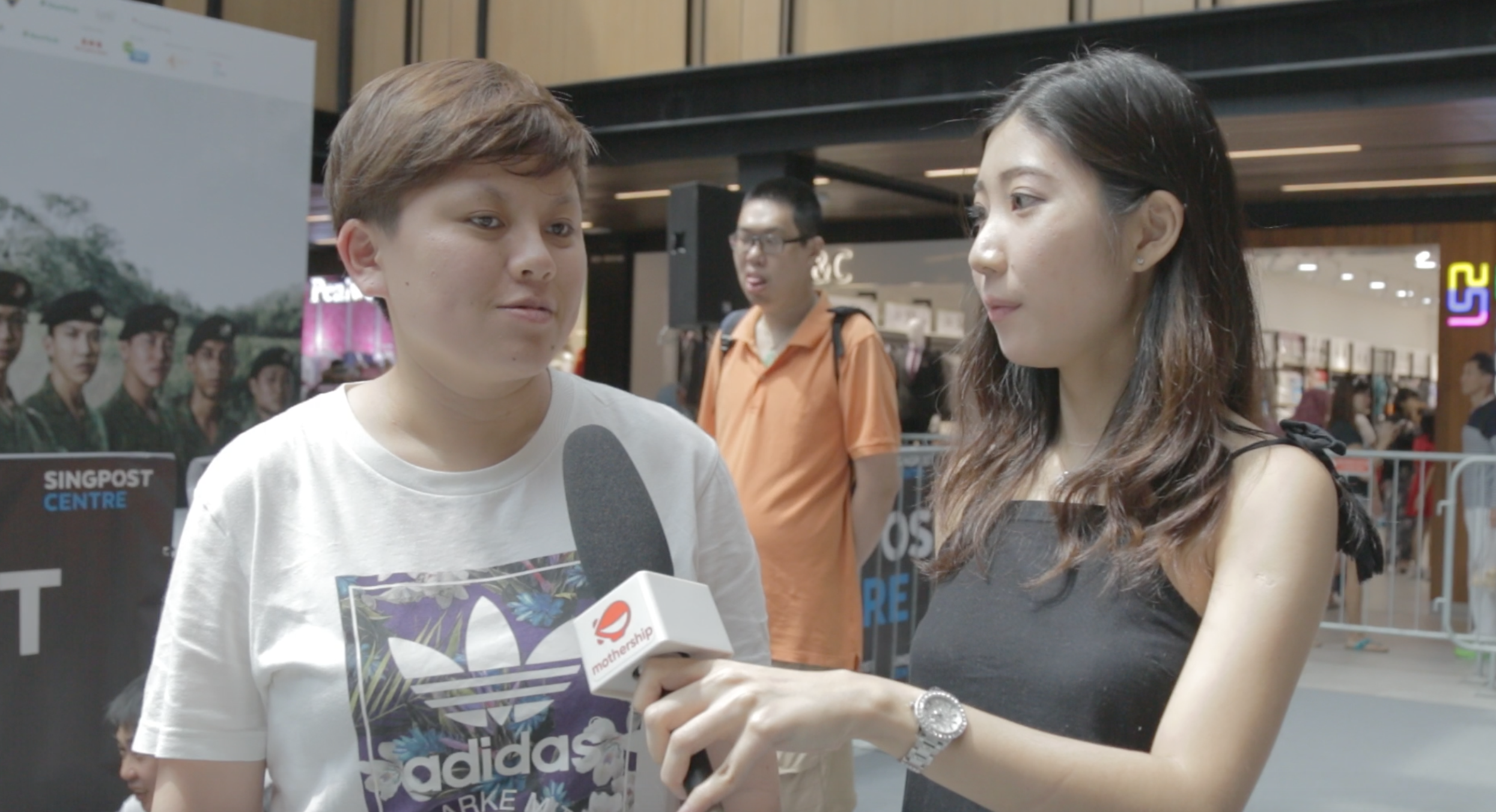 Lastly, there's Candy, who was 31 when I interviewed her.
Candy was also there to support Tosh, with a dedicated LED board: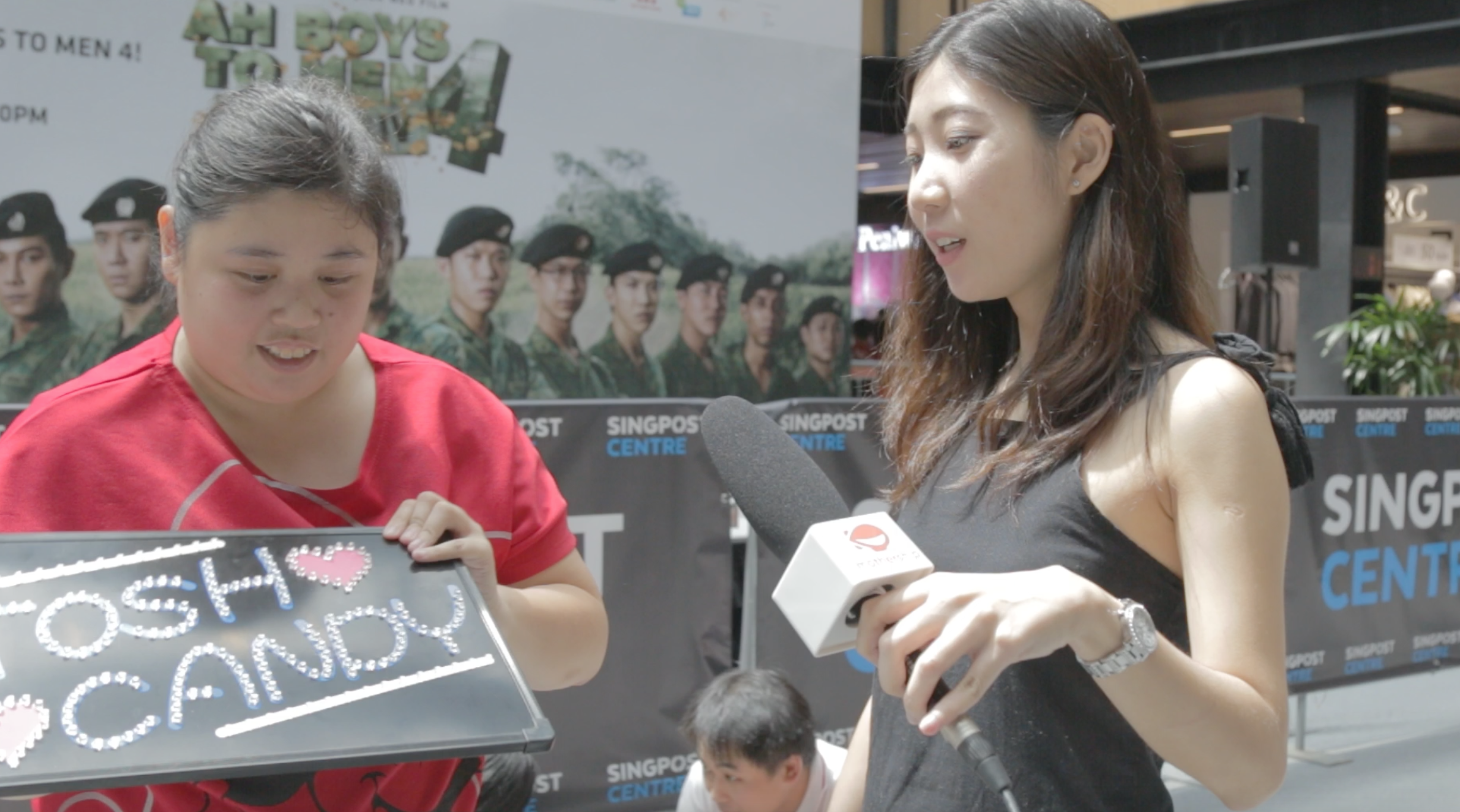 The board was signed by Tosh himself: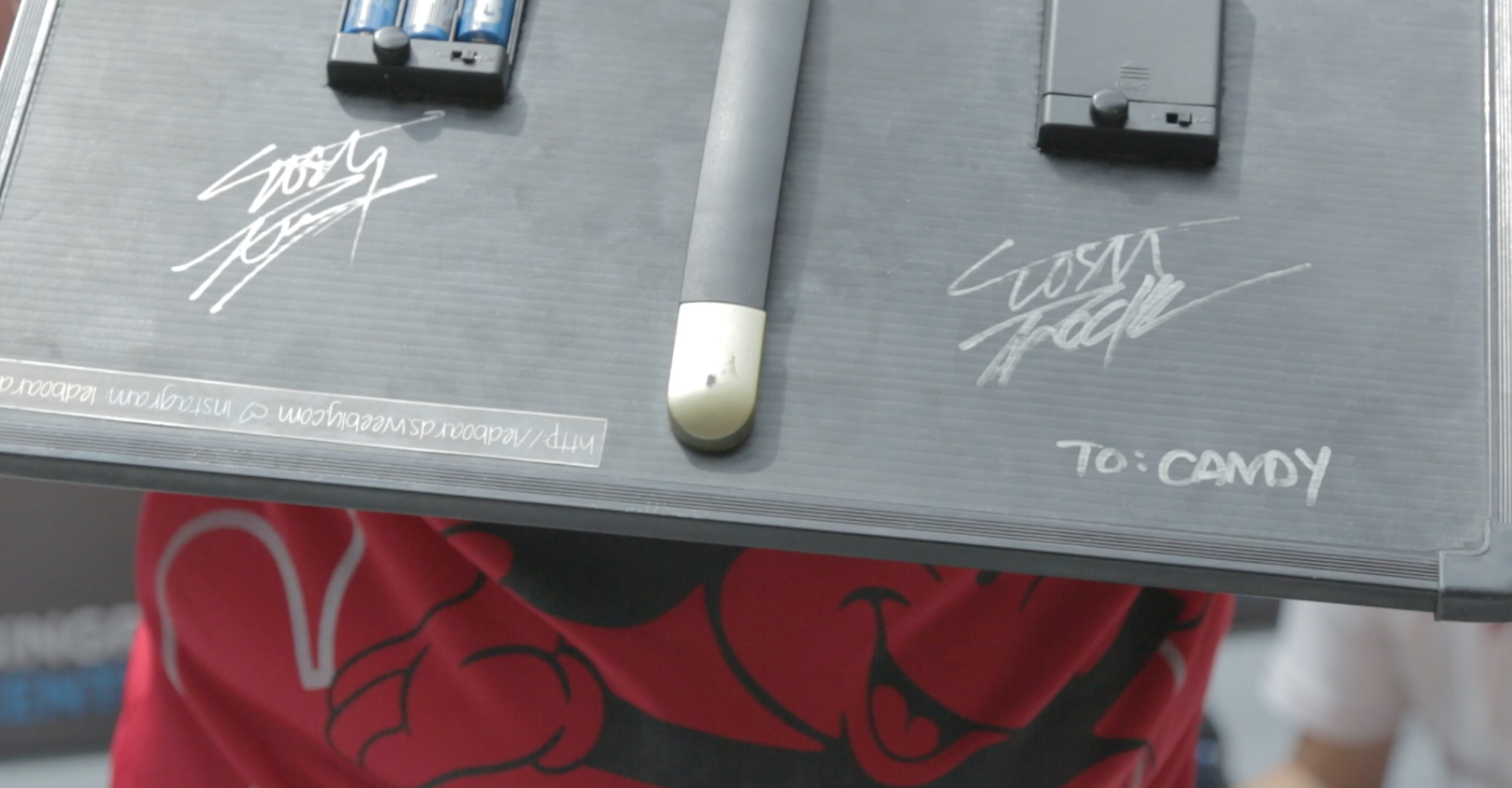 Very committed.
--
Fast forward a year later, nothing much has changed.
Ben is still taking photos with celebs, and still the president of Yingfinity.
However, when I ask about his current status in life, the message was left on seen.
More stars to chase, this silly writer can wait.
If you like what you read, follow us on Facebook, Instagram, Twitter and Telegram to get the latest updates.