What happened?
A 23-year-old Singaporean man reported to the police a meme posted on an Instagram account run by junior college students.
Name of Instagram account
The Instagram meme page is called Nyjcmememachine, and had close to 10,000 followers. It was run by students from Nanyang Junior College.
As a result of the police report being made, the meme page shut down and the students issued a public apology -- not before getting counselled by the school for their actions.
What was the "offensive" meme?
The meme that was deemed offensive was uploaded on the 17th anniversary of the Sept. 11 attacks.
It showed the former Al-Qaeda leader Osama Bin Laden photoshopped alongside a picture of the burning World Trade Center.
The meme included the tagline: "Believe in something. Even if it means sacrificing 3,000 lives and two steel towers".
It is a play on Nike's viral advertising campaign, which featured former National Football League player Colin Kaepernick.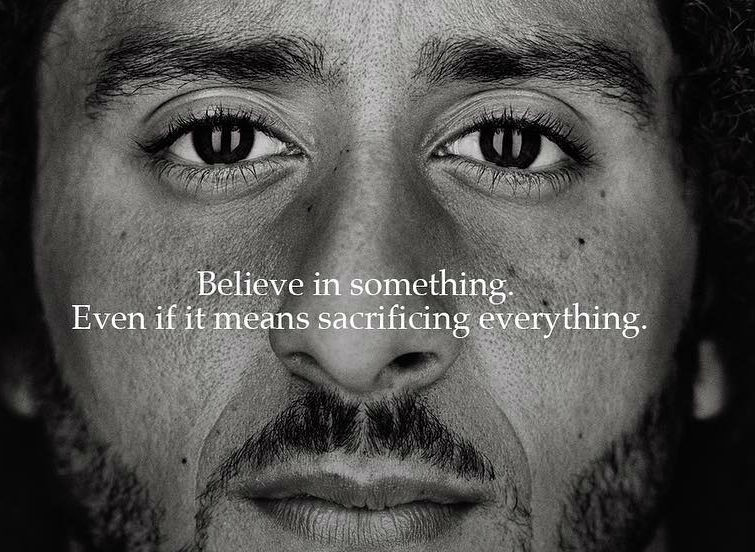 Who is the 23-year-old man who made police report?
The initial news report on Sept. 20 did not name who the offended man is.
However, The Straits Times did get a quote from the man though:
A 23-year-old undergraduate who declined to be named said he lodged a police report as he found the material a threat to national security.

He told The Straits Times: "We just need one person to be wayward and be self-radicalised to pose a threat to our security. It is not too far-fetched a possibility, seeing news reports all this while."
Man outs himself
However, it appears the man outed himself -- whether knowingly or unknowingly, cannot be ascertained.
This is according to a screen shot of two tweets the man posted on Sept. 16 and 17, before the issue was publicly made known: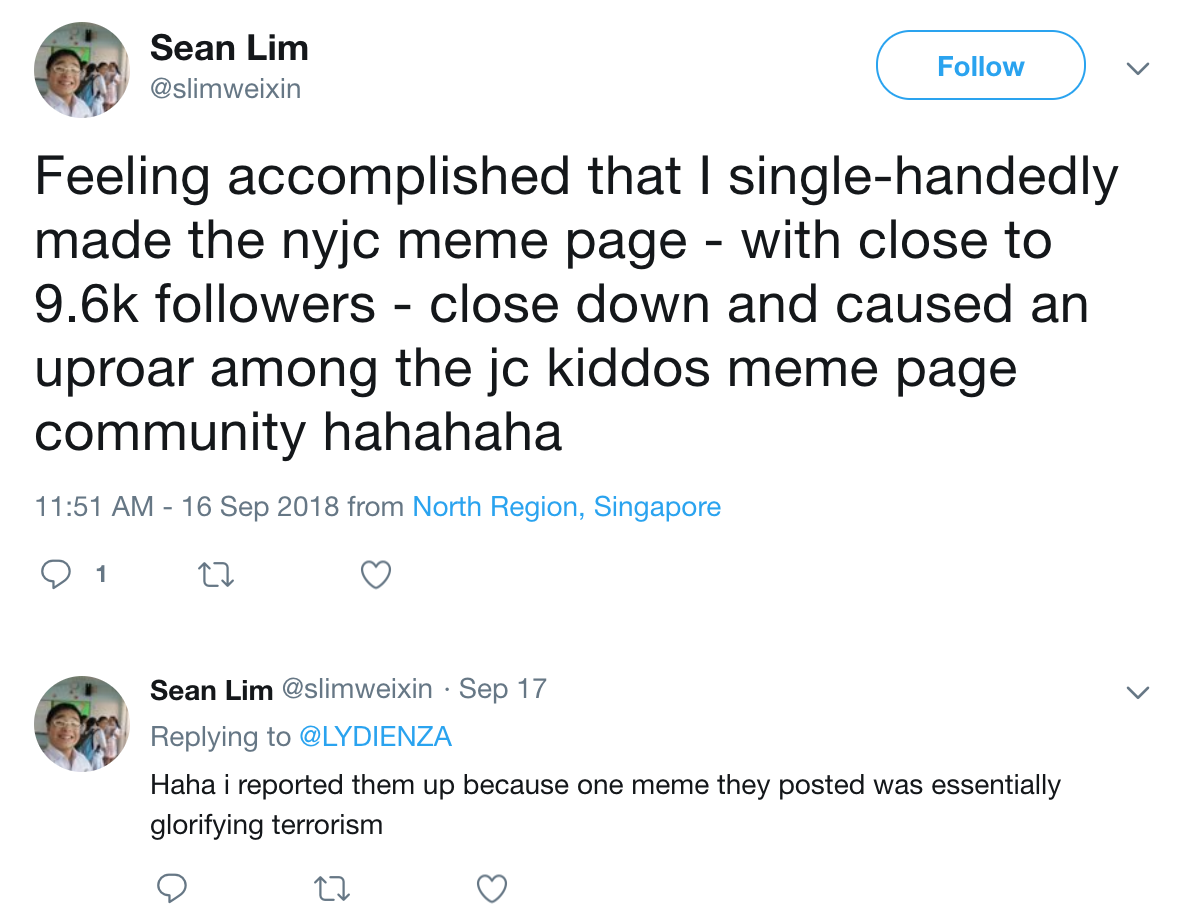 A check on the Twitter account showed that it is currently privatised.
Same name appeared in ST forum letter
The man's name in the Twitter handle then appeared in a ST forum letter on Sept. 22.
The forum letter was signed off by a "Sean Lim Wei Xin".
Not only do the names match, it also contained the same reason the anonymous person quoted by ST gave for making a police report about the meme (refer to the quote above to see the similarity).
The forum letter said:
"We just need an individual among the large group of followers to be self-radicalised and to threaten our security."
[related_story]
For avoidance of doubt, this is the forum letter in full by Sean Lim Wei Xin:
Questionable content on Instagram account: Some things should not be joked about
I am aghast at the revelations that some Nanyang Junior College students posted questionable content on Instagram recently.
It is fine to post funny pictures depicting school life and even poke fun at the country's politics. After all, it is harmless for them to express their creativity and vent their frustrations through such a medium.
However, a line has to be drawn. Trying to glorify terrorism with the 9/11 terror attacks-related image and jeopardising our national security in the process is unacceptable, never mind that it was done through a seemingly innocuous meme.
Even if it was a parody account, the students, as 17- and 18-year-olds, ought to be responsible and mature enough not to post content which jeopardises national security, especially when they have close to 10,000 followers. With such a massive following, any content posted was bound to have a significant impact.
It may just be a humorous picture, but it sends the signal that terrorism is all right.
Worse still, graphics are powerful and have the potential to contribute to self-radicalisation, which is reportedly a real threat here. It is no longer just about sensitivity, but about the threat and danger such pictures can bring.
We just need an individual among the large group of followers to be self-radicalised and to threaten our security. It does not help that many of those following the accounts are young people, which in itself is a cause for worry for the Government.
Perhaps the students merely viewed the 9/11 attacks from a historical perspective, but for someone like me, who watched it unfold live on TV and subsequently had to tolerate inconveniences due to heightened security measures, it was never a laughing matter.
In fact, due to online anonymity, one cannot even be sure if those account administrators were indeed students or individuals with harmful intentions.
This incident is a strong reminder that we should be circumspect with the comments we make.
There are some things we should never joke about - race, religion and issues of national security - because of the wide-ranging implications they may bring.
Sean Lim Wei Xin
If you like what you read, follow us on Facebook, Instagram, Twitter and Telegram to get the latest updates.