The ice cream sandwich has become one of the many icons of Singapore.
In fact, it's so important to us that we all got very angry when BuzzFeed said it tasted terrible:
But a big part of the Singaporean-ness that is associated with ice cream sandwiches, is the uncle behind the cart.
Sadly, though, despite their importance in Singapore culture, the number of ice cream uncles has been dwindling over the years. Where there were once countless ice cream carts along Orchard Road now remain just about four or five on a fair-weathered day.
But what does being an ice cream uncle actually involve? Where did the traditional ice cream sandwich even come from? Do we actually understand the intricacies of the ice cream uncle industry?
We got kaypoh (okay, actually our editor did and arrowed us as one of our final assignments on our internships here), so we headed out to disturb talk to a few of them to find out more about what they do.
And all three uncles we met definitely had strong characters, and seemed to love what they do.
1) Uncle Chieng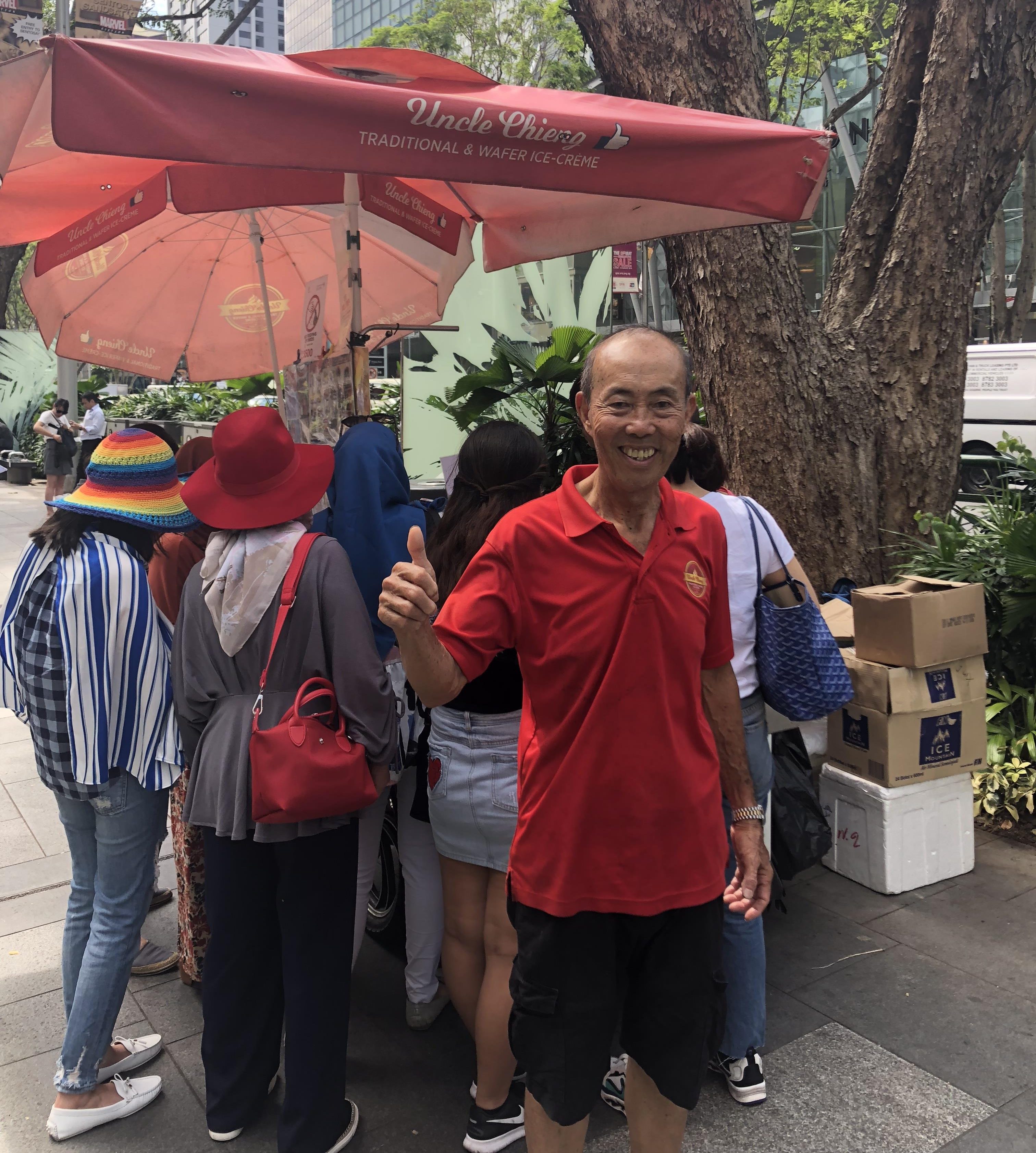 Uncle Chieng is 70 years old. He tells us he started selling ice-cream because he was not very educated. But when asked why he chose selling ice-cream, of all things, he happily said:
"I've always liked eating ice-cream, so when I needed to find a job, I decided to sell ice-cream."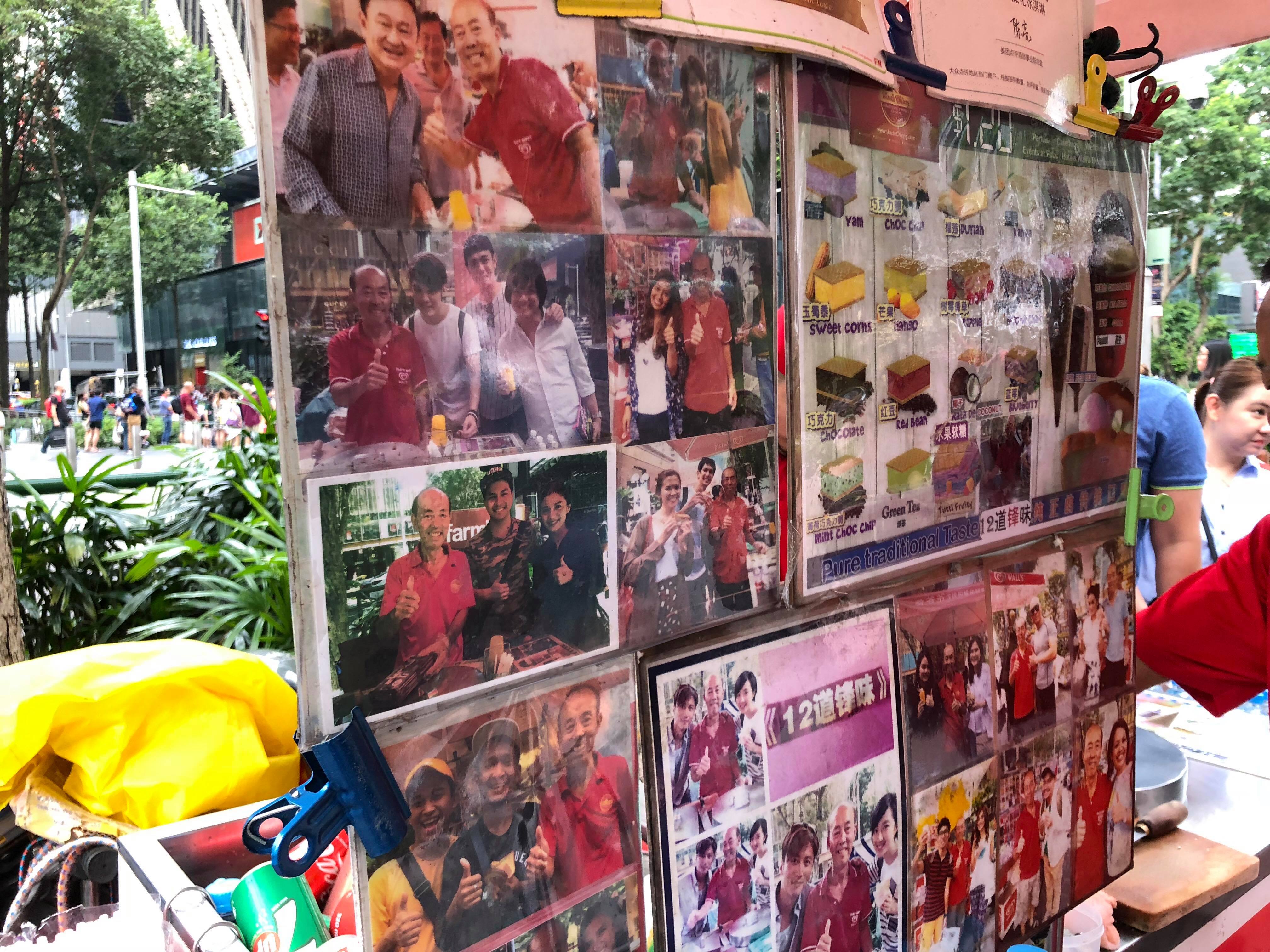 He has been in the business for 53 years, and has for decades been a fixture along Orchard Road — and for good reason, being stationed outside Ngee Ann City since the large, brown-marble-walled mall opened in 1993.
[related_story]
2. Uncle Soh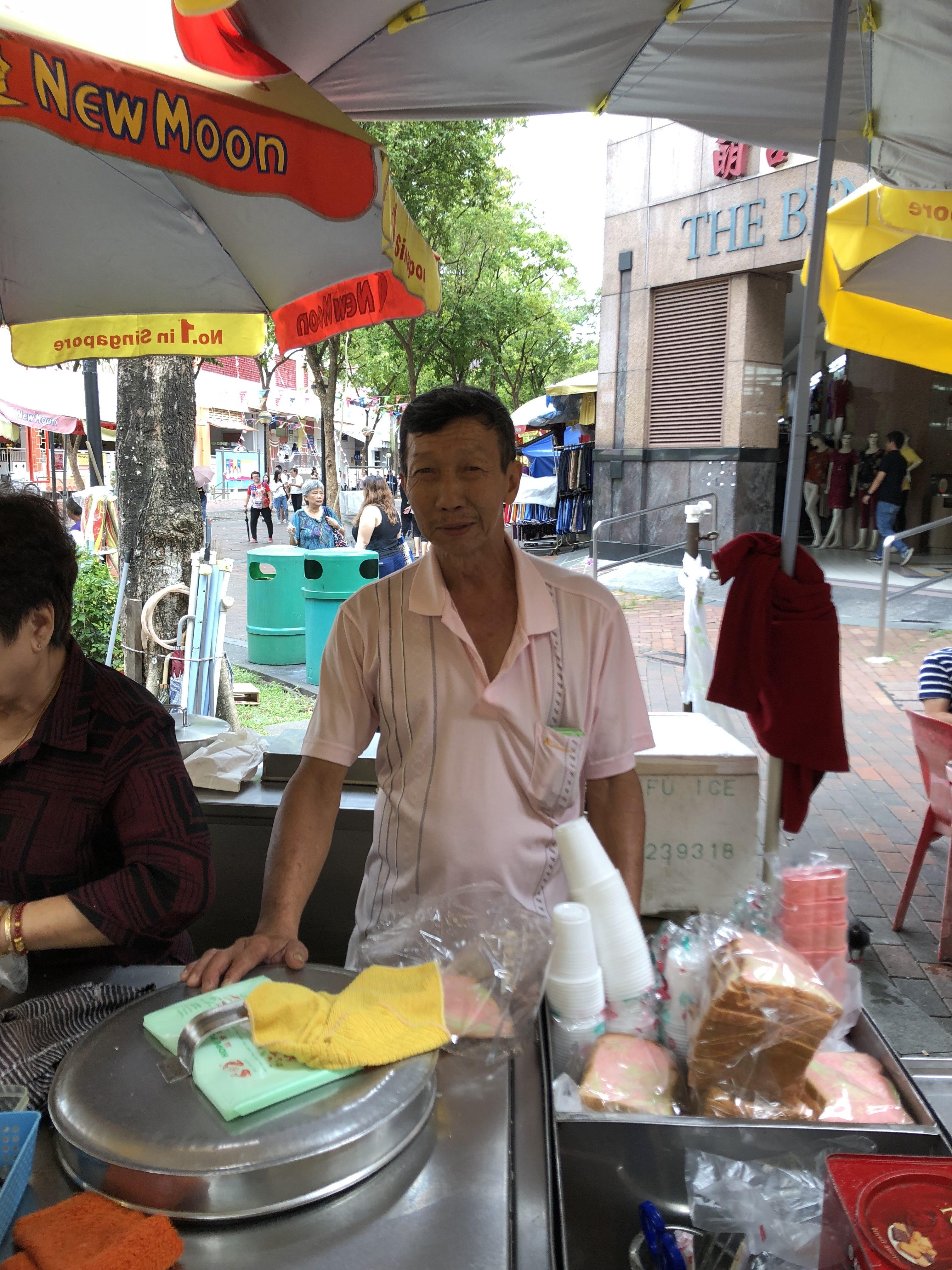 Uncle Soh is another veteran in the business. He began selling ice cream in Boon Lay in 1970 before moving his cart to Bugis more than 20 years ago.
You could definitely tell that Uncle Soh was much more playful when he was younger:
"Sell ice-cream good what, more flexible. Means got more time go pak tor, or watch movie."
He cheekily adds that he would have preferred selling char kway teow or vegetables because there was more prestige for these jobs in the eyes of the older generation.
Both Uncle Chieng and Uncle Soh have hawker licenses that allow them to sell ice cream anywhere in Singapore. These licenses are not issued anymore today.
3. Uncle Chen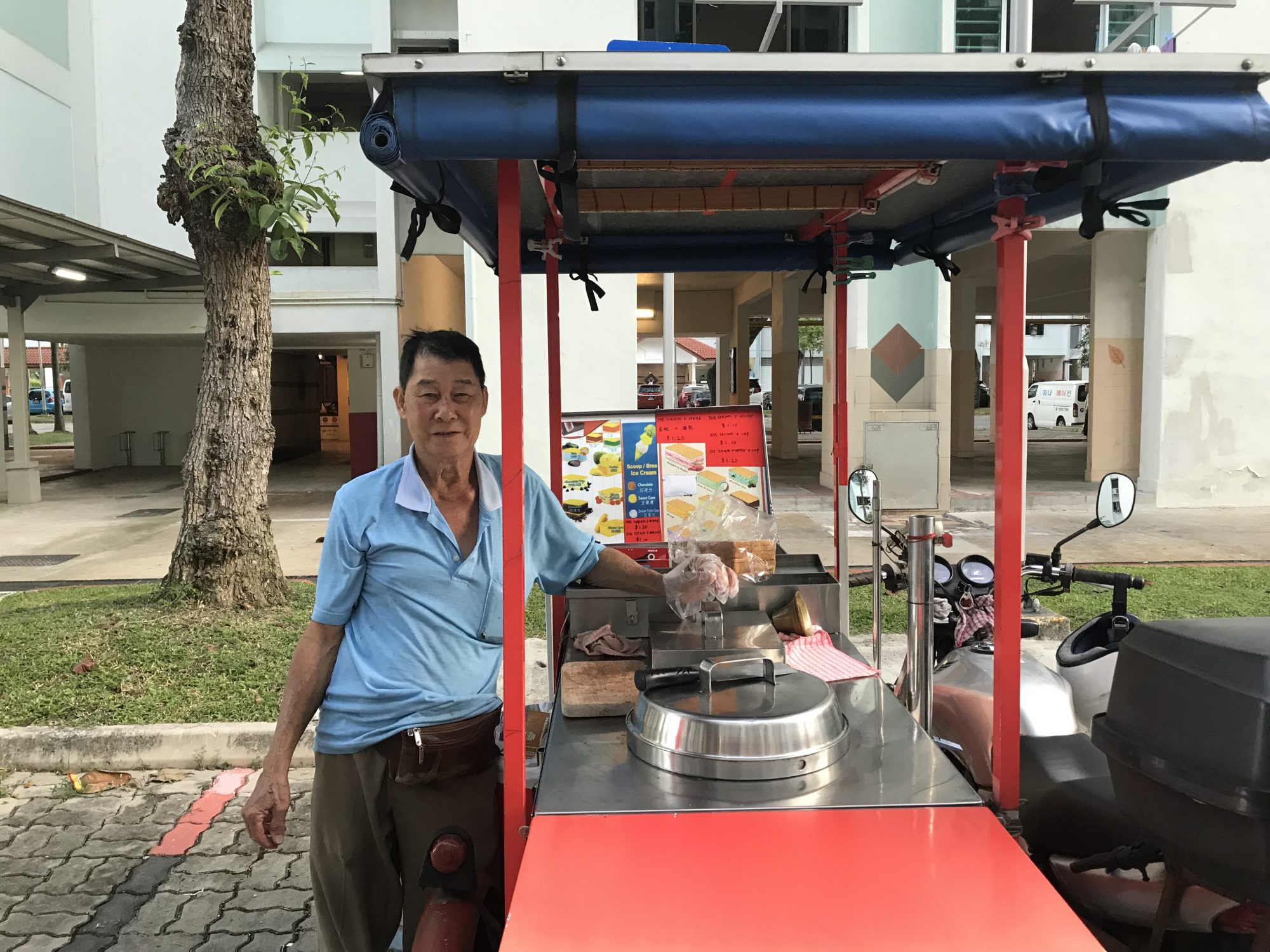 For Uncle Chen, who only joined the industry 17 years ago, the license he has allows him to sell ice cream in Ang Mo Kio only.
Unlike the other two uncles who chose specific spots to set up their carts, Uncle Chen chooses to constantly move around. He says he wanders from block to block, looking to sell to whoever passes by.
His nomadic routine was evident when we had to do our interview with him over the phone (that's why we don't have a picture of him) because Uncle Chen could not say for sure where he would be at any given time.
He chose to sell ice cream because he was looking for a job with more flexible hours – something Uncle Soh also mentioned.
Uncle Chen said (in Chinese):
"When you're doing other jobs, you need to wake up early. Selling ice cream gives me the flexibility to start later, whenever I want."
Their daily routine
"Sell ice-cream lor."
This was the answer all three uncles gave, deadpan, when we asked them what they did every day.
We swear we were going somewhere with this – how many of us actually know what one needs to do to sell ice cream?
We clarified our question and they began breaking their day down.
They all start similarly enough, by waking up early, usually by 8am, to collect their supply of ice-cream and dry ice for the day from various wholesale locations owned by F&N Creameries. These differ between different ice cream uncles, who go as far as Joo Chiat and as central as Kim Tian Road, depending on which distributors they rely on for their stock.
But at the end of their supply collection processes, Singapore's ice cream uncles will be set up and raring to go by around noon.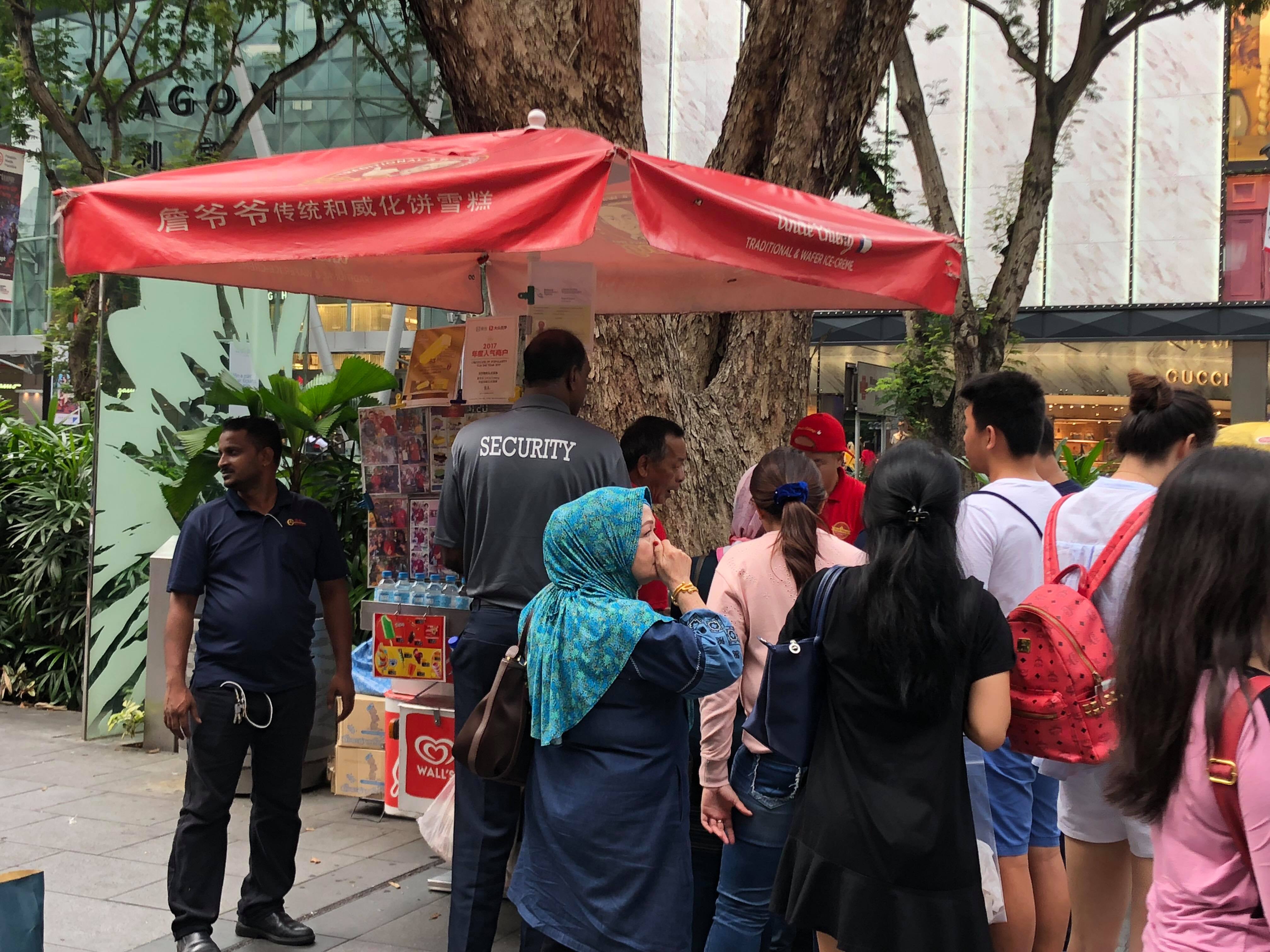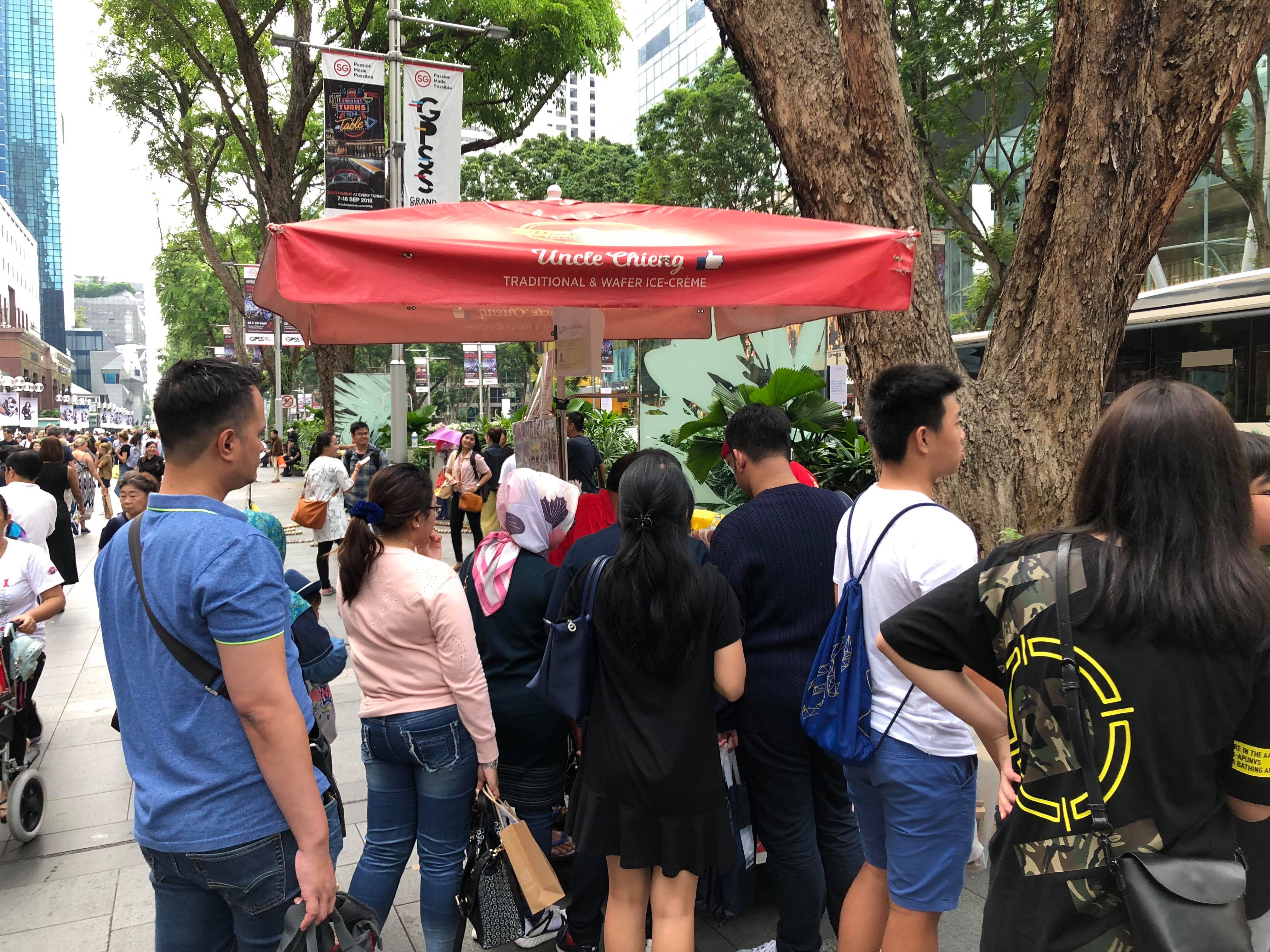 For Uncle Chieng, business is usually brisk. With an abundance of both locals and tourists along Orchard Road, he often gets long queues from the moment he sets up shop.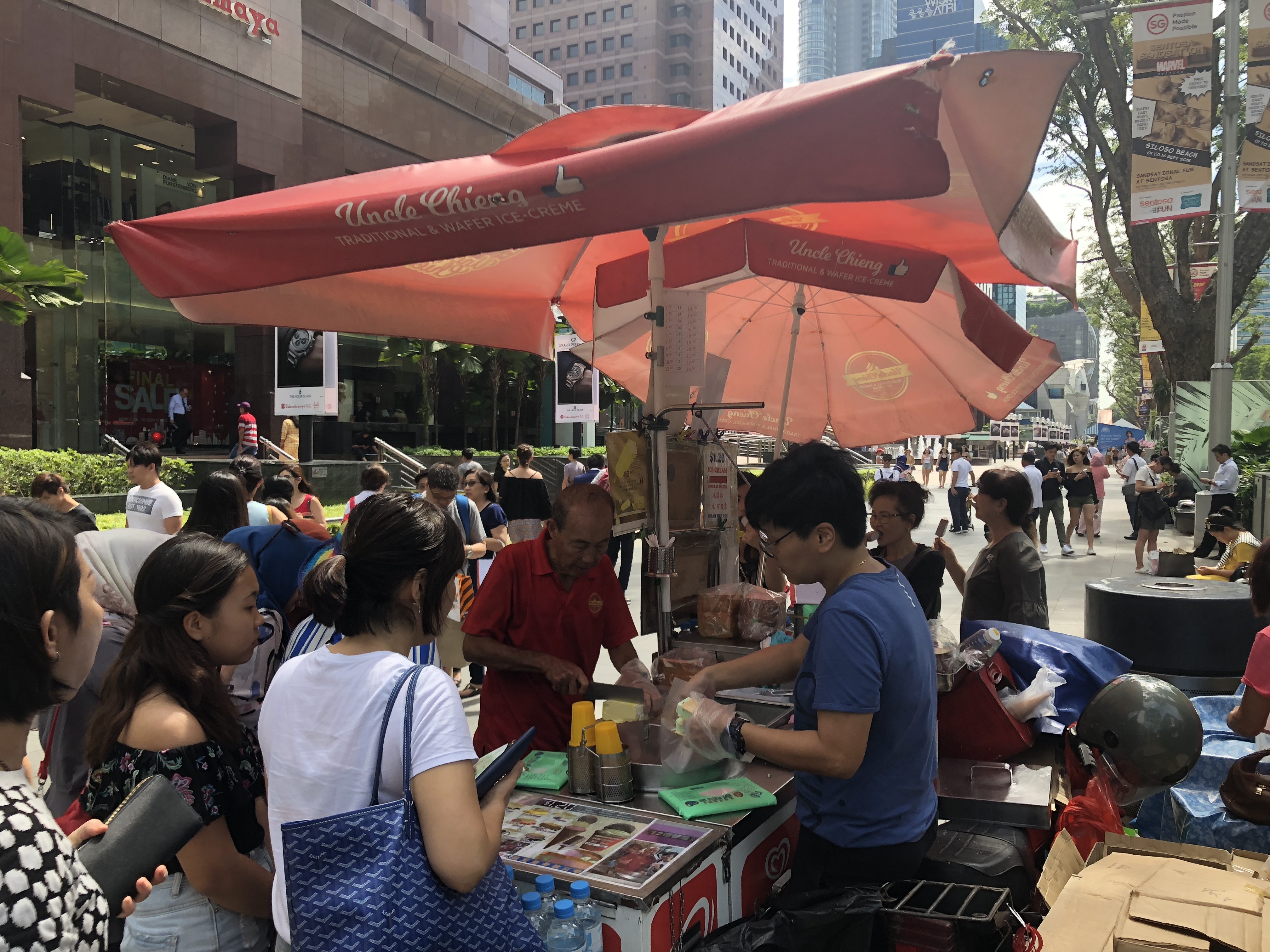 While the area once boasted upwards of 30 ice cream carts packed together in close vicinity to one another, few remain.
Some of them, we're told, were unlicensed, or their licences did not allow them to sell in Orchard. Other veterans since retired, and some passed away. Uncle Chieng's ice cream cart has become a lasting icon on Orchard Road.
On the other hand, Uncle Soh's business is usually more sporadic. Though he gets his busy moments particularly during mealtimes and evenings when people in the area knock off work, things are not always smooth sailing. Business can be slow, but he presses on regardless.
He says when people see ice cream uncles in Singapore, they often assume from the queues they might find at their carts that they see a steady stream of customers.
"People only see the good times — when things are bad, they never see."
Dealing with competitors
"You sell your ice-cream, I sell my ice-cream."
This is Uncle Chieng's philosophy when dealing with competitors. Preferring to remain friendly at all times, Uncle Chieng notes that he is friends with most of the other ice cream uncles along Orchard Road, both past and present, as long as they do not stray too close to his cart.
Uncle Soh reveals a less benign side to the trade of selling ice cream. When asked whether territory ever becomes an issue among the many ice cream carts, he quickly affirmed what we believed may exist: ice cream turf wars are, or at least were, real.
"Argue? Of course got argue! Fight also have. In business, there are no friends. If sell far away, then can be friends."
While he has a license to sell ice cream islandwide, there are many who used to sell ice cream in the area without a license. The owners of these carts naturally attracted the ire of the licensed hawkers, who resented their presence.
Uncle Soh noted that he has gotten into plenty of arguments over territorial issues in the past. Fights were not uncommon when he first started out as well. However, with fewer carts around nowadays, such arguments are now few and far between.
Passing on the torch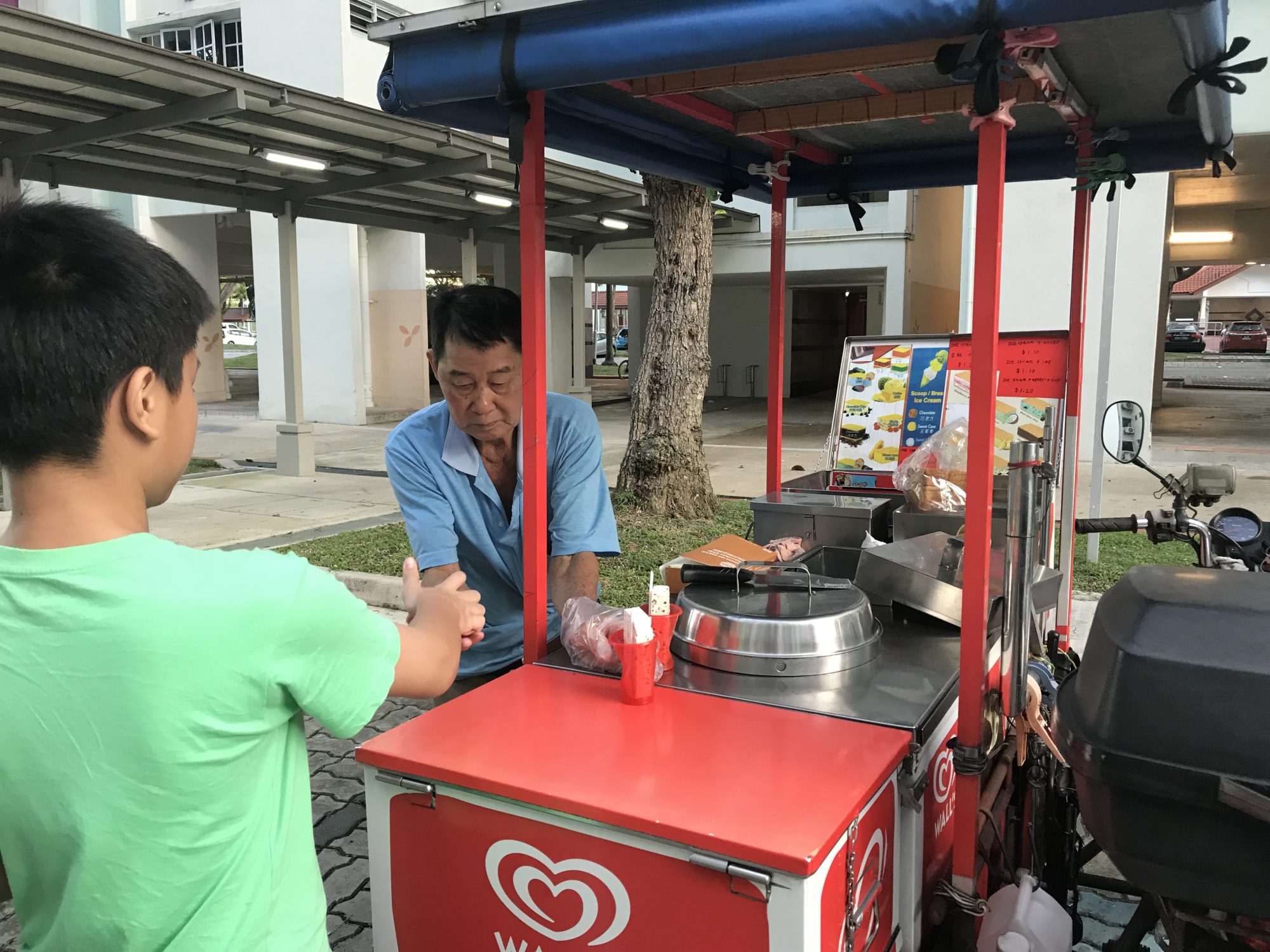 Uncle Soh does not think youngsters would want to join the ice-cream cart business, as they might consider it too tough and not rewarding enough.
He explained that he is not in the trade to strike it rich, and he was content to earn enough for three meals a day and a roof over his head. With the amount he earns being enough to support a frugal lifestyle and a relatively flexible schedule, he is content with his job. However, he feels that for many young Singaporeans, they are unlikely to have the same mindset.
"You try selling ice-cream like me, you see whether you can find a girlfriend or not!"
We find ourselves tempted to take on his challenge, bearing in mind the fact that he is married.
Uncle Chieng agrees that most young people are unlikely to choose the ice cream cart career path, simply because the job is too tiring.
Having to work daily through scorching sun and heavy rain, he says many of his peers who retire do so because of illnesses and injuries in the line of work.
Chieng is more optimistic about the role of young people taking on the ice cream cart as a business, though — as it turns out, his own son currently runs an event company selling ice cream, and occasionally helps Chieng out at his Orchard Road cart.
With a fully-functional website and Facebook page to boot, Uncle Chieng's ice cream cart has in recent years entered the digital space, with the help of his son.
While his son may not have continued his legacy directly, he is certainly helping to keep the iconic ice cream cart alive in a different way – his company sends traditional ice cream carts to various events, such as weddings and corporate functions.
And they aren't the only ones who do this — many uncles also cater for events these days too.
History of the ice-cream sandwich?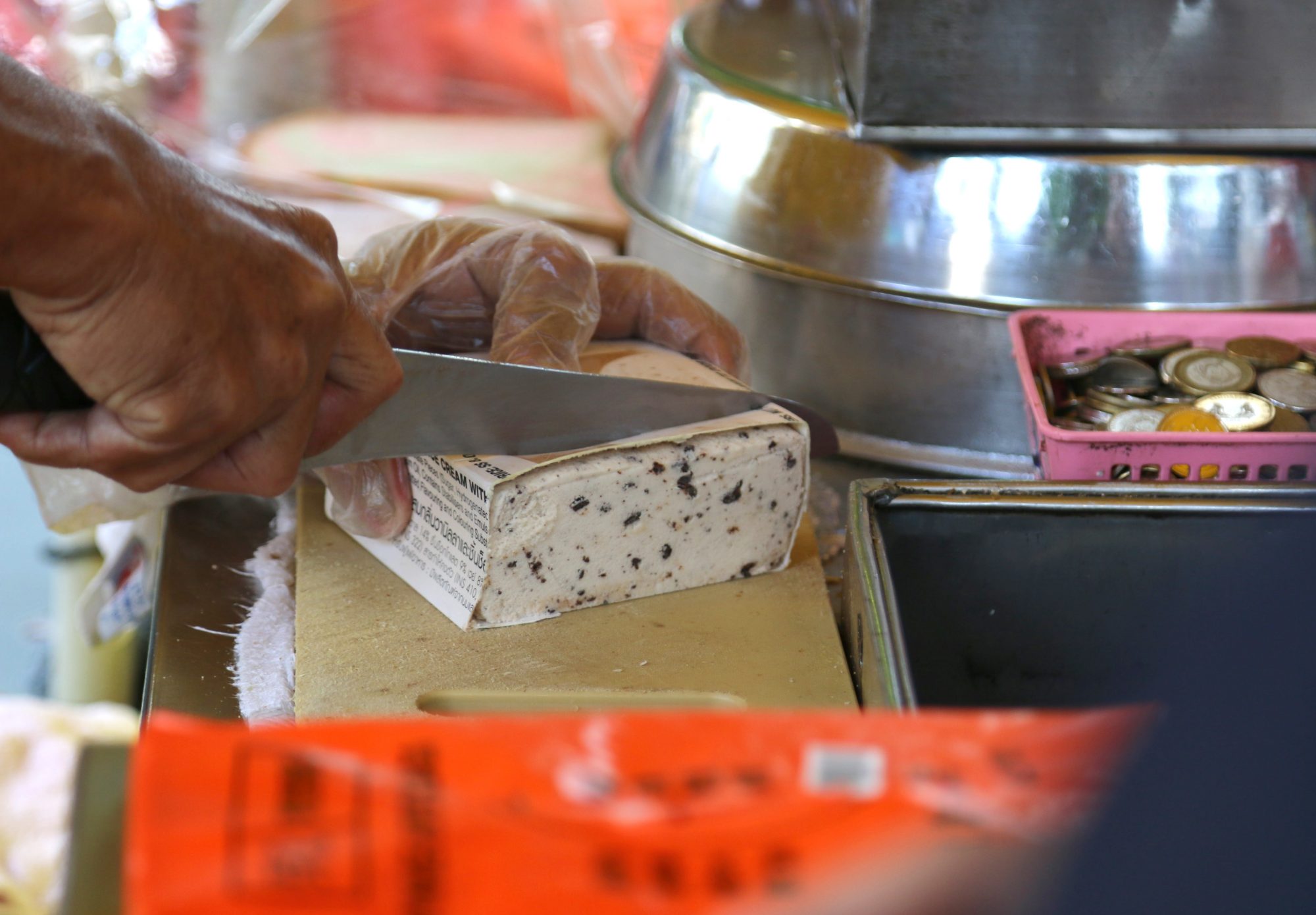 There was one more question we struggled to find the answer to — how did the Singapore ice cream sandwich come about?
Regrettably, there was no convenient Wikipedia article giving a brief summary of this, but fortunately, Uncle Chieng, with his rich experience, knew the answer.
According to him, in the 1960s, people used to use sticks, like potong, for ice-cream.
But when you hold the ice-cream for too long, he explains, it melts and drops off quickly.
So, ice-cream sellers began to cut the ice-cream into rectangular blocks so that it will be easier to hold. They still used the sticks, but the ice-cream still fell off.
Then, the sellers started to use small round biscuits to hold, then they realised not bad, won't drop anymore and it's delicious. A company began to produce these biscuits and it began from there — pragmatism at its best.
We certainly came away enlightened.
Top photos by Jason Fan & Jeanette Tan
If you like what you read, follow us on Facebook, Instagram, Twitter and Telegram to get the latest updates.