Users of bike-sharing services take note: six dockless bike-sharing operators have been granted licences by the Land Transport Authority (LTA) to operate their services in Singapore, starting the end of next month.
The six operators are:
Mobike

ofo

SG Bike

Anywheel

Grabcycle, and

Qiqi Zhixiang
The first three were awarded full licences while the latter three were given "sandbox" licences.
Sandbox licences are given to applicants who have little or no experience in operating shared bicycles. This lowers the barriers of entry for new potential operators.
They are evaluated based on a subset of the application criteria for full licences (we explain this in the next section) and can only have up to 1,000 bicycles in their publicly-deployed fleet. LTA says that this allows them to learn how to manage operations before scaling up.
[related_story]
These six were out of seven operators who applied for the licence. GBikes was unsuccessful in its attempt, the LTA said, because it did not pass its assessment that includes "criteria relating to the robustness of its proposed implementation plan".
GBikes had previously informed users that it would stop its services by July 7, the same day the licensing regime took effect. 
How were applications evaluated?
The operating licence applications are evaluated based on the following:
Ability to manage indiscriminate parking (where applicable, LTA also considers applicant's track record in managing cases of indiscriminate parking)

Fleet utilisation rate

Financial strength (only applicable for full licences)

Redistribution plans

Overall demand for shared-bicycles and availability of parking spaces
Why do operators need to apply for a licence?
The LTA put this licence system in place because in the past few years, an unregulated industry saw the over-eager expansion of several companies that flooded the island with bicycles, leading to an oversupply in public spaces.
The agency pointed out that at one point, there were about 100,000 dockless bicycles in Singapore, with only half being used at any one time.
Aside from that, there were no fixed parking spaces for them, which meant they were parked indiscriminately anywhere and everywhere —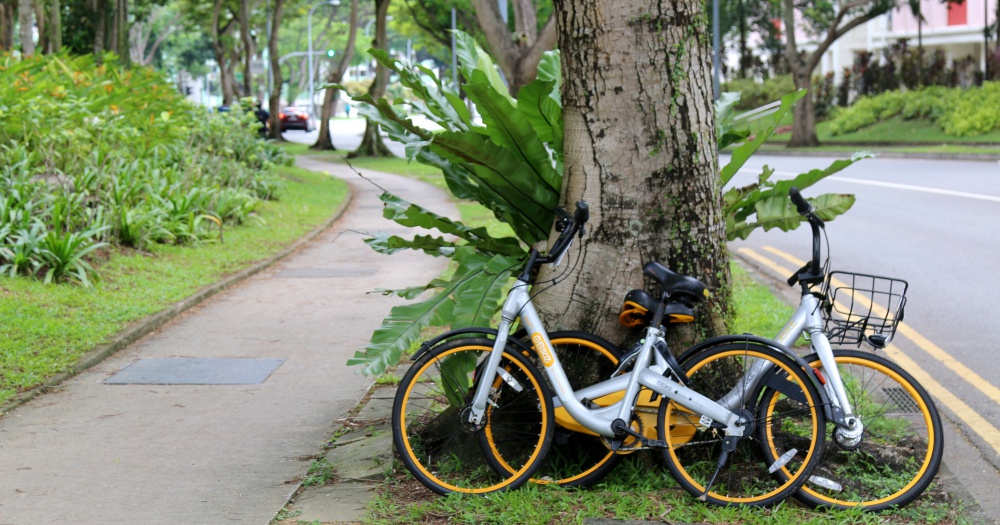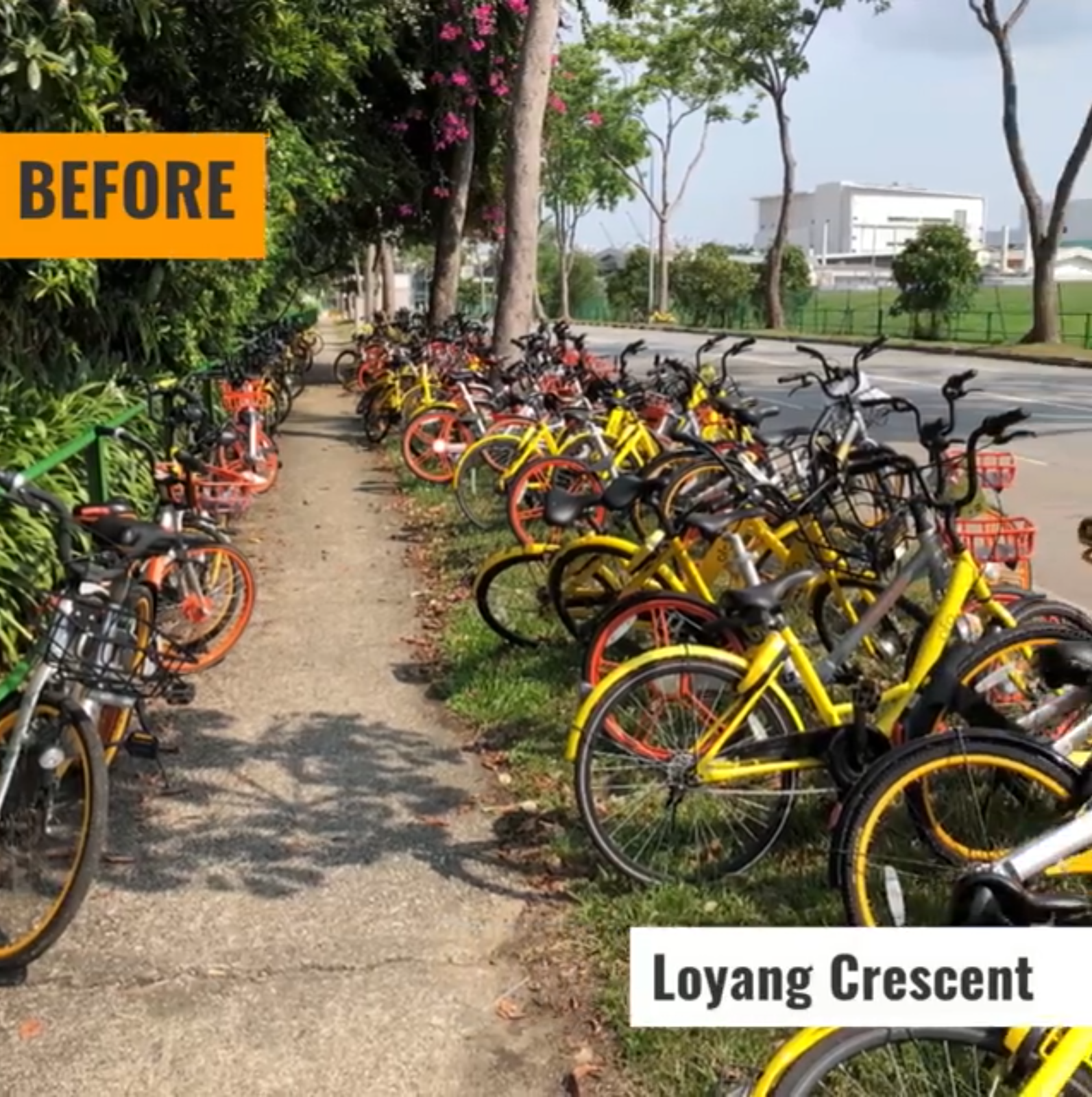 Despite the government's initial effort to sign a Memorandum of Understanding (MOU) with Singapore's bike-sharing companies, they continued to flood the island with their bicycles and didn't respond to feedback on indiscriminately-parked bicycles.
In response to their defiance, the Parking Spaces (Amendment) Bill was passed in March this year, forcing operators to abide by regulations, should if they wish to continue operating in Singapore.
The LTA has also built more than 7,000 public bicycle parking spaces this year to accommodate these legislative changes.
So what do licensed operators have to do?
First off, in order to reduce the number of excess bicycles, LTA has ordered licensed operators to "right-size" their publicly-deployed fleet: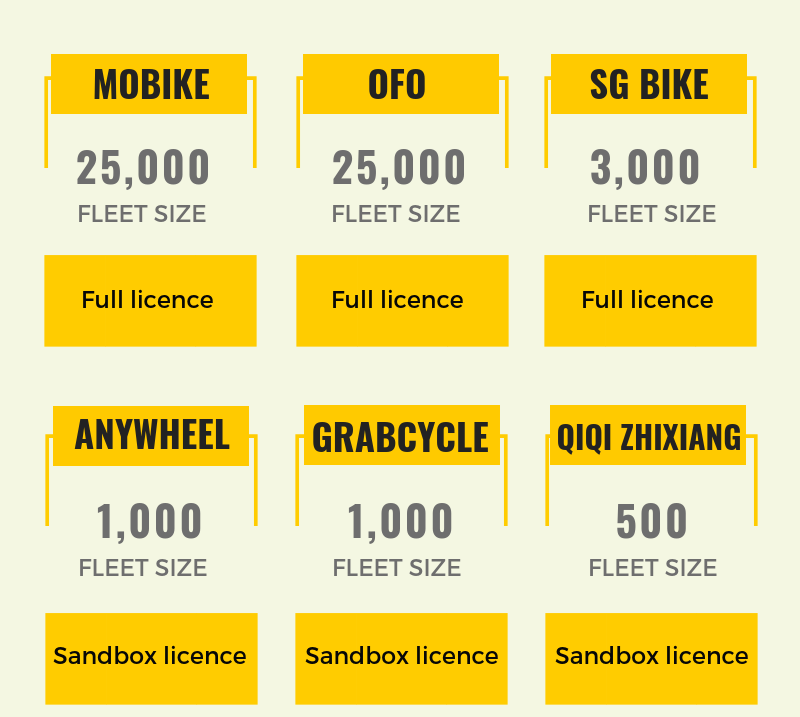 Operators can apply to expand their fleet sizes in January and July every year.
In reviewing their application, LTA will take into account the overall supply and demand of shared-bikes, as well as the operator's ability to manage indiscriminate parking and maximise utilisation of their bicycles.
Operators are also expected to implemented Quick Response (QR) code geo-fencing, a system that LTA will implement at all public bicycle parking spaces by 2019 to deter indiscriminate parking. Operators will also have to ensure bicycles that are improperly parked will be removed quickly.
Another key requirement is that operators have to share bicycle usage data with LTA. This includes the locations of all their stationary bicycles, as well as anonymous trip route data.
Operators are also required to share with the authorities information on users who repeatedly fail to park their bicycles properly. These errant users will be slapped with a blanket ban on bike-sharing services for up to a year.
What this means for riders
Chances are, the prices of bicycle-sharing passes will go up.
Going through the process of updating their technology and deployment resources to comply with LTA's new regulations will, of course, cost a bike-sharing business money.
Even prior to the enactment of the new legislation, early price wars in the nascent bike-sharing market forced operators to recoup their initial losses through marked up prices. The price of ofo's 60-day pass, for example, jumped 10 times from S$1.50 to S$15 earlier this year.
Mobike also said their original pricing in 2017 was a "discounted introductory price".
The added financial burden of legislation is most likely be passed on to riders, meaning more expensive bicycle journeys.
Could legislation be avoided? Perhaps, if we were a civic-minded society as a whole... but then again, even the famously considerate Japanese need regulations to maintain the peace between cyclists and pedestrians.
Having six newly-licensed players in the market might trigger a price war again in the very near future — but our money's on costs eventually going up.
You can read LTA's full press release here.
Related articles:
Top image by Joshua Lee.
If you like what you read, follow us on Facebook, Instagram, Twitter and Telegram to get the latest updates.