Many Singaporeans actually cannot sing the national anthem, Majulah Singapura, because they fumble right through the words.
Well, since singing is tough, why not sign our very own Singaporean national anthem?
How to video
The Deaf Sports Association posted this informative video, showing viewers how to sign the national anthem using is SgSL, or Singapore Sign Language.
This is a sign language unique to Singapore, developed from Shanghainese Sign Language, American Sign Language, Signing Exact English and other locally-developed signs.
The way the anthem is signed here will also serve as a guide for our sports persons to do so during international sporting events.
As seen in the video, most of these actions are pretty manageable.
To help you better master each set of signs for each section of the lyrics, we broke the video down for you:
How to sign Majulah Singapura in SgSL
Mari kita Rakyat Singapura (Circle hands in, then out, circle your right fist over your left fist, then slide your hands down straight.)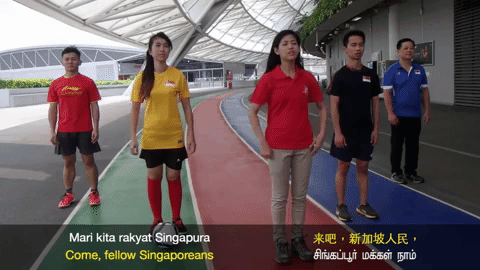 Sama-sama menuju bahagia (Bring your hands together in a cupping motion, form a "thumbs up" gesture with your fists, and circle from left to right. Bring your hands to the front of your shoulders and make a slight sweeping motion upwards.)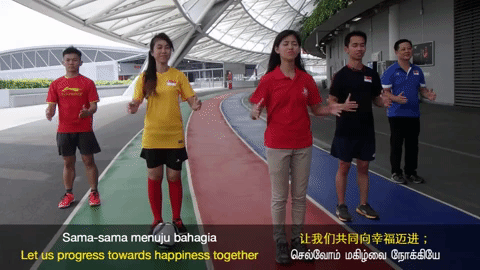 Cita-cita kita yang mulia (Turn your index and middle fingers on your right hand to face you, and bend them as you move them away from you upwards, like a reversed beckoning motion. Trace a small arc with your hands moving away from each other, then slide them down gently from the right.)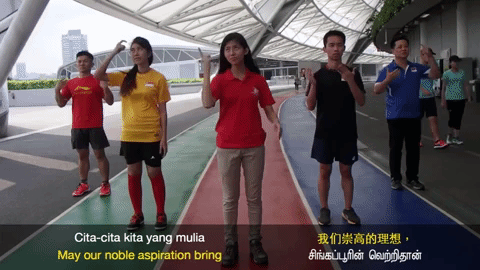 Berjaya Singapura (Circle and tap your fists, then touch your cheeks with your index finger, before spiralling it upwards.)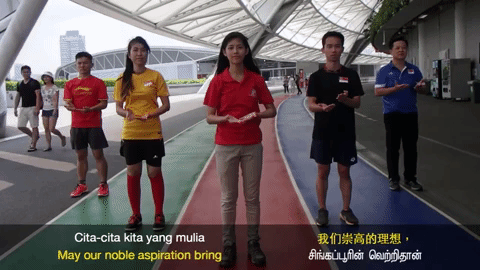 Marilah kita bersatu (Turn your arm in before circling out, then press your palms together, and circle out again with your clasped hands.)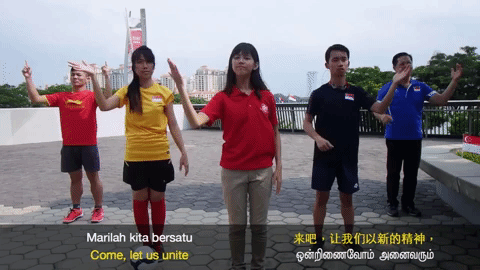 Dengan semangat yang baru (Separate your hands, then raise your hands in the air, palms facing up.)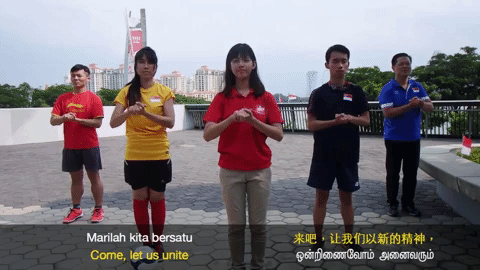 Semua kita berseru (Pump your fist twice.)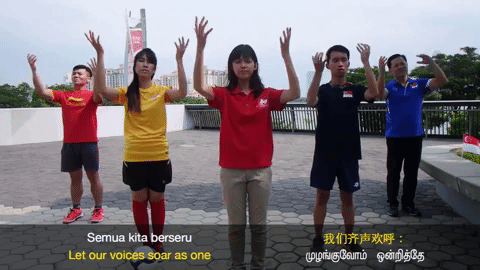 Majulah Singapura (Circle your fists, then put your hands in front of each other one at a time, to indicate going onward.)
Majulah Singapura (Circle your fists, then bend your fingers on each hand, facing each other, then push them on top of your head.)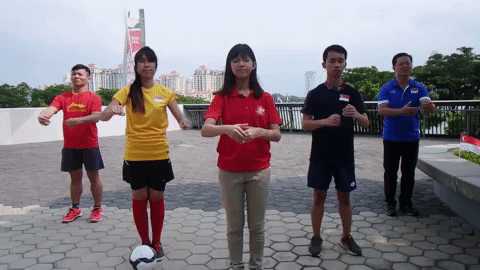 Marilah kita bersatu (Circle your right hand out with your palm facing the floor. Press your palms together again and circle out once more.)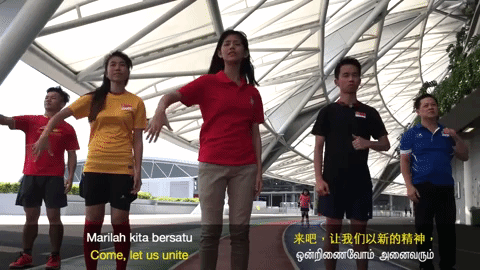 Dengan semangat yang baru (Separate your hands, and raise them above your head.)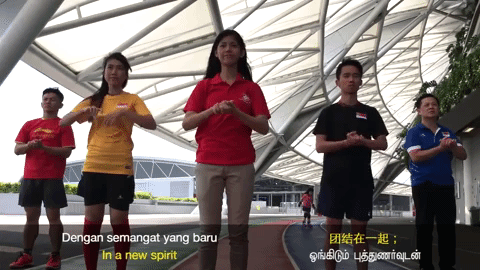 Semua kita berseru (Pump your fist twice.)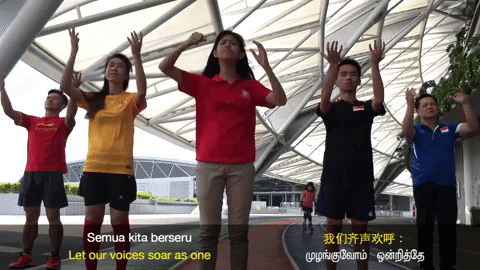 Majulah Singapura (Circle your firsts, bend your fingers towards each other and raise your hands above your head.)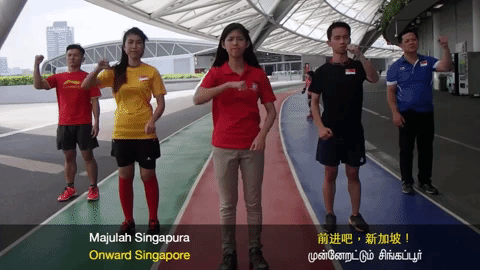 Majulah Singapura (Finally, circle your firsts once more, make a pulling action as if you're raising a flag on a pole. Put your left hand on your right elbow, and make a waving flag action with your right hand, and slowly transition into your fist over your heart a la taking a pledge.)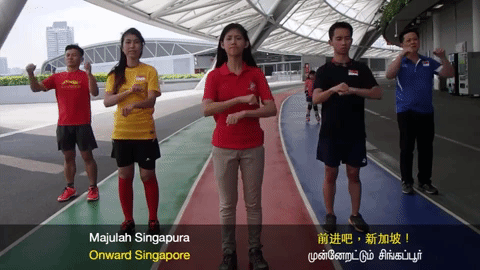 And there you have it!
Props to Deaf Sports Association for putting up such an informative video, and allowing us to learn our national anthem in sign, to better celebrate the occasion with fellow deaf and hard-of-hearing Singaporeans.
[related_story]
Top image via Deaf Sports Association - Singapore's Facebook video
If you like what you read, follow us on Facebook, Instagram, Twitter and Telegram to get the latest updates.