Eight questions were filed in Parliament asking Mindef for clarity on how it decides if an individual is eligible for National Service (NS) deferment.
This topic came into spotlight in July when 17-year-old footballer Ben Davis was not allowed to defer his NS even though he had signed a two-year contract with British Premier League's Fulham FC.
[related_story]
NS is universal and equitable
Responding to questions in Parliament was Defence Minister Ng Eng Hen.
He said that the Enlistment Act is "blind to personal convenience and considerations, no matter how talented the individual or exceptional his circumstances."
He urged members of Parliament to read the written judgement of the judges of the Appellate High Court during a  2017 appeal on the sentencing of NS defaulters.
Here's what the judges wrote:
"In practical terms, what the three fundamental principles of national security, universality and equity mean is that in order to ensure Singapore's national security, every male Singaporean must serve NS and at the time he is required to under the [Enlistment] Act, without regard to his personal convenience and considerations.

When a person refuses to serve NS at the time that he is required to and instead returns to serve at a time of his own choosing, or worse, at an age when he can no longer serve, his actions strike at the very core of the principles of national security, universality and equity."
Singapore's interest first
Ng said that in order to preserve equity for all Singaporeans, Mindef will only allow deferment if it "serves Singapore's interest first and foremost" and never the interests of the individual.
He raised examples of swimmers Joseph Schooling, Quah Zheng Wen, and sailor Maximilian Soh who were given conditional deferments and had clear expectations of them laid out -- their deferment would be curtailed if those expectations were not met.
On the topic of NS disruption for the case of doctors, Ng said that Mindef allows for disruption of medical students to complete their medical studies as Mindef need them to serve as Medical Officers during their NS to take care of their fellow soldiers.
Ben Davis' case
Ng shared that MINDEF was "not privy to the contract signed" between Davis and Fulham FC, and that Davis "is playing for Fulham FC as an English national, not a Singapore citizen."
On Fulham FC's website, it states that Ben Davis nationality is English.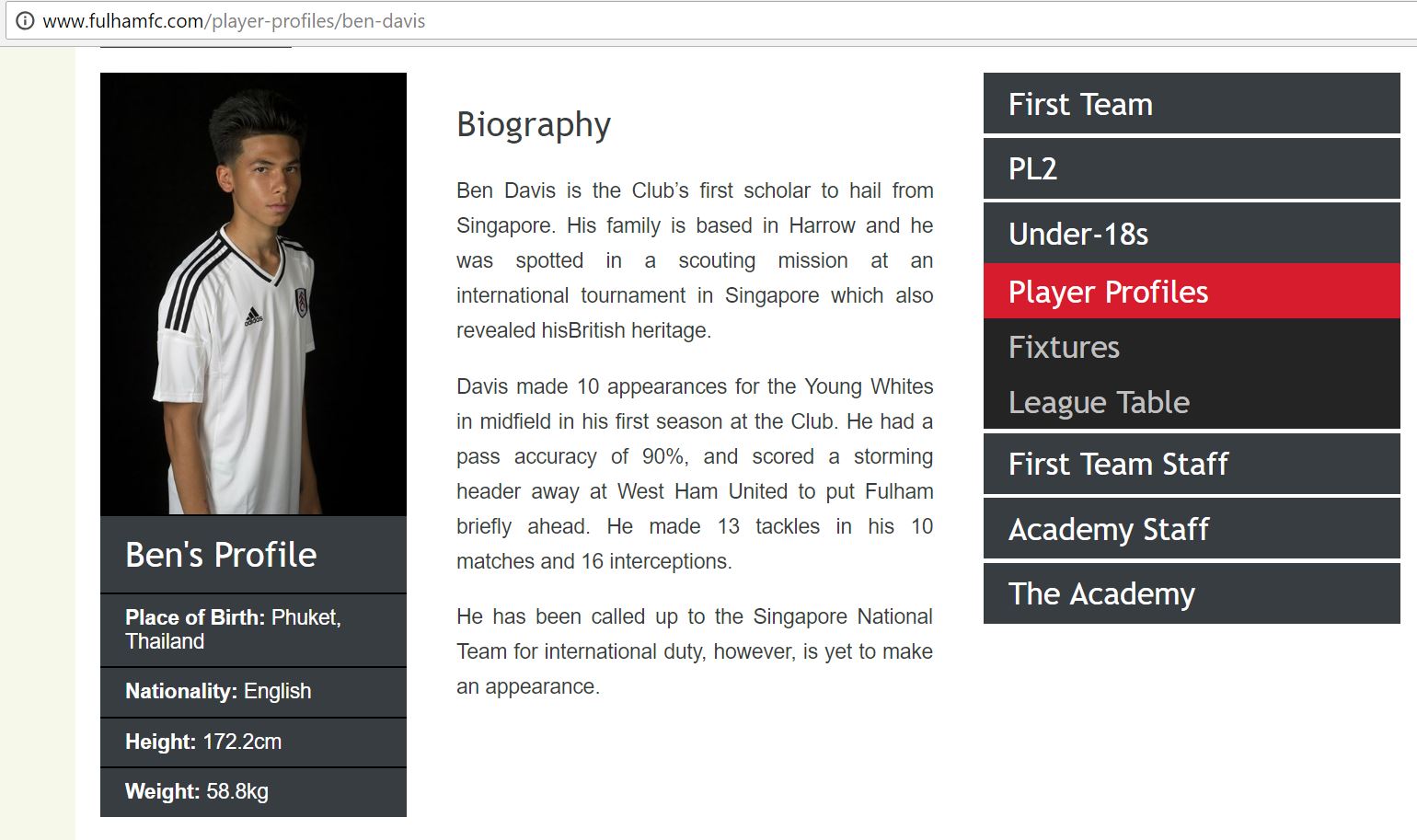 Ng said that Mindef "assume this published information is correct and that the father must have his reasons for doing so." Ng said that Harvey Davis, Ben's father, owns Junior Soccer School & League Singapore (JSSL Singapore), a youth football club and academy business and "advertises itself as having links to Fulham FC."
Ng also said that the elder Davis "has consistently refused to indicate when his son would return to serve NS, if deferred."
Ng also shared the elder Davis' response to the Ministry of Culture, Community and Youth on when young Davis would be able to return to Singapore to serve his NS.
Here's the response:
"We are unable to commit to a date for his return should he be playing professional football in the UK or Europe. In addition, it is also a possibility that Ben could be offered a new 2 year contract in 2019 after the 1st year of his pro-contract just like he has been offered a new 2 year pro contract half way through his 2-year scholarship contract. Or, he could be sent out on loan or sold to another club. There are a lot of variables all dependent on his development and progression."
Ng further said that the elder Davis had indicated that Ben Davis would only return to fulfil his NS commitment if he is unsuccessful in his professional career. He added that the elder Davis would "consider the option for his son to renounce his Singapore citizenship in order to pursue his career."
Ng said that given all this, Ben Davis' deferment was to "further his professional career first and to the longest extent possible."
Ng added that "there has been no indication, commitment or plans as to how Mr Ben Davis would help football standards in Singapore" and that "Singapore and her interests ... are secondary consideration, if at all."
Top image from Gov.sg Youtube
If you like what you read, follow us on Facebook, Instagram, Twitter and Telegram to get the latest updates.