Traffic police are commonly feared by road users and can be easily identified by their white motorcycle, bright orange & blue side boxes, white helmet and black-and-white jacket.
They're not exactly a rare sight, but the sight of this man on his motorcycle made some motorists' heads turn, with a photo of him being posted to and going viral on Facebook: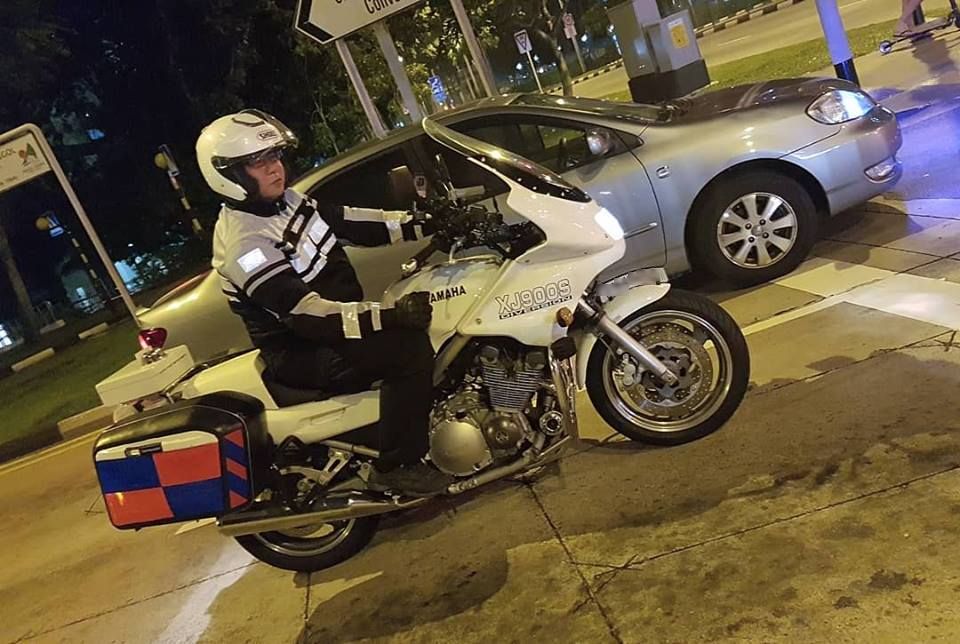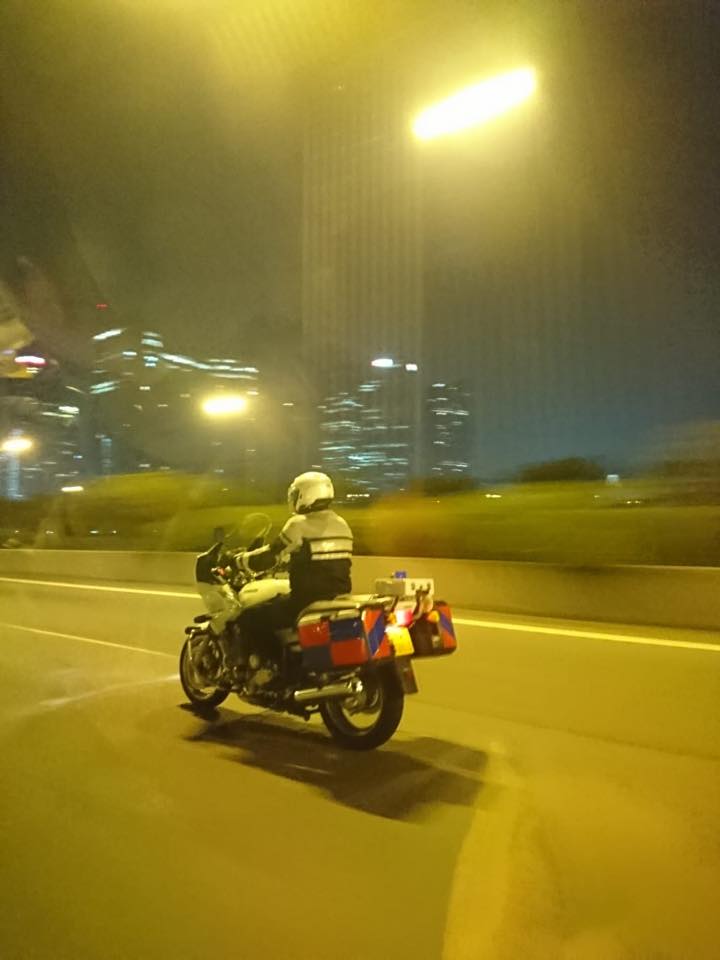 The reason for this: because this guy *isn't* a Traffic Police officer.
[related_story]
Just for comparison, if you've never seen a Singapore traffic police officer, they look like this: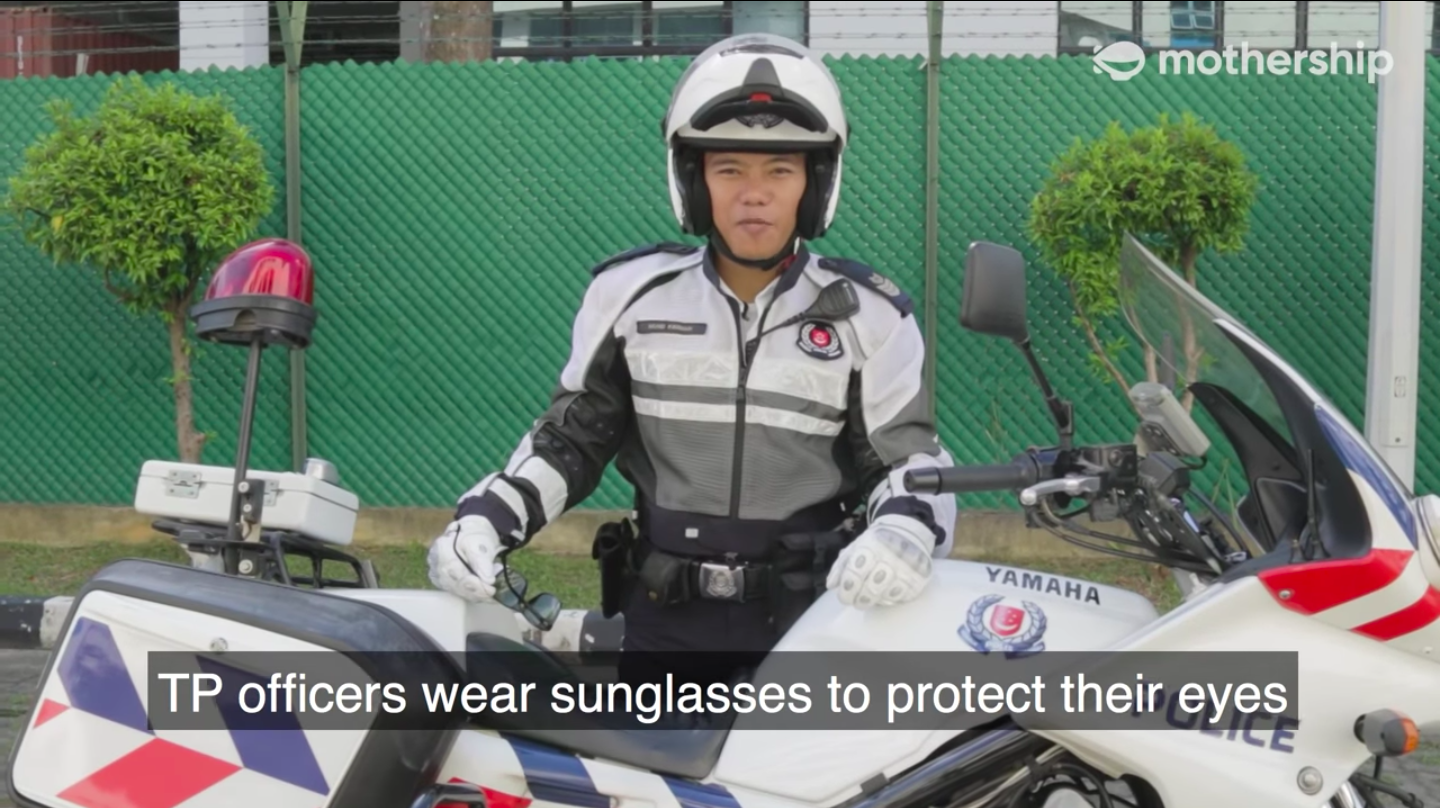 (He appears in this video, by the way:)
And their motorcycles look like this:
So who is this dude? Is he an impersonator, and is what he's doing illegal?
Not Traffic Police
The answer is, as we would learn, no.
This dude, we have confirmed, is actually part of a motorcyclist group called Diversion Escort by Team Diversion Singapore (TDS).
The group was first formed in 2011, built on its members' collective passion of owning a specific model of Yamaha motorcycles — the Yamaha XJ900 Diversion.
Which, as it turns out, happens to be the exact same model used by our Traffic Police — and are therefore commonly mistaken for them.
The main differences between the two are the Singapore Police Force's logo and the red siren light on Traffic Police motorcycles.
Based on TDS's Facebook page, the group does road escort services for events such as weddings and shares road traffic videos.
An administrator of the page confirmed to Mothership that the motorcyclist in the photo is indeed a member of their group.
Called "TP wannabes", "losers"
Unfortunately, this latest sighting of a TDS rider was not very well-received by a lot of Singaporeans, who immediately assumed the motorcyclist caught in the viral photo was attempting a Traffic Police impersonation and roundly condemned him.
Here's just a sampling of the comments left on the Facebook post:



Doing some good
But at least one person believes that the presence of Team Diversion Singapore has done some good.
One Razali Raihayu shares
in a Facebook post
that they have contributed significantly to enforcing safety on Singapore's roads:
"I like to tail these guys, they actually makes other drivers put down their phone, concentrating on driving, and reducing their speed, most importantly they makes speeding lorries keeping to the left and maintaining their speed."
What they're doing is also not illegal
A couple of people also questioned if the motorcyclists from TDS are breaking any laws in what they're doing:



According to the Police Force Act, one can be charged if they are found wearing or possessing any police uniform or any police insignia for the purpose of personating or representing himself as a police officer.
Those found guilty can be charged to a fine not exceeding S$2,500 or to imprisonment for a term not exceeding six months or both.
But as you might have noticed, in this case, the motorist in the viral photo did not display any police uniform or insignia so he did not commit any crime.
Not the first time
Regrettably, this isn't the first time the group has been in the spotlight for the wrong reasons.
According to their Facebook page, netizens have called them "TP wannabe" and have previously appeared on platforms like STOMP and The New Paper.
While they don't stop traffic offenders or issue fines, they do occasionally render assistance in traffic diversion or medical first aid.
So we're good, guys. They're good.
Top image via Muhammad Nur Hidayat and Yip Feng's Facebook page
If you like what you read, follow us on Facebook, Instagram, Twitter and Telegram to get the latest updates.