Singapore is 7,000km away from the Arctic.
But that hasn't stopped the sunny island set in the sea from expressing its interest in the cold, frigid region up north.
Understanding how Singapore negotiates its position on this seemingly far-flung location will shed light on how our country conducts its affairs with the rest of the world.
Accepted as part of Arctic Council
For the uninitiated: Singapore has been accepted into the Arctic Council as an observer since 2013.
However, Singapore has not released an official policy about how she views the region and saying what our intentions are -- even after five years of being an observer.
Which are the other Asian countries that are Arctic observers?
China, Japan, South Korea, India and Singapore are the five Asian countries admitted into the Arctic Council as observers in 2013.
The council is the Arctic's regional discussion forum focused on issues of environmental protection and sustainable development.
Singapore submitted its application for observer status in December 2011 and appointed diplomat Kemal Siddique as its Special Envoy for Artic Affairs in January 2012.
Since then, Singapore has successfully cultivated the image of a benign state interested in the Arctic's development, but not asserting itself needlessly.
Small state advantage
In this exclusive club of five non-Arctic Asian countries, Singapore's small micro-state size has been used to its advantage: It signals that its involvement in Arctic development is due to strategic interests, but Singapore is not threatening.
This is even though the anticipated development of Arctic shipping routes are a potential threat to Singapore as they will redirect some maritime traffic away and undercut our economy.
What is Singapore's approach to the Arctic?
Although Singapore is 7,000km away from the Arctic, there is the recognition that whatever happens up north may have a big impact on a country situated along the equator that is reliant on trade.
Hence, Singapore takes a two-pronged approach to the Arctic:
1. To provide assistance within the Arctic Council and the region, such as offering postgraduate scholarships for Arctic indigenous peoples to study in Singapore and maintaining engagement through extensive working groups.
2. To gain a better understanding of how changes in the Arctic may affect the island-state, by expanding several of our Arctic research programmes, ranging from climate science to maritime law and engineering.
Singapore doesn't have an articulated official Arctic policy, but it has done much to contribute to the establishment of ties with Arctic countries directly.
This is done via both bilateral and multilateral engagements, as well as engagement with non-arctic countries.
Singapore has also undertaken efforts to deepen its bilateral engagements not only with the NATO states in the Council, but also with Russia.
And even before 2013, Singapore's government-linked Keppel Corporation employed its expertise by building its first two icebreakers in 2008 for Russian oil company Lukoil-Kaliningradmorneft.
How do the bigger countries negotiate their role?
China, India, Japan and South Korea are the four largest economies in Asia, consisting of two historic Asian civilisations.
China, on its part, has labelled itself a "near-Arctic state" -- a contentious label because it is viewed by others as a "non-Arctic state".
This signals China's intent to push against Arctic state hegemony, and the common term "non-Arctic state", in order to insist on having a say in how the region is used -- even though it is not part of the littoral states.
What has Singapore been doing since 2013?
One area where Singapore is able to establish itself is in the area of ship-building and other maritime technology.
As part of its strategy, for example, Singapore is fostering bilateral relations with Russia. Economic development and modernisation in Russia is the focus.
Cultural and linguistic differences might have slowed the pace of bilateral relations, but both parties are open to pursuing the relationship.
Currently, the persistence of Western sanctions is making relations with Singapore more immediately appealing for Russia.
Additionally, Singapore has committed itself to being a cooperative ally to the Arctic states and peoples in the Arctic Council.
As mentioned earlier, Singapore has created the Singapore-Arctic Council Permanent Participant Cooperation Package to give free education opportunities in Singapore to Indigenous peoples from the Arctic region.
Singapore's deepening ties with Russia, its involvement in Arctic cooperation and the implications of both, are frequently overshadowed by discussion about China's Arctic ambitions and investments though.
Singapore's long-term interests
Not knowing the Arctic's long-term impact does not mean Singapore cannot reserve a spot in the decision-making table.
First, we know the Arctic is an important region.
According to the United States Geological Survey, the Arctic is believed to hold up to 13 percent of the world's undiscovered oil and 30 percent of its gas.
Second, we know that the traffic through the Arctic region has increased.
In 2010, only four ships carrying 111,000 tonnes of cargo made the northern passage.
By 2013, 46 did, carrying 1.26 million tonnes.
There was also the first super tanker transit in 2011.
Third, we know that a change in the global shipping routes (if the ice melts) will reduce Singapore's importance in global maritime activity.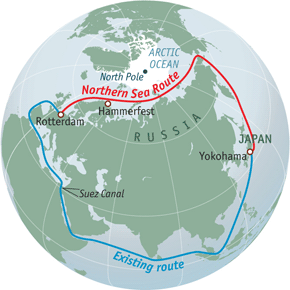 [related_story]
So, the ice in the Arctic Circle has everything to do with Singapore's future.
Whether or not global warming is accelerating, the ice up north has melted considerably in the last decade.
This allows ships to sail through that frigid route, offering passage between East Asia and Europe, two months in a year. That route is called the Northern Sea Route (NSR).
The NSR, from Rotterdam to Yokohama, is 40 percent shorter than the existing route through the Suez Canal.
This will save the super tanker time and fuel.
Singapore's future in the Arctic
Singapore's position on the Arctic will come through in a myriad of ways, besides having an articulated stance.
Singapore has constructed for itself a reputation for upholding and advocating a robust international legal regime, both within and without the Arctic context.
There are many ways for Singapore to legitimise its position in the Arctic, and it is these actions and efforts at engagement over many years that has allowed Singapore to be taken seriously despite being nowhere near it.
If you like what you read, follow us on Facebook, Instagram, Twitter and Telegram to get the latest updates.