Historian Thum Ping Tjin was recently in the news for his marathon six-hour hearing session at the Select Committee for Deliberate Online Falsehoods.
On June 2, 2018, he uploaded a Facebook post with the following images:
Along with the post, he wrote:
"Another from the archives:

"At the end of (Lee's speech to the joint session of the US Congress), there was a sustained standing ovation... Even before he started his speech, there was a standing ovation - such is the Prime Minister's reputation." - Straits Times, 10 October 1985.

"(Lee) was addressing a sparsely attended joint session and drew polite applause." - International Herald Tribune, 10 October 1985.

Hmmm... now I'm wondering just how much of what Singaporeans believed to be LKY's vaunted global reputation was actually manufactured by the government-controlled media, in the days when there were no alternative news sources?"
In the post, he questions whether "government-controlled media" manufactured former Prime Minister Lee Kuan Yew's "vaunted global reputation".
In response to this, someone by the name of Bryden Cch commented on his post, sharing a YouTube video of the Lee delivering the speech in Congress in 1985.
Bryden Ccd, disagreeing with Thum, said: "Sparsely attended it was not. see 3:15, 4:11, 5:26, standing ovation at 9:47".
The post was referring to time stamps in the video.
Here are GIFs of two of those timestamps: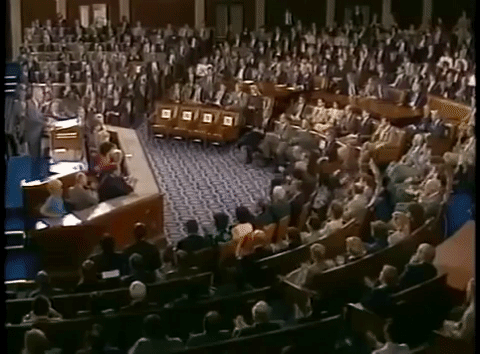 After seeing Cch's comment, Thum edited his Facebook post and said:
"EDIT: a comment below points to a youtube video of Lee's speech, which does indeed draw a standing ovation at the close (but the video does not show the opening). I'll see if I can dig up the IHT article to see if it reported the speech accurately. The ST report is at http://eresources.nlb.gov.sg/newspapers/Digitised/Article/straitstimes19851010-1.2.2 ."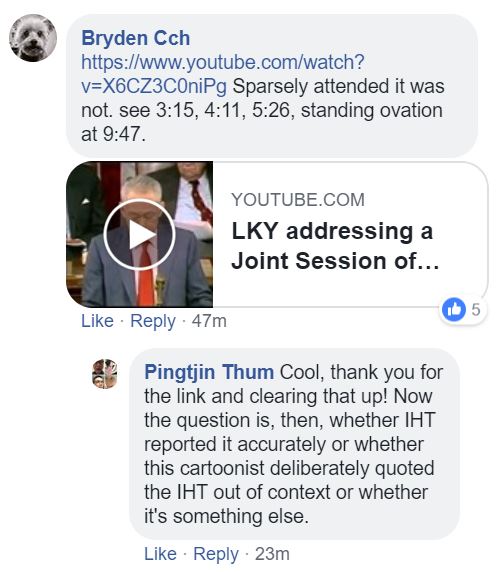 Here's the YouTube video of the speech for you to decide if IHT (which stands for International Herald Tribune) is correct in its description of "sparsely attended" and "polite applause":
Here's Thum's Facebook post:
scrolling="no" frameborder="0" allowtransparency="true" allow="encrypted-media">
[related_story]