"We envy what you have," said South Korean president Moon Jae-in on Friday (July 13) to Singaporeans.
Speaking through a translator, Moon gave the 42nd Singapore Lecture at Orchard Hotel, which cabinet members of the South Korea and Singaporean governments attended.
The lecture was titled "ROK and ASEAN: Partner for Achieving Peace and Co-prosperity in East Asia" but Moon spent much time praising Singapore.
Singapore a role model for "fair and just society"
"Korea is shaping itself as a fair and just society," Moon said. "In the process, there's much we can learn from Singapore."
"Singapore is the most honest country in the world, with the fairest judicial system."
Moon believed that South Korea is "plagued too long by ideological confrontation". Corruption in South Korea is done under the guise of ideology, he said.
After his election in May 2017, his government launched several initiatives looking into the corruption allegations involving the previous conservative administration, including the one under former president Park Geun-hye.
The Moon government is also investigating a report claiming that the South Korea military was planning to crackdown on protesters demanding for Park's resignation in 2016.
He applauded Singapore's pragmatism: Singapore is not biased or bound by any ideology, he told the Singaporeans in the audience.
Singapore embraces diversity
Moon also applauded Singapore for its diversity.
"When it comes to unity of races and cultures, no doubt Singapore is the world's best," Moon said.
Moon also said Singapore is a melting pot of Eastern and Western civilisations: Buddhist temples, Hindu shrines, Christian churches, Islamic mosques and Taoist temples can be found on a single street.
Singapore and South Korea are "natural partners"
"Asean and South Korea feel each other's need and advance each other's interests," he said. "We are natural partners for each other."
With Singapore being current the Asean chairman, it is a key partner in South Korea's New Southern Policy, which seeks to deepen economic ties with multiple Asean countries.
DPM Teo Chee Hean, in his opening remarks, said Singapore and South Korea have a long history of bilateral relations and have further deepened their cooperation in trade and cultural exchange. Singapore and South Korea first established diplomatic ties in 1975.
Both countries, Moon said, had the common goals of peace and stability and a free and open economy. Both countries endured colonial occupation and both countries lack natural resources. "So they rely on people as their hope and invested in the people."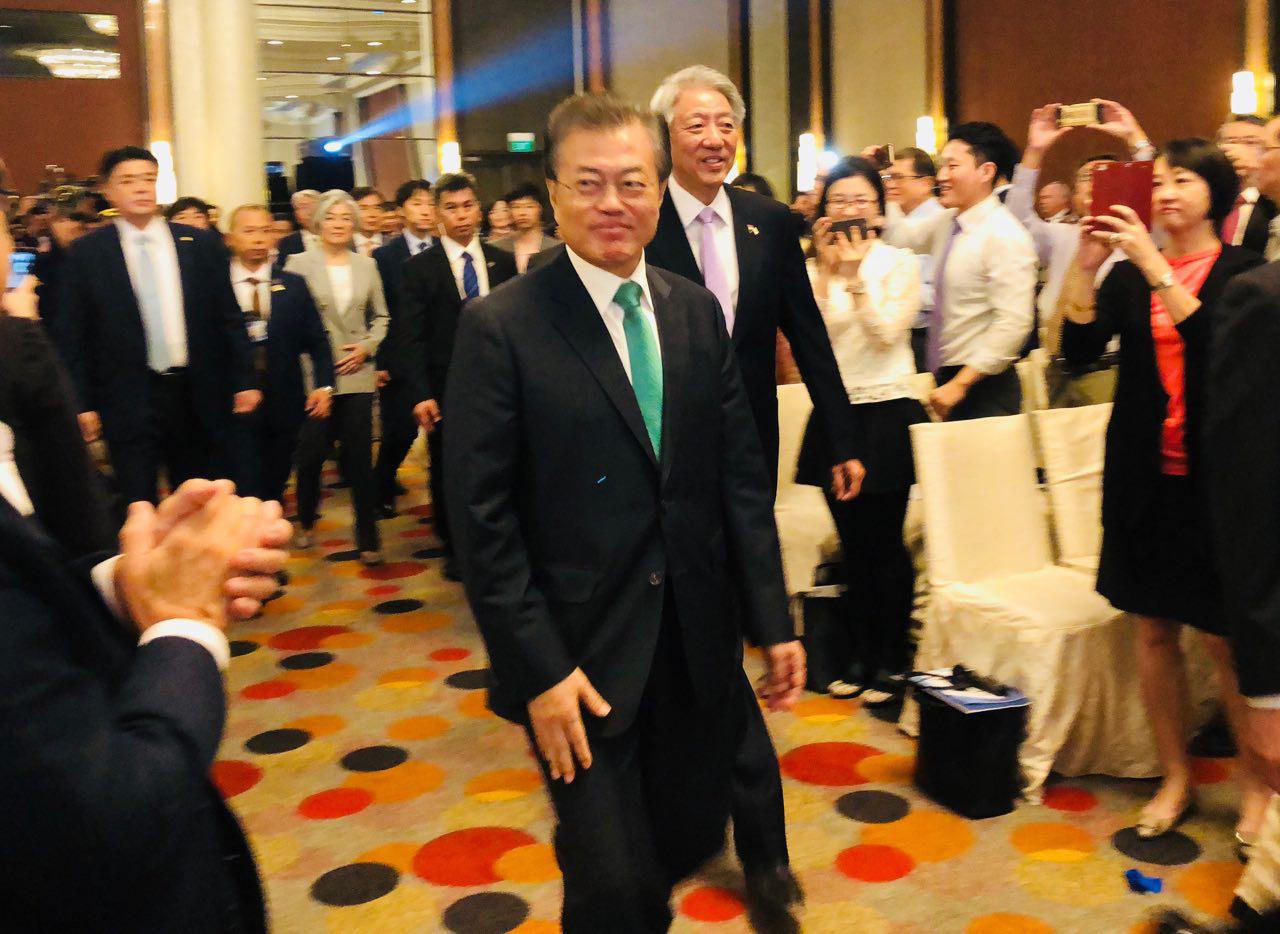 Singapore's role in peace
"Singapore is peace," Moon said shortly after DPM Teo Chee Hean's opening remark. "Singapore is the balancing weight of Asia."
The Sentosa Declaration between Kim Jong-un and Donald Trump will "go down in history for removing the last vestiges of cold war" along with the Panmunjeom Declaration.
"Singapore is bold and daring in action, this is from your competence, pragmatism, integrity and fairness," he said to Singaporeans.
[related_story]
"I firmly believe Singapore will continue to pave the road to peace and prosperity in Asean," Moon said towards the end of his lecture. "Let us create hope through peace and prosperity in Asia for all mankind."
Top image by Kayla Wong
If you like what you read, follow us on Facebook, Instagram, Twitter and Telegram to get the latest updates.