Keppel Corporation recently did a cheer for the upcoming National Day Parade 2018 as part of a cheer competition pitting different formations against one another.
The video has since been taken down despite it being viewed some 200,000 times or more.
Why?
The similarities to haka, a war cry of the Māori people of New Zealand, were noted.
Here is a traditional haka, carried out by the All Blacks, the New Zealand rugby team.
Reactions
Somehow, this unassuming little dance, highlighting the various components of Keppel, like its infrastructure division, caused a stir all the way across the pacific.
The New Zealand Herald, the paper with the largest circulation in New Zealand, has reported on the one-minute video.
Here's the article.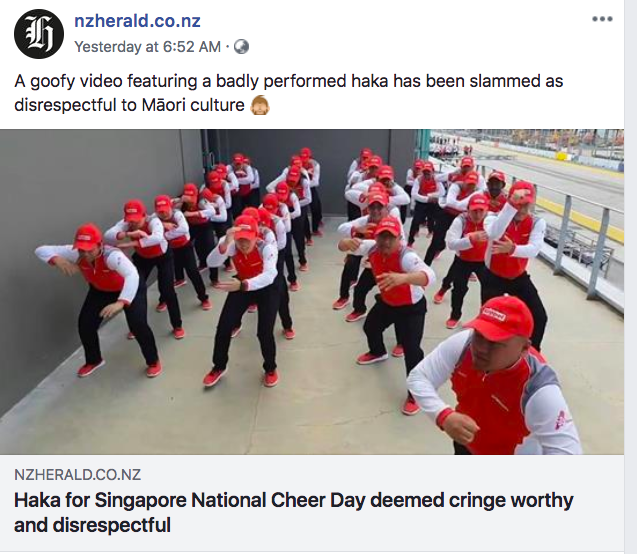 Needless to say, it isn't the most positive piece as it noted the misappropriation of the Māori culture.
But what are the reactions of the New Zealanders reading about this?
Is that a haka?
The most common point of contention was, simply, whether the Keppel cheer was indeed a Haka.



Who knows, might have been a Bruce Lee tribute.
Some were offended


And were rather offensive in the process.

Super cool.
But most were cool about it
The overwhelming majority, while acknowledging the cringiness of the video, were happy that others adopted and adapted their culture.


With one even sympathising with the real victim.

Sad.
[related_story]
If you like what you read, follow us on Facebook, Instagram, Twitter and Telegram to get the latest updates.