Bookworms with a taste for local literature would be familiar with indie bookstore, BooksActually.
On June 20, the bookstore located in hipster central Tiong Bahru put up the following Facebook post:
In summary, the post said:
BooksActually has been making bad business decisions

Operating costs and rent have been rising

But they have carried on because they see it as a home for the literary community

They will be selling bricks at S$50 a piece in the hopes of sustaining themselves
Why sell bricks?
According to the shop's owner, Kenny Leck, simply selling books is not enough to make the leap to owning a permanent space.
The video is to mark the launch of the campaign on May 14.
The bricks are part of a fundraising campaign that is running until the end of  the year, with a target goal of S$2 million.
The aim of the campaign is for BooksActually to secure enough funds in making the shift to a permanent space in Balestier.
Brick collector
Also, Leck himself is a brick collector -- hence the choice of bricks.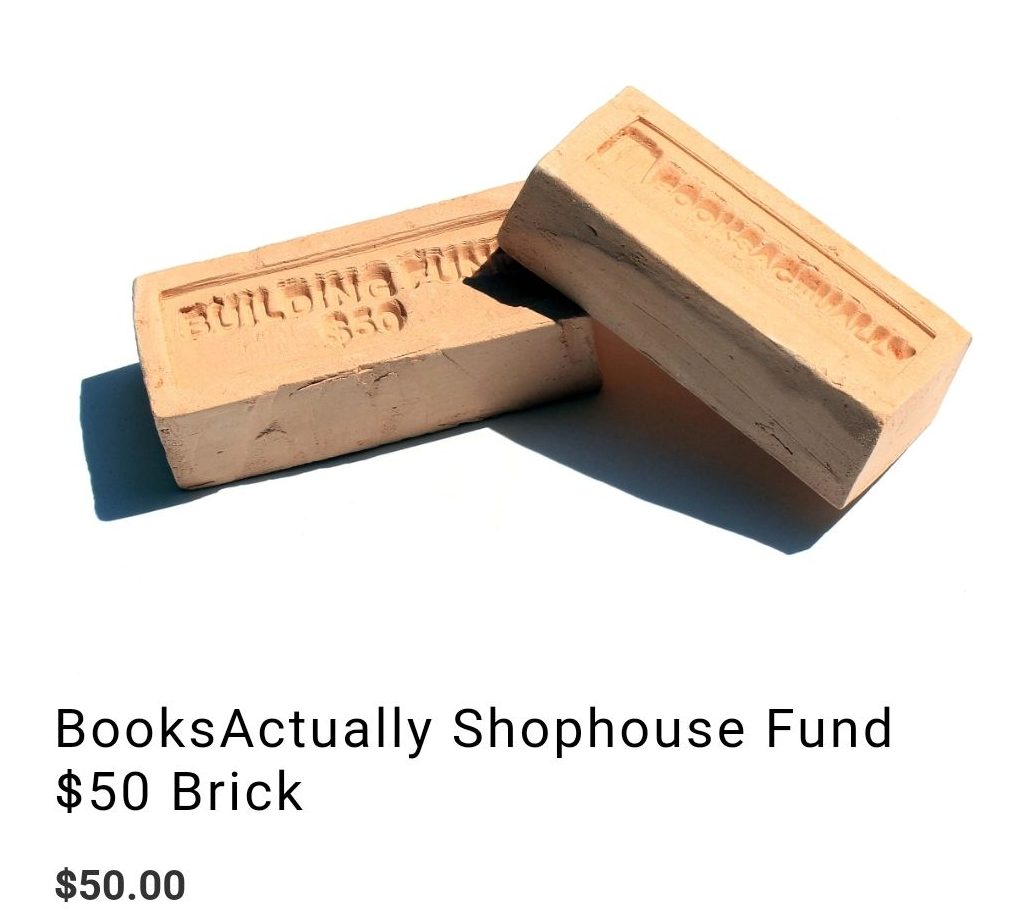 As BooksActually's website puts it:
"Each brick purchased brings us a little closer to our goal of buying a permanent space. Each brick is handmade by us! Each brick is symbolic of your support, and this crazy dream & leap of housing the bookstore in a permanent space."
Fundraising progress so far
In response to Mothership queries, BooksActually said hundreds of bricks have been sold for the fundraising:
Response to the campaign has been warm with close friends of the bookstore going as far as buying 10 bricks at once

Currently, 243 bricks have been sold, raising a total of S$12,150

Since the target of the campaign is S$2 million, the aim is to sell 40,000 bricks

Other fundraising events, such as the Rabak Auction in August and opening the bookstore for 24 hours will be held to make up for any shortfall in the sale of bricks
The biggest challenges facing BooksActually has been operating cost.
Rental cost keeps increasing and in a retail environment that is slow, keeping up with payments can be an issue.
Considering that Tiong Bahru, is a gentrified neighbourhood, it's not hard to see why.
Averse to becoming too corporate
As Leck further states in his video, he does not want to make the bookstore "too corporate, too snooty, too elitist where you feel afraid to step in the bookstore", given that his aim for BooksActually is to serve as a home of sorts for Singapore's budding literary community.
Leck cites his previous experience in working with Tower Books, which had a "very rebellious streak to it", and Borders ,which had a "very corporate streak to it", as key in giving him the best of both worlds in establishing BooksActually.
It should be noted that this is not the first time BooksActually has attempted to make the move to a permanent space.
In 2014, BooksActually attempted to raise the same target of S$2 million with multi-day sales in April and June, with a 25 percent discount on all books back then.
It remains to be seen if their current campaign will bring them closer to achieving that goal.
[related_story]
Top image from BooksActually
If you like what you read, follow us on Facebook, Instagram, Twitter and Telegram to get the latest updates.