There are plenty of heartwarming stories of residents banding together to care for stray cats in Singapore.
Take for instance Tiong Bahru residents who crowdfunded a sick cat's treatment.
Some residents also previously created a makeshift rain shelter outside Hillview MRT for cats.
But unfortunately, despite their good intentions, things sometimes do not go the way these community cat lovers want them to.
Caring for abandoned cat
In a Facebook post on July 5 by Cat Welfare Society, residents of a HDB block took it upon themselves to care for a presumably abandoned cat.
The location of this block is not known.
However, according to the post, residents named the cat Oreo and gave it a small bed to sleep on in a small corner at the void deck.
Oreo was also provided with ample food and water.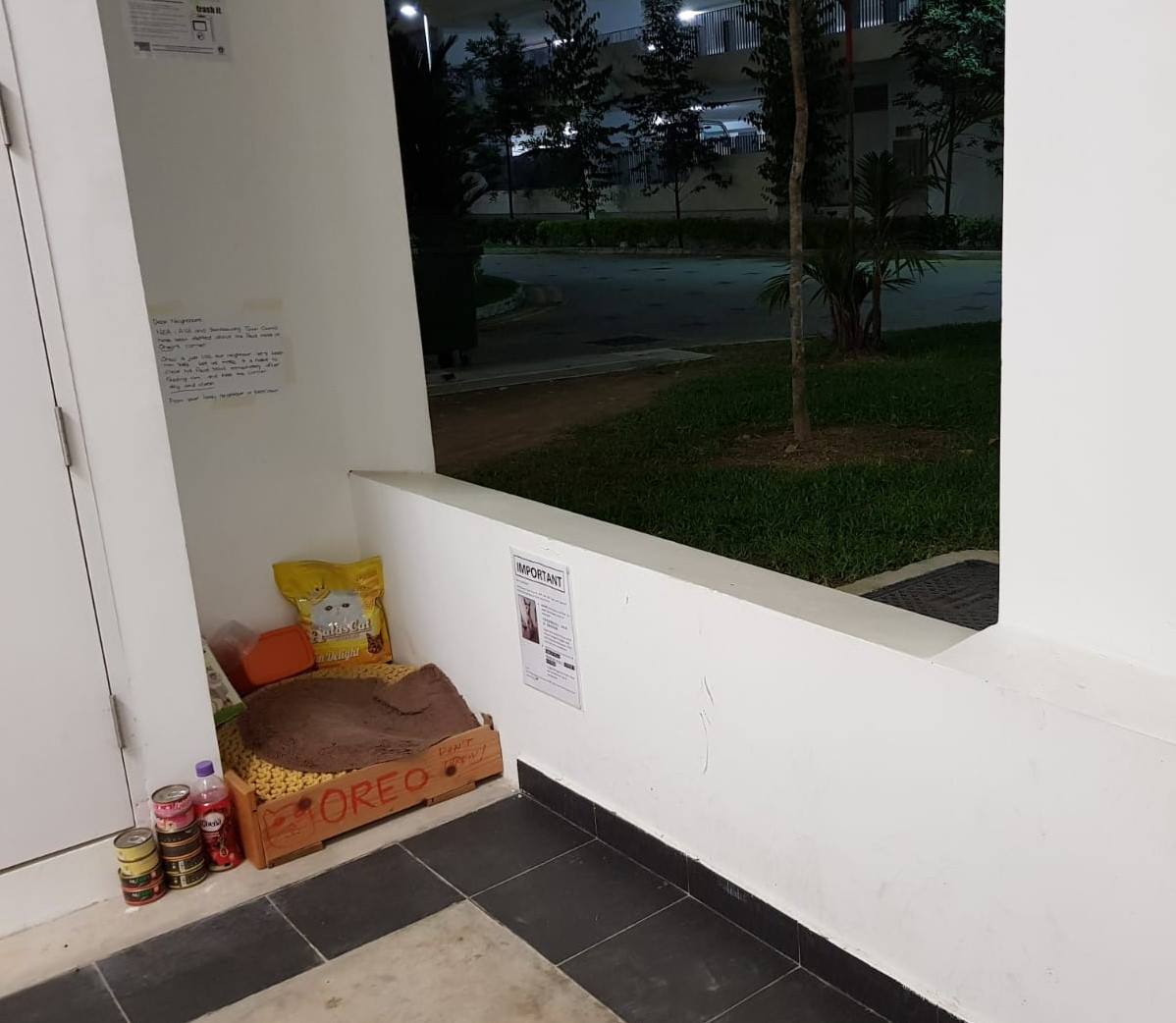 At the corner, a poster with feeding guidelines can also be seen.
The poster details instructions for feeding, such as to place food only at the designated container, and to clean up after Oreo has finished eating.
The poster was written in three languages: English, Chinese and Malay.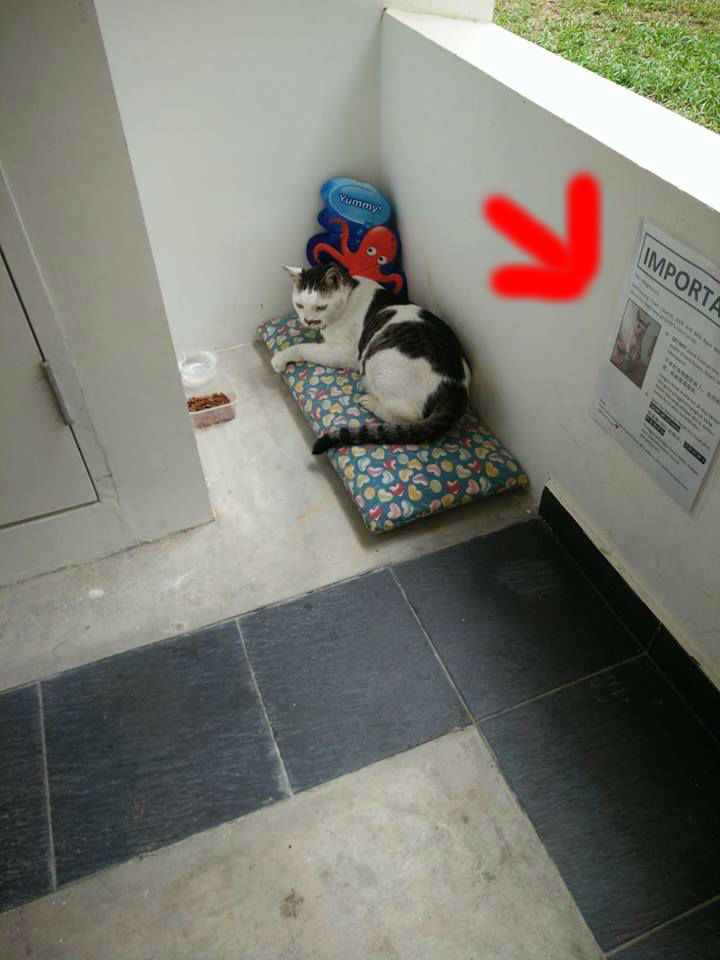 Reported to authorities
According to the Facebook post, this "angered other residents," and triggered a complaint to the authorities.
Subsequently, a Cat Welfare Society mediator was tasked with "clearing the space."
Given this turn of events, the post questioned if it was wrong for residents to provide for stray cats who have no home.
The post also asked if it made the neighbourhood appear "untidy."
This is the full Facebook post:
They call me Oreo. No one knows what I was called previously. I just appeared out of the blue one day. Abandoned, presumably. The residents of the block took pity on me, giving me food to eat and even a small bed to sleep on, in a small corner at the void deck.

However, this angered other residents, who complained to the authorities and CWS mediator Michelle was tasked with clearing the space.

Is it wrong for residents to provide cats like myself, who have no shelter from the elements little comforts like this? Does it make the neighbourhood look unkempt and untidy?
Netizens weigh in
In response to the Facebook post, many netizens have commented with their thoughts on this situation.
One netizen pointed out that not everyone likes animals, and the cat community should ask around if "people mind having a resident cat staying at the area before setting up the cat space."

Another mentioned that it would be best to keep the cat indoors since the place would be messy and soaked when it rains:

[related_story]
However, many noted that the area was kept clean and tidy.
In fact, most praised the residents for being caring, and said that we should share our spaces with animals.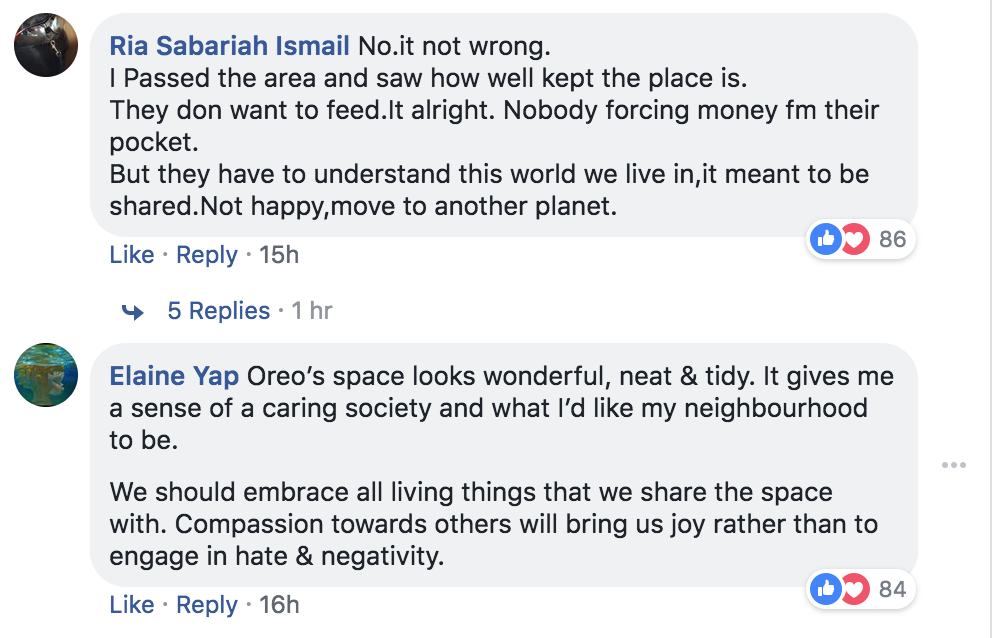 Sad.
Top photo composite image from Cat Welfare Society Facebook.
If you like what you read, follow us on Facebook, Instagram, Twitter and Telegram to get the latest updates.