Suicide is always a tragedy. Unfortunately, on June 20, in the Chinese city of Qingyang, it took on an added dimension of cruelty.
When a 19-year old student, surnamed Li, fell off the eighth storey of a hotel, she did so to the raucous cheers of onlookers and the anguished cry of the fireman attempting to rescue her.
WARNING: Video contains distressing images
&has_verified=1
Jeers, taunts, videos and clapping
According to the Shanghaiist, prior to her jump, a crowd had gathered below the hotel, with many cheering her to jump quickly.
Others began flooding Chinese social media with videos of Li sitting on the ledge and comments supporting her suicide so that they could get on with their daily routine.
Five days ago, a 19-year-old girl in gansu province in china jumped from a building and committed suicide. A crowd of onlookers downstairs shouted and clapped at her. They urged her to jump off the building at once. They couldn't wait to see the good show. pic.twitter.com/Ue4eqvoR4G

— johnny Hill (@xiajohnnyxia) June 25, 2018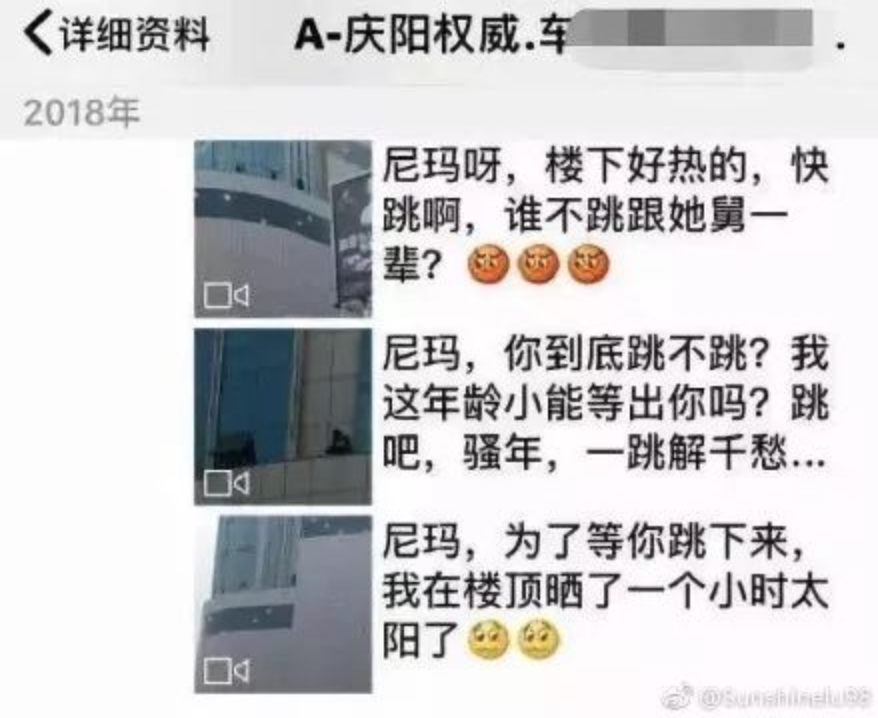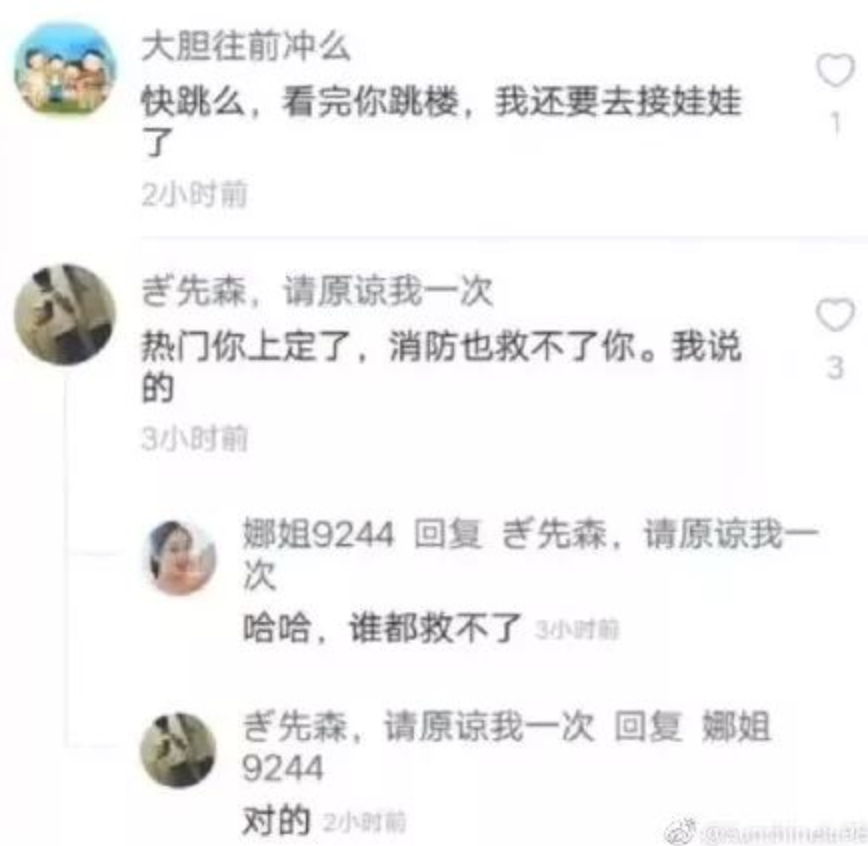 For non-Chinese speaking folks, here are the translations of some of the comments:
"Jump faster please, once I've finished watching you jump, I still need to go and pick up my younger sister."

"Damn it, it's so hot down here, could you jump faster, those of us who have been waiting have been waiting a lifetime?"

"Damn it, just to see you jump, I've been on the top floor under the sun for an hour."

"You've gotten famous. The firemen also wouldn't be able to save you, I say."
Eventually, the taunting culminated in screams of "Jump!" when Li began hanging from the ledge with the fireman trying to help her.
The crowd screams at the point of her fall, before cheering and clapping immediately afterwards.
Depression from sexual assault and injustice
In the lead up to her suicide, Li had been suffering from depression as a result of being sexually assaulted by her teacher, according to her family. 
In a six-page long handwritten letter left behind, Li accused her teacher, Wu Yonghou of sexually assaulting while she was in the school's resting area, recovering from a stomachache.
Wu allegedly held her, attempted to kiss her on the mouth, face and ears and take off her clothes, until another teacher entered the area.
The school attempted to resolve the case by making Wu apologise to Li and offered Li's family 350 000 yuan on the grounds that they waived the right to sue Wu. Li was to also return to class with Wu still as her teacher.
The family turned down the school's offer and brought the matter to the police. Unfortunately, this turned out to be futile as well. While being detained for 10 days, Wu maintained that he had only touched Li as a "physical examination" to check on her.
He was eventually released without being charged, on the grounds that there was insufficient evidence.
Li stopped pursuing the case and began suffering from depression and PTSD. Before her death on June 20, Li had initially tried to kill herself twice via overdose.
Reactions of outrage on Weibo
It's important to note that not everybody supported the crowd on social media.
As the incident spread further around Weibo, more and more netizens began reacting with outrage to the sheer callousness of the scene. Many also expressed their sympathy for both Li and the fireman.
South China Morning Post has also reported on the arrest of some of the onlookers, although as Shanghaiist notes, it is unclear what they will be charged with.
Similar incident also happened in Singapore
Lest you think such cases are limited to China however, it's important to recall that a similar incident also happened not too long ago in April here in Singapore.
In such incidents, the only question that should be asked of people who egg suicidal people on is: Why?
Suicide helplines:
SOS 24-hour Hotline: 1800-221-4444
Singapore Association of Mental Health: 1800-283-7019
Institute of Mental Health: 6389-2222 (24 hours)
Tinkle Friend: 1800-274-4788 (for primary school-aged children)
Care Corner Counselling Centre (Mandarin): 1800-353-5800
[related_story]
Top image via screenshot from YouTube
If you like what you read, follow us on Facebook, Instagram, Twitter and Telegram to get the latest updates.