A Singaporean man had a taste of what it is like to mess up in another country after he flew into Kuala Lumpur, Malaysia with a passport that had less than six months validity.
This is his account and a summary as follow:
Summary:
• The Singaporean man flew into KL with his friends for a gaming competition on June 8 and were expected to come back to Singapore on June 11.
• However, he did not renew his passport which had about five months of validity left before it expired.
• He was denied entry upon arriving at KLIA (KL International Airport ) on the June 8, at 3.15pm.
• He was told he would be deported back to Singapore and he felt quite stupid about not renewing his passport beforehand and being a burden to his team.
• He did not know what to do next and was told by immigration if he wanted to book a return ticket back himself or one could be booked for him.
• He wanted the KL immigration to book his ticket for him, as he was feeling down and did not have enough cash.
• The immigration officer then told the Singaporean man he would be denied entry into Malaysia for one month if he chose that option.
• When he said he was okay with that, he was then told he might never come back to Malaysia again.
• That was when he was taken to a cell the size of a four-room HDB flat to be locked up with 100 other people inside.
• He was told to turn off his phone and take off his belt and put them in the storeroom and wait for his ticket, no questions asked.
• The conditions in the cell were horrendous and reeked of foul odours from the lack of proper sanitation facilities.
• There was not enough space, was filthy, gag-inducing and the people inside were piled up on top of one another.
• There were apparently other tourists who were locked up in there, as well as supposed illegal immigrants.
• There was a separate cell for women and children.
• The Singaporean man was inside for 26 hours in total but it was barely tolerable.
• He claimed he saw one of the cell mates being beaten up and choked by the Malaysian officers for asking questions.
• He also said those with money could bribe their way out more easily.
• Fortunately, the Singaporean man's father contacted Singapore's Ministry of Foreign Affairs after he stopped receiving messages from his son after a period of one day.
• The Singapore immigration was shocked to hear of the man's experience when he returned back and said Singapore's lock-up had facilities such as beds.
• The Singaporean man ended his note as a caution to other Singaporeans not to take chances and said his account is to shed light on what can actually take place overseas, outside the confines of Singapore's predictable bureaucracy and standards.
Reactions to his allegations and story
The comments section of the Singaporean man's Facebook post is a hotbed of accusations and counter-accusations, as well as people demanding for proof and poking holes in his story.
One major contention is that his case appears to be more severe than normal given such a straightforward violation, as other individuals who travelled into Malaysia with less than six months passport validity only got turned back without much repercussions other than being inconvenienced.
The condition of not being able to return to Malaysia ever again is considered very severe.
The Singaporean man has repeatedly said in response to multiple comments that he is remorseful for his mistake and takes the blame for what happened in the first place, but he also wants to let others know how it is like overseas, away from the secure confines of Singapore's jurisdiction and shedding light on how issues are handled.
To satiate those who called for evidence to his claims, the Singaporean man provided a photo of the document that listed his transgression in Malaysia: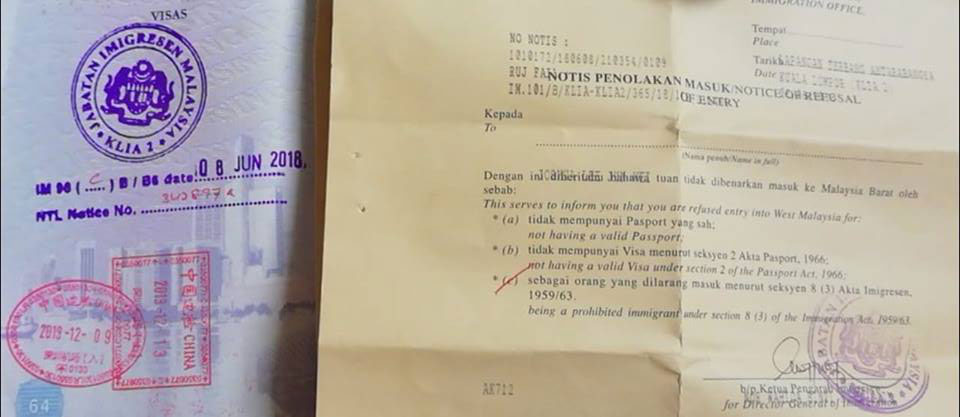 The document said the reason he could not return to Malaysia is because he is a "prohibited immigrant".
[related_story]
You can read the full post here:
My friends and I were sponsored a trip to KL on the 8th June, for a PUBG LAN competition and back to SG on the 11th June.
Firstly, it was my fault for not renewing my passport as I assumed that it was okay to go into KL still because my passport expires on November and there's still 5months plus before expiry. Also, at the SG customs, they told me that it was okay and that they allowed me to go to KL too. So upon arriving at KLIA ( KL international airport ) on the 8th of june 3:15pm, I was denied entry by the custom officer and told to go to the office to talk to the officers and thats what I did.
I spoke to the immigration officers and they told me that I could not go into KL because my passport expires in less than 6 months time so they had to deport me back to SG. I felt sian la.. because of this I cannot play with my team and the reason was really stupid.
Anyway, I asked the immigration officer how do I go back to SG, like do they book for me another ticket? or would i have to wait till the 11th which is the date of my return flight? cuz ive never been in a situation like this.. All that this guy said was this. "You want to book the ticket yourself then u must pay if not we can book for you".
Obviously I wanted them to book for me la cuz I didn't bring much cash with me and why not right, since i have a return ticket paid for already..and I felt it was only right that i get a paid trip back to sg as I had my return flight paid for already. But I guess I was foolish for thinking that.
So I told him that I would want them to book. And he replied me that if they were to book, I would be denied entry into malaysia for 1 month. I told him I was fine with it.. But then he gave me a more serious tone and ended it with a fucked up smile. He said "You sure? If I book your ticket.. you might never come back malaysia". Before this was 1 month as he said.. now it became permanent. But i was feeling down already for not being able to go to KL and i just wanted to go home so I said yea.. Just book it for me.
So I told my parents and my gf that ill be back in singapore soon cuz they're booking my flight now.. when suddenly they called me into a separate room with a couple of other tourists and officers in it. In this room there was 2 lock up cells, one for women and the other for men. Even saw 2 kids 6 or 7 yr old inside the women cell.
Anyways i thought they wanted to just check with me certain details with regards to my flight / my particulars as Nothing was said about anything else when they asked me if i wanted to book my own flight or not.
Instead, they told me to turn off my hp and take off my belt and put my bag into the storeroom.. So I asked them why and all they replied me was, you wait inside the cell till the ticket comes. I was getting scared honestly, But i just complied cuz I still believed that they would book the ticket and i would get out soon.
I entered Hell. I mean it could be worse in other countries but it was hell to me already as I never expected Malaysia's customs to be like this.
there was over a 100 ppl in a room the size of my 4 room HDB flat. it was overcrowded and the place reeked of body odors cuz they didnt allow ppl to bathe and the toilet reeked of ammonia la basically. there was left over food on the floor and ppl laying on top of each other cuz there wasnt enough space for 100 ppl there. I choked a few times cuz of the smell itself. lol. cannot sleep properly too because there isnt space to lay down.. this is not even the worst part. I felt like a criminal there once again and I thought to myself.. what crime did i commit? I had no rights to even call my parents or anybody.. I couldnt even ask questions.
They dont have anything for us to sleep on so people lay on their shoes or just the floor la. They treated everybody there like criminals.. A guy from nepal was inside there because he didnt bring cash to malaysia because most people use cards these days and because of that reason.. He went inside too.. WTF?
He also had a 6 yr old child with his wife in the next cell.. I mean WTF?!
And all I did was pray and talk about how we gonna escape this cell when they open the door to serve us food with this african guy, but it never happened..
Also first time I see officers beating up an innocent man. This indian was just asking questions and i guessed the officers were annoyed by that ? so 5 of them came in.. beat the living shit out of him in front of all the people there. they slapped him.. kicked him in the face and almost everywhere.. choked him.. and then they said.. "anyone has anymore questions?!"
They used violence on an unarmed innocent man.
It was hell for me. Nobody knew when they're gonna be let out. And the people that had money could bribe the officers and they were out in a few hours..
I was lucky because my Dad actually went to call Ministry of Foreign Affairs 1 day after i stopped replying my msgs and then only did they take action and released me. I was inside for only 26 hours but it felt like 26 weeks my friends.. It was hell for me.. I've sat in prison for a year in sg and it doesnt come close to this shit. But thats not the point.. The whole point of me writing this long essay is to tell you guys that THERE IS SOMETHING LIKE THAT GOING ON.. because when I went back to SG.. the Immigration officer in SG came to talk to me because I was deported back. And when I told him about what happened.. he also shock.. He say "really meh!?" lol. He tells me that in sg they have beds.. the tourists are allowed to buy food and all that.. basically not locked up.. they're free to do anything.. and its a whole different world just across the border. Just so yall know! there are all kinds of reasons for being detained there in KL. For me might be the most legitimate reason for being detained cuz my passport was less than 6 months and it is my fault for not updating it. the rest of the cases are like.. they didnt bring enough money.. or the tourist did not have a place to stay in msia when they clearly did.. and thats why i want everyone to know. They still have a very primitive way of doing things.. lots of corruption inside too. I'm no saint but this is way too much for me at least. GG!
If you like what you read, follow us on Facebook, Instagram, Twitter and Telegram to get the latest updates.