As much as Singaporeans gripe about problematic private-hire and/or taxi drivers, there are still some nice ones out there.
And here's another good guy Grab driver story to add to the list.
Grab driver fetches group of 3 from Clarke Quay
On Jun 28, Twitter user @PBK_twt posted a tweet about her father, who she says is a Grab driver.
Quoting the tweet about the story of a Grab driver who waited with his passenger for the lift at her block because it was past 2am, she shared a story of how she believes her dad saved a girl in his car, who appeared to be drunk, from being taken advantage of.
According to a series of tweets she posted in succession, her father had picked up three passengers — one girl and two boys — in Clarke Quay a few weeks ago.
The Twitter user described the girl as "black out wasted".
[related_story]
Boys asked him to change location to Hotel 81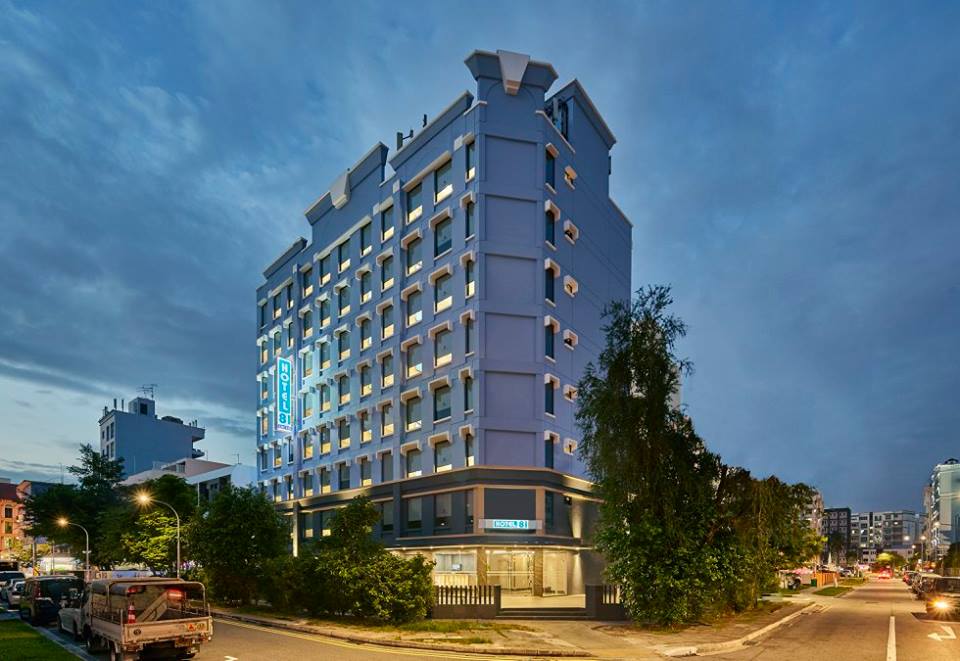 The drop-off location was initially, she believes, the girl's home.
However, halfway through the ride, the two boys apparently tried to redirect the driver to Hotel 81 — a decidedly curious decision on their part, seemingly without the knowledge of the girl, who appeared not to be fully conscious.
Sent girl right to her doorstep
Out of concern for the drunk girl's safety, the driver rejected the boys' requests despite their insistence.
When he reached the original destination (what was understood to be the girl's home), he made sure the girl made it to her doorstep safely by escorting her to all the way up there personally. Meanwhile, he told the two boys to wait downstairs.
And what happened to the two of them?
They didn't have to pay for the ride, but the Grab driver didn't send them home either.
Lesson to not drink excessively
The Twitter user concluded her story by saying that drinking excessively, especially when women do (in the absence of trustworthy friends who will not abandon them), can be dangerous.
And while situations like these may be a nightmare for girls out there, there is at least a saving grace to this scary experience that could well have ended entirely differently — there still are people as thoughtful and caring as the Twitter user's father.
"I think my dad prevented what could have been a terrible situation for that young girl, and I think he's a hero. I'm proud to call him my father, and I hope that people look up to him a lot for the sheer fact that he's kind and thoughtful no matter what he has to face on the job."
Here's her Twitter thread in screenshots: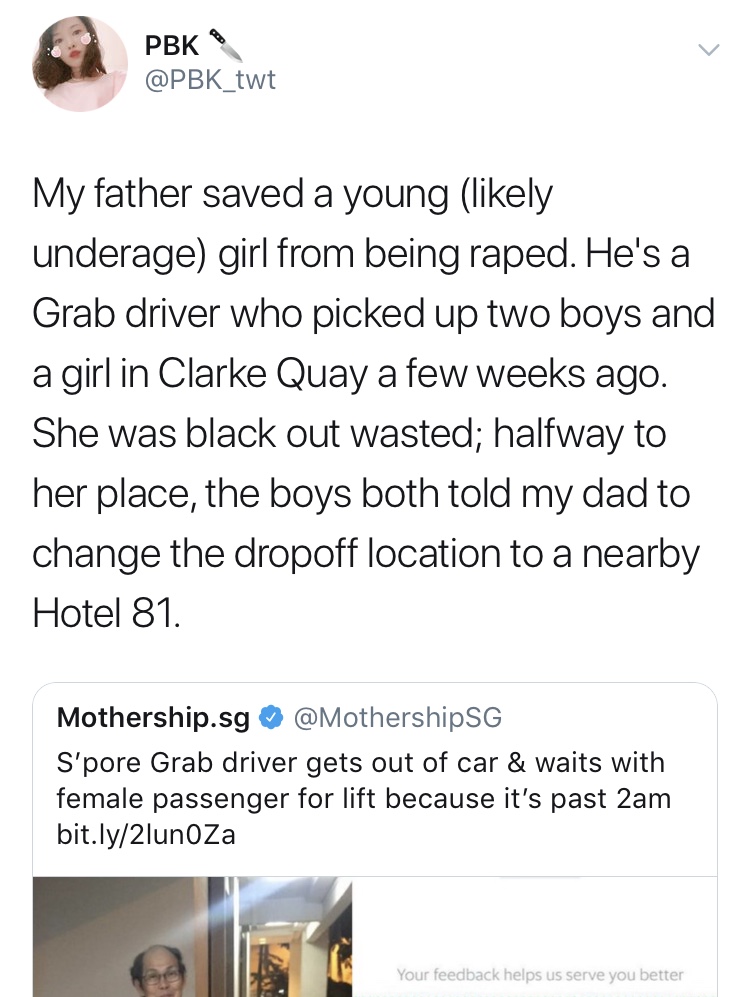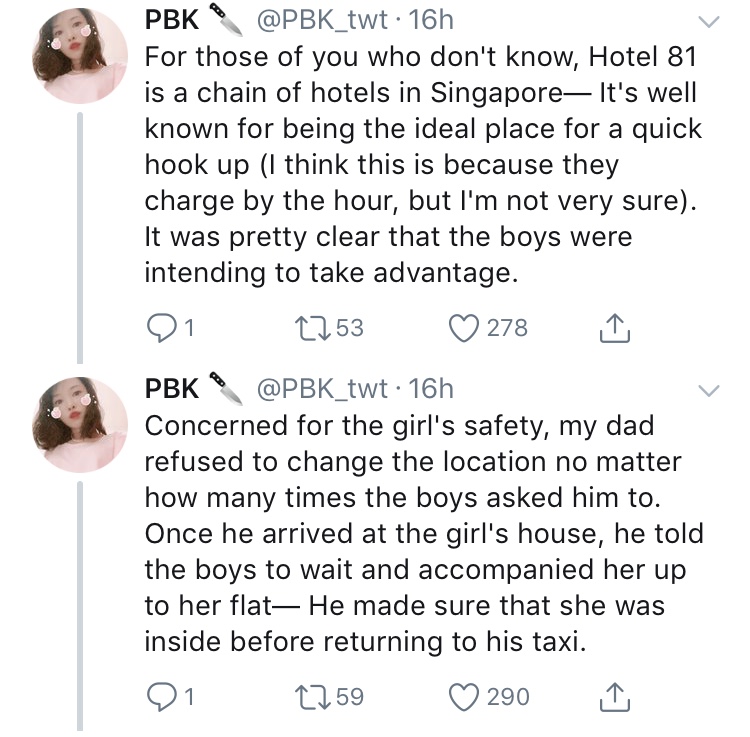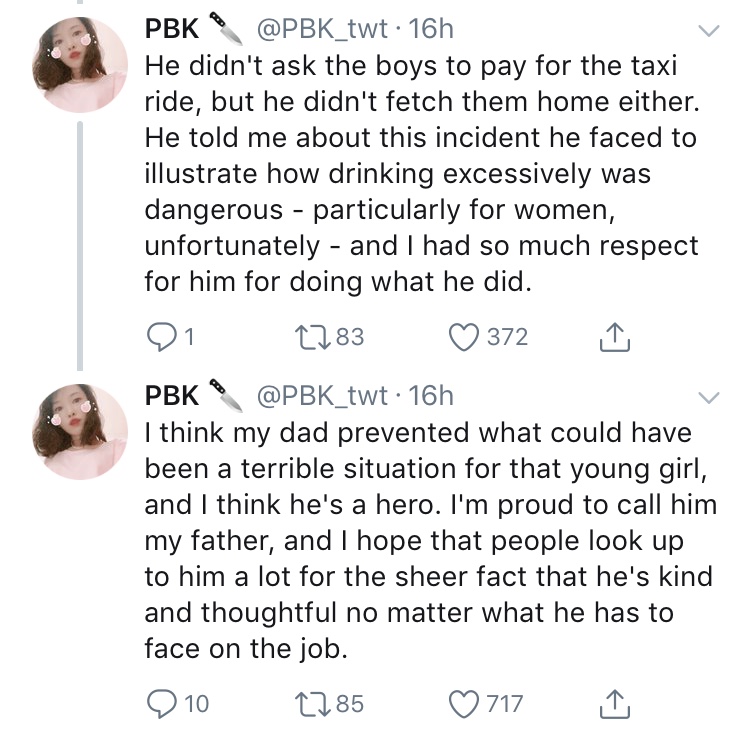 Top image via JNZL on Flickr
If you like what you read, follow us on Facebook, Instagram, Twitter and Telegram to get the latest updates.