Malaysian Prime Minister Mahathir Mohamad said in an interview with Bloomberg that he wants to review a water supply agreement with Singapore as it is "too costly".
This comes after his previous announcement that Malaysia will be dropping the Singapore-KL High Speed Rail (HSR) project due to the costs that will be incurred.
He added that the water deal is one of the issues that they "need to settle" with Singapore.
He said:
"We will sit down and talk with them, like civilised people."
Under the terms of the 1962 Water Agreement, Singapore is given the full and exclusive right to draw up to a maximum of 250 million gallons of water per day from the Johore River at 3 sen per 1,000 gallons.
He also erroneously said during the Bloomberg interview that Singapore sold the water back at "1,000 gallons at 17 Singapore dollars". Singapore sells a portion of the water back as treated water at 50 sen (S$0.17) per 1,000 gallons.
M'sia gave up their chance to review the agreement
According to Singapore's Ministry of Foreign Affairs, Malaysia has missed the window of opportunity for a price renegotiation:
"Under the Water Agreement, Malaysia should have asked for a price revision in 1986 and 1987.

But Malaysia chose not to do so."
It added that despite Malaysia's "constant flip-flops", Singapore "persevered to secure a win-win outcome":
"Even though Malaysia had lost its right to review, Singapore was prepared to consider Malaysia's proposal as part of a package of bilateral issues which included future water supply for Singapore after 2061".
[related_story]
Things were different just five months ago
As recent as January 2018, Singapore and Malaysia issued a joint statement affirming the terms of the 1962 Water Agreement when Prime Minister Lee Hsien Loong and then-Prime Minister of Malaysia Najib Razak met for the Singapore-Malaysia Leaders' Retreat.
In December 2016, Malaysia assured Singapore that despite challenges that affect the water supply from Malaysia, such as the receding water levels at Linggiu Reservoir, Malaysia will continue to supply Singapore with the share of water under the 1962 Water Agreement.
Not the first time the issue came up
Singapore relies on Malaysia for nearly half of its daily water needs.
But the water agreements have been a constant source of contention between Singapore and Malaysia over the years, with Malaysia using it as political leverage against Singapore.
For instance, Malaysia threatened to cut its water supply to Singapore in 1998 due to a diplomatic row that involved the re-location of the railway customs checkpoint.
Singapore's leaders, however, have maintained a firm approach to the issue, with late Minister Mentor Lee Kuan Yew even saying at one point that he was prepared to send troops to Malaysia if it tried to turn off the taps.
Singaporeans not having it
Despite some Singaporeans previously cheering Mahatir's underdog/comeback story in his party's victory over the incumbent Barisan Nasional in Malaysia's GE14, that celebratory sentiment has not carried over to Mahatir's back-tracking on the HSR project and, now, his comments on re-looking the water agreement.
Here's a sampling of the sentiments Singaporeans have: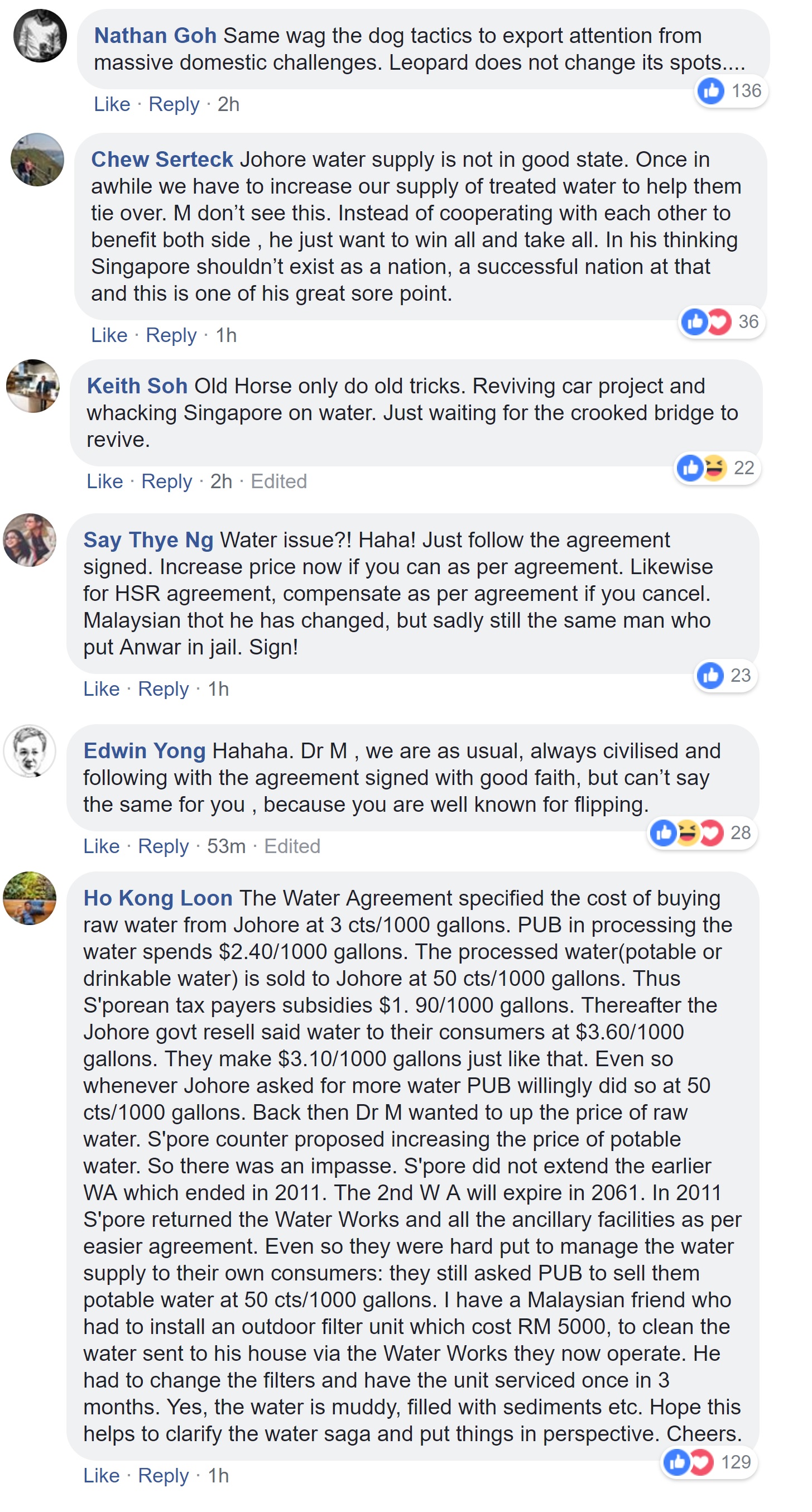 [related_story]
Top image via
If you like what you read, follow us on Facebook, Instagram, Twitter and Telegram to get the latest updates.