It's something we often ignore or conveniently forget amid our busy lives: the fact that the world is warming, our climate is changing and sea levels are rising.
If we were to think about this situation to its extent, we might eventually arrive at this unlikely scenario: as a low-lying island, what would happen if Singapore were flooded — or fully submerged underwater?
Singaporean university graduate Sean Lee certainly spent a good amount of time pondering this.
The 27-year-old Lee, who graduated from the Art, Design & Media course at Nanyang Technological University, produced a series of concept art images depicting the slightly dystopian Singaporean way of life that results from a global environmental disaster — in as soon as 12 years' time, 2030.
The avid gamer said he was largely inspired by Rapture, an underwater city from the video game Bioshock, in his work on this.
But without further ado, here they are, with their descriptions in his words in the image captions:
1. Returning to sampans, elevated seafood kelong restaurants, boat buses
This, for instance, is set in Bukit Panjang, where he lives —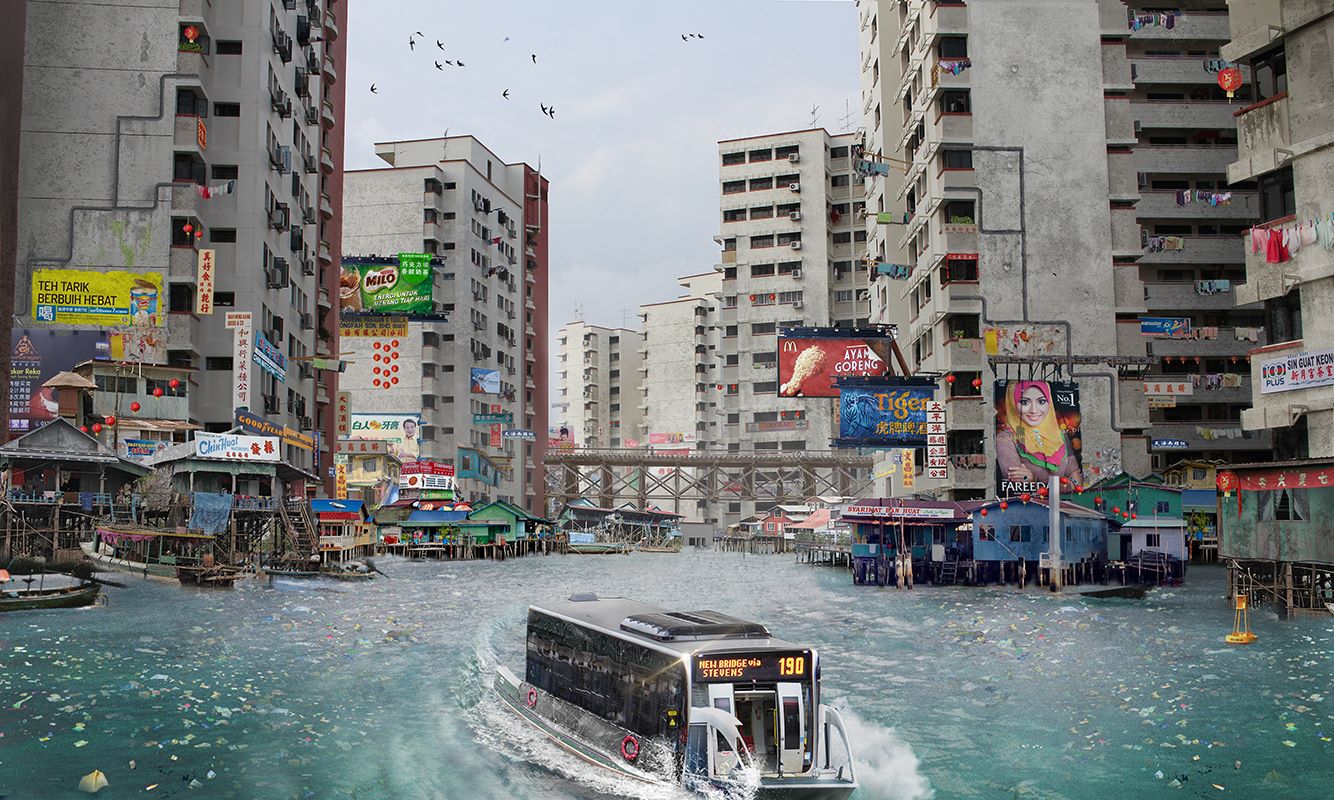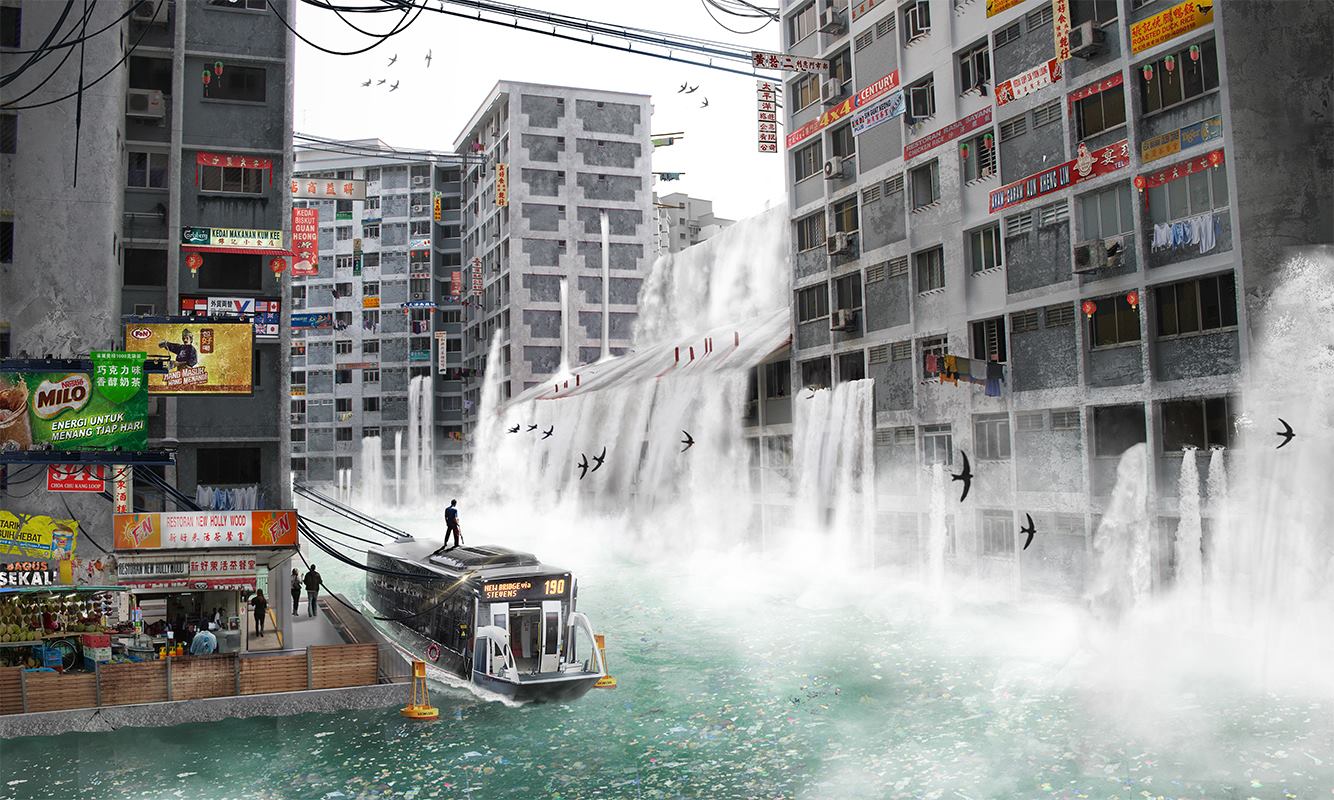 Many of the signs he depicts are in Malay and Chinese, he explains, inspired by the kampongs and old shophouses in Malaysia, like Kukup.
[related_story]
2. Watertight malls downtown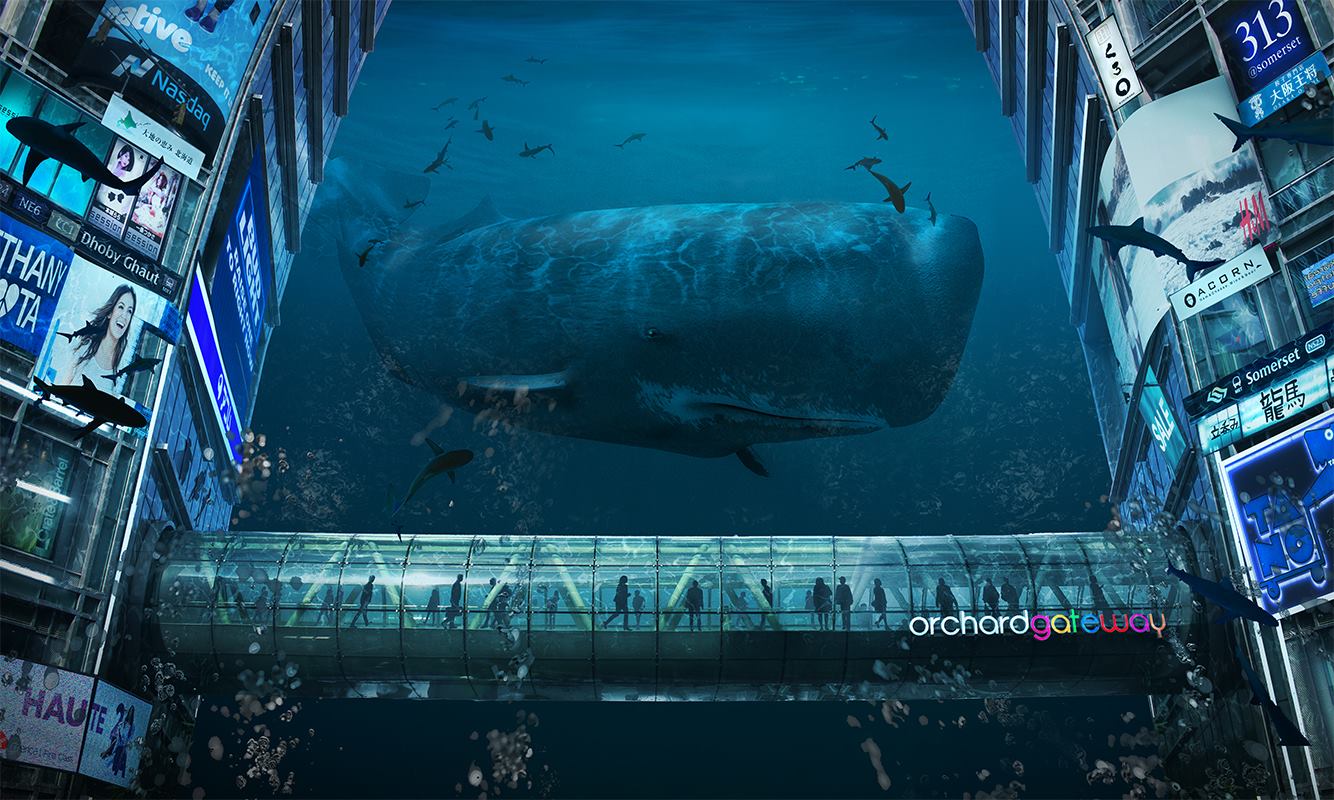 3. Underwater HDB living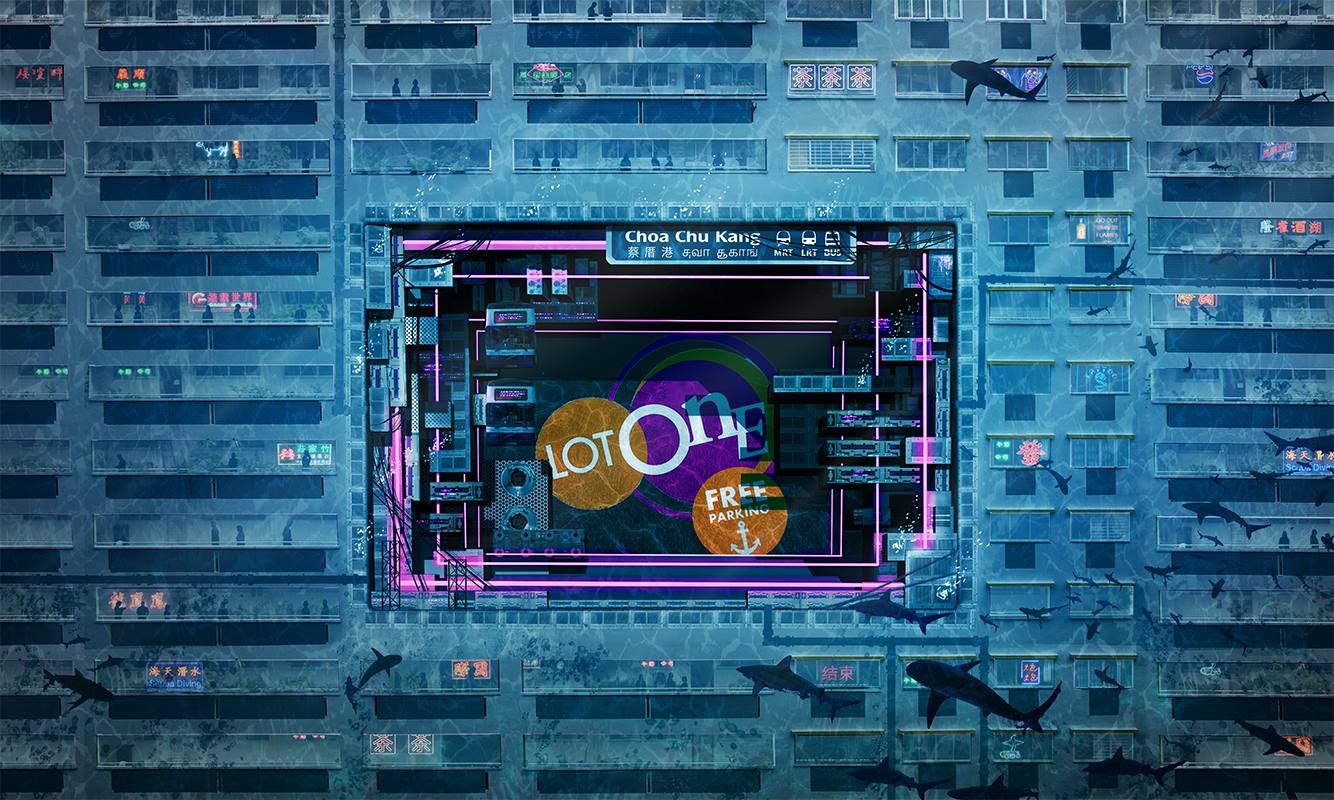 Here's how he envisions HDB living to work:
I envisioned HDBs built after the "great flood" to have a similar look as the ones we have now except that they have a thick glass on the outside covering what would have been the windows and walkways we see now. The thick glass "waterproofs" the entire building and creates a somewhat bio-dome allowing for an environment similar to what we have on land now. Except that when we look out, we see water and fish instead of trees and land.
Also, quite likely, people would take elevators to the top of the block that is above water to exit their homes.
4. Underwater public transport
Here's what an undersea bus looks like: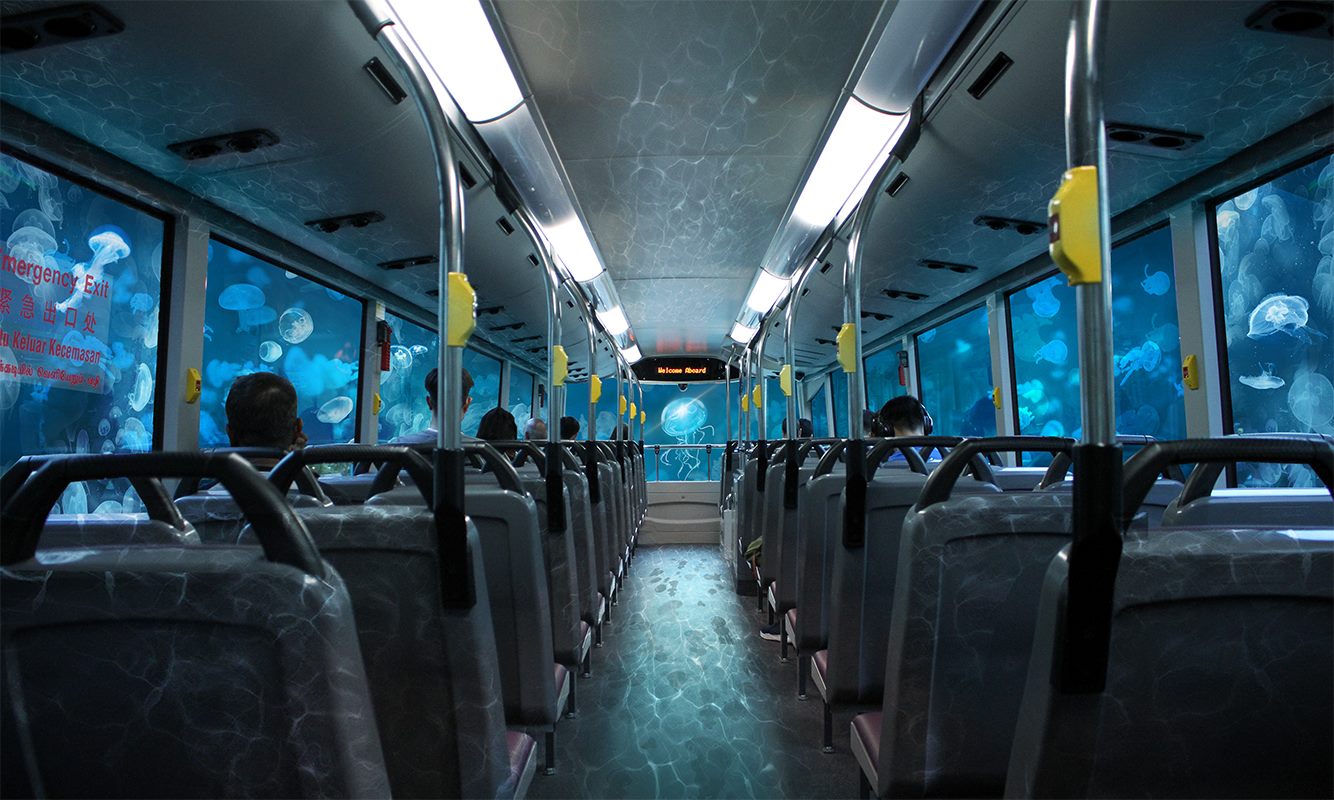 Lee imagines that they will deposit passengers in pods that close and drain out before people can alight.
And since we're thinking about this, here's what he imagines City Hall MRT to look like: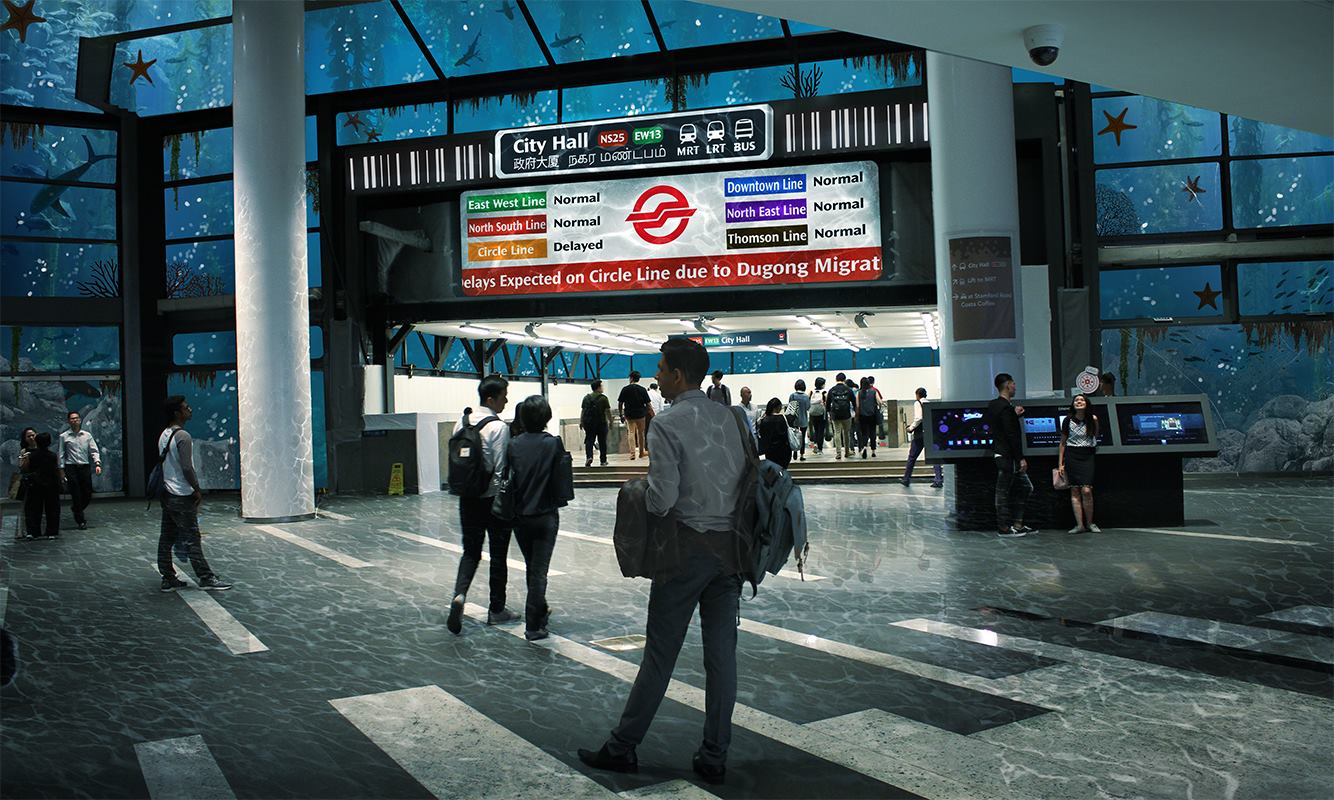 5. High and low-SES markets
And since we're in City Hall, here's how Lee envisages Raffles City's basement: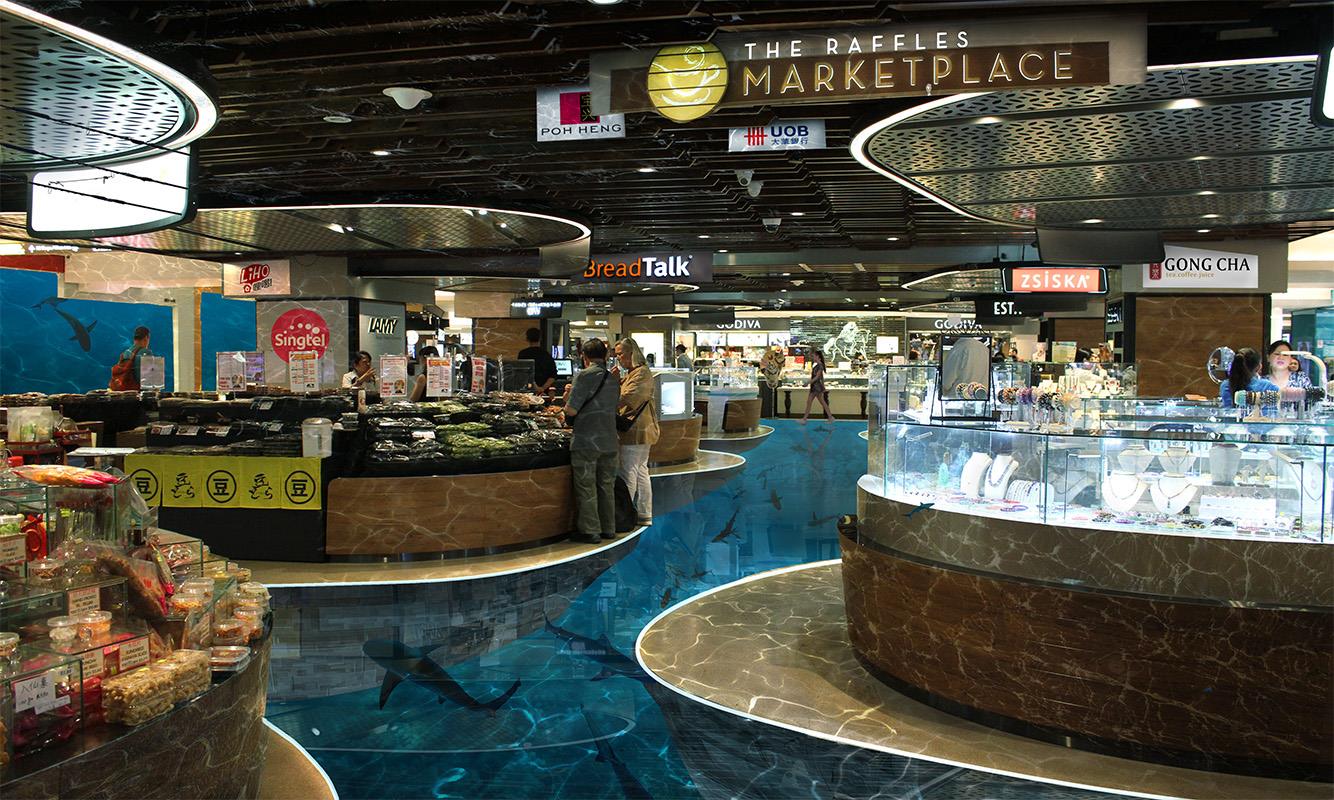 While the setting for Lee's creations seems like a warning about the dystopian effects of climate change, Lee sees it as a testament to the resilience of the human spirit.
"Its great that we are trying to save the earth, but I think even if ocean levels rise and we are unable to stop it, the world won't end. Life goes on and we adapt, even in a hostile flooded world."
This lower SES market is called market @ Bangkit, also in his neighbourhood Bukit Panjang: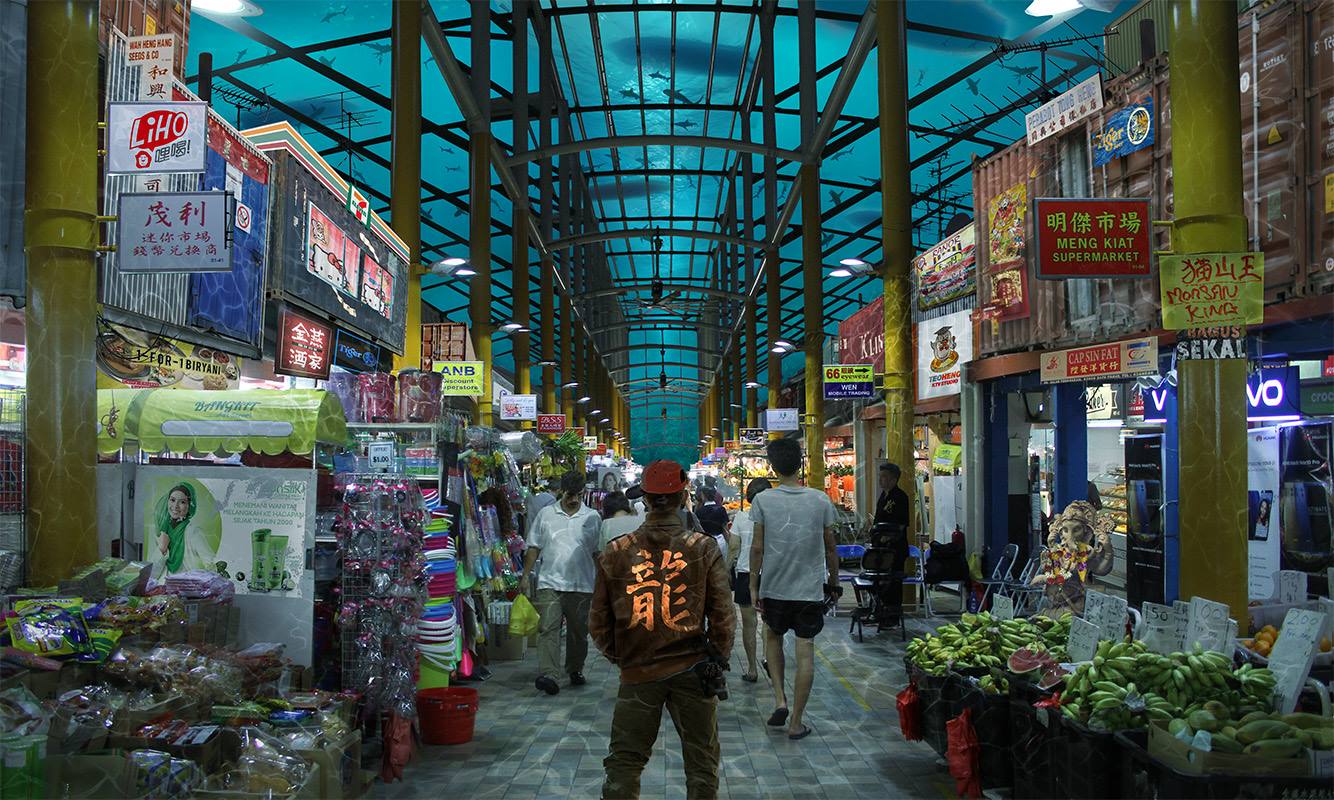 The real-life photographs his images are built from
Lee tells Mothership he started shooting actual photos for this series in March last year, and created the images above using a combination of self-created 2D/3D assets, Google Map Street View shop signs, and royalty-free stock images (he stressed it was important we added this bit, ha ha).
While Lee had the idea for this project a few years ago, he lacked the technical digital abilities to execute it then, until his course at NTU began
"I was lucky to meet a few great teachers (at NTU) such as my digital painting teacher who introduced me to digital compositing and digital imaging. I was also lucky to meet a great digital painter from a private school. He taught me digital painting and photobashing (using photo elements to create a composite painting). A few months ago I also attended a course which taught me 3D art."
Here are the images that Lee used as the base for his creations — the edited versions on top and the original pictures below: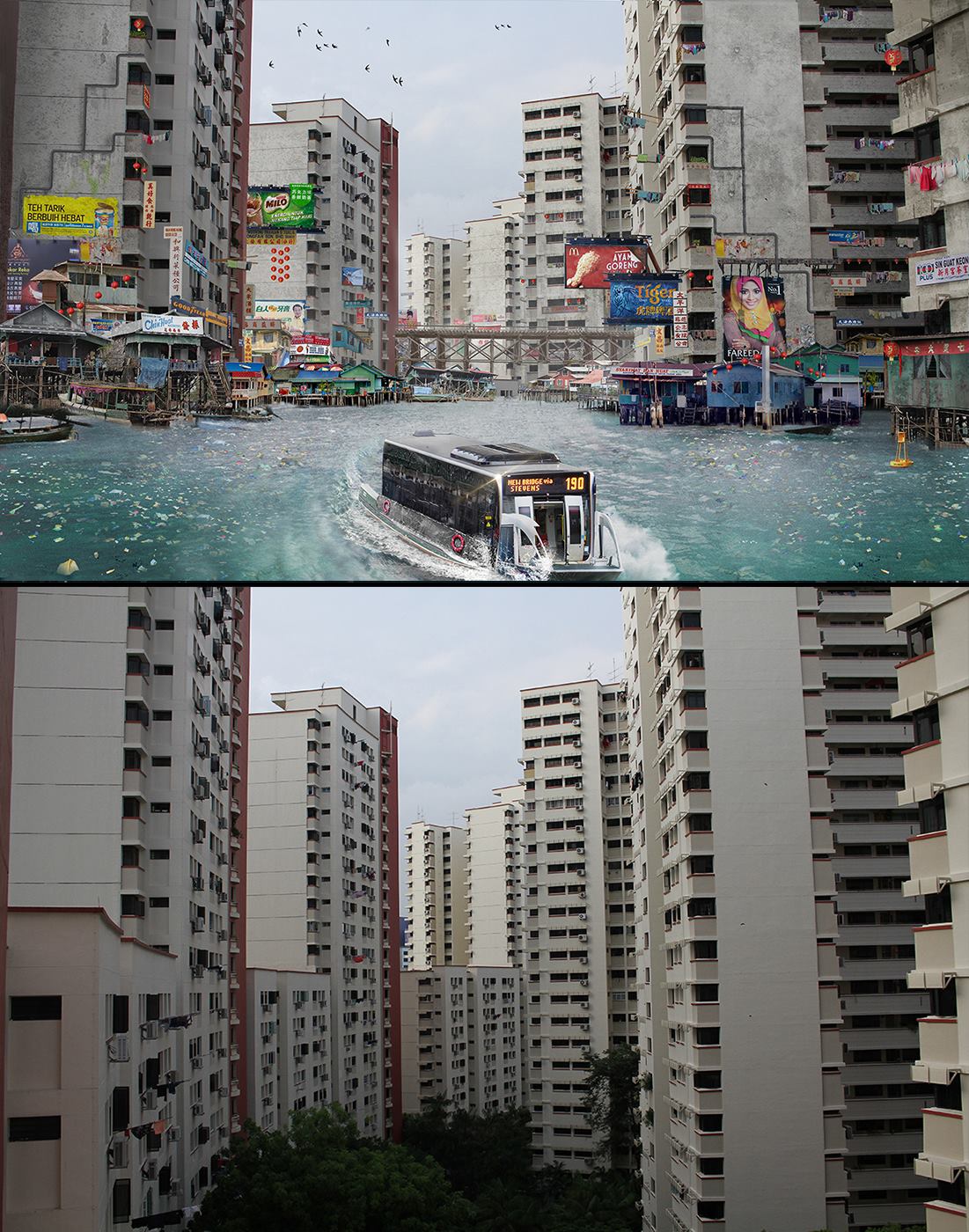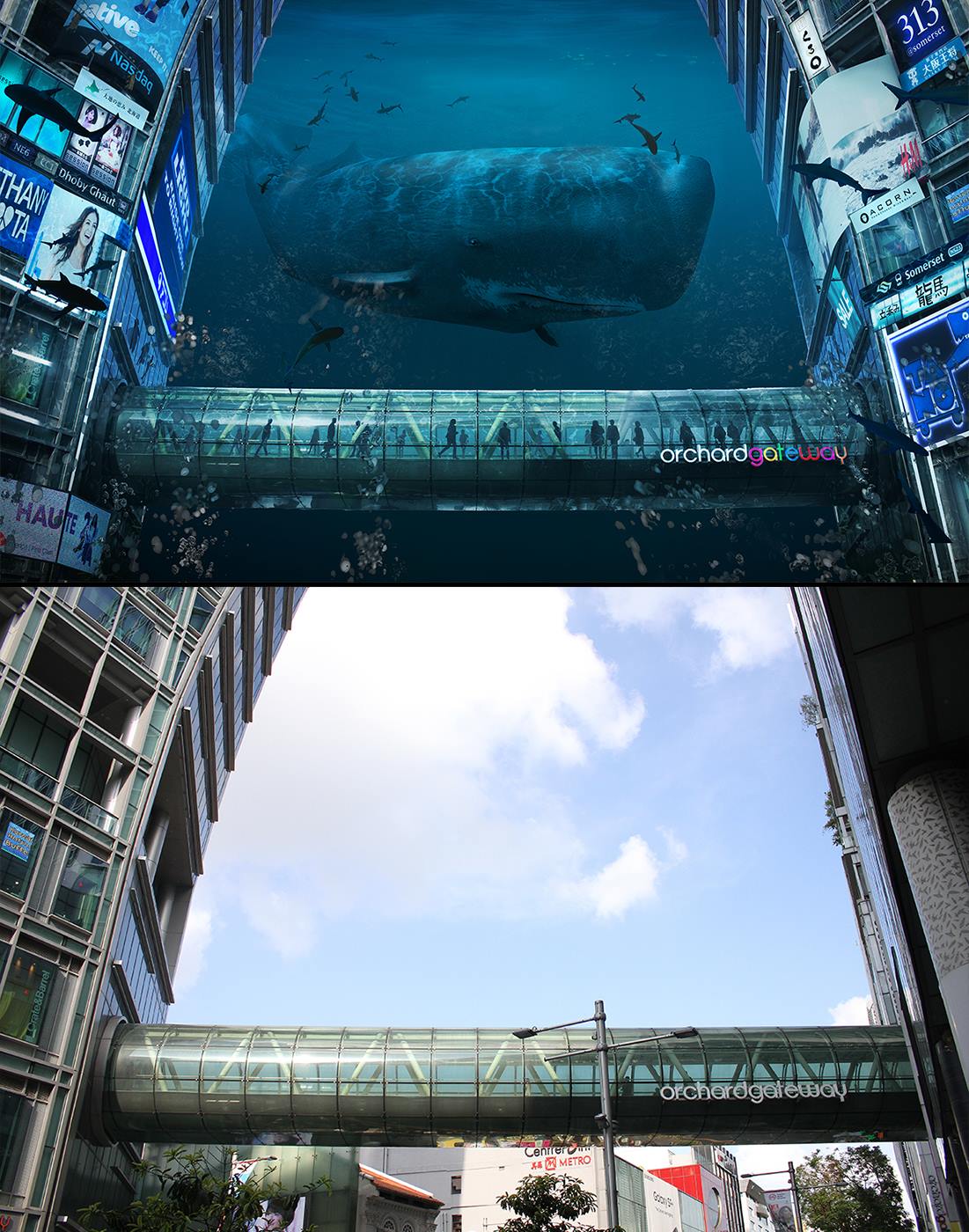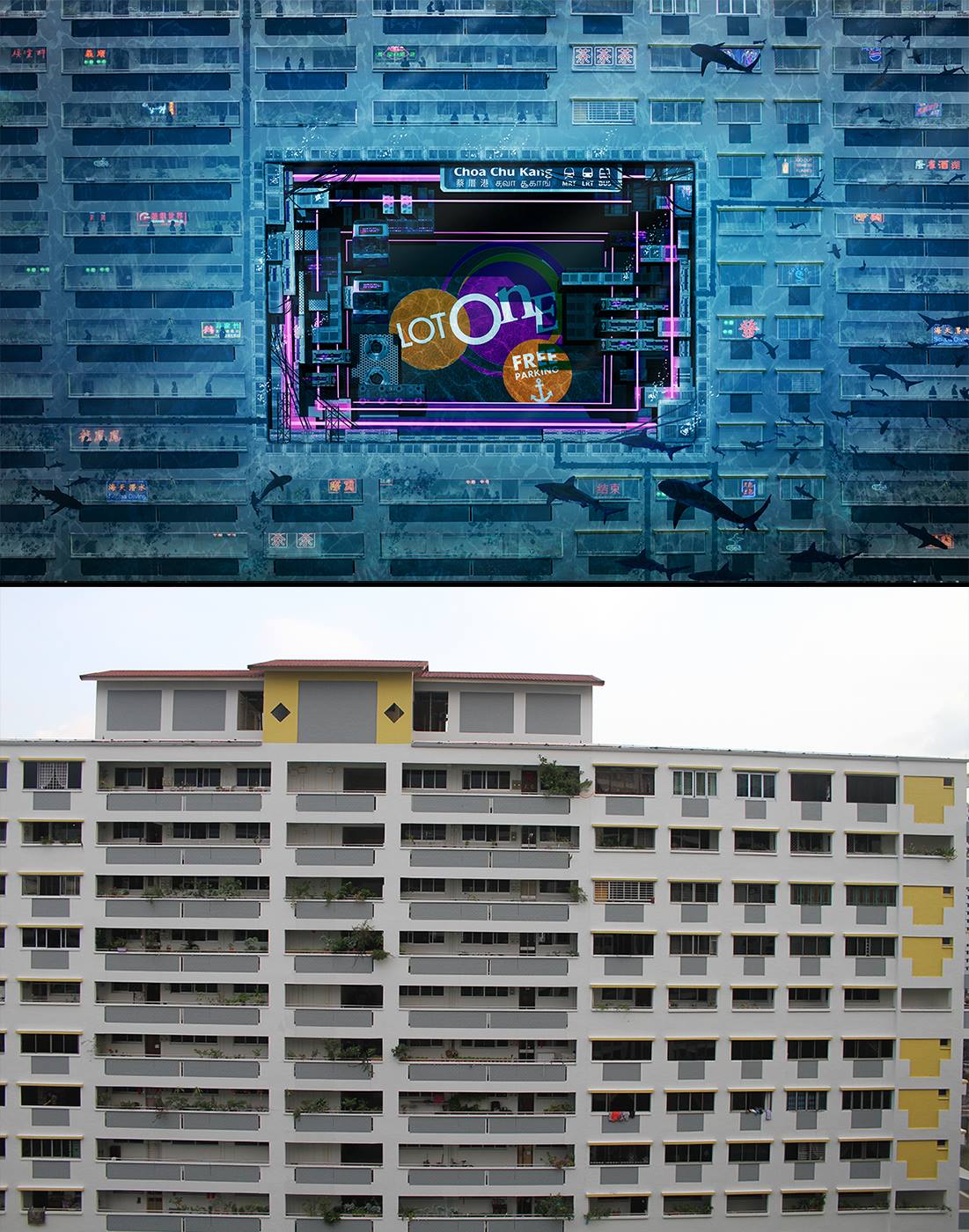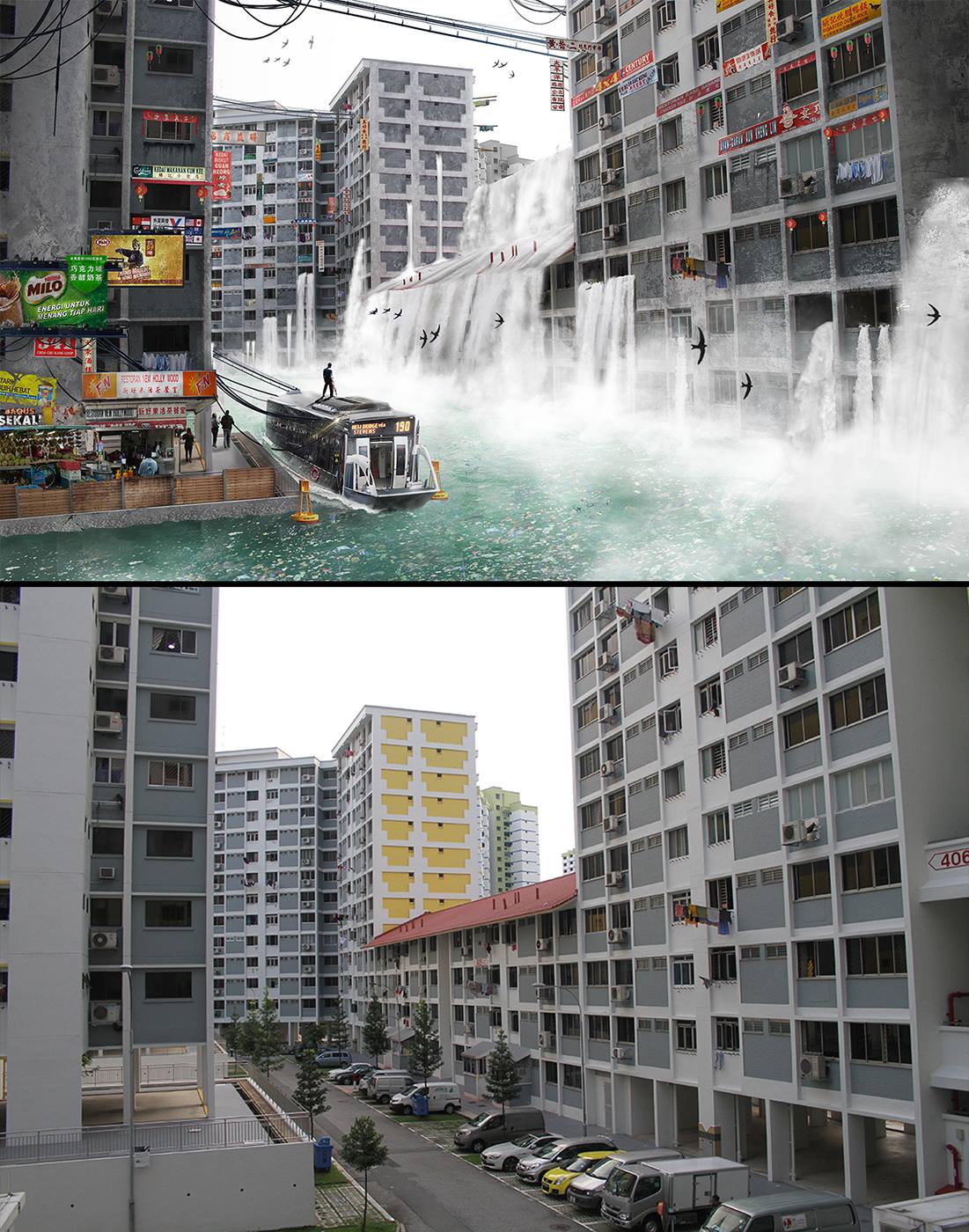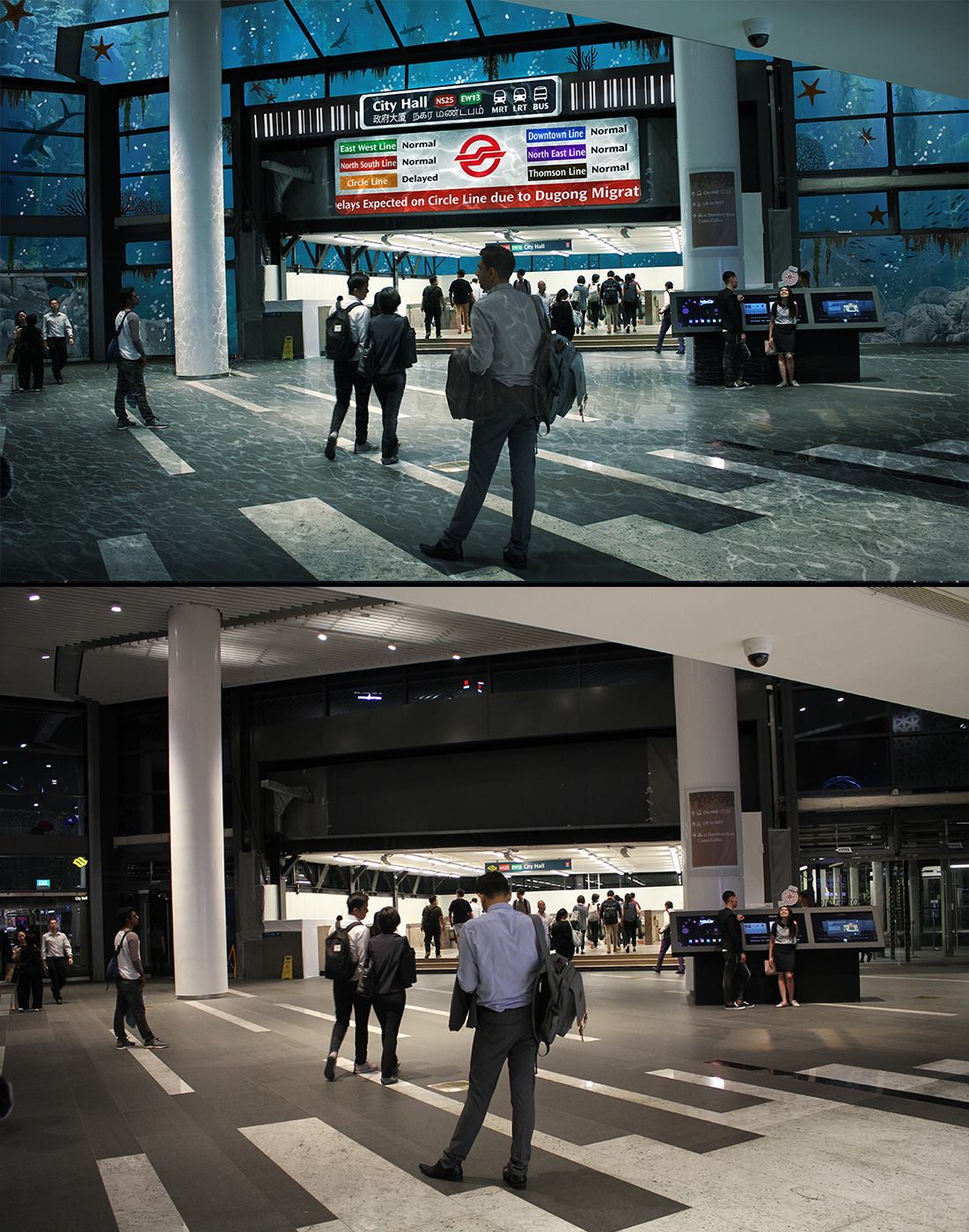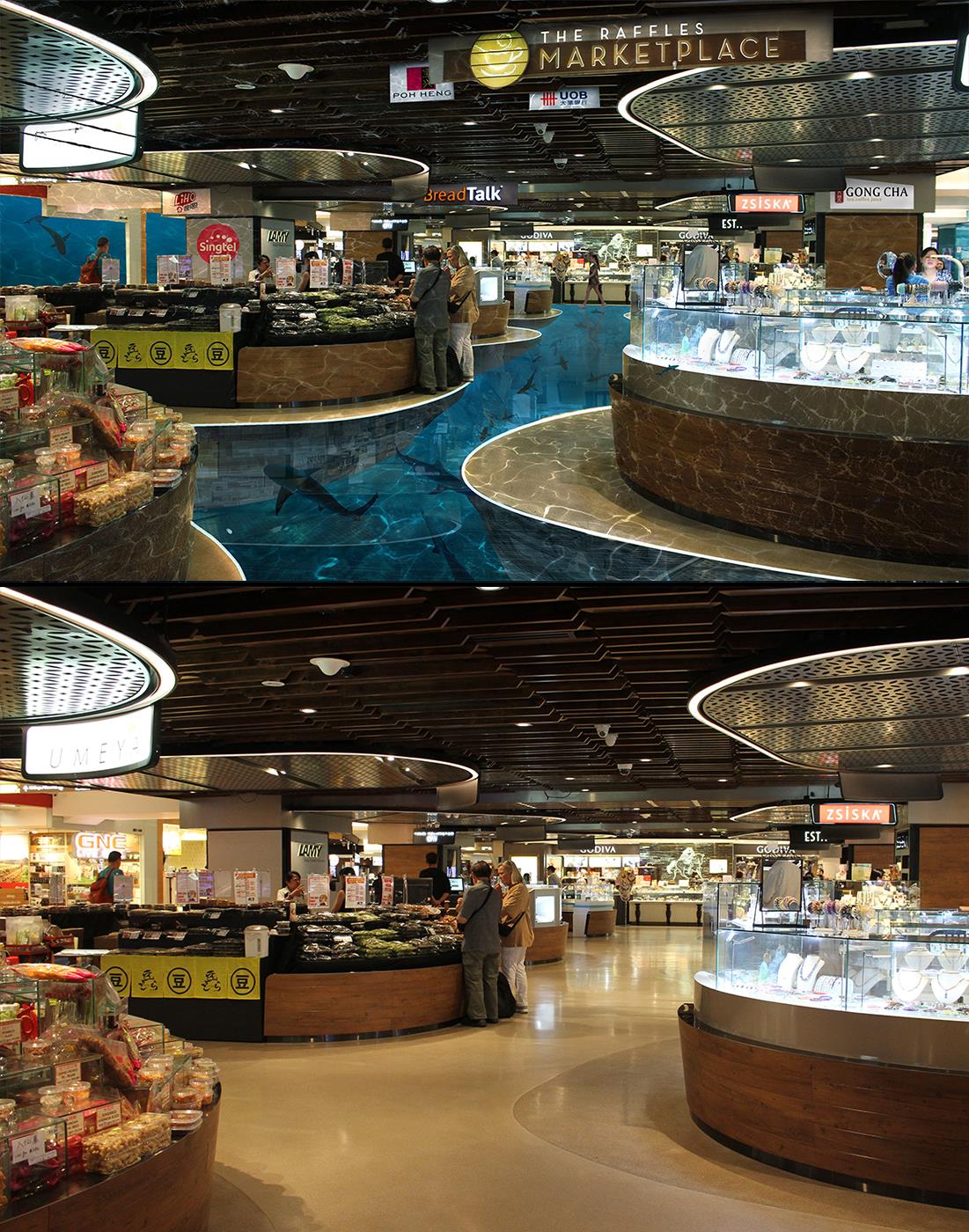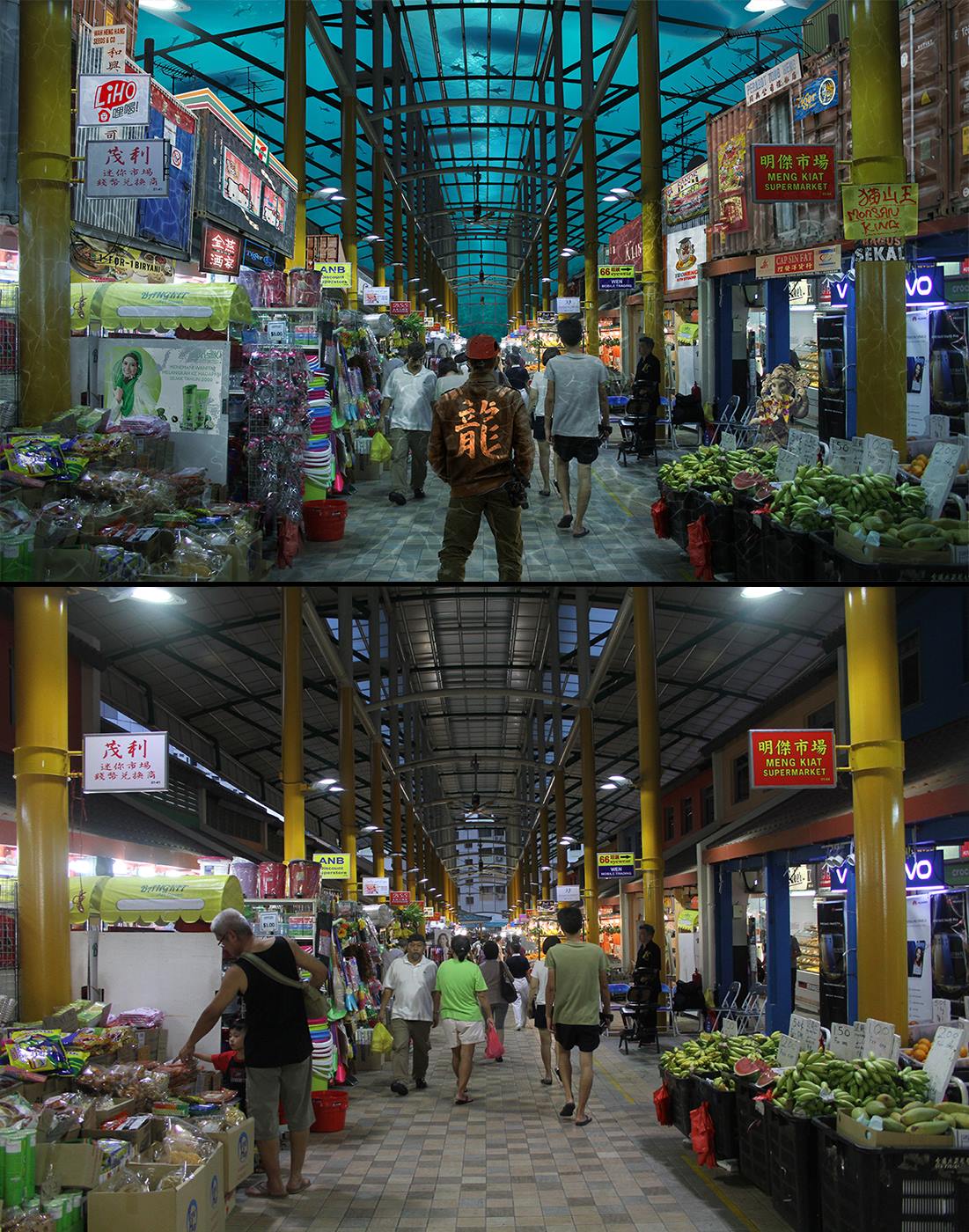 Lee has more ideas for this series, but he will be spending some time on other projects that are not Singapore-related for the time being.
Here are some of his other works that you can find on his Instagram page, like this pretty cool semi-self portrait:
Or this digital render of an orc:
How about a rather realistic depiction of a dinosaur crossing the [email protected]:
You can view Lee's dystopian underwater Singapore series on Facebook here:
All images courtesy of Sean Lee
If you like what you read, follow us on Facebook, Instagram, Twitter and Telegram to get the latest updates.