A new Singaporean card game, The Singaporean Dream, is launching a Kickstarter campaign on May 26.
It hopes to raise S$10,000 so that the board game can be put into mass production.
What is the game about
The satirical card game is for two to six players of drinking age.
It is currently only available at local board game cafes, where it has been popular with gamers.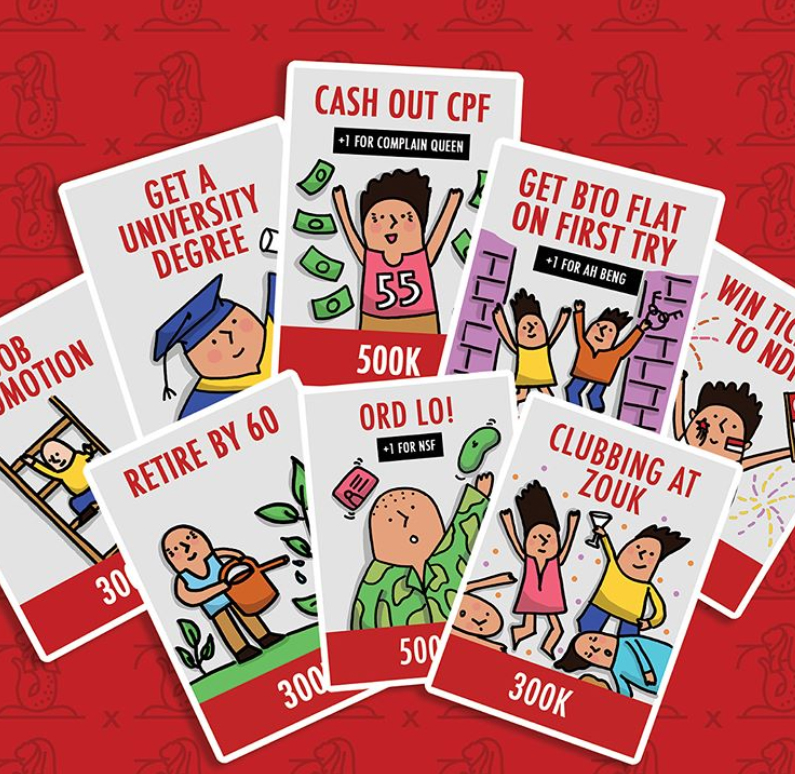 The party game is the brainchild of Theresa, the game's sole creator and illustrator.
The game is supposed to be a reflection of the pressures her fellow Singaporean millennials face.
How to play
• The objective of the strategy game is for players to collect as many "Dreams Cards" as they can.
• It is a game about sabotage and stealing your friend's dream.
• Singaporean dreams include "Win tickets to NDP", "Retire by 60" and "Clubbing at Zouk", plus other prized achievements sought after by locals.
• Players begin by picking characters, including "Complain Queen", "Aunty", and "Ah Beng", each with their own benefits.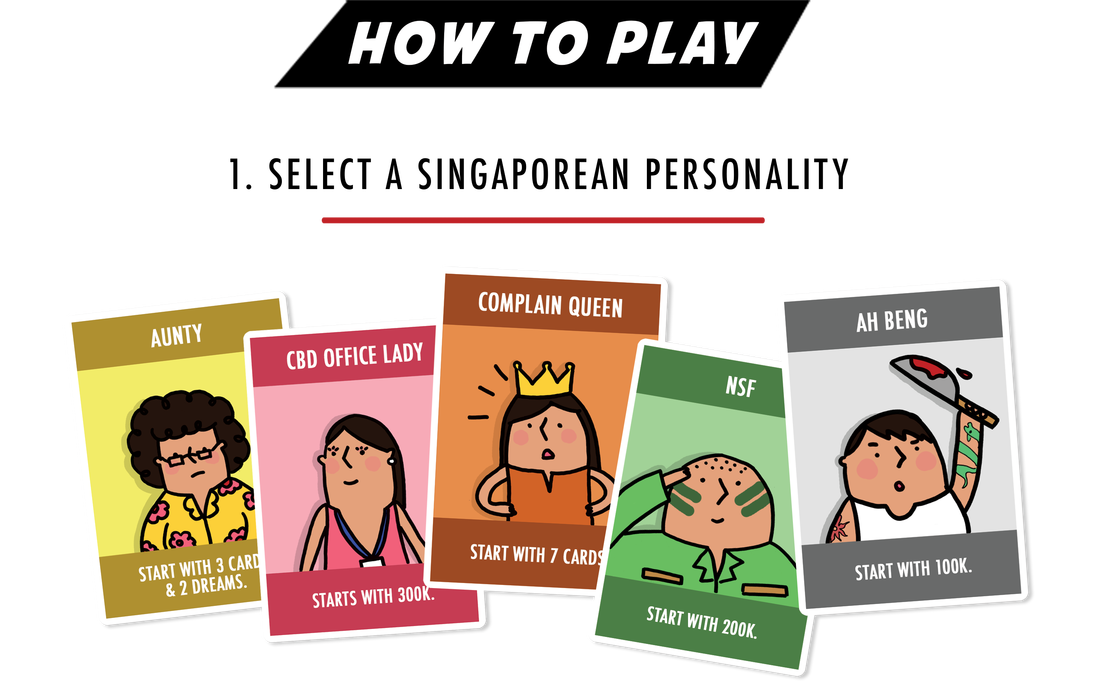 • "Singaporean Dreams" are expensive and players will have to buy them with "Cash Cards".
• Otherwise, they can also acquire dreams by playing action cards -- two of which are drawn on each turn.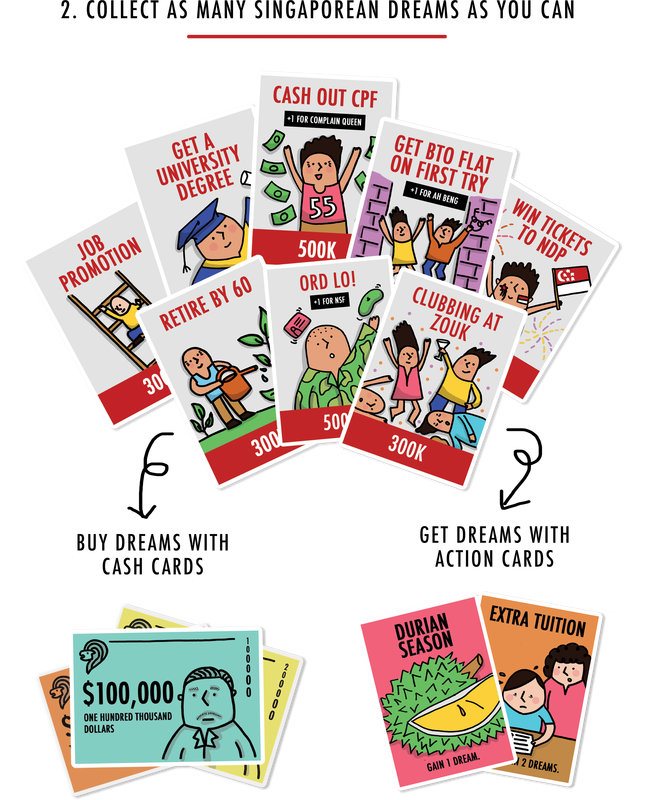 • Action cards can earn players "Cash Cards" (through "Date an Ang Moh" or "GST Voucher") and "Dream Cards", as well as allow players to steal cards from other players.
• The game will continue until all the Dream Cards run out, and the player with the most Singaporean Dreams wins.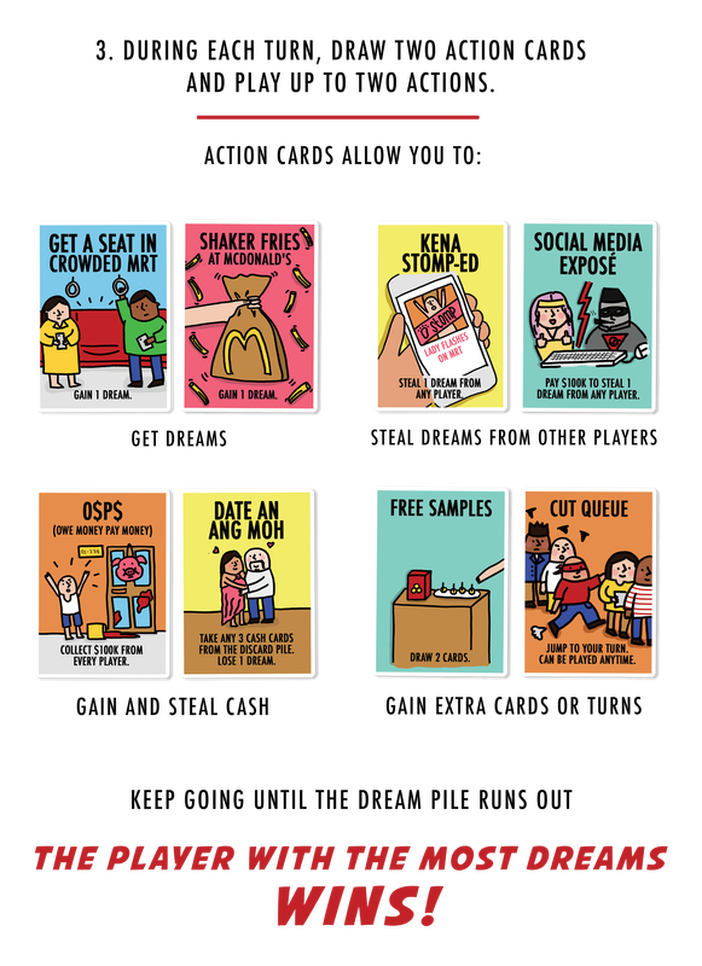 Inspiration
Theresa came up with the concept of the game during her university graduation.
It was when she realised her peers were embarking on milestones typical of Singapore society: Getting a well-paying job, getting engaged, and applying for flats.
Her weekend project then became a full-fledged card game after nearly a year.
[related_story]
The S$10,000 crowdfunding target will go into manufacturing, paying for prints, and recouping the costs.
Future expansions for the game are also being considered, such as a Malaysian edition.
If you like what you read, follow us on Facebook, Instagram, Twitter and Telegram to get the latest updates.