Here at Mothership, we have uncovered many Carousell stories, mostly (and sadly) involving scams.
Unfortunately, we're adding yet another to this list.
Carousell seller offering brand new Playstation 4 for only S$250
Facebook user Inaa Jane shared her boyfriend's Carouhell experience on her Facebook page.
Her boyfriend, who goes by the name Khai Tequillaz on Facebook, saw a Carousell listing by a user called "amirahong64585" for a brand-new Playstation 4 Slim 500GB going for the too-good-to-be-true price of 
S$250
.
This listing, as if it's not incredible enough, claimed to include the Fifa 18 game in addition to 10 other free games, as well as two free controllers.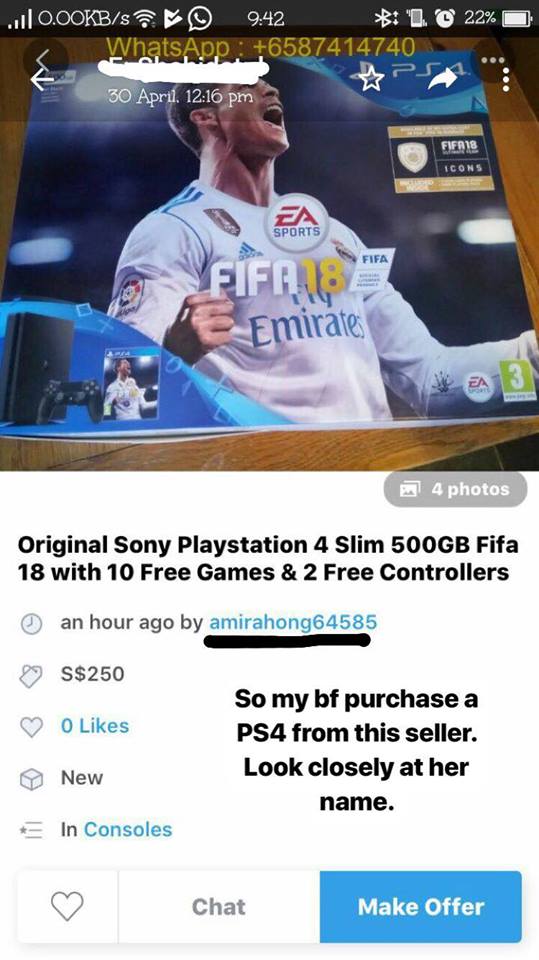 At this juncture, we should add that the regular retail price of a PS4 Slim 500GB happens to be in the region of S$449. And it comes with just one controller. And no games.
Seller has to open new account for money to be transferred
According to Jane's account, Khai was swayed by the cheap price listed and contacted the seller via WhatsApp on May 10.
Interestingly, the seller mentioned that she has to open a new account for the transfers to proceed.
What should've made the entire deal even fishier is the seller's promise that the goods Khai was to buy would be delivered to him within a three to five-hour period — no matter the day or time, it seems. Only slower than Amazon Prime Now.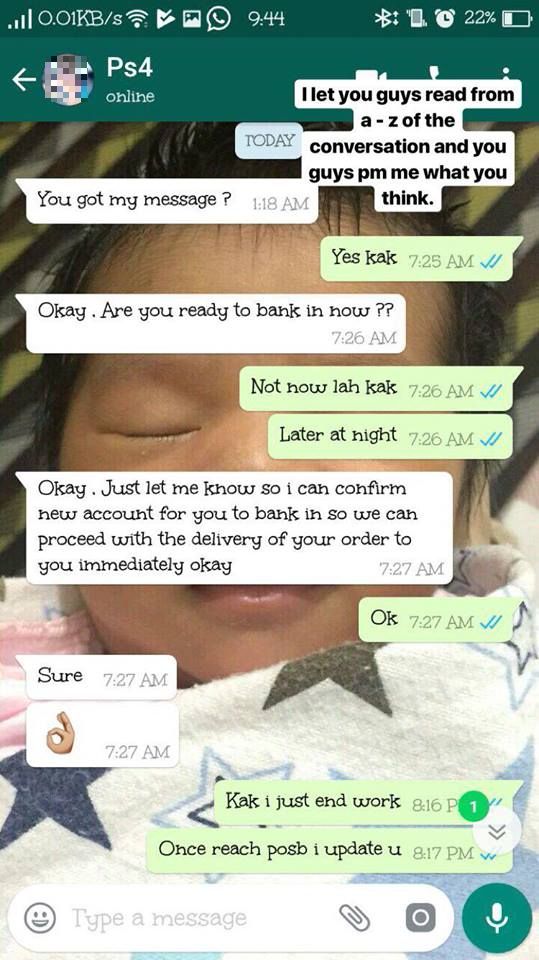 8.23pm: S$250 transferred to Carousell seller
Khai then sent S$250 to an account named E-Gadget Mini, the name of the seller's account that was sent to him.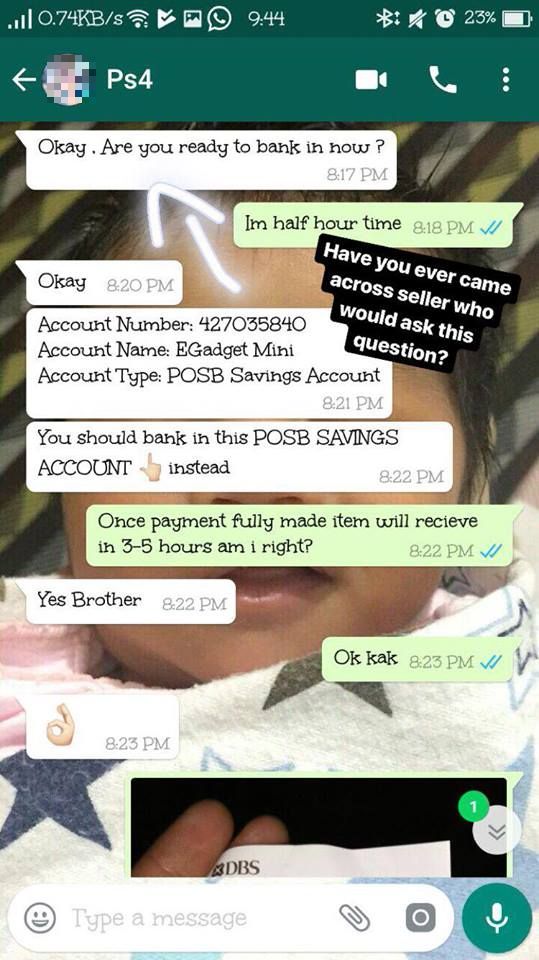 Some games picked by buyer does not even exist
In the following screenshot, the seller asked for a confirmation of the games that he had ordered.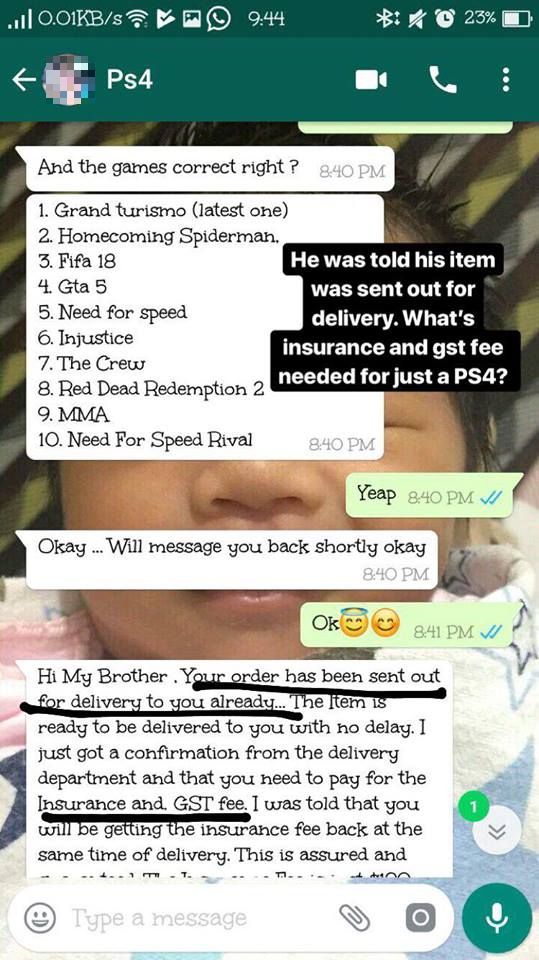 "Homecoming Spiderman", however, does not even exist while "Red Dead Redemption 2" will only be released in October 2018.
8.45pm: Asked to pay additional S$197 for insurance and GST
Less than five minutes later, Khai received another message from the seller asking him to pay an additional S$197 - S$190 for "insurance" and S$7 for "goods and services tax" — the latter of which is funny if you think about it, because GST should be 7 per cent of the cost of a product, and the PS4 unit costs S$250: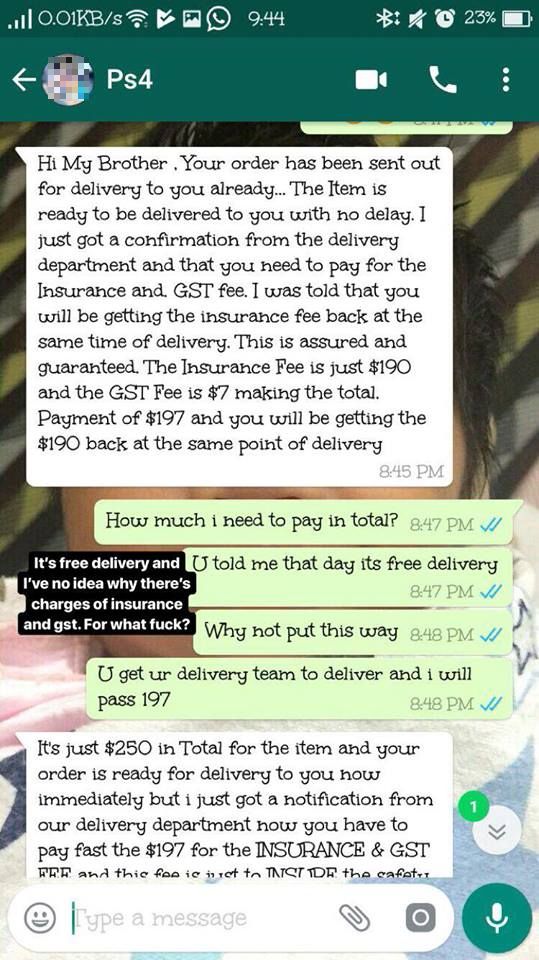 Unconvinced, he tried to ask if he could pay the S$197 in cash upon receipt of his PS4.
However, claimed the seller, the money he paid upfront on insurance will be returned in full together with the items.
And this is where we interrupt with a public service announcement:
GST can only be collected by GST-registered businesses
In case you didn't know, only GST-registered businesses can charge GST.
We did a quick check on the Inland Revenue Authority of Singapore's (IRAS) website and found out that E-Gadget Mini is not a GST-registered business.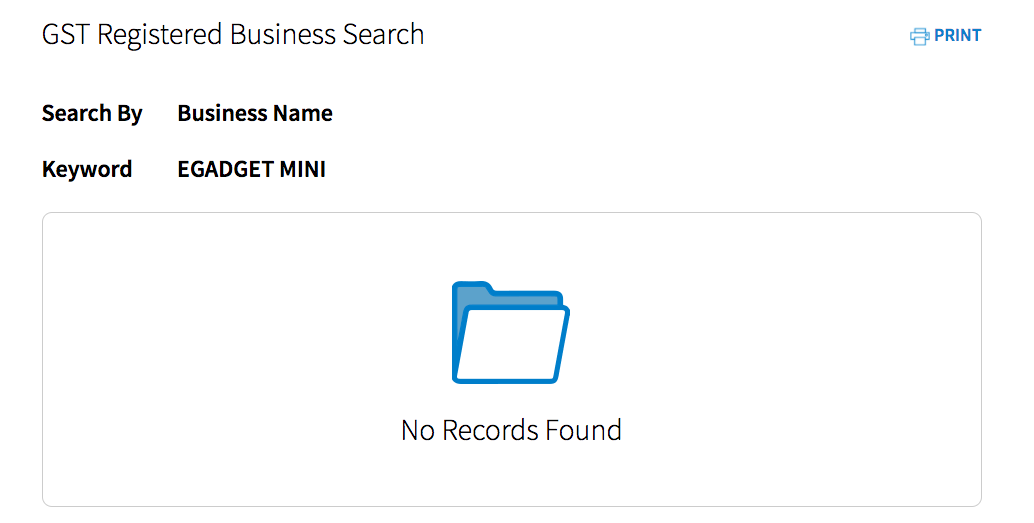 We also checked with the Accounting and Corporate Regulatory Authority (ACRA)'s directory, and it seems like "E-Gadget Mini", as well as a host of iterations of that name, turns up nothing; ergo, the seller's "company" is not even a Singapore-registered business entity.
8.49pm: Told to "bank in fast" in order to avoid delays
The seller reiterated that Khai must transfer the additional money immediately as that was the "only delay" holding the delivery back.
She even gave Khai a "100% assurance" that the S$190 spent on insurance will be returned upon delivery.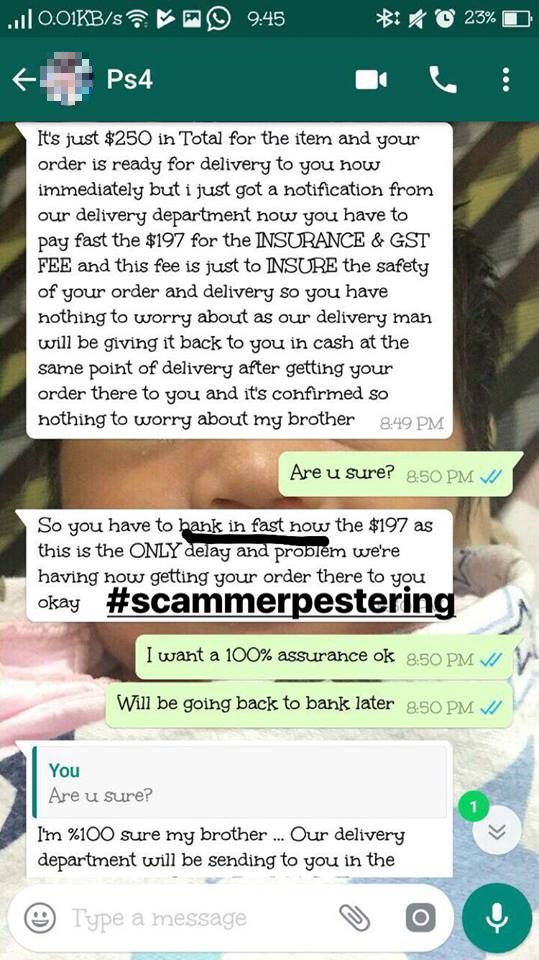 The seller also said she will be sending an "invoice" to serve as confirmation: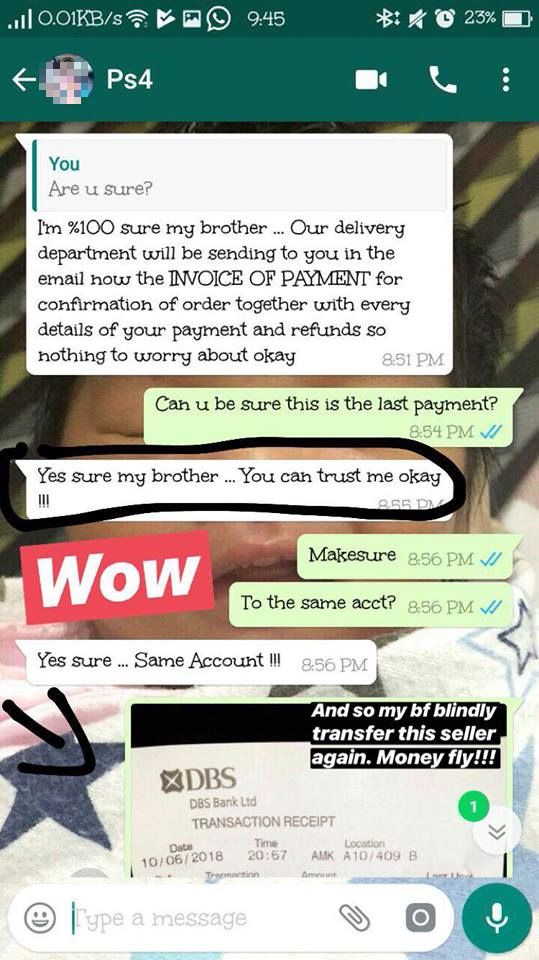 And you know, in the event this appears dodgy in any way at all, the seller added that there's "nothing to worry about" and reaffirmed that she can be trusted (because all trustworthy people say that).
Thus Khai transferred the S$197, in addition to the S$250 he had already paid.
This makes it a total of S$447 that he has already forked out.
9.19pm: Asked to make another
 

payment for "customs clearance"

Barely half an hour later, the seller advised Khai to make a "customs clearance" payment of S$248 in order to avoid "additional demurrage security delay charges".

She then explained that she too just got wind of the additional payment and told Khai that the accumulated S$445 (customs clearance + insurance cost and GST) will be given to him by the delivery man.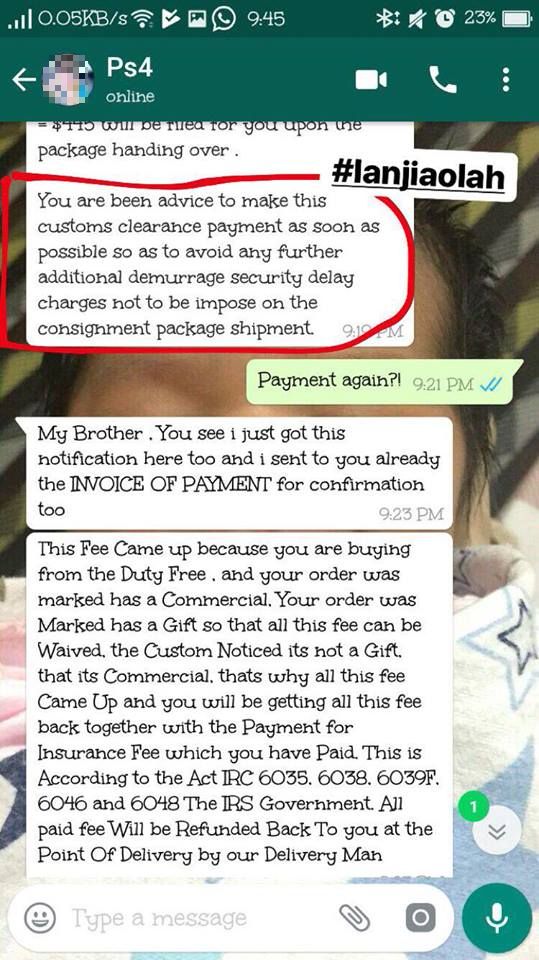 Address in invoice does not exist
By this point, the seller, as she promised, had sent an invoice via a WhatsApp image.
The amusing thing is, and one thing Khai sadly wasn't aware of at the time, the address written on the "invoice" is a fake one.
In fact, the postal code given corresponds to 60 Airport Boulevard, and not number 61, which was stated on the invoice: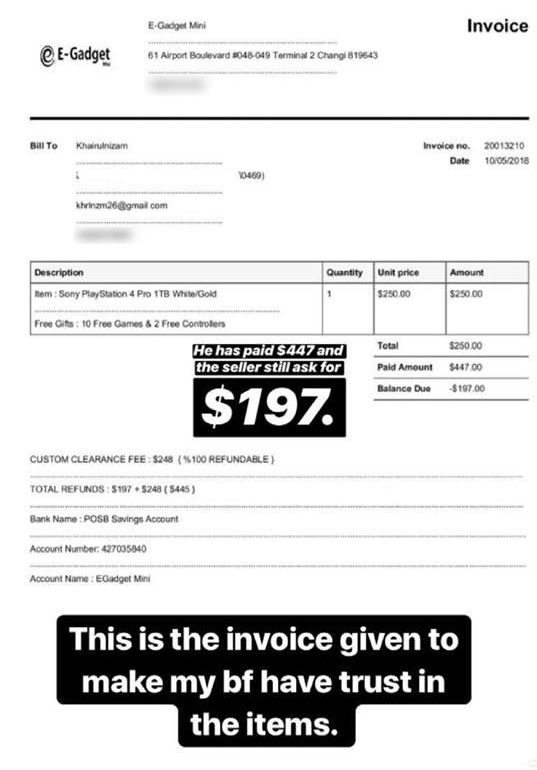 (Here, Khai's girlfriend made a mistake in this screenshot — the S$447 Khai had paid includes the extra S$197, so the additional amount the seller was seeking from him was S$248.)
And here's another odd thing: the invoice states that Khai had purchased a PS4 Pro 1TB instead of the PS4 Slim 500GB, which was the original item on the Carousell listing.
A PS4 Pro 1TB, by the way, that also comes with just one controller, typically goes for about S$599 at authorised retailers.
Also, according to Google Maps, 61 Airport Boulevard is a road leading to Changi Airport.
Request for refund denied
Finally sensing that something was wrong, Khai told the seller that he wanted a refund.
However, the seller wouldn't return his money, explaining that "they" can only make refunds "of orders that has been delivered to customers already but not confirmed what they are looking to buy". Whatever that means.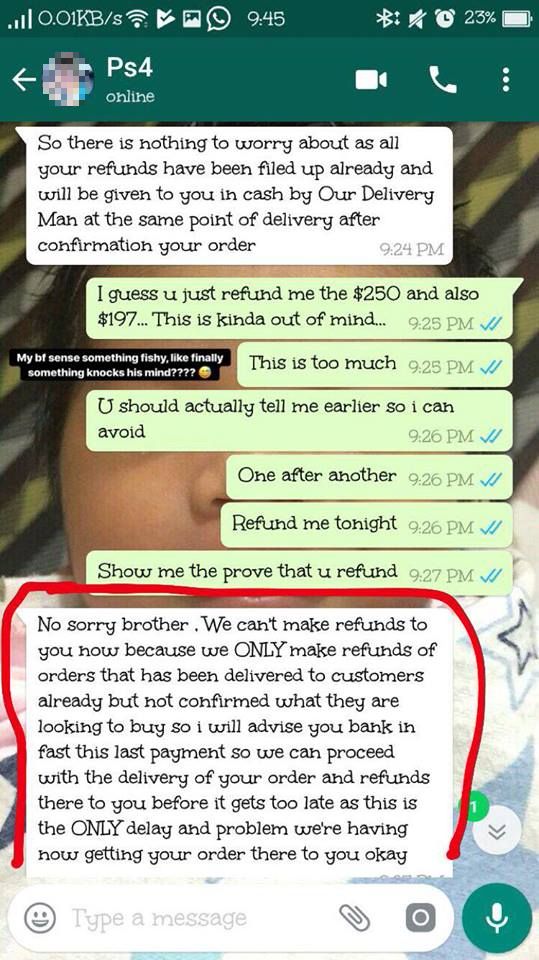 The seller also guaranteed that the shipping manager promised that this was the "last payment" and "ONLY" delay, which was the same thing she previously said when she asked for the insurance payment.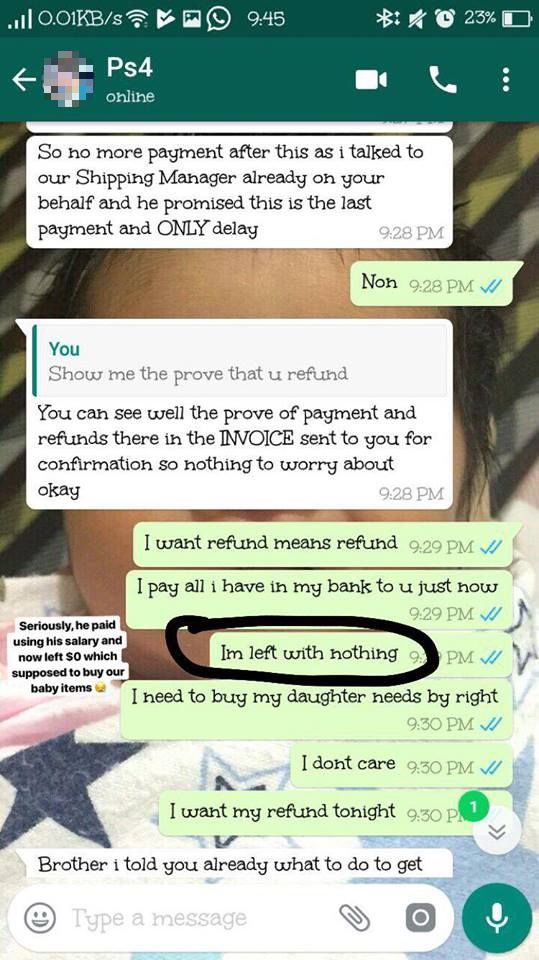 Khai told the seller that he had no more money left, and he needed the money to buy baby items for his daughter.
[related_story]
Limited time to transfer money
The seller insisted that Khai make payment "before 18 minutes" to avoid late charges, claiming it wasn't her fault as she too was only "just" notified of the required "last payment".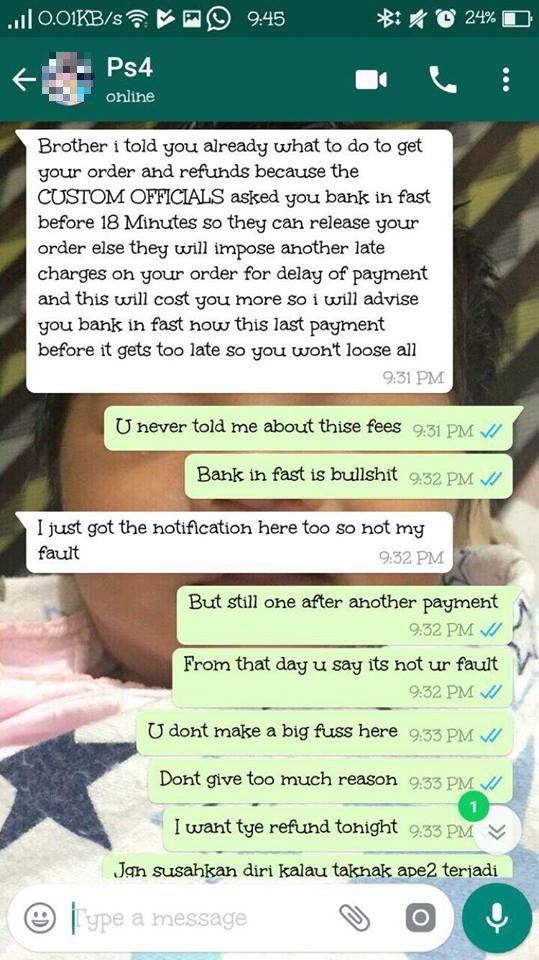 Translation of the last message from Khai:
"Don't make things difficult if you don't want anything to happen to you."
9.38pm: Seller sends images of her IC
For some unexplained reason, when Khai insisted on getting a refund, the seller sent images of what is supposedly her identification card: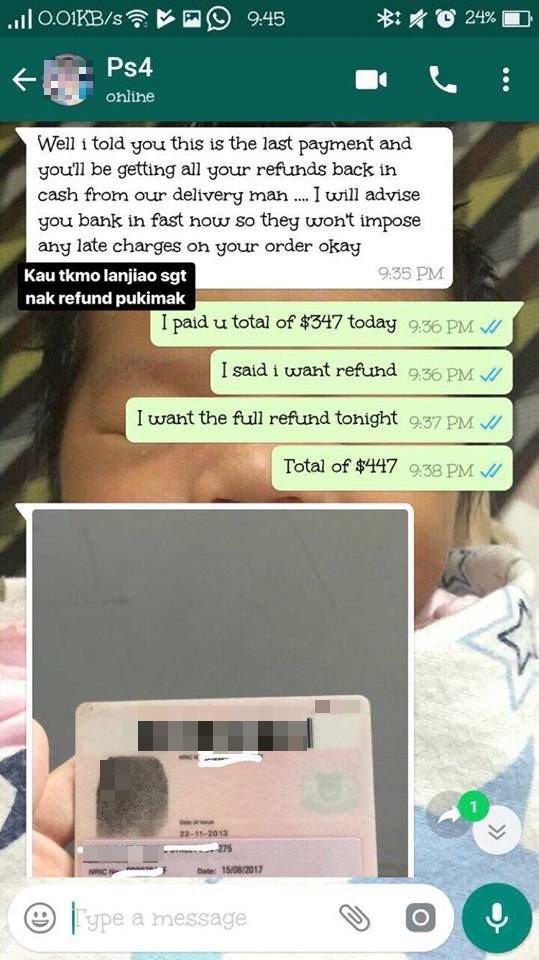 The seller then threatened Khai that she will stop replying to his messages unless he transferred the money in the next "11 minutes".
After the following screenshot, Jane claims the seller blocked Khai on WhatsApp.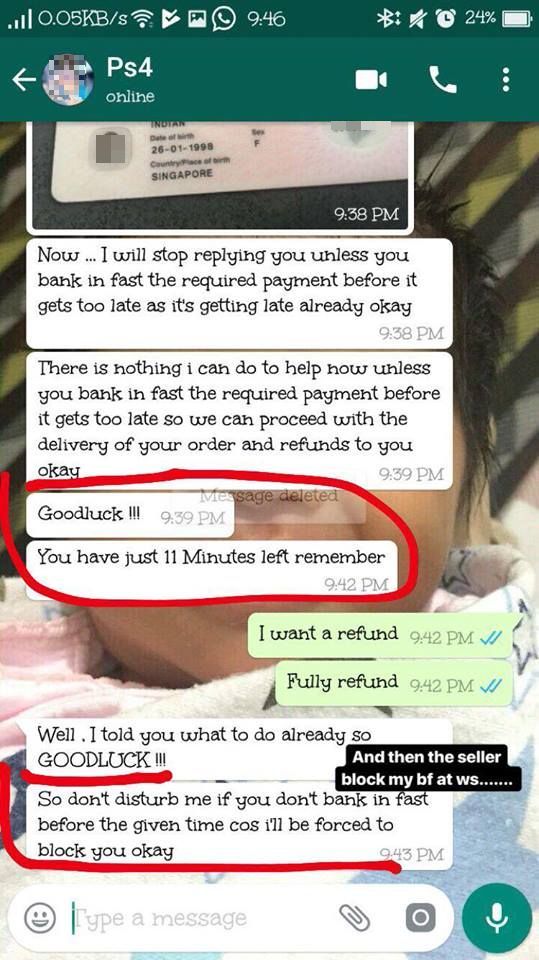 IC does not belong to Carousell seller
Thanks to Instagram, Jane managed to track down the person she believed to be the seller by using her IC information.
She got a friend to send a message to the Instagram user — where, to her dismay, she discovered the IC belonged, of course, to somebody else whose identity was stolen: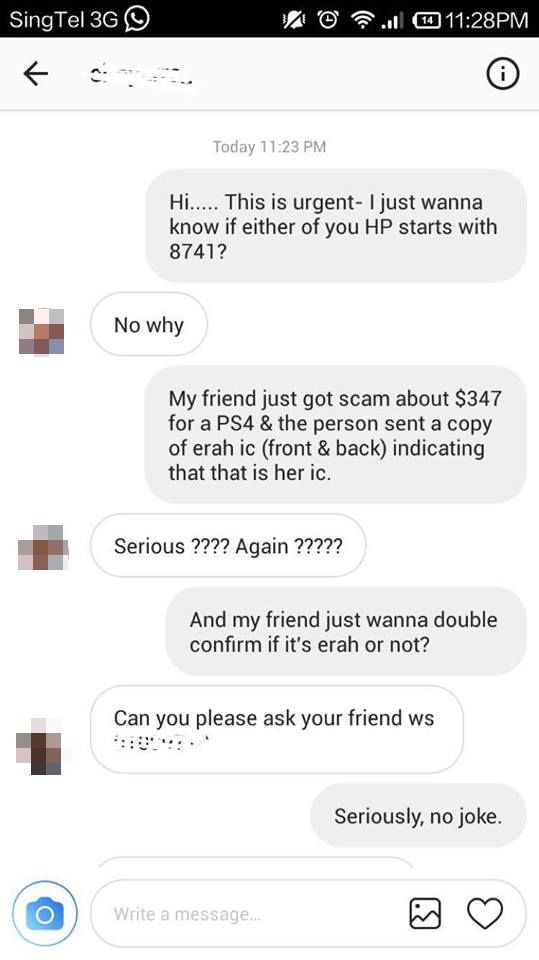 Inaa then contacted the owner of the IC and found out that the same Carousell seller had initially offered a home-based job to her and blocked her on WhatsApp after she sent photos of her IC.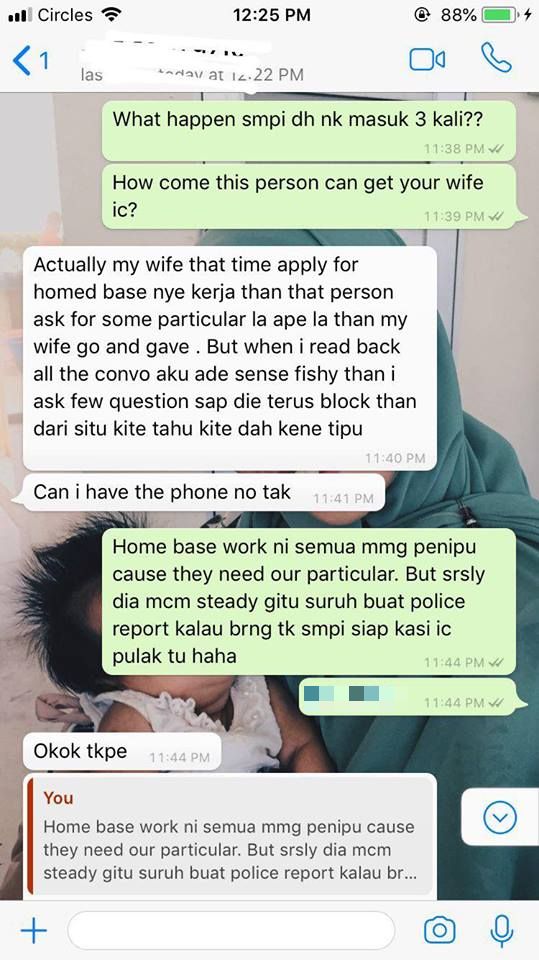 Here's a translation of the text messages:
Sender (green speech bubbles): "What happened that this incident has repeated up to three times? How come this person can get your wife ic?"

Reply (white speech bubbles): "Actually that time my wife applied for home-based work then my wife go and give. But when I read back all the conversation I sensed that something fishy was going on. When I asked a few questions and got blocked, that's when we knew we were duped. Can I have the phone number?"

Sender: "Home-based work are usually scams when they ask for our particulars. But seriously, he was brave enough to tell us to call the police if the items are not delivered and even whipped out the identification card."
Similar experiences
Facebook users who commented on Jane's post also volunteered their views on this incident, with most of them pointing out the red flags: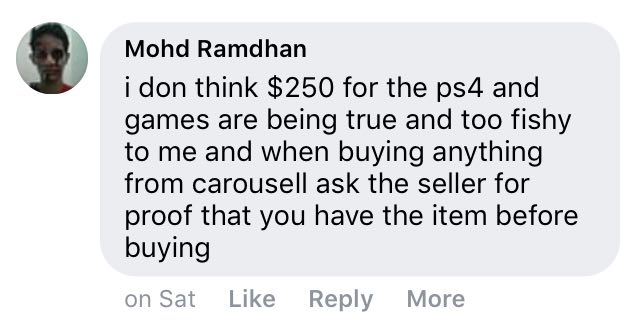 However, other users shared similar experiences with the same seller on Carousell.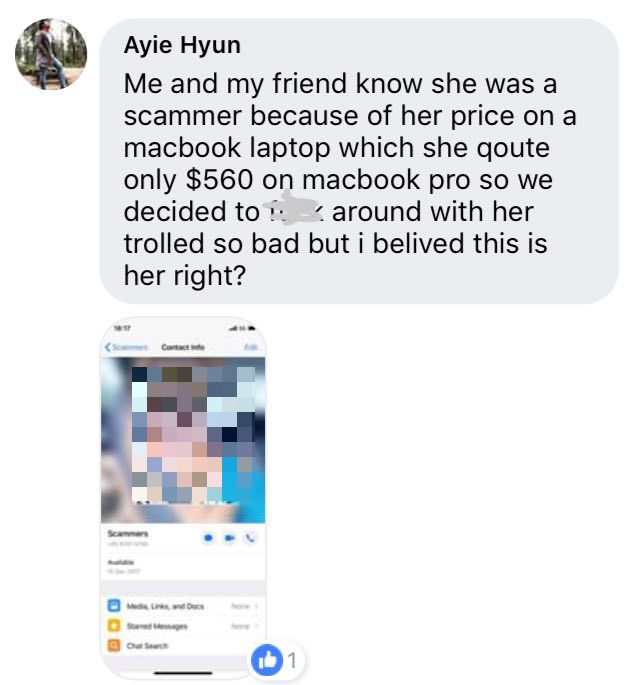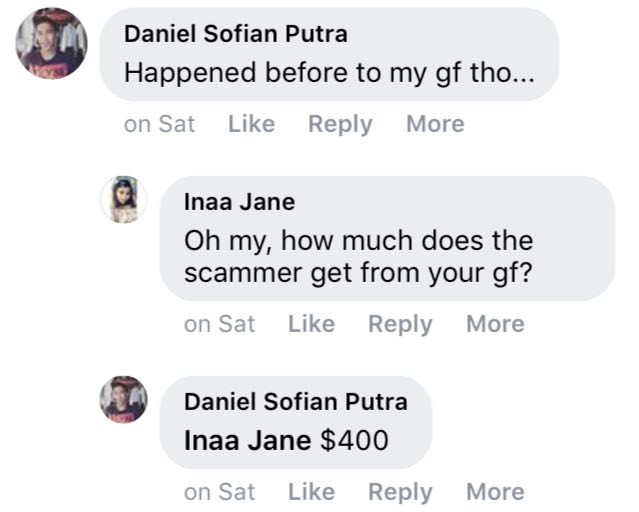 One Facebook user claimed the person behind the Carousell account was still making duplicate accounts despite the suspension of her original account: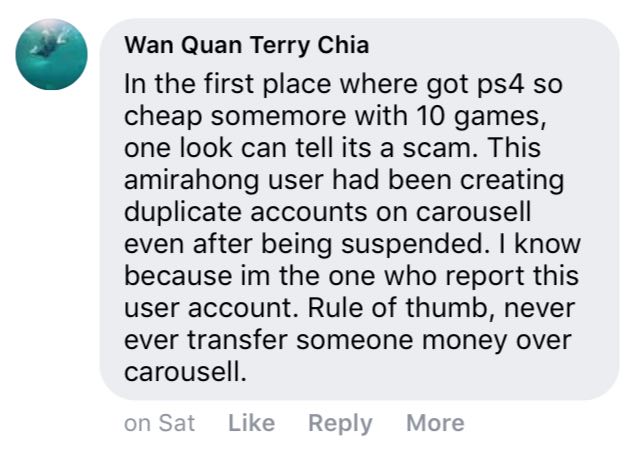 Meanwhile, a couple of comments shared advice on what to look out for when dealing with Carousell sellers, such as looking out for their reviews and to also request for "cash on delivery" orders just to ensure the authenticity of the sale.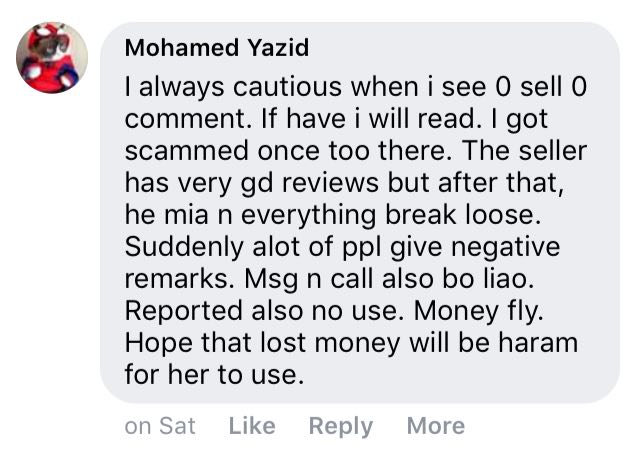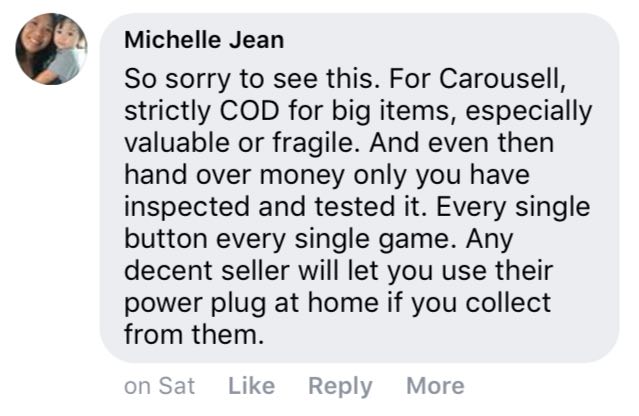 Maybe this will be a lesson for all of us to be cautious when doing online purchases and not be swayed by attractive price tags.
Top image via Inaa Jane's Facbook page
If you like what you read, follow us on Facebook, Instagram, Twitter and Telegram to get the latest updates.