The relative of a full-time National Serviceman (NSF) who passed away on April 30, 2018 in Changi General Hospital (CGH) is publicly demanding for answers to the tragedy.
These are her two posts:
Collapsed from training
Private (PTE) Lee Han Xuan Dave collapsed from heat injury during training on April 18.
In the morning of the training, Lee displayed signs of heat injury after an 8km fast march in Bedok Camp.
A Singapore Armed Forces medic attended to Lee immediately and he was evacuated to the camp's Medical Centre.
Lee, a Guardsman from the 1st Battalion Singapore Guards, was subsequently sent to Changi General Hospital and warded in the Intensive Care Unit (ICU).
His condition did not improve, but worsened during the hospitalisation.
He was pronounced dead at 1732hrs on April 30.
Message circulating online
The relative of the fallen soldier who is demanding answers about the tragedy had reposted a lengthy message that has been circulating online since April 30.
It provided an account of what happened, allegedly from the perspective of a fellow soldier.
We have reached out to Mindef for comment.
Rumours circulated on HardwareZone, Reddit
However, rumours and inaccurate information that claimed that Lee had died as early as Saturday have been posted on online forums such as Reddit and HardwareZone.
These anonymous postings also made wrong claims that he was in the ICU for eight days.
One HardwareZone forum thread even quoted the original post, which has since been deleted, as saying:
"Heard about this from a friend

The previous day he was turned out by his nsf sergeant

The next day there was a fast march

He collapsed from heat stroke and was in a coma for 8 days

He passed away last night

RIP

19 yr old JC grad"
[related_story]
False confirmations
One Reddit user even said he could "confirm" the news, "because of some new measures in place by camp MOs (medical officers)" claiming that the NSF had earlier said he was not feeling well, but was spurred by his commanders to go on with the training: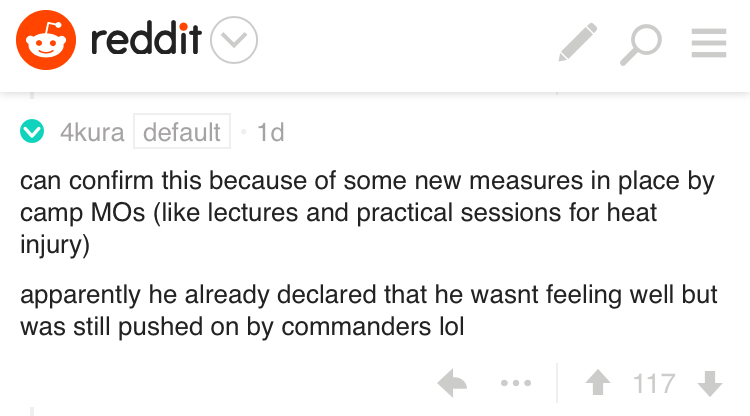 An exclusive deal for Mothership readers:

If you like what you read, follow us on Facebook, Instagram, Twitter and Telegram to get the latest updates.