Malaysia's new economic affairs minister Azmin Ali said on Tuesday, May 22, that Malaysia will fully review mega projects awarded by the previous administration.
The projects include the Kuala Lumpur-Singapore High-Speed Rail (HSR) and the East Coast Rail Link (ECRL).
Azmin is one of the 13 Cabinet ministers newly sworn in before the Malaysian constitutional king on Monday, May 21.
He also spoke with Singapore's Minister for Trade and Industry Chan Chun Sing over the phone for about 10 minutes on the same day, saying in a tweet that he looks forward to "working together on matters of mutual concern."
Chan also congratulated him on his latest appointment on a Facebook post.
Revisit all mega projects
According to Malay Mail, Azmin said that Malaysia's Economic Planning Unit (EPU) will review the projects as part of the government's austerity move.
He added that even if acceptance letters have already been issued, projects deemed not critical to the public will most likely be axed.
[related_story]
Mahathir alarmed at country's debt
According to Bernama, Azmin also said that most of the projects were "off budget" and that they are "not under or part of the national budget."
He added that the tender process was "not open or transparent".
Malaysian Prime Minister Mahathir was reportedly alarmed at the country's RM1 trillion (S$337bn) debt, which explains the new administration's decision to review the projects.
During his election campaign, he had pledged to review all foreign projects signed under the former Najib administration for the benefit of the nation and the Malaysian people.
He also claimed that the HSR project was only agreed by Najib to score political points among Malaysians.
KL-S'pore High-Speed Rail
Singapore and Malaysia signed a legally-binding bilateral agreement for the project on December 13, 2016.
The HSR was scheduled to start building in 2019, with operations beginning in December 2026.Its cost was estimated by Francis Hutchinson of ISEAS-Yusof Ishak Institute to be between S$20 billion to S$25 billion.
If completed, it will run from Singapore's Jurong East Terminus to Kuala Lumpur's Bandar Malaysia Terminus, with 8 stops in between.
It will also operate between 6am and midnight daily.
The entire trip is estimated to shorten travel time between Kuala Lumpur and Singapore to just 90 minutes.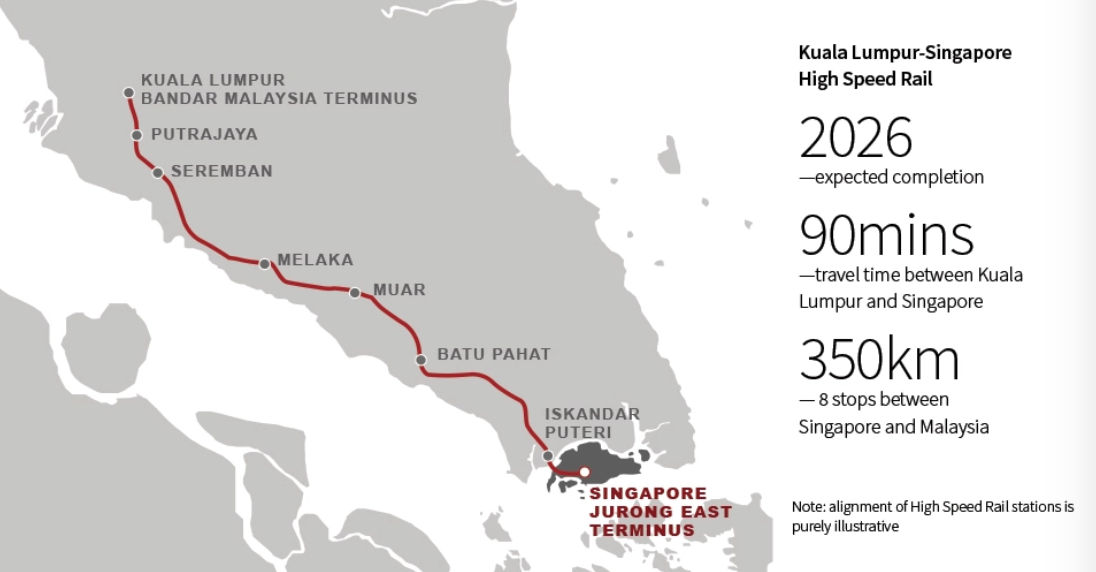 An Advance Engineering Study for the design of the Singapore portion of the HSR infrastructure has been awarded. A Joint Developing Partner has also been appointed to help manage the project.
However, the deadline for the primary tender of the HSR has been pushed back from June 2018 to December 2018 at the request of bidders, including Japan and China.
Top image via Chan Chun Sing/FB
If you like what you read, follow us on Facebook, Instagram, Twitter and Telegram to get the latest updates.