May 1 is Labour Day, a day many Singaporeans only know it has something to do with work, or the lack of.
And the reason many people don't ponder on the origins of this holiday in Singapore is because not many people like work and thinking about it is also work.
Except politicians. Which is why they work on May Day every year, where they approach workers, talk to them and find out about their lot in life or anything that needs improving.
Here are 8 things you did not know about the holiday where you're not obligated to do anything (e.g. visit any relatives or spend time at a place of worship), unless you are a unionist, a politician or both:
 Source: NTUC website
1. Workers and unions used to hold rallies on Labour Day
According to former President S R Nathan's book, Road to the Presidency: "In the early days of Singapore, May Day rallies had the atmosphere of a persecuted sect preparing for another round of war.
S Rajarathnam, then Minister of Labour in 1968, said May Day rallies were intended as demonstrations of worker's strength and solidarity.
Militant speeches and militant attitudes were necessary as this was a time when organised labour had to struggle against the colonial government.
2. The Istana is open to the public on Labour Day
S0urce: Wikipedia
All Singaporeans and Permanent Residents can enter the Istana Grounds for free.
The Istana will be open from 8.30am to 6pm and it used to feature a slew of activities, such as guided tours, face painting, a symphonic band performance and a display of miniature horses from the zoo.
3. Championing of productivity has been done ad nauseum by the legends of Singapore politics
Dr Toh Chin Chye (Source)
All the way back in 1966, then-Deputy Prime Minister Toh Chin Chye's speech theme was to double productivity.
In 1981, then-President-to-be Devan Nair called for Singaporeans to increase productivity for higher wages.
This theme of productivity continued in 1984 to 1985, when the then-NTUC Secretary General Ong Teng Cheong called for a redefinition of the role of trade unions and the adoption of new concepts to strengthen the cohesiveness of workers in the company to raise productivity.
In 2018, it is likely politicians will continue pounding on the same drum.
4. It originated in Canada over 100 years ago
Source: Getty Images
Labour Day in Canada can be traced back to December 1872, when a parade was staged in support of the Toronto Typographical Union's strike for a 58-hour work-week.
The Toronto Trades and Labour Council held similar celebrations every spring.
On July 23, 1894, Canadian Prime Minister John Thompson and his government made Labour Day, to be held in September, an official holiday.
5. You couldn't wear white after Labour day
Labour Day was celebrated at the end of summer in the United States.
During the early periods of the 20th century in American history, wearing white was a symbol of the ruling elite.
While the working class, who could not afford a holiday, toiled through the summer -- presumably in dark coloured clothes because of the nature of their work -- the rich would be on summer vacation and white was the natural colour to wear during summers.
Thus, to signify the end of the summer holidays and that it was back to work for everyone, white was not worn after Labour Day.
Lucky for the PAP's men in white, this tradition did not carry over to Singapore.
6. There was a strike in 1986. It was sanctioned by Ong Teng Cheong. Nothing to do with Labour Day.
Anyway, the strike lasted for two days and was resolved.
7. On a related note, four of Singapore's presidents were involved in the Labour movement.
3rd President of Singapore: C.V. Devan Nair (1961 to 1965,  1970 to 1979)
 Source: Istana website
5th President of Singapore: Ong Teng Cheong, NTUC Secretary-General (1983 to 1993)
 Source: Istana website
6th President of Singapore: S R Nathan joined NTUC's Labour Research Unit in 1962 and was its Director until Jan 1966.
 Source: Istana website
8th President of Singapore: Halimah Yacob took on many roles, including Deputy Secretary General, Director of the Legal Services Department and Director of the Women's Development Secretariat during her time with the NTUC from 1978 to 2011.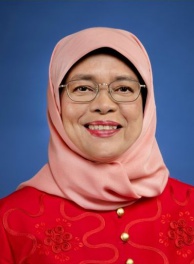 Source: Ministry of Communications and Information
8. The unions in Singapore get together on Labour Day and sing Solidarity Forever
Manchester United fans will be familiar with the tune, because it's the same tune as Glory Glory Man United.
The song is steeped in union tradition, with lines such as, "When the union's inspiration through the workers' blood shall run/ There can be no power greater anywhere beneath the sun".
[related_story]
Here's the one sung by the Americans:
"> " allowfullscreen="allowfullscreen" frameborder="0">
Here's Singapore's very own version:
"> " allowfullscreen="allowfullscreen" frameborder="0">
Top photo via
[Edit: A previous version of this article incorrectly stated that only three of Singapore's presidents served in the labour movement. We have updated this article with the correct information.]
An exclusive deal for Mothership readers:

If you like what you read, follow us on Facebook, Instagram, Twitter and Telegram to get the latest updates.