Over the weekend, you might have heard about the man who jumped onto the hood of a 72-year-old Grab driver's car.
He was since arrested:
And on Monday, May 7, Chee Chu Siong, who celebrated his 26th birthday hours before he allegedly jumped the car, was charged in court.
Mothership contacted the driver's son, Alan Koh, who informed us a person claiming to be friends with Chee got in touch with him, offering an apology on his behalf.
This was after Koh's post on Facebook, which contained a dashcam video of the incident, had gone viral.
Koh said the friend added that Chee was at the time also agreeable to paying compensation:
[related_story]
List of repairs needed
The elderly driver, surnamed Xu, previously estimated repairs to cost upwards of S$10,000.
However, after a service centre's diagnosis, the total quoted sum amounted to S$14,967.48.
Here's a picture of the invoice Koh shared with Mothership: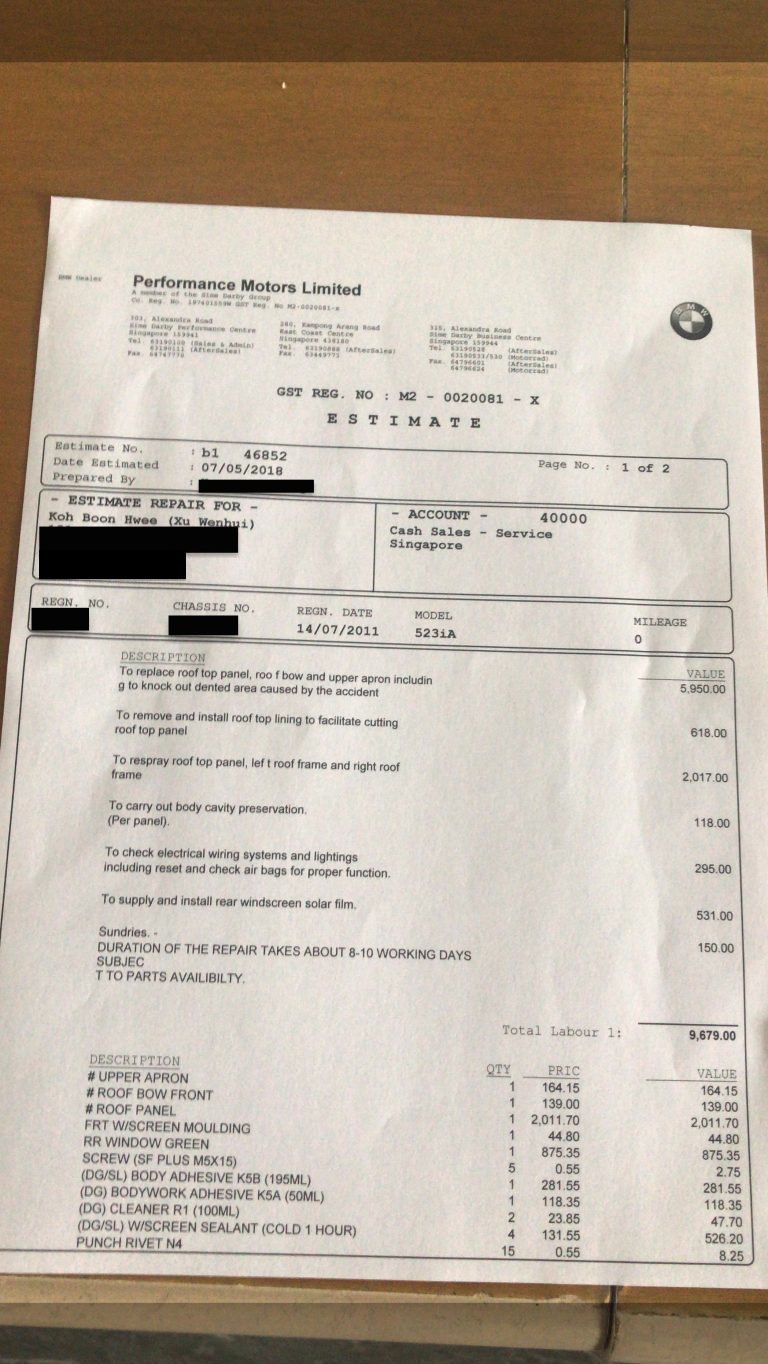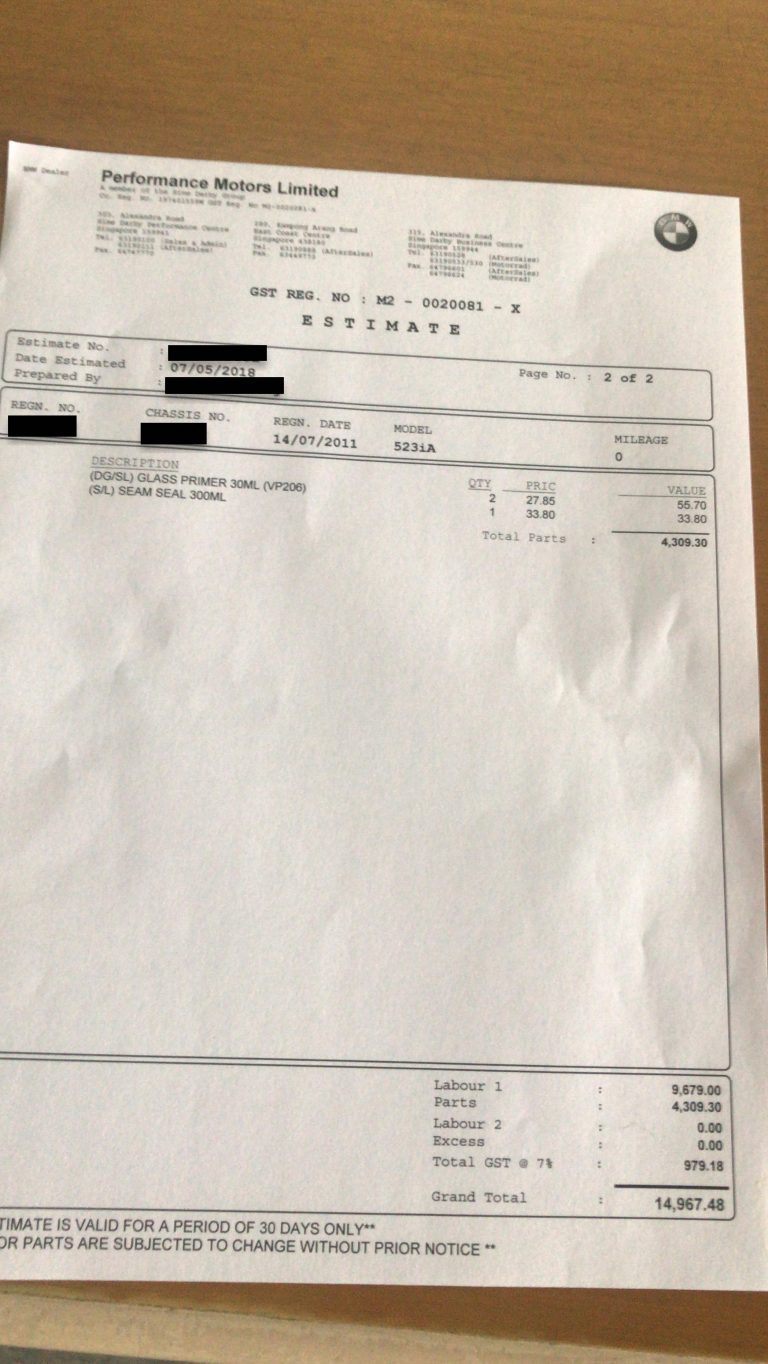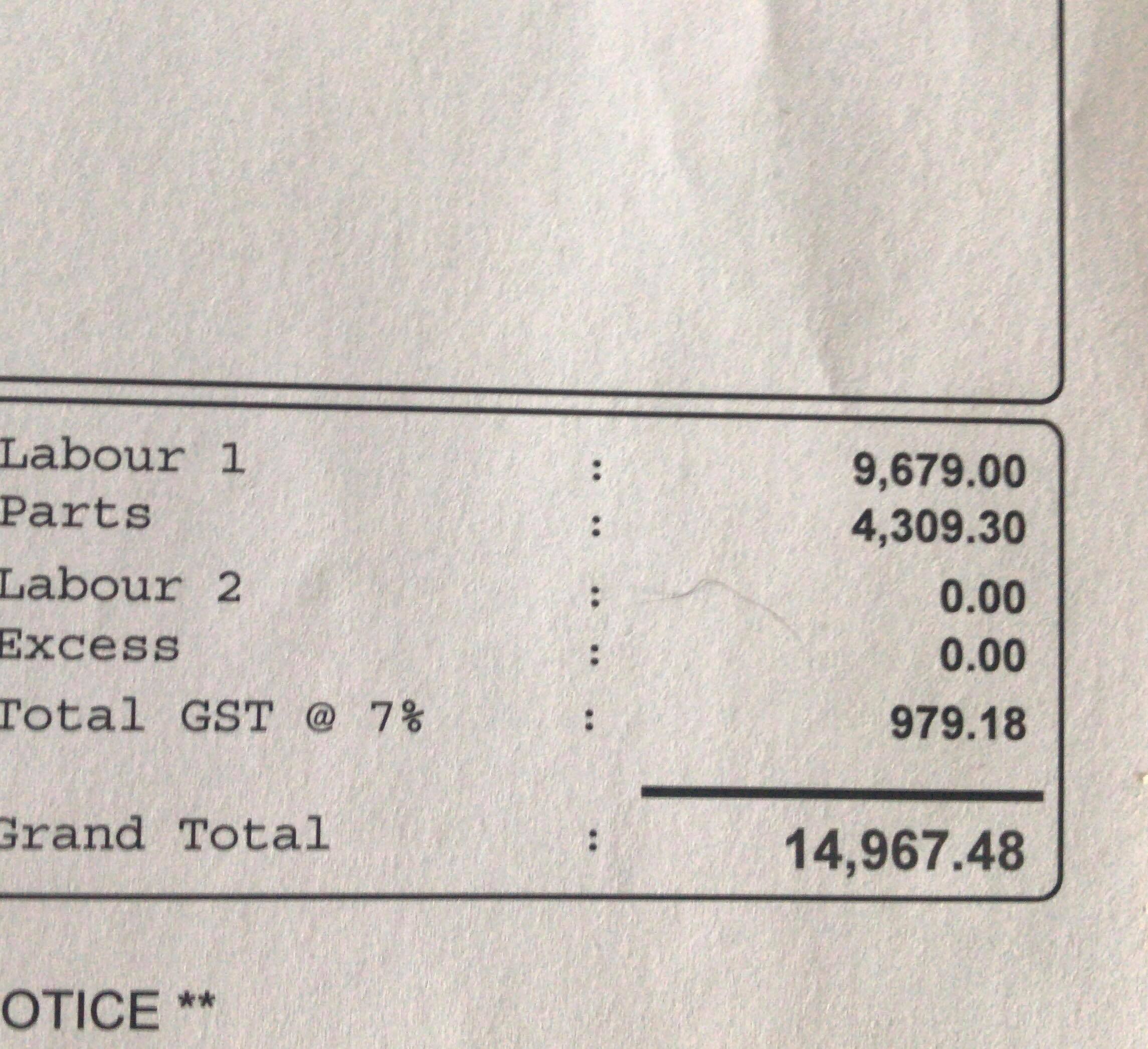 In case you can't see it, here are the repairs needed:
To replace the roof top panel, roof bow and upper apron including to knock out dented area caused by accident — S$5,950

To remove and install roof top lining to facilitate cutting roof top panel — S$618

To respray roof top panel, left roof frame and right roof frame — S$2,017

To carry out body cavity preservation (per panel) — S$118

To check electrical wiring systems and lightnings including reset and check air bags for proper function — S$295

To supply and install rear windscreen solar film — S$531

Sundries — S$150
This amounts to S$9,679, and qualifies as labour.
The second part of the invoice details the parts needed:
Upper apron x1 — S$164.15

Roof bow front x1 — S$139

Roof panel x1 — S$2,011.70

FRT windscreen moulding x1 — S$44.80

RR window green x1 — S$873.35

Screw (SF plus M5X15) x5 — S$2.75 

(DG/SL) Body adhesive K5B (195ml) x1 — S$281.55

(DG) Bodywork adhesive K5A (50ml) x1 — S$118.35

(DG) Cleaner R1 (100ml) x2  — S$47.70

(DG/SL) Windscreen sealant (cold one hour) x4 — S$526.20

Punch rivet N4 x15  — S$8.25

(DG/SL) Glass primer 30ml (VP206) x2 — S$55.70

(S/L) Seam seal 300ml x1 — S$33.80
This amounts to S$4,309.30, making the total amount, including a GST of S$979.18, S$14,967.48. 
Negotiated with alleged culprit on May 6
Koh reveals that he and his father were in negotiations with Chee on Sunday, May 6, but no concrete agreement was arrived at.
This was in part due to the fact the car servicing centre was closed, and so the Kohs were unable to get a quotation for repairs.
Koh expects Chee to compensate the repair costs in full, however, as the family is not well-to-do.
Even if they are, Koh says, there is no reason for them to pay for "the mistakes that someone else made".
Koh also told Mothership that a man wanted to aid them by starting a crowdfunding exercise, but the family has declined the offer.
Top photo: screenshot from video, photo courtesy of Alan Koh
An exclusive deal for Mothership readers:

If you like what you read, follow us on Facebook, Instagram, Twitter and Telegram to get the latest updates.