If you've ever watched Sasuke, or American Ninja Warrior, you would have been impressed by the insane level of speed, agility and strength: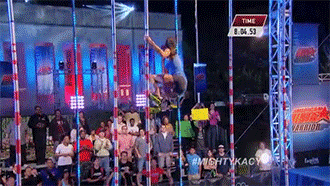 If watching (and yelling at) the contestants as they attempt the obstacle course has you itching to try it out, you can at Battle Bay Extreme, happening at the DBS Marina Regatta 2018 on 26 - 27 May & 2 - 3 June.
But of course, things always look easier on TV than they actually are. Practice is required, but if you're anything less than a musclehead, it'll be hard to recreate the actual obstacle stations.
Here's how you can train for some of the Battle Bay Extreme obstacles courses (Intense and Insane) IN THE OFFICE, for your attempt to become a ninja warrior.
Why office? Well, we all have a job to keep, and most of us are in the office about 10 hours a day. Or more (you're not alone).
Please try all the exercises below with caution and preferably, supervision.
1. Dips walk (Intense course) = two table dips

This is a pretty simple obstacle to start with.
All you need to do is find the two longest tables in the office; more often than not, these are found in meeting rooms. While everyone else is out at lunch, just sneak into a room and get some practice in.
If anyone asks, say you're helping to clean up the meeting room. Such a helpful colleague.
2. Farmer walk (Intense course) = dead-weight walk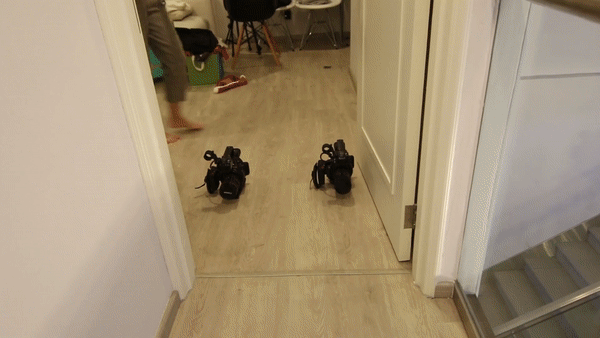 Ideally, you'd want to find two items of similar weight (of course, as heavy as possible) and practice carrying them across a distance of about 20-30 meters.
This can be done anywhere, so just make yourself helpful around the office. You can train and gain brownie points with your colleagues -- quite useful indeed.
If done well and often, the pantry auntie might even give you food.
3. Sandbag throw (Intense course) = Box and bean bag throw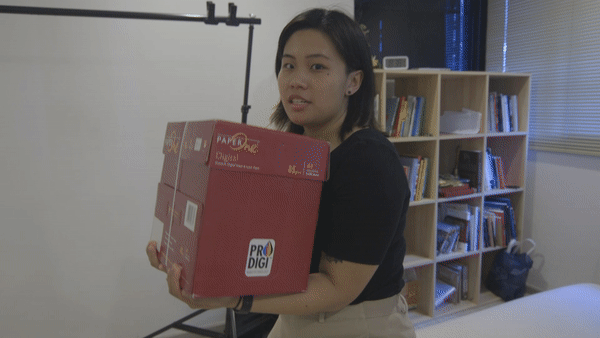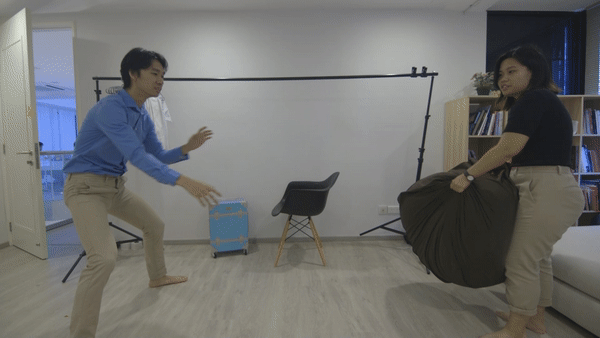 While a sandbag throw is slightly different, throwing a A4 paper box (FULL) is a good way to simulate the weight without the hassle and mess. For the bulk, tossing a beanbag would be good practice for the dexterity you'll need.
See how you'd have to get used to the squatting action? It's also a good chance to get some action with your favourite colleague at the workplace ;)
4. Crawl (Intense course) = Bench crawl

The key to this station is to leopard crawl without getting your flesh torn by barbed wire. Of course, with the Workplace Safety and Health Act, you get none of that in the office.
Your best choice for training would be to crawl beneath the cafeteria benches in record time. In the office, that just means crawl fast enough so no one spots and labels you as crazy.
Naturally, going back to your desk with a huge bump on your head is not wise too, so do it well. And carefully.
5. Traverse wall (Insane course) = railing shimmy

Nobody has time to go to a rock wall just to practice for one obstacle. Try the railing by the corridor instead -- it's often longer (vertically) than a practice wall and you can take the chance to spy on your colleagues.
Or escape from the pesky ones.
6. Quintuple steps (Insane course) = leap over cushions

Nothing in the office can replicate the tilted platforms in this obstacle station, but learning to keep your balance while leaping across a self-made "course" makes for decent practice.
It certainly looks easier than it actually is. Spread the pillows further out to challenge yourself and don't forget to dust the pillows when you're done.
The cleaner's gonna kill you if he finds out you've laid all the pillows on the floor.
7. Inverted ladder (Insane course) = Stair crawl

There's nothing better to simulate the incline of the inverted ladder like stairs.
Again, this may look easy, but wait till you try crawling down the stairs on all fours with speed. You'll feel muscles work in parts of your body you've never used.
We recommend doing this early in the morning or after most people have left, to spare the colleagues of your grotesque, spidery form reminiscent of Sadako creeping down the stairs.
Don't need to give anyone a heart attack.
___________
Now that you're all ready, all that's left to do is to sign up for Battle Bay Extreme, happening over two weekends on 26-27 May and 2-3 June at the DBS Marina Regatta.
Online registration is now closed, but you can still sign up onsite at the event.
Like we mentioned, please try all the exercises above with caution and preferably, supervision. Otherwise, just practice at Battle Bay Extreme so you get to be an actual ninja warrior.
This sponsored post by DBS gave the writers a good workout.
If you like what you read, follow us on Facebook, Instagram, Twitter and Telegram to get the latest updates.