Allegedly popular Internet person Xiaxue has indicated that she wants to enter Parliament by putting herself up for the role of Nominated Member of Parliament (NMP).
The announcement appeared on Xiaxue's social media accounts on April 1, 2018.
She has clarified that it is not an April Fools' Day joke.
Reason
In the announcement, Xiaxue, whose real name is Wendy Cheng, explained why she is putting herself up as a candidate:
In all seriousness for so many years people have always told me to use my influence for good and now I think I'll try to. Maybe I can actually change the world a little. The internet is the way to get the voices of the people, and I want to bring these voices to parliament.
However, she appeared to have the details wrong as she wrote: "9 (NMPs) are appointed every year to bring more independent voices into parliament."
NMPs are, in fact, appointed for a term of two-and-a-half years each time.
The last time nine people were nominated to fill the vacancies of NMPs was in March 2016.
The previous slate filled the vacancies in August 2014.
That year, one of the unsuccessful candidates was blogger Roy Ngerng.
[related_story]
Reactions
Reactions to Xiaxue's announcement on her social media profiles have been positive.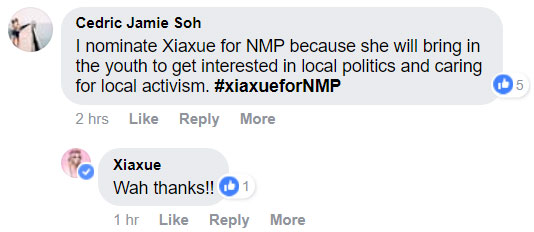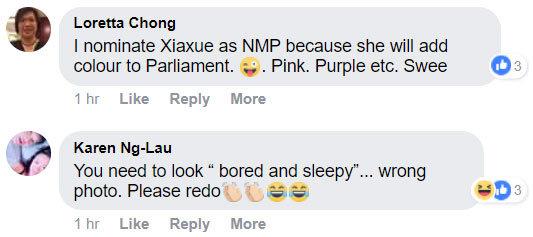 This is perhaps due to the news of her intention to run for NMP having not disseminated outside the realm of her followers yet.
She is actively calling people to suggest her name for the NMP role in the comment sections of her social media accounts.
Outside of her following of staunch supporters are her detractors who see Xiaxue as being notable for having a reputational deficit.
How NMP scheme works
Briefly, how the scheme works is fairly straightforward.
Singaporeans are invited to propose names of candidates to the Special Select Committee, which is chaired by the Speaker of Parliament, Tan Chuan-Jin and other MPs.
The Special Select Committee will consider whether candidates have rendered distinguished public service, brought honour to Singapore, or excelled in certain fields, such as the arts, the sciences, business, community service or the labour movement.
The Special Select Committee will also bear in mind the need for candidates to reflect as wide a range of independent and non-partisan views as possible.
From the names submitted, the committee will recommend up to nine names to the president for appointment as NMPs for a term of two-and-a-half years.
Previously in 2016, there was a three-week-long call for people to apply for the maximum nine NMP seats in Parliament.
NMP hopefuls had to turn in their own forms, or on behalf of others.
Singaporeans are also invited to submit names of citizens to the Special Select Committee.
NMPs have the same rights as the MPs to raise questions, suggest legislation and make their views and opinions heard by making speeches on all matters before Parliament.
They are also allowed to vote on all matters before Parliament except the following:
• constitutional amendments
• motions to remove the President
• motions of no confidence in the government
• Supply Bills, and
• Money Bills.
Content that keeps Mothership.sg going
---
Why be an NMP when you can be an archivist in Singapore?:
?‍♂️ An audiovisual archivist at National Archives of Singapore doesn't stare at the TV all day
If you like what you read, follow us on Facebook, Instagram, Twitter and Telegram to get the latest updates.