Whether you are copping the latest Yeezy drops or decking out your newly purchased HDB flat to look like the new Muji hotel, there are great reasons to shop online.
The most obvious reason is that the variety of products available online outnumber what you can find in brick-and-mortar shops.
We have compiled a list of tips to help you make the most of your online shopping experience.
Real or fake though?
One uncertainty many people have is the inability to verify the authenticity of branded goods.
Super hot items like Yeezy shoes are in such high demand that it has created a vacuum for counterfeits to propagate.
Here's where we thank the heavens for online marketplaces that verifies authenticity, such as Goat.
In order to complete a transaction, the seller has to send the sneaker to Goat for verification before Goat ships it out to the buyer. If the sneaker is found to be counterfeit, the transaction is cancelled and the buyer receives a full refund.
Brilliant.
[embed]
A video showing how to differentiate authentic and counterfeit Yeezys.
If only it was in SGD
Unfortunately, most of these great sites are not based in Singapore. Hence, there are concerns that the exchange rate might not be favourable for your low SES wallet.
Besides, shopping on international sites could incur additional conversion fees as well as taxes and surcharges.
Well, we have got the perfect hack for you buddy.
DBS Multi-Currency Account allows you to buy and hold 12 popular foreign currencies, such as the Euro, US Dollar and Japanese Yen.
This means you can shop like an American while you hang out in your beloved army singlet in your HDB flat.
In other words, you can change SGD to your foreign currency of choice 24/7, especially when the rates are ideal, instead of being subject to a rate that may not be ideal on your day of purchase.
Shipping and handling charges
Shipping and handling charges are on top of the cost of the product you purchase. This can add additional damage to your wallet.
Be a smart shopper by scouting local brick-and-mortar shops to see if the product you want is already available locally.
For example, I realised that Muji products are very similar in cost all around the world. Just go to the nearest store and you are getting the same deal as a person in Tokyo. Praise globalisation.
Mixing and matching e-tailers and local stores
A friend who recently furnished her HDB flat mixed and matched furniture from local suppliers, IKEA and Taobao to good effect; her house feels like a Bali resort.
Taobao is a Chinese site well loved by many for their wide variety of counterfeit goods. If you see a beautiful item at the local department store, there probably is a cheaper version of it on Taobao.
However, the site is entirely in Chinese.
Sites like ezbuy act as a middleman to allow ease in browsing, paying and collection. The prices are marked up from Taobao but the additional services they offer, like checking of goods and product colour, might give you an ease of mind.
My friend mentioned that for certain purchases like a sofa, she still preferred to touch and feel the texture from a local showroom like Castlery. Supporting local manufacturers is important too.
Otherwise, there were no hiccups except that a table ordered via ezbuy was shipped in parts; the table legs arrived first, before the table top a few days after.
For a couple of days, she wondered what she was going to do with just the table legs.
Many friends make light shipping charges
Another commonsensical pro-tip is to bundle with friends so you can divide the flat shipping cost amongst your party.
Time to attend that primary school reunion.
Getting branded labels on sale
As an avid online window shopper, I realised that luxury goods can be snatched at discount prices much more easily online.
Of course, if you are able to wait for Black Friday, the entire internet will be on sale.
But maybe you just need those Jimmy Choos for your wedding next month. I mean, they go soooo perfectly with your cream Vera Wang gown, amirite?
Sites like Barney's, Oki-ni, Opening Ceremony and even Amazon can offer significant discounts when they clear excess stocks. You do have to check back every once in a while to grab the good deals.
Personally, I love reading New York Magazine's Strategist column because it is a curated emporium of reviews, discounts and where to get them.
Seems like discount queens exist all over the world, from Toa Payoh to Brooklyn.
You could look #fab at a great currency exchange rate if you use a DBS Multi-Currency Account while shopping on these international sites.
A short cautionary tale
Pictured above is my colleague Rachel who ordered a Jansport bag from local e-tailer Lazada to "feel young."
She did not realise that "half-pint" in the product name referred to the size and not the name of the model.
At least it still works out for a night out when you just need your keys, wallet, phone and portable battery.
Moral of the story — always read the product description meticulously before hitting that "buy" button.
Additional site for the Sneakerhead
An avid sneaker collector taught me how to use StockX, which is available as an app or website.
It really is like a stock exchange for sneakers and other branded items, like the highly coveted Supreme label.
[caption id="" align="aligncenter" width="1041"]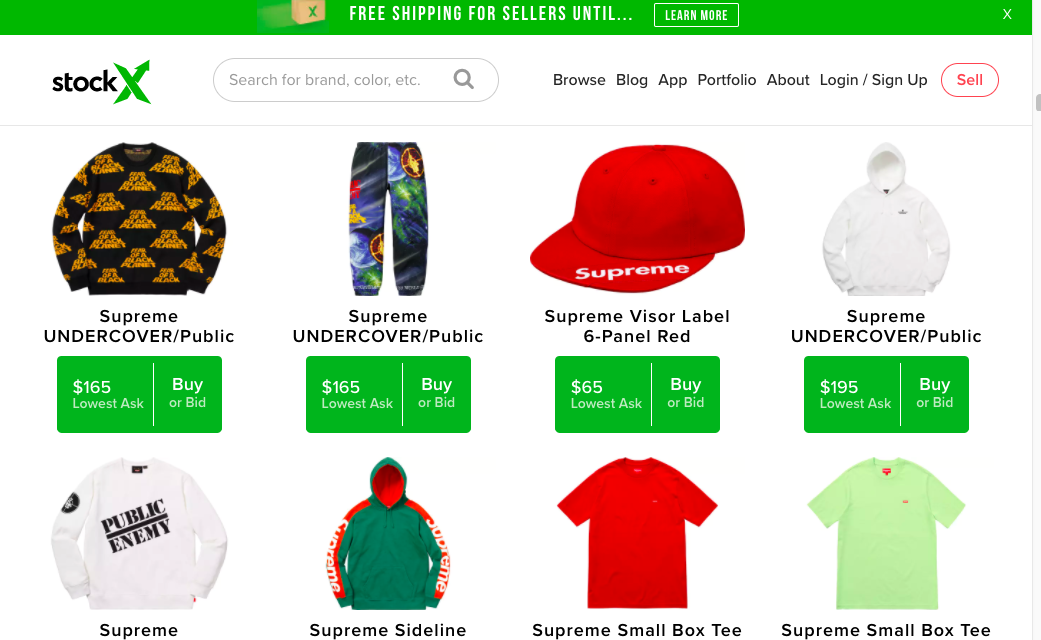 Screenshot via Stockx.com[/caption]
On the site, you can see what people are offering for the product you want.
Think the Wolf of Wall Street -- except you are trading streetwear and sneakers to transform into the awesome hypebeast you always wanted to be.
Happy shopping!
Top illustration by Asher Mak.
This post is sponsored by DBS Multi-Currency Account which helps the shopaholic in you get the best deals.
If you like what you read, follow us on Facebook, Instagram, Twitter and Telegram to get the latest updates.