The first time we heard the name "Seah Moon Ming", we learned he had taken on the role of non-executive Chairman at SMRT.
And the first time we saw him?
Seah was executing two bows at the press conference that followed the Bishan MRT tunnel flooding disruption:
This was in October 2017, when Singaporeans were just wondering who this dude was and why he was apologising and bowing.
People have been questioning why SMRT CEO Desmond Kuek was not doing the apologising.
So what about the last time we heard about Seah?
It was a couple months after, when he announced he was leaving Pavilion Energy, the oil and gas firm he helmed as CEO:
This move won notable praise from Transport Minister Khaw Boon Wan, who in a talk with engineers late last year quite significantly called on them to "render full and public support, not just for Seah Moon Ming, but also for his management, and the rank and file at SMRT" - and leaving out mentioning Kuek:
But certainly, we shouldn't rely too heavily on who Khaw mentions or doesn't.
So, we attended Seah's first big press conference — since assuming the full-time role of SMRT Chairman on February 1. And here are some things we noticed:
1) First man in, last man out
Despite being at the helm of SMRT's board, Seah was the first of the panel of the company's leaders to enter the press room — a good 10 minutes before anyone else showed up to sit on the press conference's panel.
Accompanied by Vice President for Corporate Communications Margaret Teo, he took time to make his way along the stretch of invited journalists, having conversations with every single one.
Eventually taking his seat behind a placard bearing his name and title, Seah remarked that he was glad to see that the media had "all the material... (companies) seldom provide everything. Transparency."
After the press conference ended, SMRT's communications staff asked the media to wait for the company directors to exit first.
After everyone left, including other staff who were present, it was Seah who hung back to ask reporters who remained for their views and impressions.
He could have just been polite.
But earlier last month, Seah was photographed visiting Kim Chuan Depot and Paya Lebar MRT station to hang with the staff:
[related_story]
2) On "discipline and process issues" that led to flooding & train collision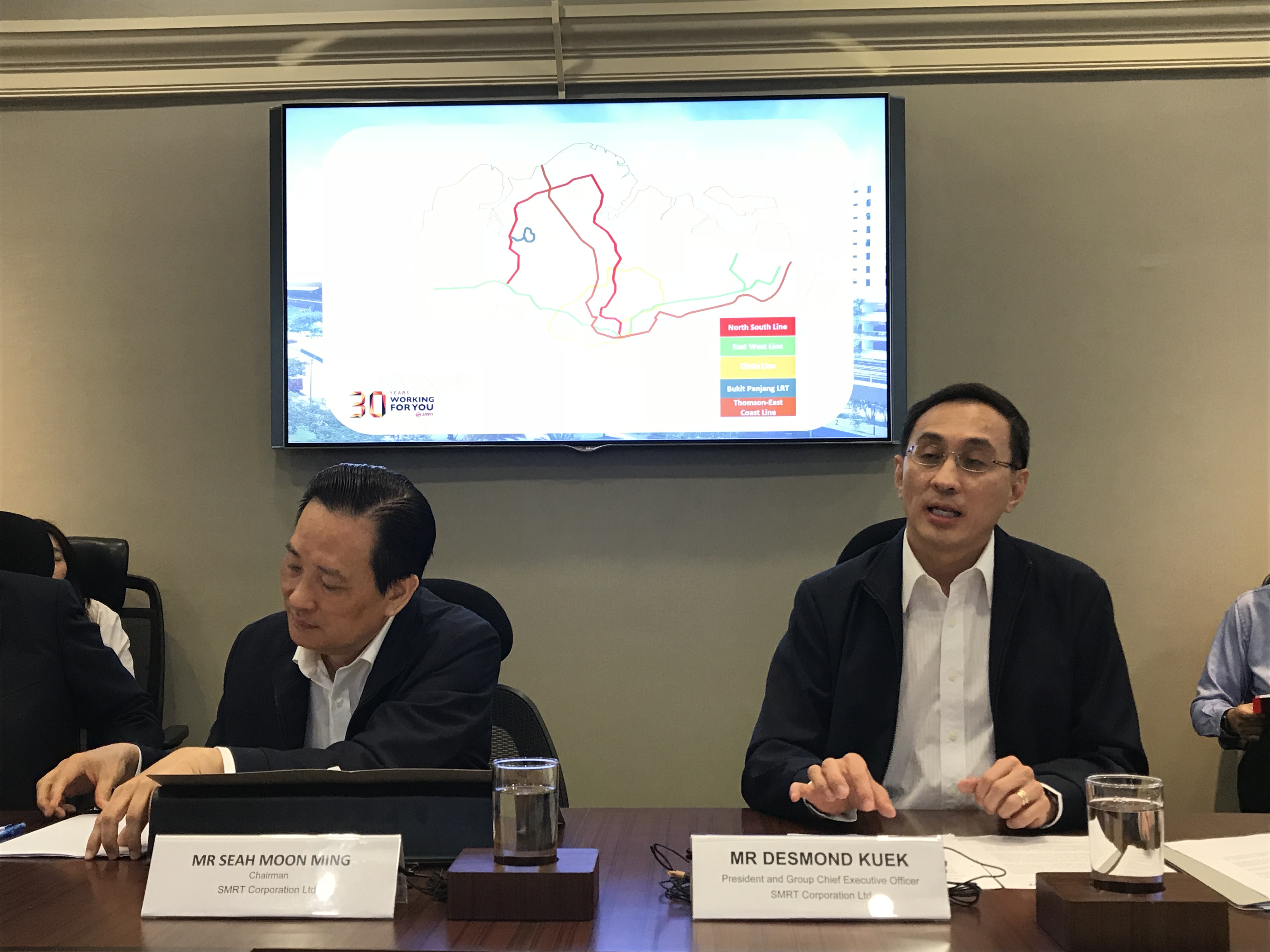 During his speech at the press conference, Kuek mentioned the Bishan tunnel flooding and the Joo Koon train collisions in October and November last year. About these, he said the following:
"Both incidents were most regrettable, and gave us cause to pause, reflect on shortcomings and resolve to do better to address underlying discipline and process issues that led to the breaches. (emphasis ours)"
It was that phrase, "underlying discipline and process issues", that reminded us of another mysterious phrase he dropped last year — "deep-seated cultural issues" (this, we'll get to later).
So we asked Kuek what those discipline and process issues were.
Here's his answer:
"We have indeed spent a lot of time working through with the staff in these affected departments... the difficulties that we're facing does not apply to the whole group, not even to the whole of trains. It's localised in certain buckets of Trains teams, and we have looked into some of the morale issues, the resourcing issues as well as the underlying process issues that have made the nature of the work and their ability to achieve the results that they want, make sure that this is better.

So a lot of work, a lot of effort has gone into helping the line managers and the supervisors carry out their tasks, achieve greater teamwork, accountability and ownership, have an attitude of continuous improvement that is brought about by Kaizen-type practice and attitude. And all of this together with stronger education, training, better supervision and mentoring by their superiors, and more resources put into helping them particularly in the area of building and facilities and infrastructure, which is where much of the difficulties that was encountered is faced.

So these are all the things that we have been doing over the past few months to try to strengthen this up. This is not something which is something which we only started to do in the past few months. It's something that we've understood are difficulties but we have stepped up to try to alleviate these ground issues."
We asked, what were some of these morale issues for instance? This is Kuek's response:
"There are many things that make up morale and some of it can be very personal in nature, some of it could be systemic. I would say that for many of these cases it could be, as much of it it could be personal as it could be system in nature so it's very hard to generalise to say what makes up low morale.

Some people, and this is not unique to SMRT, some people have worked in an organisation for a long time and they feel a little bit disengaged, they feel a little bit complacent, a little bit bored with the work that they do, or they feel not well attended to. There are all kinds of reasons and I wouldn't want to say this is one reason or another reason for each one of the individuals who have breached the rules in SMRT. They all have their reasons, and these are areas that obviously we want to strenuously work through, work out of the organisation."
Seah: "core" vs "non-core" work — the latter gets outsourced
Now, naturally these questions should be easily answered by a company's chief executive, who should be involved in the day-to-day of the organisation and understand what is going on, even if it's issues being faced on the ground.
Not the non-executive chairman, whose job scope is chiefly to appear in and chair board meetings. But Seah, on the back of responding to another question felt compelled to jump in and add on to what Kuek had said.
In summary, he made the following points:
That there were staff, especially in the Building & Facilities department, who felt like their jobs were not noticeable and so didn't really take pride in their work.

That SMRT demarcated certain jobs as "core" work, and others as "non-core" work — the latter, he said, they have since opted to outsource to specialist companies who can do the job better than employees in-house.

Turning to "people" measures, SMRT Institute has 17,000 places for its employees every year. It's important to inculcate the right values, and in his view, this should be done in the school, refreshing employees' knowledge every year.
He added, in a tone far less polished than his colleague's:
"So you just have to tighten up all the things. Of course morale also involves welfare. So when the company performs better, they turn the name of the company, you also feel proud. People got pride, you know! All of you forget one thing: fundamentally the company (does) well, we work best, we are world-class, people will be proud of the company. As simple as that."
3) Those "deep-seated cultural issues"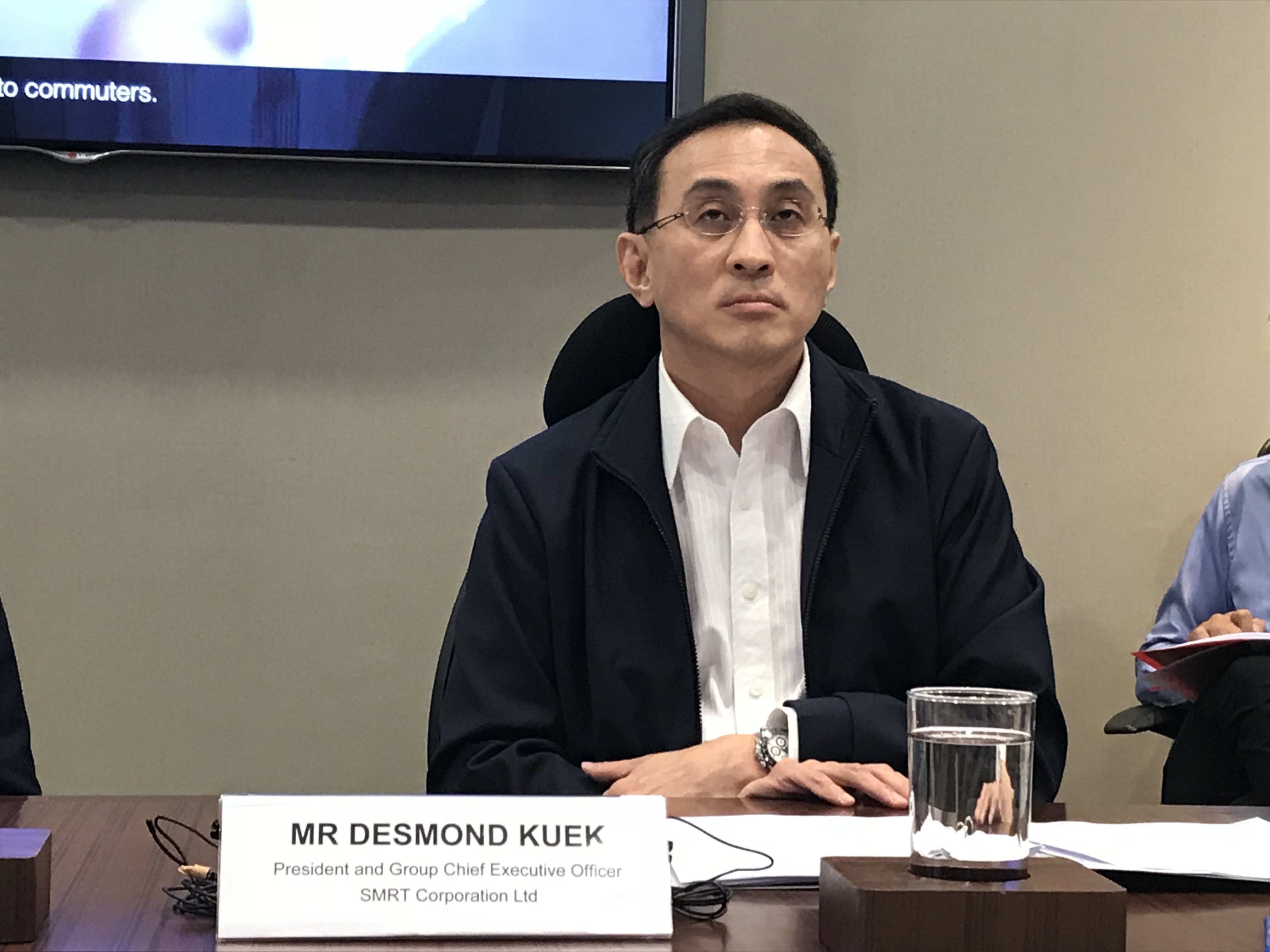 This was a question we had on our minds since Kuek first mentioned this phrase last year:
So we asked Kuek about it. He said:
"I'd say that SMRT is not unique in that we have to deal with groups of people who need stronger engagement, a stronger sense of team spirit and ownership and responsibility towards being more transparent and open in the way they report, and engage their own staff on issues.

So as early as last year we had identified that these were some residual issues with work behaviour and attitudes with certain groups of people. Small pockets."
Kuek mentioned that they engaged an outside company to train junior and mid-level supervisors and managers, so SMRT can coach them to "to do better with their sense of ownership, accountability and teamwork".
Additionally, he mentioned a programme called "It STARTs (Safety Through Accountability, Responsibility and Teamwork) with Me" they're putting staff who hold positions of responsibility through.
Seah's take: Need for a higher level of ownership & accountability
We then asked Seah for his assessment of where the company is at, based on his brief two month stint in and around the organisation, and were surprised by his honesty:
"That's why I think we start to launch the Kaizen (an attitude of continuous improvement). I think that we are good professional team. We do have certain weaknesses, that's how I see it. I think that one area to me is I didn't see addressed yet is I think we need to have higher level of ownership, higher level of accountability, that's where we are pushing very hard on this continuous improvement. Let the staff know that is never the end-point, you just have to keep doing better. The best is not good enough. There is something better than the best. So that must be the attitude.

And you know you set the goal, you must always understand that you must be able to do beyond the goal, and that there will never be an end point. A lot of people who are reaching the goal, reaching the target, ah. Kick your feet back, complacency will kick in. So I think that you just have to 'fire' people. So i think this part I think we need to do more. Of course you need to provide more resources, invest more money, in terms of all the programmes we put in place, now that's a lot of money, costs us money, that's why you pointed out in the newspaper this morning, but we just have to do it.

But as a whole I must say that SMRT is a good organisation, professional organisation. We just need to put in more effort to do better."
Kaizen?
At this juncture, we should mention the term "Kaizen" — something that's been popping up more and more in SMRT's vocabulary recently.
Seah spoke about it at length in his speech at the press conference, stressing it as a new programme introduced company-wide in February (that's when he joined, by the way).
The term "Kaizen" first popped up in a statement shared by Corp Comms VP Teo on a recent story about a train collision victim:
"SMRT welcomes commuters' input. Our Commuter Engagement team has taken input from the incident and we are making continuous improvements as part of our company Kaizen initiatives to serve our commuters better. The safety and well-being of our commuters are our top priorities."
To be fair, Kuek talked about culture in his speech at the press conference too. He spoke of SMRT's values, which are "safety and service excellence, mastery, respect and responsibility, teamwork, nurture and integrity"... spelling "SMRTnI".
Yes, we did not make that up.
Now that SMRT is no longer a listed company, we won't have sight of how much Kuek earns, or how much Seah makes either. But as his role is a non-executive position, Seah does not technically draw a salary from the company despite anything he does there — he does receive a decently-sized director's fee, however, and based on SMRT's last annual report (for the financial year of 2016), the last chairman was paid S$226,000 for the year.
So how will all this pan out for SMRT?
Let's be reminded that Seah is just two months into his role, and of course, it remains to be seen whether one man -- even if he is one of its two key leaders -- can make a sufficiently-significant difference in a large organisation like SMRT.
But we'll give him the benefit of the doubt for now.
Judging from his press conference performance last week -- and we were invited by SMRT to it for the first time -- it feels like he could possibly bring some fresh air to the otherwise-terse relationship SMRT has with the public.
And it's good that SMRT's leaders are recognising the importance of fronting things, as well as becoming more communicative about their objectives and challenges.
Top photo by Jeanette Tan
If you like what you read, follow us on Facebook, Instagram, Twitter and Telegram to get the latest updates.