16 Republic Polytechnic (RP) students received a rude shock last Monday (April 16) when they reported to school for their first day of term and were told their places at RP had been revoked.
One of them was a Miss Hou, who told Lianhe Wanbao on Sunday that the school told her that her grades did not meet the cut off point for the Human Resource Management with Psychology course.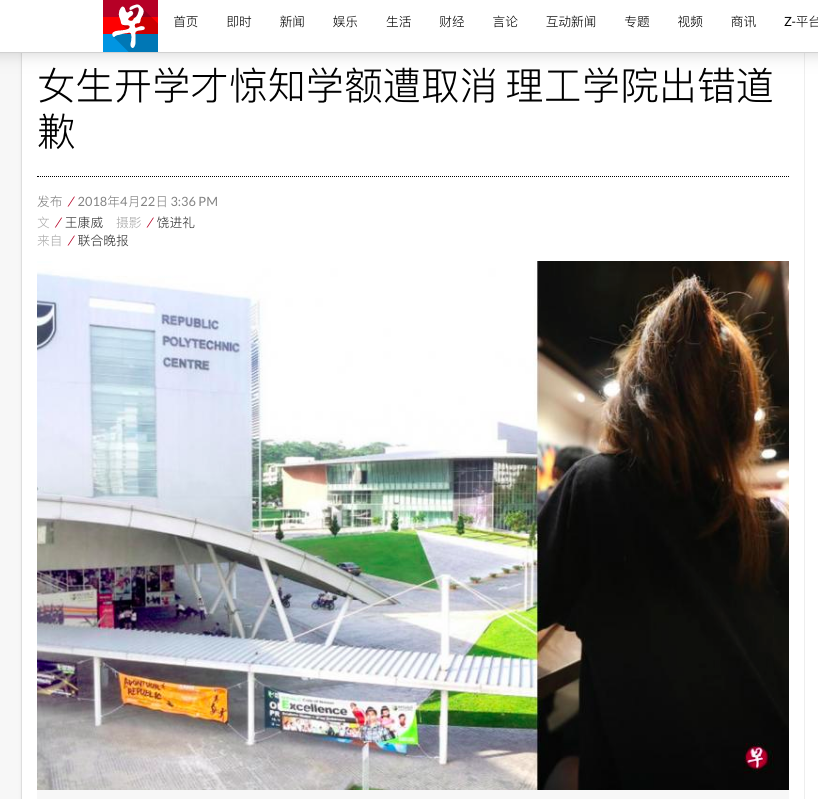 Hou received the acceptance letter in February, and went through all the necessary enrolment processes (like medical check-ups). She even received her RP student card, and all these took place over more than a month.
However, on the first day of school at RP, Hou received an SMS telling her to report to the staff office.
There, they told her that her O-Level scores did not meet the course's cut off point, and so her place at RP was revoked. According to Hou, there were 15 other students from various other courses in the same plight.
In a statement shared with Mothership, RP's registrar Shanmugasundar W said:
"We apologise to Ms Hou for the mistake we made in evaluating her application to Republic Polytechnic (RP), which resulted in her placement in the polytechnic being withdrawn on her first day of school.

RP has worked with Ms Hou to secure her a place in ITE. She has since matriculated into ITE College West's Higher Nitec in Accounting course. We wish her all the best in her studies."
Further, Shanmugasundar said that RP discovered "discrepancies in the submitted and actual examination / CCA grades of 15 other students during verification checks before the semester started", and that revoking their places was done out of "fairness to other unsuccessful applicants".
[related_story]
In his reply, he also mentioned that nine out of the 16 students have accepted alternative placements, with assistance from RP. The rest are either pending acceptance or planning to retake their O-Levels.
The school said it also refunded the enrolment fees paid by the affected students.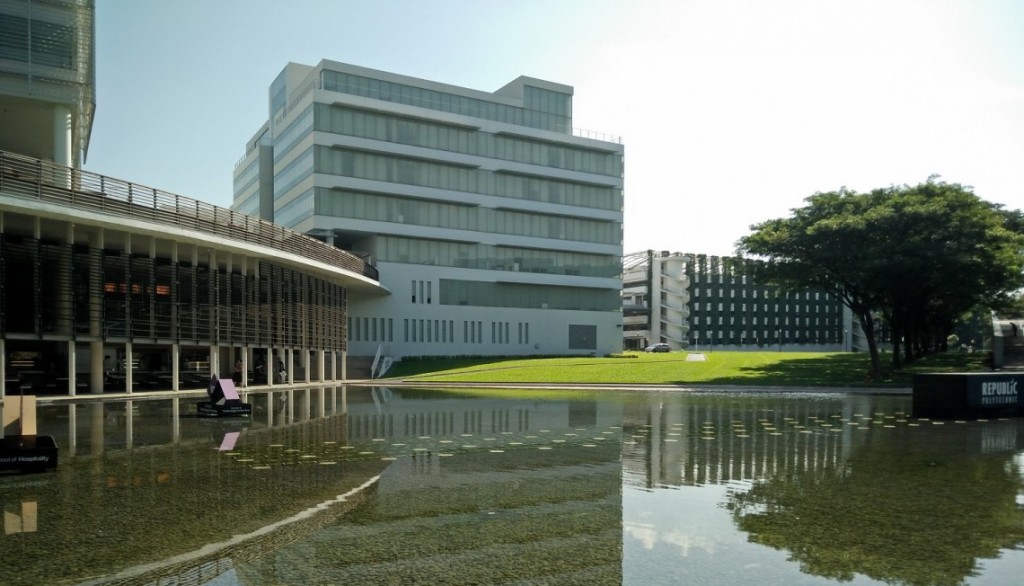 Shanmugasundar also said that RP will "improve [their] processes to ensure that similar errors would not recur".
However, our queries on the nature of the mistake (was it human or system error) and the follow up measures to tighten the verification process went unanswered.
Singaporeans were not pleased
In response to news of RP's statement and apology on Monday night, Singaporeans were, quite unsurprisingly, not happy at all.
Family members of a couple of the students who had their places revoked on their first day shared that their loved ones were in tears: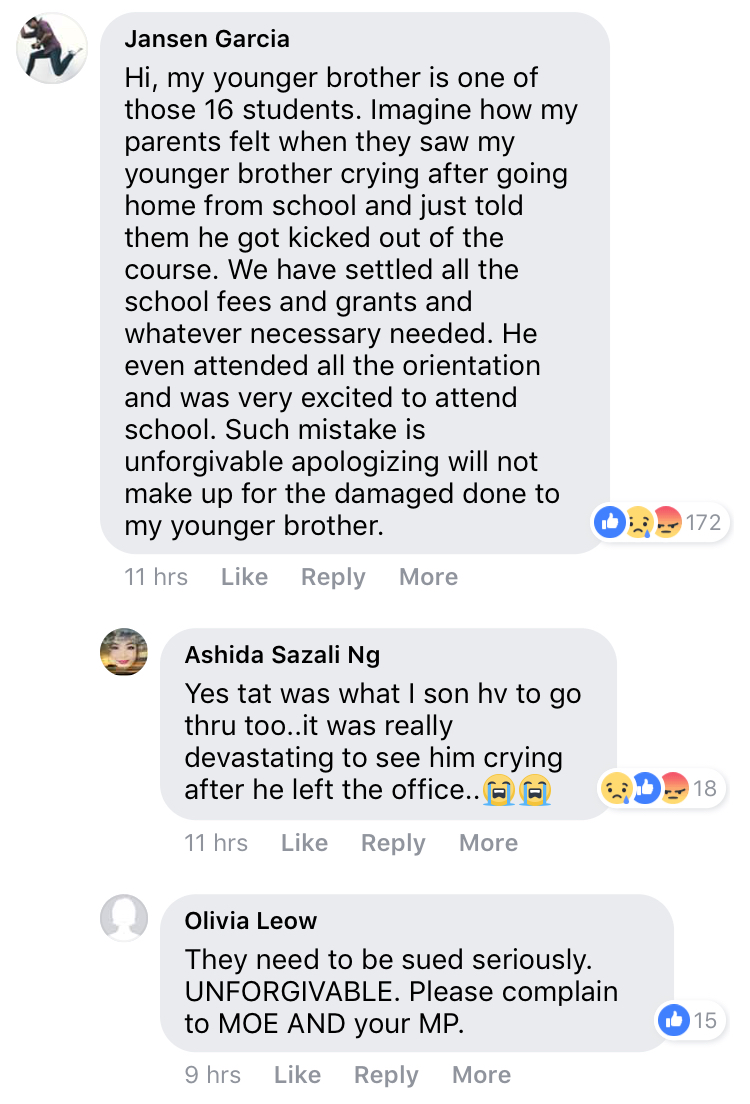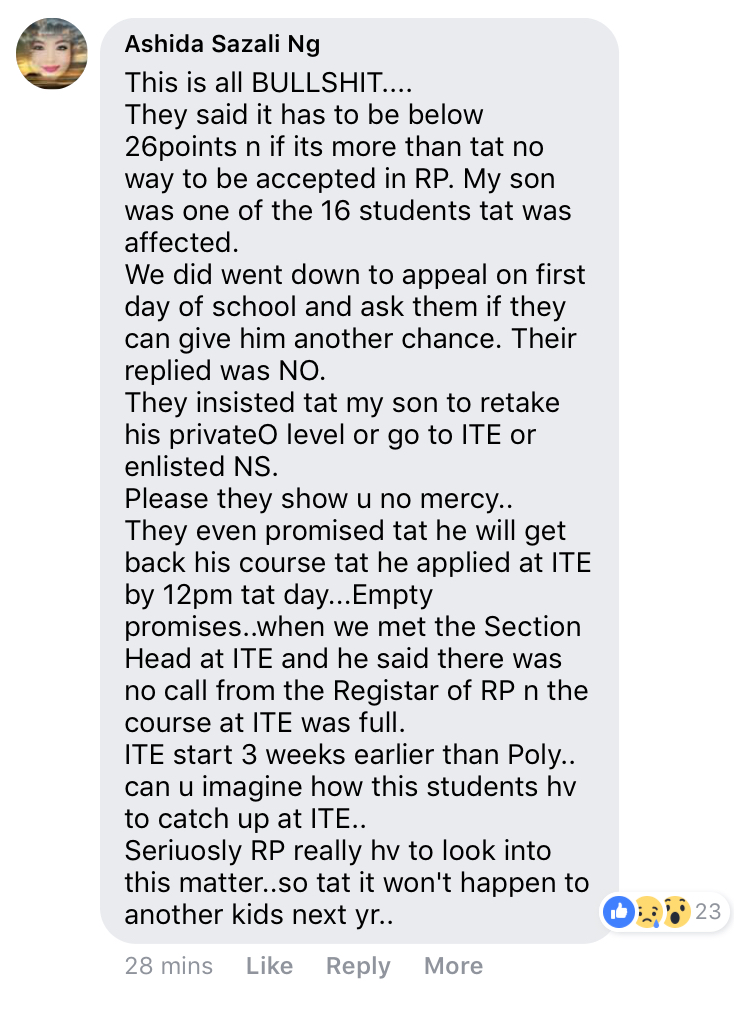 Others were furious on their behalf too.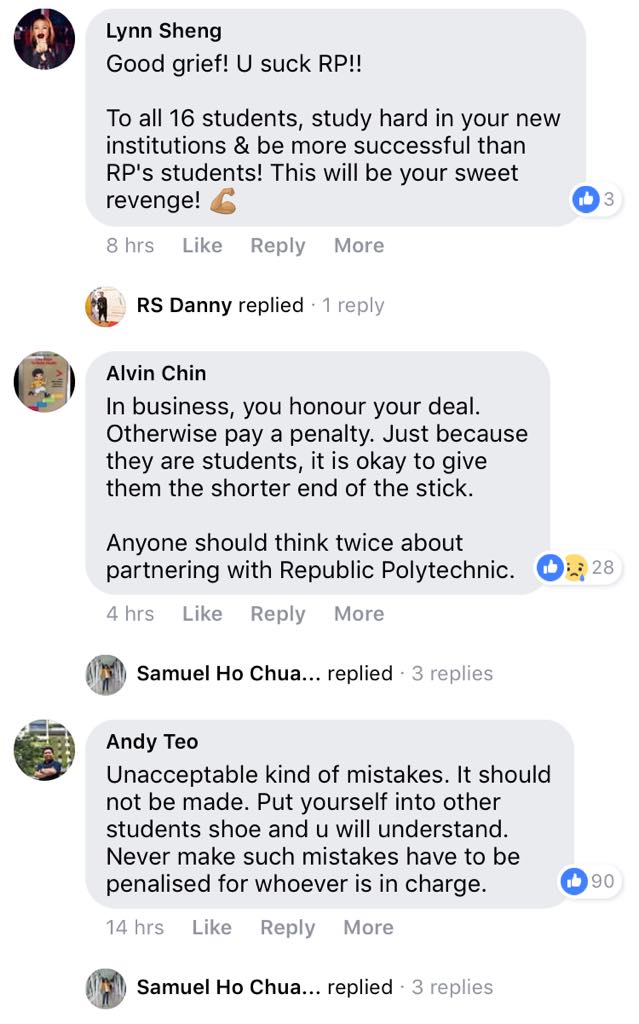 One pointed out the sheer lack of dignity in the way the students were told they did not have places — despite having matriculation cards, acceptance letters and completed their medical check-ups: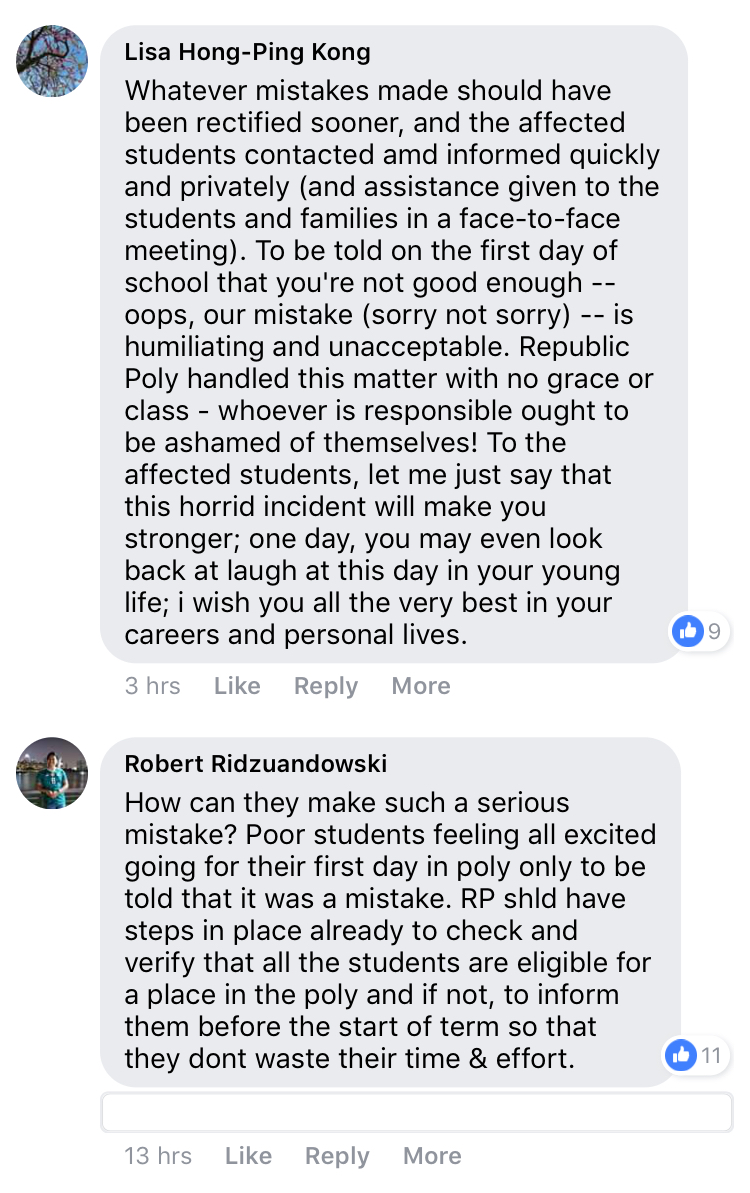 Some also pointed out the important fact that even if they were to find places elsewhere, like in ITE, they would have missed school — or worse, face the prospect of having to prepare to retake their O levels: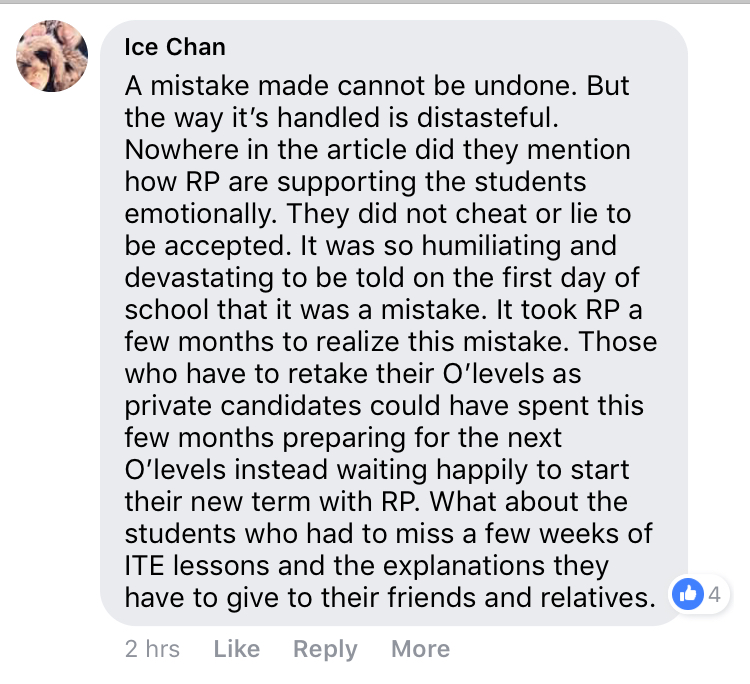 One user also pointed out that the 16 students may potentially have a legal case against RP: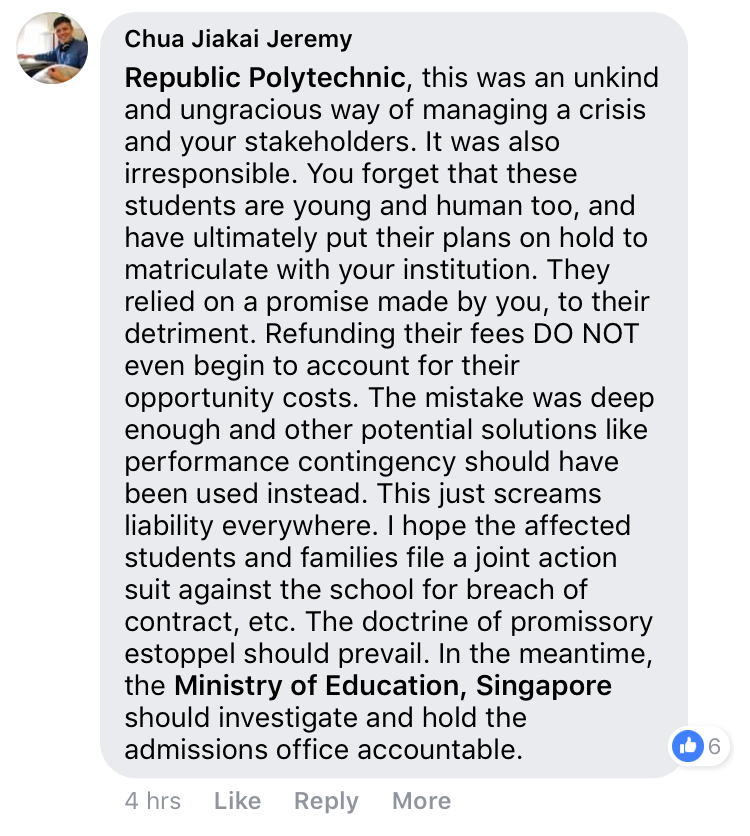 And of course there were others who called on the Ministry of Education to investigate the case:
There were a couple of devil's advocates, though: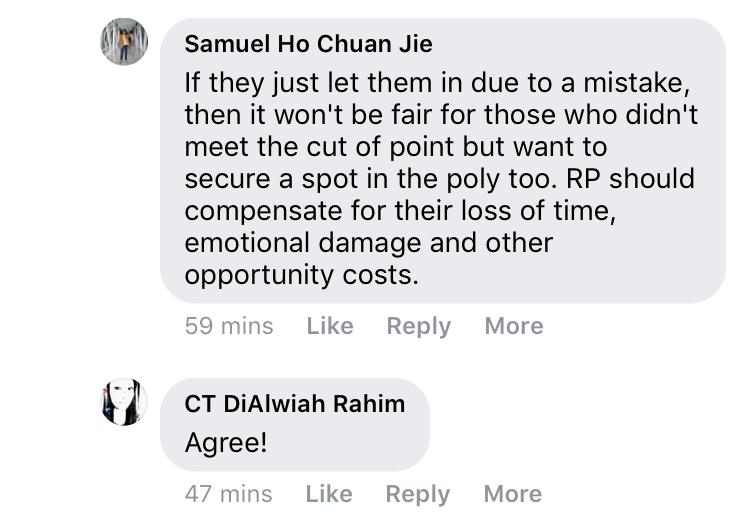 We will update this article when we receive an update from RP.
Additional reporting by Fasiha Nazren
Top image via Enterprise Innovation.
If you like what you read, follow us on Facebook, Instagram, Twitter and Telegram to get the latest updates.