Meet Hilary Lo. After spending 17 years as a prison officer, he runs a social enterprise cafe to provide "second chances" to at-risk Singaporeans.
Naturally, the inside of Singapore's prison walls continue to be a source of mystery and intrigue to most of us, which is what makes Lo's story and position so compelling.
But what Lo chose to focus on in a profile about him on "Humans of Singapore": the inmates he used to work and journey with.
"Most of them are just people who've made mistakes and want a chance to redeem themselves"
Lo shared his observations of inmates while he was an officer, which really do humanise them quite a bit:
"I worked with these inmates day in, day out, and spent time with them, listening to their stories...listening to their lives. At the end of the day, most of them are just people who've made mistakes and want a chance to redeem themselves. They work diligently in prison, just waiting for that chance to get out and to live a renewed life - a life with a clean slate - and never commit crime again.

After serving time, some of them would be able to stay out and make it good. But quite a few would be back in a few months, and sometimes in just few weeks. It's unfortunate that the ones who returned were those who'd promised never to look back at the old ways and never to be sentenced to prison again. When they looked at me and remembered all those promises they'd made, the disappointment and shame was evident on their faces."
Through his day-to-day interaction with the inmates, he saw the good in them, and so couldn't understand why a good number of those who promised to turn over a new leaf would return — some multiple times.
What he saw, he explained, motivated him to understand how ex-offenders lead their lives outside of prison.
[related_story]
"The world outside becomes a prison to them"
It was in these two years that Lo said he realised that ex-offenders still face much prejudice, and with society the way it is now, it's extremely difficult for them to rebuild their lives.
It gets to the point where for some, committing crimes and returning to prison has become an easier option than trying to start afresh:
"When these people come out of the prison, they're like cake -- they're really fragile. More often than not their girlfriends and wives have already left them, no one is willing to give them a job, and they find it much harder to connect with society.

When you and I face such issues -- breakups with our girlfriends, or financial distress -- we find a way to deal with them. But for most of them, they can't find the courage to fight against the system and want to find an escape route. With no social acceptance or recognition, and hardly any sources of income, the world outside becomes a prison to them, and the confinement of the cells suddenly seems merrier.

It's not very difficult for them to get back in. In prison, they're given three meals a day, wages for their work, and a place to stay. Some of these basic necessities don't remain easily available to them in the outside world. As such, they'll indulge in petty crimes simply to get back into prison to escape the harsh realities of the world outside."
There are still so much more we can do as a society to rehabilitate and reintegrate ex-offenders as some netizens echoed the same sentiments as Lo: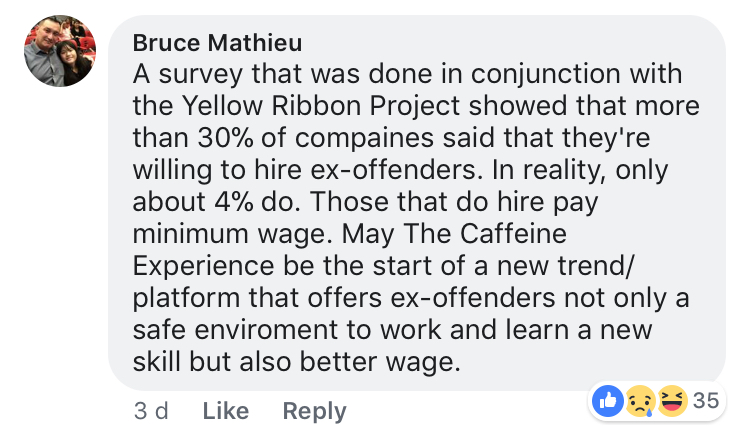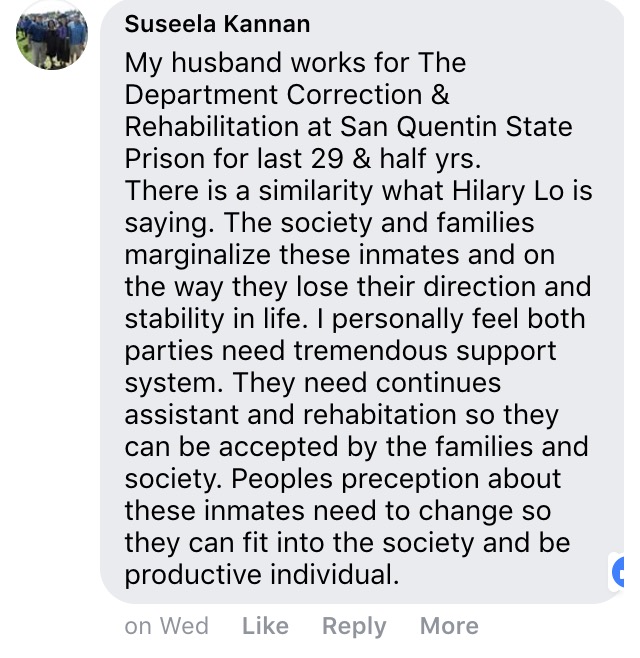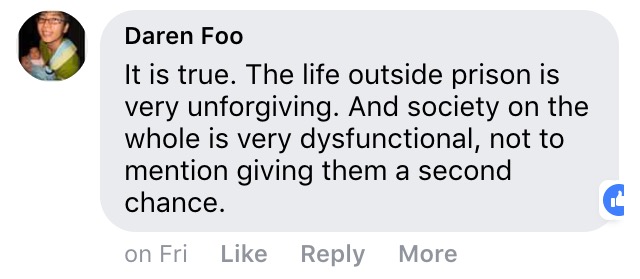 A social enterprise café to provide "second chances"
In Jan this year, Lo opened a social enterprise cafe called The Caffeine Experience with a business partner, Matthew Poh, who pulled himself out of a cycle of drug crimes.
Lo's cafe aims to help people with convicted pasts, youths-at-risk and disadvantaged youths to lead better lives — perhaps like a cafe version of Eighteen Chefs.
Every purchase goes into the training of the baristas, counselling sessions for staff, and other areas of staff development.
If you are thinking of supporting their cause, they have some promotions going on for the upcoming week:
Poh's story was also featured on Humans of Singapore — you can read it here:https://www.facebook.com/HumansOfSG/photos/a.657819560907659.1073741828.466844546671829/1812279508794986/?type=3
Top photo from Humans of Singapore Facebook post
If you like what you read, follow us on Facebook, Instagram, Twitter and Telegram to get the latest updates.