A 19-year old full-time National Serviceman (NSF) died this evening in Changi General Hospital (CGH), after collapsing from heat injury during training on April 18.
The Ministry of Defence  (MINDEF) and the SAF confirmed the death of Private (PTE) Lee Han Xuan Dave in a statement and extended "their deepest condolences to the family of the late serviceman". They added that they are "assisting the family in their time of grief".
Lee, a Guardsman from the 1st Battalion Singapore Guards, was warded in the Intensive Care Unit (ICU) twelve days ago.
Unfortunately, Lee's condition did not improve but worsened during the hospitalisation. He was pronounced dead at 1732hrs today.
Lee found to display signs of heat injury
On April 18 morning, Lee displayed signs of heat injury after an 8km fast march in Bedok Camp.
An SAF medic attended to Lee immediately and Lee was evacuated to the camp's Medical Centre.
Lee was subsequently sent to CGH, where he was warded in the ICU.
False rumours circulated HardwareZone, Reddit
Unfortunately, false rumours on online forums like Reddit and HardwareZone claimed that he had died as early as on Saturday. They also made wrong claims that he was in the ICU for 8 days.
This HardwareZone forum thread quoted the original post, which was since deleted, as saying:
"Heard about this from a friend

The previous day he was turned out by his nsf sergeant

The next day there was a fast march

He collapsed from heat stroke and was in a coma for 8 days

He passed away last night

RIP

19 yr old JC grad"
[related_story]
One Reddit user even said he could "confirm" the news, "because of some new measures in place by camp MOs (medical officers)" claiming that the NSF had earlier said he was not feeling well but was spurred by his commanders to go on with the training: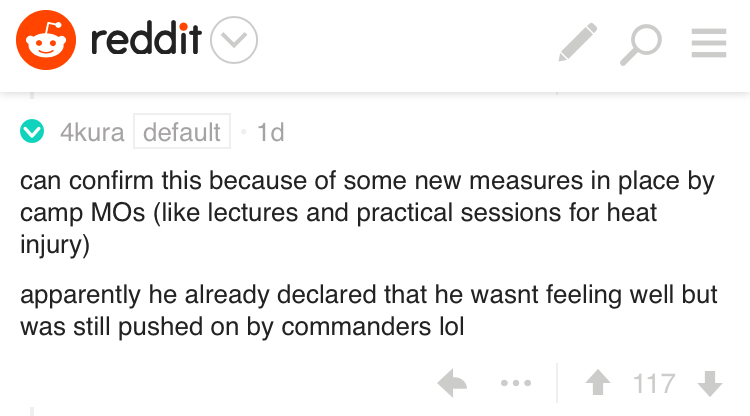 Death during prisoner-of-war training
The death of a Guards trainee brings to mind August 21, 2003, the day Second Sergeant Hu Enhuai died from asphyxia and near-drowning in the course of "prisoner-of-war" Combat Survival Training on Pulau Tekong, run by the School of Commando Training.
Hu's head was held underwater four times, reportedly up to 20 seconds each time, according to testimony from witnesses in court. The 19-year-old was seen struggling violently, and his hands were held down to prevent him from struggling.
After his "torture" was complete, Hu was seen falling to the ground immediately after he was pulled out of the tub his head was dunked in.
Back then, Deputy Prime Minister Teo Chee Hean said in a ministerial statement:
"What happened to 2SG Hu on the Combat Survival Training course should never have happened. I will get to the bottom of how such an unauthorized and unsafe training practice could have crept into the School of Commando Training. This incident has been a heavy blow to the Commandos, who are one of the finest formations in the SAF."
He also commented on the larger issue of accountability as in his statement at the time, he spoke of two other deaths that took place in the course of National Service training:
"Where we discover deficiencies, we will put them right immediately. Where persons have failed in their duties, MINDEF will take action against them. We expect the highest level of professionalism from our officers and men, and will not tolerate any laxity or indiscipline that endangers the lives of our soldiers. When something goes wrong, we will account to Parliament, the families of servicemen, and the public. We will explain fully and honestly what went wrong, and what we will do to put things right and prevent it from happening again. This is the way to maintain the confidence and trust of the public in the SAF."
Top photo via Our Singapore Army Facebook page, by Army News
An exclusive deal for Mothership readers:

If you like what you read, follow us on Facebook, Instagram, Twitter and Telegram to get the latest updates.